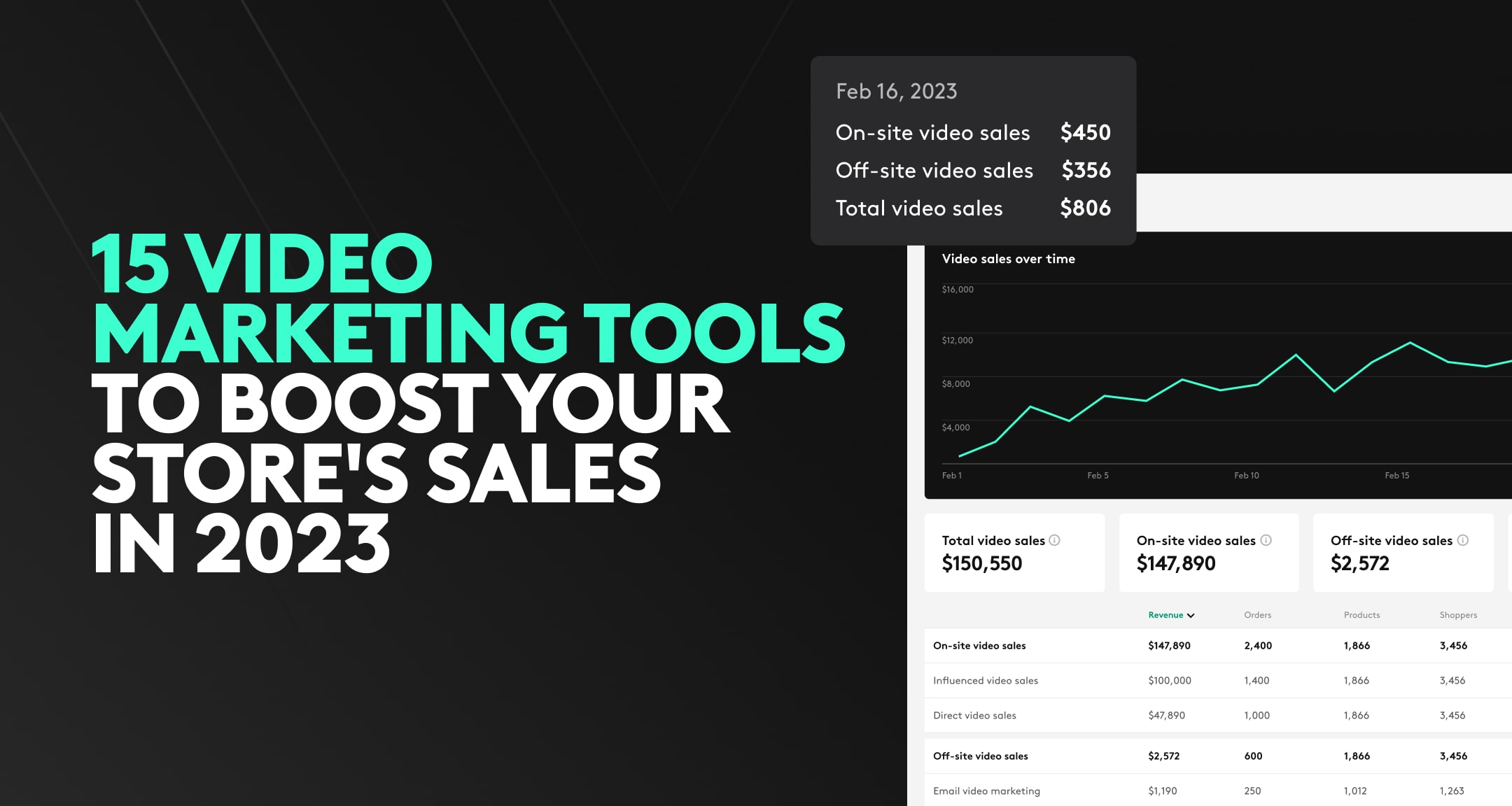 Video is powerful. There's no denying that.
Since you're reading this article, I assume you know this already and are looking to increase your online store's sales with video marketing.
But here's the thing - you can't get up one day, upload a few videos to your eCommerce store's product listings and see a 40%-50% spike in conversions.
Unfortunately, that's not how it works.
To achieve outstanding results, you need to implement them right.
Most importantly, you need to invest in the right video marketing tools.
Throughout my career, I've tested dozens of video marketing platforms and compiled a list of the top 15 video marketing software to help you decide which ones suit your needs.
Without further ado, let's dive in.
15 Best video marketing software for eCommerce businesses
Following are my 15 favorite eCommerce video marketing tools:
1. Videowise: Best for shoppable videos
2. Adobe Premiere Pro: Best for immersive videos
3. VEED: Best for quick editing [and working with influencers]
4. Animoto: Best for social media videos
5. VideoScribe: Best for whiteboard videos
6. Powtoon: Best for animation videos
7. Simpleshow: Best for the AI power
8. Descript: Best for subtitle generation
9. Krisp: Best for noise canceling
10. Canva: Best for imagery creation
11. Steamyard: Best for live streaming
12. BuzzSumo: Best for finding new topics and influencer marketing
14. Videvo: Best for stock footage
15. Buffer: Best for scheduling videos on social media and monitoring social activity
Let's dive into these tools one by one.
1. Videowise: Best for shoppable videos
Videowise is an eCommerce video platform that allows online sellers to create shoppable videos and provide an interactive shopping experience.
Shoppable videos are an innovative way for online stores to increase sales, build brand awareness, and improve SEO efforts. They provide the benefits of video entertainment together with the ability to add CTAs, product links, and other relevant insights on top of your video. With Videowise, you can create shoppable videos in minutes, then publish them across all your social profiles with one action.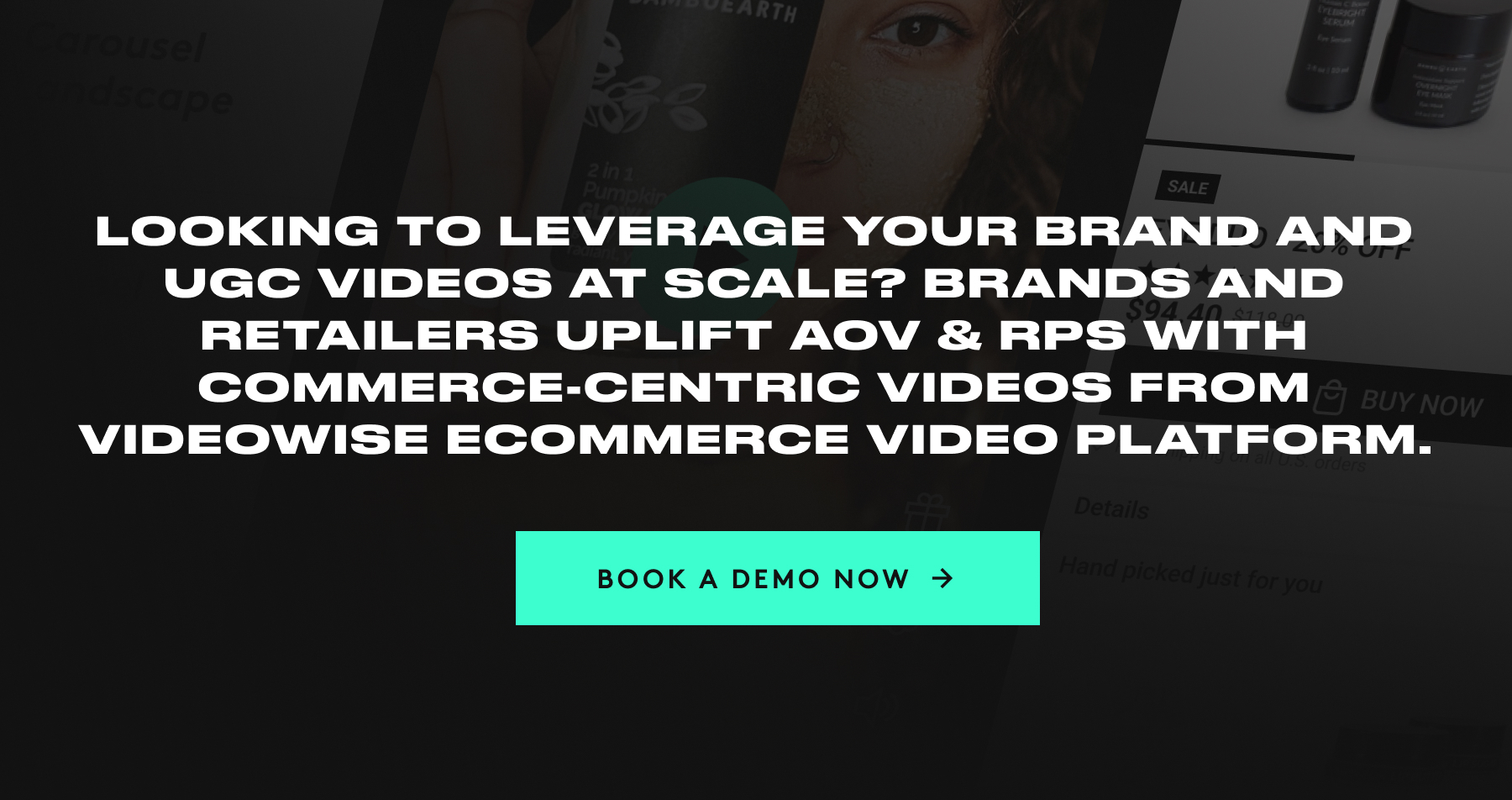 Features you'll love:
On-site shoppable videos

Video UGC support

Shoppable video marketing

eCommerce video player

Video analytics and management.
Price: Starts at $99/month
2. Adobe Premiere Pro: Best for immersive videos
Adobe Premiere Pro is a video editing tool that lets owners create professional videos for their stores. It's an excellent tool for creating immersive, interactive videos with the help of motion graphics.
Adobe Premiere Pro also helps you bring any ideas to life by letting you go beyond classic product shots or customer clips. You can create complex animations, add transitions or effects, and use advanced audio tools to make your video content matter.
So whether you're looking to create an outstanding product video or make a mini-series around your customers, this video platform is the choice a pro would use!
Features you'll love:
Color correction

Animated titles and graphics

Review and collaboration

Speech to text

Movie and film editing.
Price: Starts at US$35.99/month/license
3. VEED: Best for quick editing [and working with influencers]
VEED is a video editing and creation tool that facilitates short video production for both content creators and eCommerce business teams. One of the best things about VEED is that it makes it easy to work with influencers who can then promote your products in more visual ways.
Collaborative features such as the voice recorder or teleprompter allow you to record customer stories even on the go. Plus, the tool is super fast when it comes to basic features such as trimming, merging, looping, or resizing. This makes it the perfect choice if you own a small shop and don't want to invest a lot in your social videos yet.
Features you'll love:
Meme maker

Auto subtitles

Audio to text

Video to text

Voice recorder

Video converter

Teleprompter.
Price: Starts at 13EUR/month/editor
4. Animoto: Best for social media videos
Animoto is a video creation platform that uses artificial intelligence to create videos that are personalized for your eCommerce business. You simply select the type of video you want to create, upload your images and logo, and add the messaging that defines your brand!
Animoto then handles everything! The final result? A unique video optimized for social channels like Facebook, Instagram, and YouTube.
Moreover, Animoto offers various templates and styles to pick from. This way, you can create videos that fully match your brand's look and feel. The best part? Since Animoto integrates with Shopify, you can import your videos into your online store without any hassle.
Features you'll love:
A/B testing

Ready-made templates for social ads, online sales, or product intros

Stock and music library.
Price: Starts at 14EUR/month
5. VideoScribe: Best for whiteboard videos
VideoScribe is a video marketing app that helps you create whiteboard-style videos for your eCommerce store or social channels. It's simple to use despite the wide range of features, making it a good choice if you're just getting started.
With VideoScribe, you can create high-quality, engaging videos that can help you promote your products, drive more sales, or bring your special events in front of more people. You can also use VideoScribe to create instructional videos that teach customers how to use a product or service.
Features you'll love:
Whiteboard animation

Ready-made, customizable templates

Multiple image and text animation options

Royalty-free music collection.
Price: Starts at 39EUR/month
6. Powtoon: Best for animations
Powtoon is one of the first [and frankly, one of the most popular] video animation tools you can use for creating animated clips and transitions for promotional videos.
You can use Powtoon to produce high-quality product videos, tutorials, explainer videos, and more. I'd also recommend using it for creating personalized thank-you messages or special clips for loyal customers.
If you're unsure where to start using animation to promote your products, check out their video template library.
Features you'll love:
Whiteboard doodling

Custom characters

Wide range of video templates

Easy sharing option

Robust media library.
Price: Starts at US$20/month
7. simpleshow: Best for the AI power
What makes simpleshow one of the best video marketing tools on this list? You don't need any kind of video or design experience to end up with professional videos.
You'll build your video content using their vast offer of templates and video resources designed specifically for eCommerce businesses. Their AI-powered video creation technology ensures that your videos are always on-brand and optimized for maximum impact. As a bonus perk, their expert team is always ready to help you put together the perfect video for your store.
Features you'll love:
English and German automated speakers

Privacy and distribution features

Guided workflows

Personalization and Branding

Optional creative services

Team collaboration.
Price: Starts at US$129/month
8. Descript: Best for subtitle generation
If you haven't yet thought of adding captions and transcripts to your content, be aware they're super important for eCommerce stores. First, they make videos more accessible to a diverse audience. They can also help you improve your SEO strategy and can be repurposed into other content like articles or social media posts.
So whether you're creating product tutorials, testimonial videos, or just want pitch-perfect ads, Descript will help you nail your subtitles, quickly edit videos and sound, and can even replace a real green screen.
Features you'll love:
Overdub

Filler word removal

AI-green screen

Stock templates library

Multi-language transcription.
Price: You can use Descript for free, but paid plans start at US$12/month/user.
9. Krisp: Best for noise canceling
Krisp is a noise and background voice noise cancelation tool you'll be using at any point:
Recording the voice-over for a product video? Krisp can ensure the background noises won't affect the quality of the recording.

Got the chance to be a guest on a live show or podcast? You'll sound just like you're talking from a fully-equipped recording studio, no matter where you really are.

Meeting up with a significant distributor or re-seller? Make sure they're not disturbed by all the noise around you by having Krisp on.
Features you'll love:
Echo cancelation

Background voice and noise cancelation

HD voice

Talk time indicator.
Price: You could use it for free, but the no-cost plan is super limited, so consider a paid plan, starting at US$8/month/seat.
10. Canva: Best for imagery creation
You've probably already used Canva to edit your social media ads or posts and even for special product offers. But here's a list of all the awesome things you're missing out on [including some that will go into your videos]:
Video thumbnails

You can send coupons, video messages, and loads of other freebies to your customers or add in a pop-up!

Email templates

Logos and other brand assets [like your very own social media filter!]

Planners, calendars, and other printables you can offer for free or as part of a giveaway

Website or page design

Magazines and leaflets

Blog graphics

Video collages

Video intros and outros

Invoices and all those fun administrative stuff.
Tip: The reason Canva's a must for your video marketing efforts is thanks to its free stock photos, audio, graphics, and videos. In other words, you get Canva and you've got access to millions of other resources with a simple click.
Features you'll love:
Custom templates

Magic resizes for repurposing content

Collaborative features for larger teams

Brand management capabilities

Cloud storage and folder organization.
Price: Starts at 11.99EUR/month/person
11. SteamYard: Best for live streaming
Live videos are one of the most powerful tools for eCommerce stores. But you're probably not taking advantage of them yet.
Here's why they matter:
They allow customers to see your products in action and get a feel for your brand.
And with the right platform, they're also easy to run and manage.
SteamYard is explicitly designed for live videos. It comes with features that will help you create stunning live videos that convert viewers into customers. And if you haven't yet tapped into the power of live streaming, it's about time you did! The market is estimated to reach $600 billion in China and $25 billion in the US this year alone.
Features you'll love:
On-screen and backstage participants [to get viewers and regular customers to participate!]

Pre-recorded streams

Logos, overlays, backgrounds

Guest management system

Multistreaming to reach wider audiences on different platforms.
Price: There's a free plan, but whether you or the influencers you're working with will be using Streamywrd to showcase your products, you'll want the full HD plan, which starts at US$39/month for individual users. If you've been around for a while, Business plans start at US$79/month.
12. BuzzSumo: Best for finding new topics and influencer marketing
Need to save some money through a 3-in-1 tool? BuzzSumo's what you're looking for.
1. You can use it to find popular content online. This helps you develop ideas for your next social videos or keep up with fun trends to get your products in front of a larger audience.

2. It makes it super easy for you to find influencers. You'll be able to find valuable influencers from popular content to make sure you're spending your money on a promotion that's worth it.

3. It's an excellent tool for staying up-to-date on the latest industry news. You can monitor competitors, brand mentions, and other important updates to never miss out on anything important. Furthermore, their alerts ensure you won't get overwhelmed by all the social media posts in your industry.
Features you'll love:
Content discovery and research

Influencer marketing capabilities

Tracking for mentions, trends, and updates.
Price: A free plan should be enough to get you started with using the platform, but if you truly want to stick with influencer marketing and video content generation, you'll need the plan priced at US$99/month as this one offers you unlimited searches.
13. TubeBuddy: Best for SEO
This is my go-to tool as a YouTuber who wants to rank better. TubeBuddy helps you optimize YouTube videos to ultimately get more views. It helps users by offering the right data and tools to help them understand how videos perform. You'll get relevant suggestions for keywords, tags, and other metadata that will help your videos perform better.
New to SEO? TubeBuddy also provides tips and advice on how to improve video ranking. I'd highly recommend using it with the influencers you're working with to make it easier for you to track their performance.
Features you'll love:
Video SEO

Bulk processing

Scheduling options

Auto translator

Promotion tools

Search rank tracking.
Price: From US$4/month
14. Videvo: Best for stock footage
Need some extra footage besides what Canva can get you? Videvo is a video marketplace where you can buy or sell stock footage and other video content.
You can use these assets in your eCommerce store or blog to create a more professional and engaging experience for your customers. To use Videvo's assets, browse their website to find the clips that you want to use. Then, download the files and use them in your store or blog.
Bonus tip: Remember Adobe Premiere Pro? Yes, with Videvo you can find ready-to-use templates that go hand-in-hand with Adobe's creative tools.
Features you'll love:
Premium video downloads and templates

Royalty-free licensing

Money-back guarantee.
Price: It can be used for free when you're just starting. Otherwise, you're looking at US$6/month/channel to begin.
15. Buffer: Best for scheduling videos on social media and monitoring social activity
Buffer is a social media management platform that eCommerce businesses like yours can use to schedule their posts, monitor engagement, and keep up with relevant industry news.
To help with this, the tool gives you access to content publishing functionality, engagement metrics, and collaboration opportunities so you can use it together with more team members.
Fun fact: Buffer's helped an online sticker store go from 0 to $100,000 in revenue from Instagram Ads.
Features you'll love:
Shop grid for Instagram

Planning and scheduling

Custom link shortener

Custom video thumbnails

Analytics, insights, and reporting

Easy account switching between multiple accounts and channels

30+ third-party integrations.
Price: Starts at US$35.99/month/license
5 factors eCommerce stores should consider when choosing video marketing tools
But there are so many options out there.
How do you choose the video marketing tools that suit your needs?
We recommend using this five-step framework to make sure you're not missing out on any important aspects:
3. How extensive is the template library
1. Cost
Yes, I'm adding cost as the first factor for two reasons:
1. If you're just testing out a video marketing strategy, you simply can't afford to put all your money into your videos. I recommend investing a bit more in building product and shoppable videos and saving on social ads and influencer marketing. At least until you find a strategy that works for your brand. Ads are expensive enough, and you don't need to be the next Apple or Dior when it comes to product videos and imagery just yet.

2. You'll find loads of tools that help you save money by reuniting multiple features under one tool. Take BuzzSumo, for instance: it's your go-to solution for idea generation, influencer marketing, and social monitoring. Or Videowise: shoppable videos, eCommerce video player, and video management, all in one.
Choose wisely. With video marketing becoming more and more popular, the cost of tools and services can quickly add up. By considering cost, you can ensure that you stay within your budget and get the most value for your money.
2. Editing suite
The way your video looks is THE most impactful part of a video.
Similarly, how easy the tool is to use can make the difference between two different tools that offer the same exact set of features.
And if you're just getting started, you sure can't afford to waste a lot of time on editing.
This takes me to…
3. How extensive is the template library
With an extensive library of templates, you will be able to find one that suits your needs perfectly.
If there aren't many templates available, then this may not be the right tool for you, as it will take longer to find something suitable for your needs.
You should also make sure that the templates are easy to use and edit as well as being high quality so that they look professional when finished. This way, you will have no problems using them or editing them as needed if necessary.
Here are some quick tips for choosing high-quality templates:
Make sure the template's design is professional and matches your brand.

Try not to use the same templates you've seen in use by other stores. You want to use unique images and clips to solidify your brand's image and gain customers' trust.

Remember, most tools offer customizable templates. You'll want to add your own touch when it comes to fonts, brand colors, background images, music, etc.

Always keep your brand's image and tone of voice in mind. Are you friendly? Quirky? Formal? Adventurous? All this should be obvious in the templates you choose.
4. Collaboration
You'll need collaboration to some extent, even if you're a one-person show.
For larger teams, it's pretty obvious: one or two people will be in charge of the video strategy, so they'll naturally need collaboration options.
If you want to run these efforts independently, you'll still want to consider collaboration capabilities when working with external collaborators, influencers, and customers.
Example: Getting customers to review your product is complicated enough since you have to provide them with all the materials and incentives to sit down and hit the record button. So you'll want a video marketing tool that makes it a breeze just to send them all of this and then send it straight to your video management tool [even if you're just using Google Drive].
5. Filming and audio
Descript offers you a virtual green screen.
Krisp ensures you've got clear audio throughout all recordings [even live shows!].
VEED helps you turn text into video.
These are just three examples of core features you should look for when it comes to filming and audio capabilities — the core of your video production efforts.
5 essential video types for every eCommerce marketing strategy (+ examples to inspire you)
We're all set to choose a couple of video marketing apps.
But what video types can you create? Let's look at the different types of videos:
1. Product demos
Product demos are a great way to show off your products in action. Even when you have a lot of different products to present.
Giving your target customers a closer look at what they're going to buy can help them feel more confident in their purchase. So demos work on various occasions:
Helping new customers with the decision-making process

Letting showcase your product's advanced use cases for repeat buyers

Quickly pulling in an instructional video when someone reaches out to your customer support team

And more!
Demos are also good for improving the overall user experience on your website, which can lead to increased sales and more positive customer reviews.
2. Shoppable videos
A shoppable video allows viewers to buy products directly from the video, either on the social network where it was shared or on an external website.
The idea behind shoppable videos is simple: create a short [think 30 seconds] video that shows off your products and allows users to click on them, which will take them to a product page on your website where they can purchase the item. The benefit of this is twofold:
It makes it easy for viewers to buy products without leaving the platform they were watching the video on.

It gives you valuable insight into how people react to your products so you can refine them accordingly.
3. Testimonial videos
Testimonial videos are short films that feature real people [sometimes pets, too] explaining why they like a product or service. They are a powerful tool for promoting your business because they help build trust with potential customers. People like to hear what other people have to say about a product or service before making a purchase.
They're a great alternative to written reviews on your website or social media pages. Testimonial videos allow you to show off your products and services in action instead of simply describing them in text with the help of real buyers. The video format also makes it easier for them to share with their friends and family members online through social media networks like Facebook and Twitter.
4. User-generated videos
User-generated videos are short video clips of real people talking about the product or service that they love. These clips can be posted on social media platforms like Facebook and Instagram to promote products or embedded in product descriptions on your eCommerce site to help convert visitors into customers.
User-generated videos come in different formats. Some you'll want to consider:
Product demonstrations

Fun street interviews

Replies to a hashtag contest or giveaway

Videos of unboxing experiences

Any short clips just for laughs!
Just find and save user-generated video content from your social media, make it shoppable, and use it in your sales process!
5. How-to and tutorials
Tutorials are short videos that show people how to do something. The most common types of tutorials are how-to videos. If you sell food items like bread or cake mix, then you can create tutorials on how to bake with these products. This will show customers that they can make delicious treats at home using their products and give them ideas of what they can make with them.
When you're just starting, creating these tutorials yourself is perfectly fine. They're a great way to show customers how your product works or how to use it properly. Even when scaling your store, you can turn to experts or influencers in your field to get them to create these tutorials instead.
So, which video marketing software do you really need?
Choosing the right video marketing tool for your eCommerce business can be a daunting task. There are so many options, each with its own features and functionalities, that it's hard to know which one will work best for you.
That's exactly why I've put together this guide.
For the next steps before you sign up for any video marketing platform:
1. Look at the features and template library.
2. Consider the cost.
3. Consider usability and ease of use for the editing features.
4. Test out a few competitors.
And don't forget to prioritize based on your goals.
I'm sure you want to sell more, so a good idea would be to start by creating new experiences for your audience using on-site shoppable videos.
Videowise lets you engage shoppers across multiple channels to help them in their decision-making process. Just embed shoppable videos on your eCommerce store and watch them increase your on-site time, uplift your conversions!
Alexandra Cote
Alexandra Cote is a SaaS growth marketer and product-led growth advocate who's worked with dozens of brands in the MarTech, HR tech, productivity, and developer tooling space. She's also a strong supporter of staying happy at work and choosing a healthy career path.
Keep up with the latest trends in eCommerce video experiences