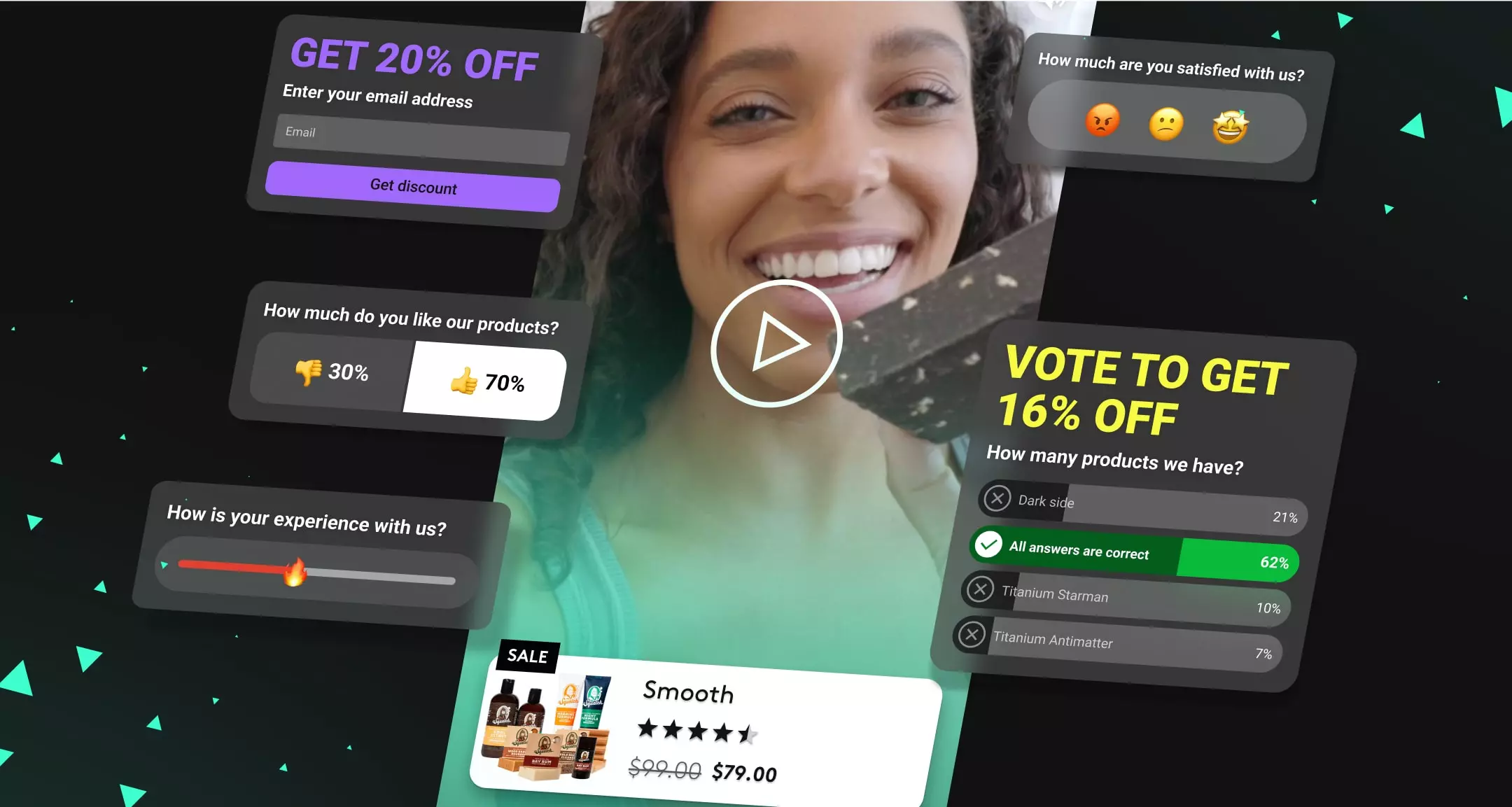 Have you considered buying a product after watching its video ad on an eCommerce store?
Possibly yes!
Imagine buying products directly through interactive product videos. Videos are the future of content marketing for eCommerce brands, and interactive videos are purely leading this innovative shift.
Interactive videos are becoming more popular and will likely revolutionize eCommerce and people's shopping. In addition, it will widen the door for collaborations and brand interactions and enhance overall business outcomes.
Let's examine some stats by Wyzowl to establish the statement:
Recently, many eCommerce brands have incorporated videos into their internet business plans; however, we need more than exciting and inventive videos. Businesses need innovative methods to provide value to customers if they want to stay competitive; this is where interactive videos enter the scene.
Imagine your homepage or landing page appears unappealing, features only static content, and yields minimal conversion. In this case, you need an interactive video to make your page so compelling to drive actions at a higher rate.
However, not all interactive video apps can yield the desired result. Therefore, choosing the best interactive video platforms is vital to shorten your customers' journey and generate sales like never before.
I decided to lift the burden off your shoulder. This article features the best eCommerce interactive video software for maximum lead conversion, factors to consider when choosing an interactive video app for your eCommerce brand, frequently asked questions on interactive videos in eCommerce, and much more.
Before diving into the details, let's consider what interactive video is all about.
What is An Interactive Video?
An interactive video enables the viewer to interact actively with the video they are watching.
The name says it all; interactive videos allow audience interaction. Users can decide what happens in a video or even create exciting features within the video.
Interestingly, interactive videos can turn audience engagement on with quizzes, polls, shoppable CTAs, forms, etc.
Interactive videos can be grueling to produce; however, they can better engage your audience and increase conversions. Check the following subheading to know how.
Importance of Implementing Interactive Videos Into Your eCommerce Marketing Strategy
According to a recent report, interactive videos yield five times longer engagement, 68% increased brand recall, and nine times increased purchase intent.
How?
1. An Interactive Video is Appealing and Engaging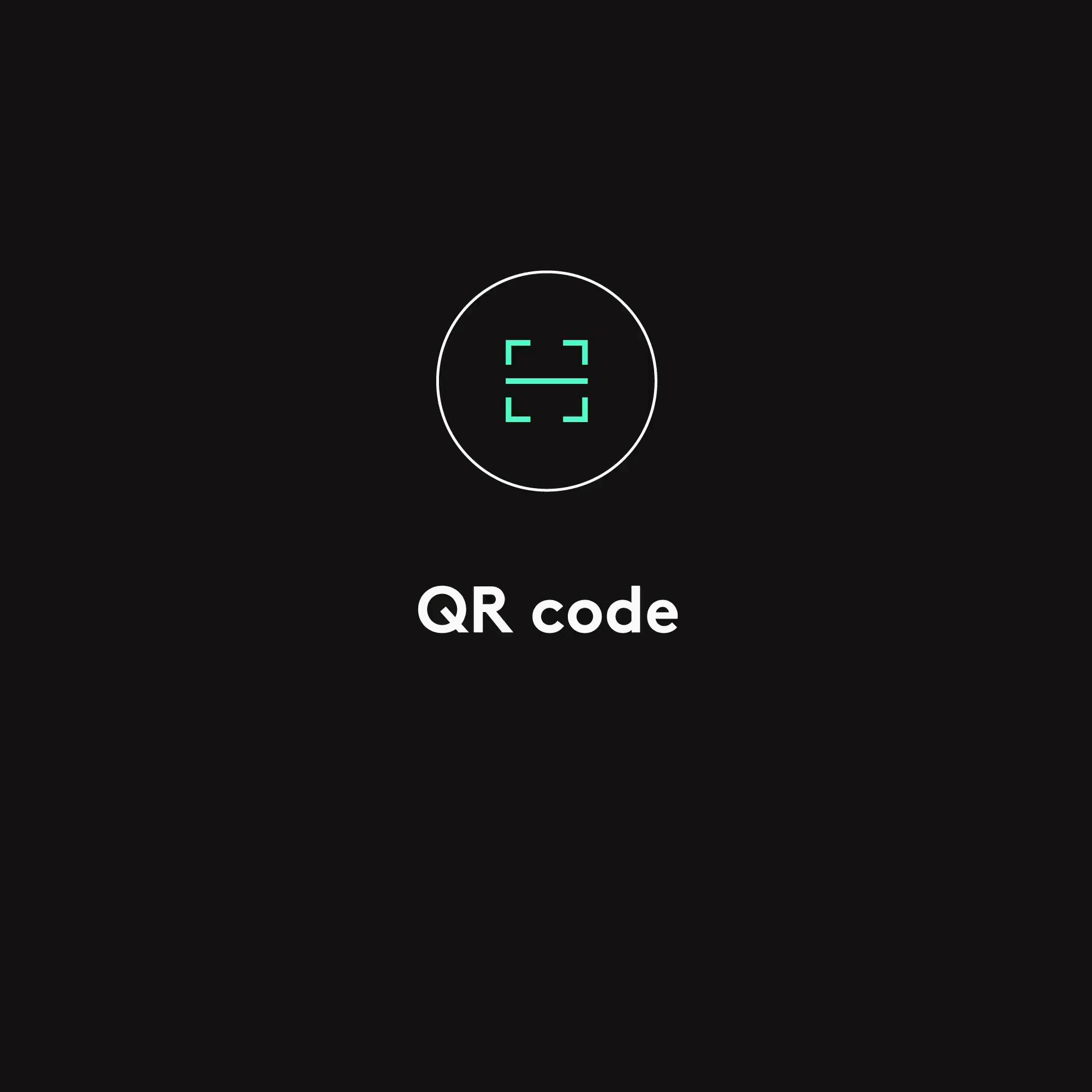 Several statistics show videos are more compelling and engaging than static content. Among others, Videos get 1200% more shares than text and images combined and improve brand recall by 95% compared to 10% when reading the text. Interactive videos take this engagement to the next level.
According to a recent statistic by interactive4video, interactive videos result in 3 to 4 times greater viewer engagement and conversion than traditional linear video.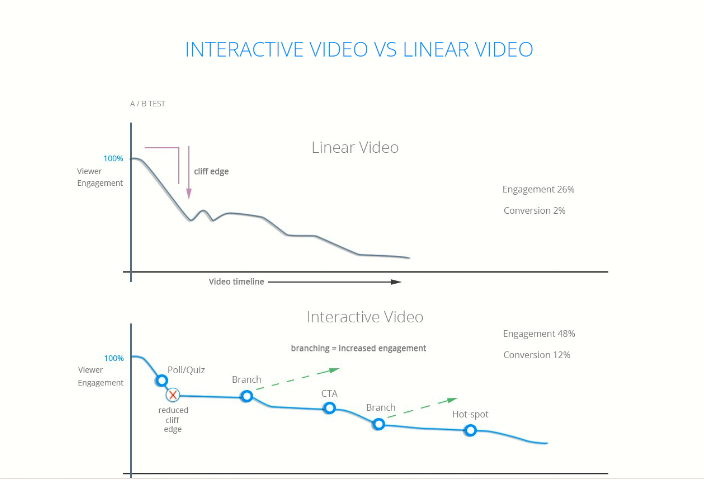 Why?
An interactive video easily converts passive viewers to active viewers. Whether store owners need their video viewers to make decisions that advance the story narrative or purchase a product - viewers are constantly engaged.
2. Interactive Videos Improve Users' Retention
Do you know that after an hour, most people retain less than half the information they saw, heard, or felt?
It's imperative to keep your target audience's attention, but their retention is much more critical.
You want your viewers to remember every detail about your product or the call to action. To tackle this problem, videos that actively engage the viewers are the solution. Interestingly, interactive videos are 32% more memorable than non-interactive ones.
3. An Interactive Video Increases Lead Conversion
The goal of every marketer on every marketing video is to convert their viewers into clients rather than stuck-up video views like a tower.
For instance, most eCommerce stores want someone to add a product to their cart or schedule a consultation after watching their products' videos. This aspect is where interactive videos step up the game.
An interactive video can shorten your prospects' buyer's journey and convert them into customers. The following statistics establish this fact:
Forrester's report shows that the interactive video completion rate increases by 36% compared with linear video.

According to Business Insider, the click-through rate of an interactive video is ten times higher than a passive video.

According to Brightcove, 35% of interactive video marketers have seen increased conversion and 25% increased sales.
Another benefit of interactive video is the inclusion of a clickable feature to lead viewers to the expected action. This is advantageous if you're attempting to sell several goods or services through a single interactive video at scale. It enables you to incorporate CTAs immediately following the promotion of a specific product.
This factor is well demonstrated in a promotional video from JCPenney. To advertise home and clothes products, the department store teamed up with the Midwest vlogging team GabeBabeTV. Viewers can click on a product in the video and make an immediate online purchase. They transformed a short video into an interactive digital catalog, allowing them to showcase dozens of things in a 5-minute spot.
Now that you know about the knots and dots of an interactive video, let's dive into the category of interactive video - interactive video software.
What is An Interactive Video Software?
It's a video editing software that lets you upload your videos and edit them with interactive elements to create engaging content. In other words, these input-driven videos expand the potential of video marketing by enabling viewers to click, shop, and explore content immediately within the video.
An interactive eCommerce video platform includes features that allow you to modify your video based on how you want to engage your viewers.
Let's move further!
Factors to Consider When Choosing An Interactive eCommerce Video Platform for Your eCommerce Brand
1. Type of Video Platform
An interactive video is divided into two - animated or live-action videos. Each type has its unique advantages and goals in an eCommerce marketing strategy.
An animated video is a fantastic tool for explaining challenging ideas that are difficult to communicate with actual video. Additionally, you can highly customize them with unique colors and illustration styling to match your existing brand identity.
On the other hand, a live-action video is excellent for showcasing images of a service, location, or character that is significant to a brand's narrative.
You know the best type of interactive video that suits your brand. You need to go for an interactive video platform that works with your video preference.
2. Your Budget
You won't want your brand to end up in bankruptcy, all in the name of using a tool.
It's expedient that you have a budget in mind before choosing an interactive video content tool. Alternatively, research the pricing plan of your desired software before signing up for it.
Note; Some tools are free, while others are paid. Some platforms offer both free and paid plans.
3. The Interactive Video App Portfolio
It would help if you examined the interactive video portfolio of each interactive video software as part of your screening procedure.
Most interactive video platforms have an introductory video solution for a business like yours, but you should be aware of it. Instead, request that they demonstrate a video of a similar problem solved thru a business case. For instance, it is best to ask to see examples of videos produced to increase sales, inform viewers, or foster brand loyalty.
Choose software that customizes videos to meet clients' needs rather than one with no versatility in features and options.
An interactive video software portfolio is the best place to get a sense of the range of services they offer.
4. The Type of Interactivity the Video Software Supports
There are five types of video interactivity options. They include:
a. Hotspots
b. Branching
c. Data inputs
d. 360-degree view
f. Multi-stream
a. Hotspots: Hotspots allow you to add click links, add items to your cart, and even make purchases. A few eCommerce stores use this interactivity option to gather feedback and push relevant content.
b. Video Branching: A viewer can design their journey via branching and then navigate the video by clicking on a hotspot when required. Most stores use video branching to increase audience engagement and conversion.
c. Data Inputs: Brands can gather user data and have a two-way conversation by using buttons and form fields within videos. Some Shopify stores use this option to collect information and customize their viewers' experience.
d. 360-degree View: Viewers of 360-degree videos can scroll and zoom videos in all four directions. For a fully immersive 360-degree perspective, viewers may click and drag on the screen to explore all directions.
e. Multi-stream: With multi-stream video, you can slide or transition between the two views of the same video to display contrast.
When choosing an interactive video platform, check if it has the interactivity option of your choice.
5. Is There Any Extra Cost?
Incorporating interactive features into a video may incur extra costs, such as subscription fees or charges for the underlying software.
For instance, if your video uses forms and questions to collect information from viewers, you will need software and a database to access that information. Be sure to ask about any recurring costs and fees when you and your video agency are scoping the project.
Let's move to the actual list of potential Interactive Video Software providers!
Top 10 eCommerce Interactive Video Software to Increase Lead Conversion
1. Videowise

Are you willing to engage your customers with interactive shoppable video experiences? Videowise has got you covered!
Videowise is the ultimate eCommerce video platform designed for Shopify brands. This tool guarantees double shoppers' engagement, ten times ROI, video conversion up to 21%, and six times time spent on site.
In addition, this platform is one of the favorite interactive video apps for Shopify brands, including Ava Estell, Apolla, Headphone Zone, Crossrope, and more.
Here is a review from a Videowise user:
"This app gives our customers a closer experience with our products and helps them decide whether the product suits their needs. Looking forward to creating more video content." Yaw Okyere, Founder/CEO at Ava Estell.
Most important features:
Video CMS. All Your Videos in One Place: This app helps you organize your videos from different platforms and make them engaging and shoppable.

Embed Your Video: Easily embed your interactive videos on your Shopify store to increase conversion.

Advanced Video Analytics: Videowise features high-tech video analytics that helps you track your video performance.

Tech Integrations: You can effortlessly connect your favorite apps, including YouTube, Instagram, PageFly, Stamped, and more, to create more interactive video content.

UGC videos: Videowise is a proud partner of YouTube and uses AI to find and use positive YouTube videos relevant to its users' brands and products. It helps you find relevant UGC videos and turn them into omnichannel shoppable experiences.
What Differentiates Videowise from Its Competitors?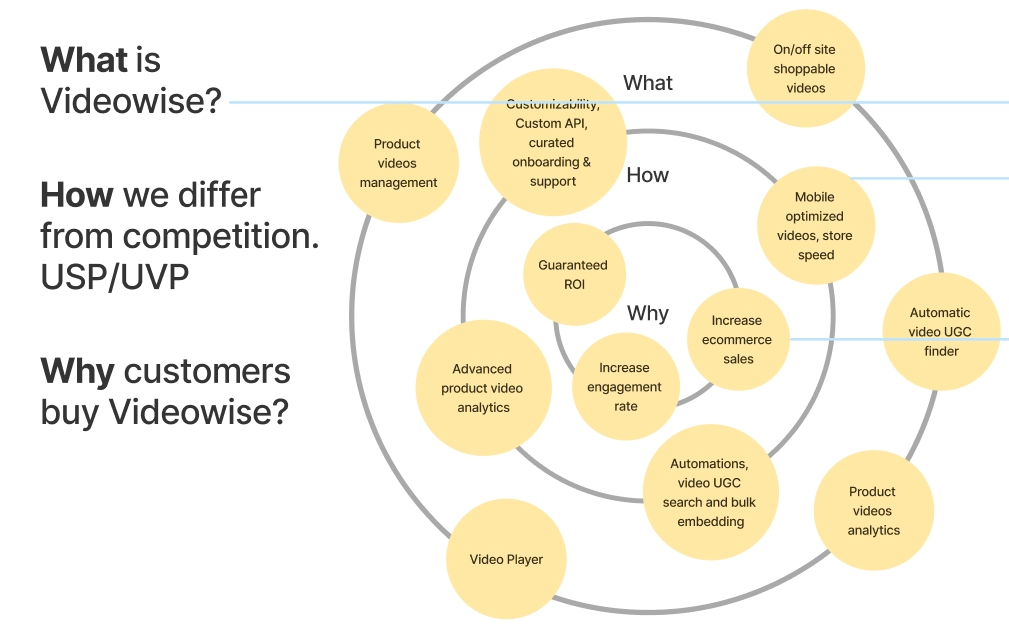 Videowise allows users to embed UGC videos from YouTube, Instagram, and TikTok within product pages. Again, this tool features detailed analytics that tracks engagement, conversions, and attributed revenue from embedded videos.
In addition, Videowise has its video player super-optimized for mobile environments. it's fast, responsible, and has a low impact on your store's speed
Customized video experiences. Videowise is all about versatility and adaptability to your store.
Pricing
Starter - $99/month (50 hosted videos)

Pro - $399/month (250 hosted videos)

Enterprise - Contact sales (unlimited hosted videos).
2. Wiremax
Create interactive video experiences with Wiremax.
This tool makes it easy to create top-notch interactive content that tells immersive brand stories, increases an eCommerce brand experience, and boosts team performance.
Most important features:
Interactive touch-points to increase viewer engagement.

Features video interactivity options such as sticky hotspots, informational overlays, and more.

Allows users to create a self-directed viewing experience.

Permits the inclusion of a call-to-action in every product in an interactive video to foster sales.

Keeps track of every sale.
Pricing
Free plan

Starter plan - $9/seat/month featuring 60 videos/seat/year

Standard plan - $25/seat/month featuring 120 videos/seat/year

Advanced plan - $48.75/seat/month featuring 240 videos/seat/year

Enterprise plan - contact sales.
3. Eko Studio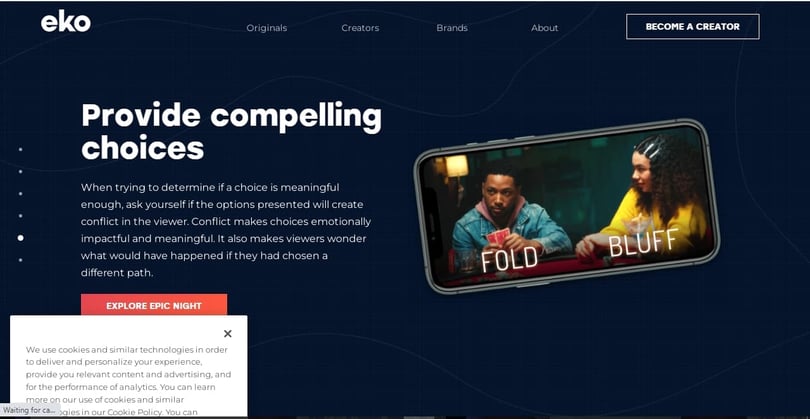 Eko Studio is an interactive video software and an immersive storytelling platform for creating premium interactive content.
If you know a bit of programming, you can quickly learn and customize your video content using the EKO developer API. Also, you can view your project after publishing it on any website, social media platforms, and eko.com.
This interactive video tool features a simple drag-and-drop dashboard and advanced branching. Although it has significant limitations, it might be an excellent option for some users.
Eko Studio focuses on meaningful and compelling choices that allow viewers to shape the videos they're watching. This feature will enable viewers to emotionally invest in the story and feel responsible for the outcome.
Eko offers scalable hosting and delivery services to guarantee the best response times and global accessibility using the AWS cloud and CDN (content delivery networks). All current desktops, tablets, and mobile devices can play videos with reliability.
Pricing
Basic plan - $229/month featuring up to 50 videos, branding, and analytics.

Pro plan - $749/month featuring up to 250 videos, branding, analytics, and up to 10 users

Enterprise plan - Contact sales.
4. Thinglink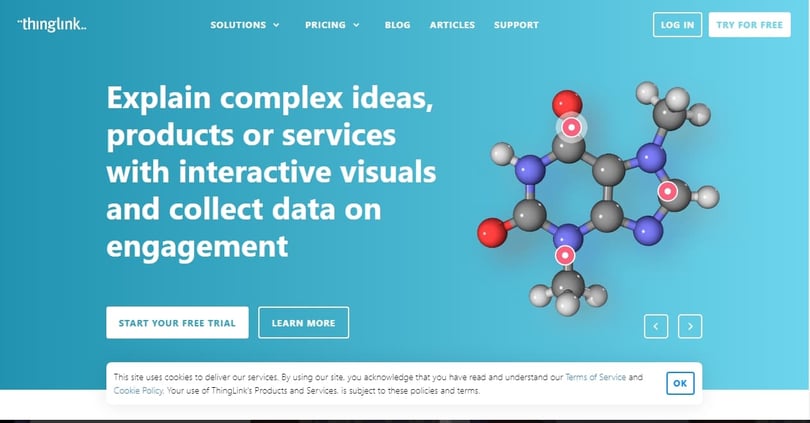 Are you interested in increasing your eCommerce brand's engagement and conversion? Thinglink has got you covered!
Thinglink has a 5-star rating on Capterra, with usage in over 180 countries. Interestingly, this app has a community of over 8 million content creators, and top software industries, including Microsoft, Google, Canva, and more, trust this tool.
The Thinglink mobile app works with phones and tablets and is downloadable on App Store and Google Play.
Most important features:
Easy to learn: Thinglink features an easy-to-learn editor that helps you save time, money, and resources.

Full package: You can add hotspots to images, videos, 360/VR, & 3D models and combine them into something intriguing.

Scalable: Manage multiple video content and audience. The enterprise plan provides room for multiple users.

Trackable: Receive feedback and track the engagements of users.

Works with others: Thinglink is embeddable to any website or LMS and integrated with Microsoft, Google, Canvas, and more.

Variety of content layouts and customization options.
Pricing
The pricing varies based on usability.
Plans for marketing and communications include free trial, professional individual ($25/month), premium team ($125/month), and Enterprise ($450/month)

Plans for school and academic institutions

Plans for corporate training and workforce development.
5. Rapt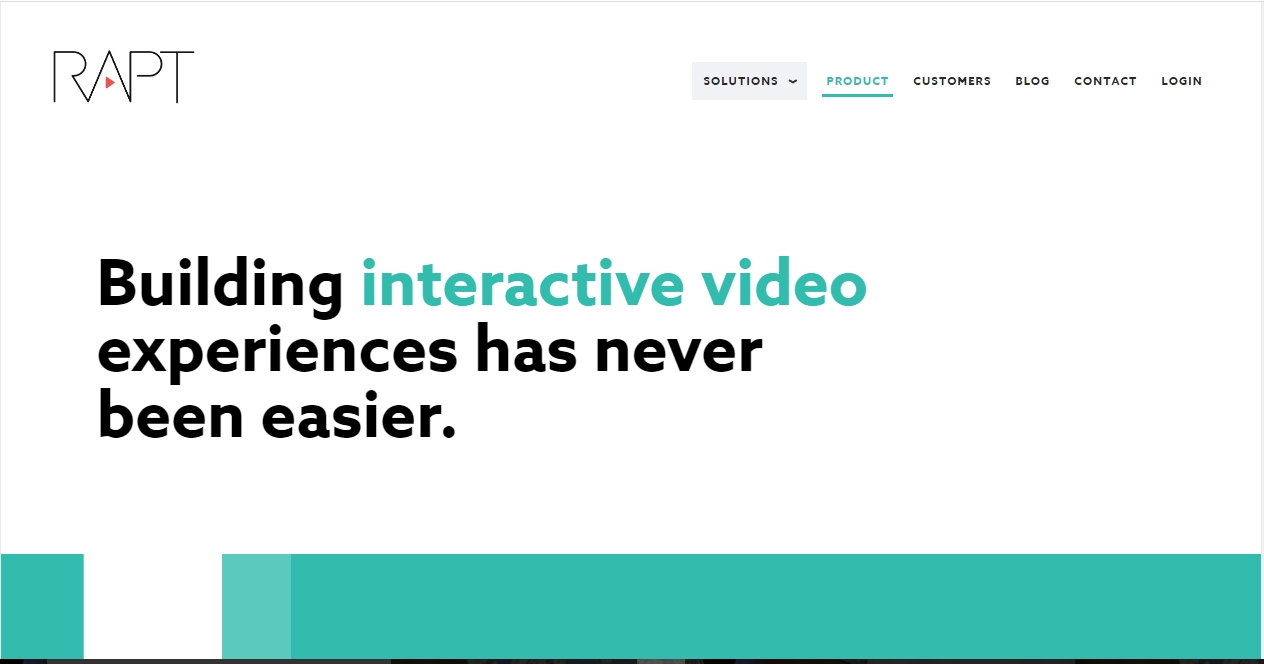 Rapt is a cloud-based video interactive platform that offers a compelling alternative to engage customers and employees. The focus of this software is to drive deeper engagement, thereby increasing learning, conversion, and behavior change.
With Rapt, you can build your video experiences in the tool's Composer, publish them to the Player, and measure them in the Analytics Dashboard.
Let's consider the essential features of this platform:
Compose: You can create video content in minutes with the Composer. This tool features a simple drag-and-drop interface that allows users to arrange their content and form a choice-based interactive narrative. In addition, you can connect videos and link out to calls to action with no code writing needed.

Embed and launch: You can embed your video content almost anywhere you can put HTML.

Analyze: With the Composer's analytics dashboard; you can track your audience engagement with your interactive video.

Integrate and Customize: You can create new interactive video content with its client-side JavaScript API.
Pricing
Contact the sales team for more details.
6. Cinema8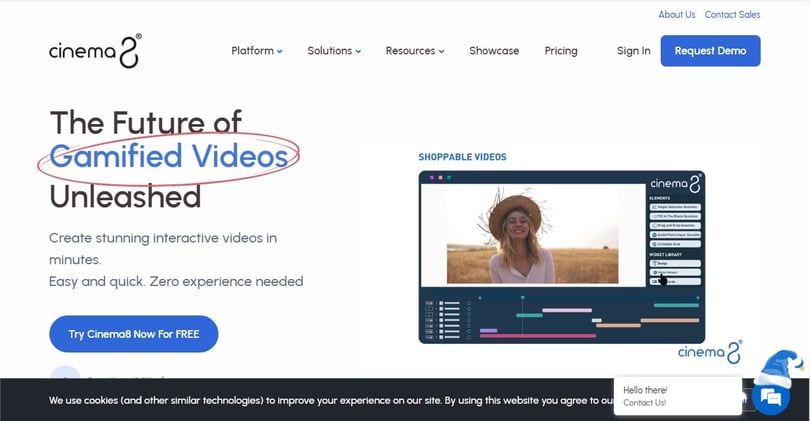 Create stunning interactive videos in minutes that show products in a factual life manner, thereby boosting conversions.
Over 500 brands trust Cinema8, including UCLA, Siemens, Nordex, Brim Explorer, and more. Also, this tool has a community that features top-rated individuals in the industry.
Cinema8 turns any video into an interactive experience. It's a drag-and-drop, no-code interaction design platform with powerful interactive features, including:
Over 1000 design elements

360-degree video/VR compatibility

Drag-and-drop. No code.

Comprehensive video analytics

AI/ Smart hotspots and overlays

Open development environment

Enterprise-grade video streaming

Secure video hosting
You can visit their official website to review their featured interactive videos and request a free demo.
Pricing
Starter plan - $249/month

Growth plan - $449/month

Professional subscription plan - $1199/month

Enterprise - contact sales.
7. Adventr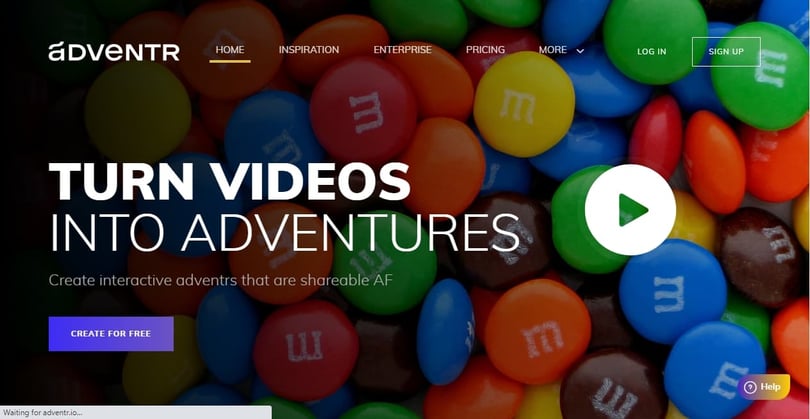 Adventr is an interactive video software that turns videos into adventures. It's a perfect tool for individuals in eCommerce, marketing, learning, and more.
Most important features:
Gives your audience control: Viewers can choose what happens, buy products, initiate calls or texts, and more without leaving the video.

Share anywhere: You can share your video content on several social media platforms, including Twitter, Instagram, Facebook, and more. Also, you can embed your videos on your website or enterprise player.

Repurpose existing footage: You can convert existing footage into your chosen video. Peradventure you desire to start afresh, you can optimize the easy-to-use drag-and-drop editor.

Monitor result: You can track your video's engagement and user behavior with its Advanced Analytics Tool.

Interactivity: Adventr features interactivity options, including branching, hotspots, and overlays.
It's time to level up your eCommerce brand with hyper-relevant video content and skyrocket conversions. With Adventr, this feat is achievable!
Pricing
CREATIVE for Everyone - Free (upload up to 10 minutes of video)

PRO for Professionals - $29/month (upload up to sixty minutes of videos)

BUSINESS for Small business - $99/month (upload up to 5 hours of video)

ENTERPRISE for Advertisers and media - Contact Sales for a custom plan (up to unlimited video uploads).
8. Smartzer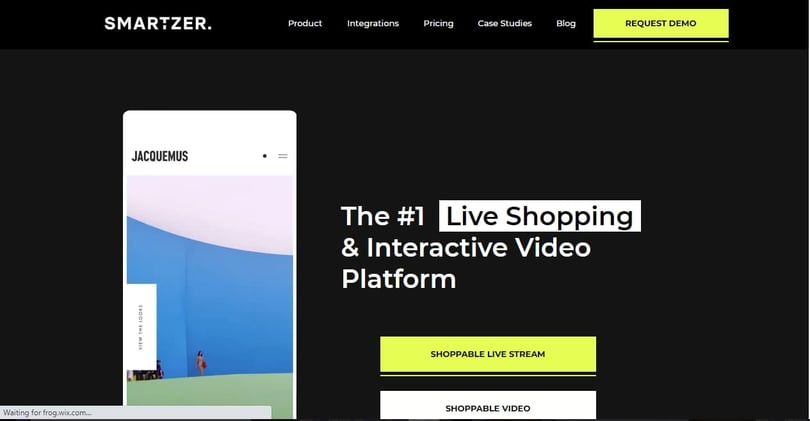 Smartzer is the number one live shopping and powerful interactive video solution. This tool quickly transforms your videos into shoppable, result-driven content.
Top-rated brands, including Forbes, Retailweek, WWD, and more, trust Smartzer. Besides, it provides interactive video demos for users to review its distinctive features. Which include:
Interactive overlay: Create interactive videos through a customizable overlay that engages your prospects and converts them without awareness.

Interactivity option: You can add interactivity hotspots to increase customer engagement and conversions.

Add to Cart feature: You can add Add to Cart feature to your videos for increased conversion.

Integrated with several eCommerce platforms: Smartzer is integrated with eCommerce platforms such ShopifyPlus, WooCommerce, Magento, Shopify, and more.
If you tag your video content once, Smartzer automatically creates an optimized version that can be easily distributed across eCommerce, messaging, social media, paid ads globally and more.
Subscription Plans
Shopify Mini - For a tiny business on Shopify

Shopify Starter - For a small business on Shopify

Shopify Growth - For a growing business on Shopify

Enterprise - For a more prominent brand on any eCommerce platform.
9. Hihaho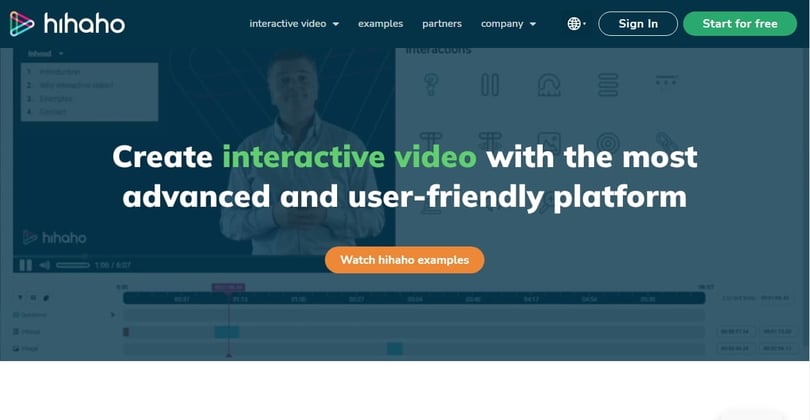 Hihaho is an advanced and user-friendly software delivering quality video experiences.
This tool supports three advanced APIs that automate interactive video production. The software is integrated with top platforms, including YouTube, Vimeo, Mediasite, JWPlayer, and more.
Most important features:
#20 Interaction Types: Hihaho allows you to add different interaction types wished for by your customers. You can easily add interactive images, a table of content, hotspots, a pop-up menu, and more.
Interactive Layers: Hihaho adds an interactive layer at the top of every linear video.

Copy & Paste Interactions: This feature helps save time and works for multiple video creations.

Embed Your Videos: You can easily embed your videos on your website.

Track result: Gather analytics about your video clicks and views, the needs of your viewers, and more.
Pricing
free, and unlimited trial

€97 per interactive video with great features.
10. Mindstamp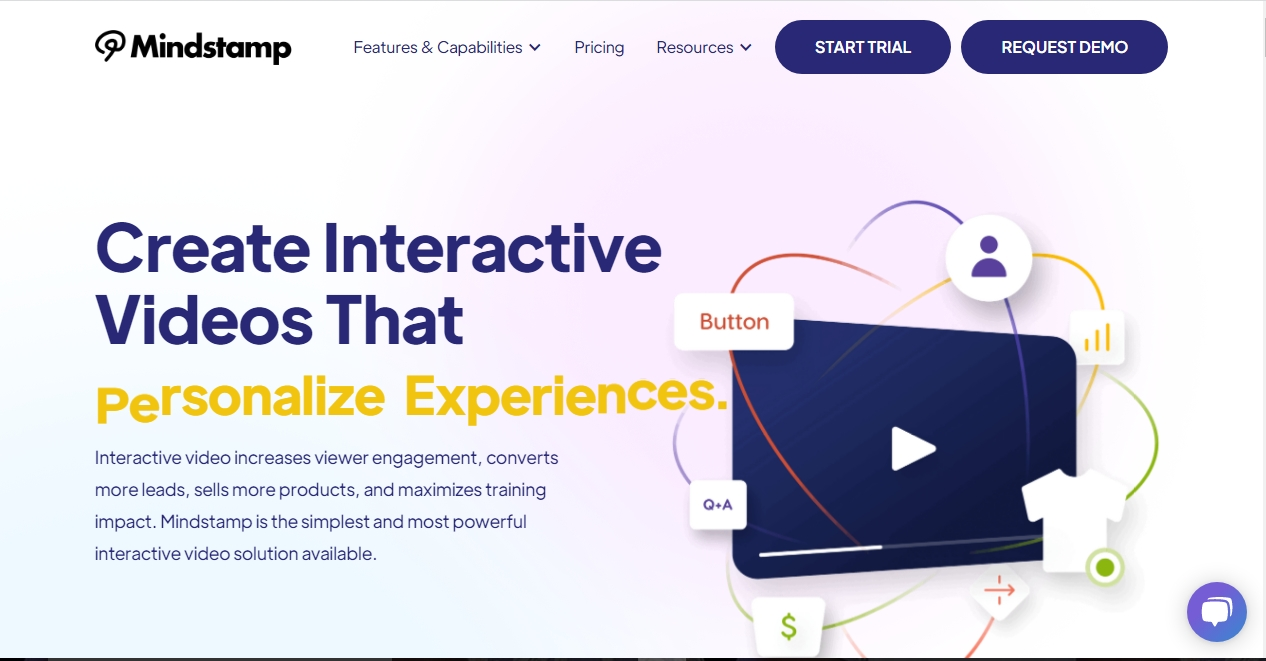 Mindstamp is one of the most straightforward and powerful interactive video solutions for creating videos that engage viewers, sell products, capture leads, and more.
This interactive video platform has a 5-star rating on Capterra, Product Hunt, and more. Besides, it offers a 7-day free trial for users to explore the power of interactive video.
Most important features:
Interactive elements: Mindstamp provides a list of interactive elements to improve your video experiences. You can optimize elements such as hotspots, images, end calls to action, conditional logic, drawings, and more.

Video Capabilities: Explore different video capabilities, including video branching, HTML embeds, capturing leads, video series, grading reports, and more.

Integrations: Mindstamp is integrated with Hubspot, Zapier, Salesforce, Google Analytics, and more.
Pricing
Starter plan - $29/month

Core plan - $99/month

Pro plan - $249/month

Enterprise plan - Contact sales.
Let's move to the last phase.
Frequently Asked Questions on Interactive Video in eCommerce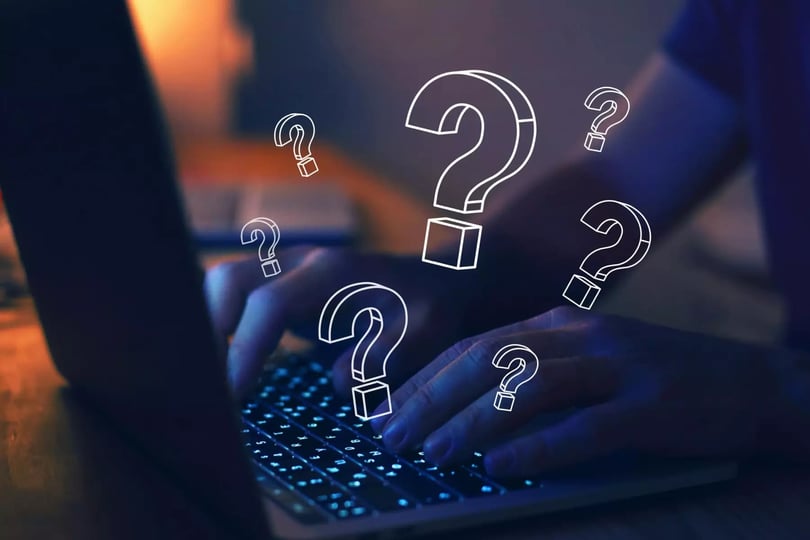 1. How does interactive video marketing enhances customer engagement?
Convenient Interaction: Interactive videos fosters customer engagement, RPS (Revenue per session), and conversions by granting access to its shoppable video toolkit.

Memorable experiences: Interactive videos engage the senses more than mere text, making customers satisfied and likely to convert them.
2. How effective is interactive content in an eCommerce store?
Interactive content creates value for your customers, keeps them engaged, and makes it easier to understand. This will increase the store's traffic and leads, leading to more conversions and sales.
3. How do I know if my site supports interactive videos?
Your store technology is the starting point. Whether it's a Shopify store or custom cart CMS, Videowise can be seamlessly integrated.
4. Are interactive videos mobile-friendly?
Yes, you can optimize interactive videos for mobile phones. Mobile media represents the primary focus to go after in the new year 2023.
5. How many interactive elements can I use per video?
There is no limit to the number of interactive elements you can use per video. However, too many features in a video distract the viewer and slow down video performance. Learn your customer behavior and set up a video strategy.
Final Words
It would be best if you offered your viewers the interactivity they demand to increase engagement and conversion. Interactive video software is here to help achieve this goal with ease. Interactive videos are a powerful eCommerce marketing tool that helps you boost brand loyalty and sales.
Review and choose among the popular interactive video platforms listed above to create your brand's interactive videos, also don't forget to check our guide on top eCommerce apps in 2023
If you still struggle to choose one - Videowise is the way to try it. Create engaging and highly converting interactive videos in minutes.
Success Olagboye
Success Olagboye is an SEO Content Strategist and Writer. Publications on Hackernoon, keyword.com, Adlibweb, Eden Content Hub, and more.
Keep up with the latest trends in eCommerce video experiences