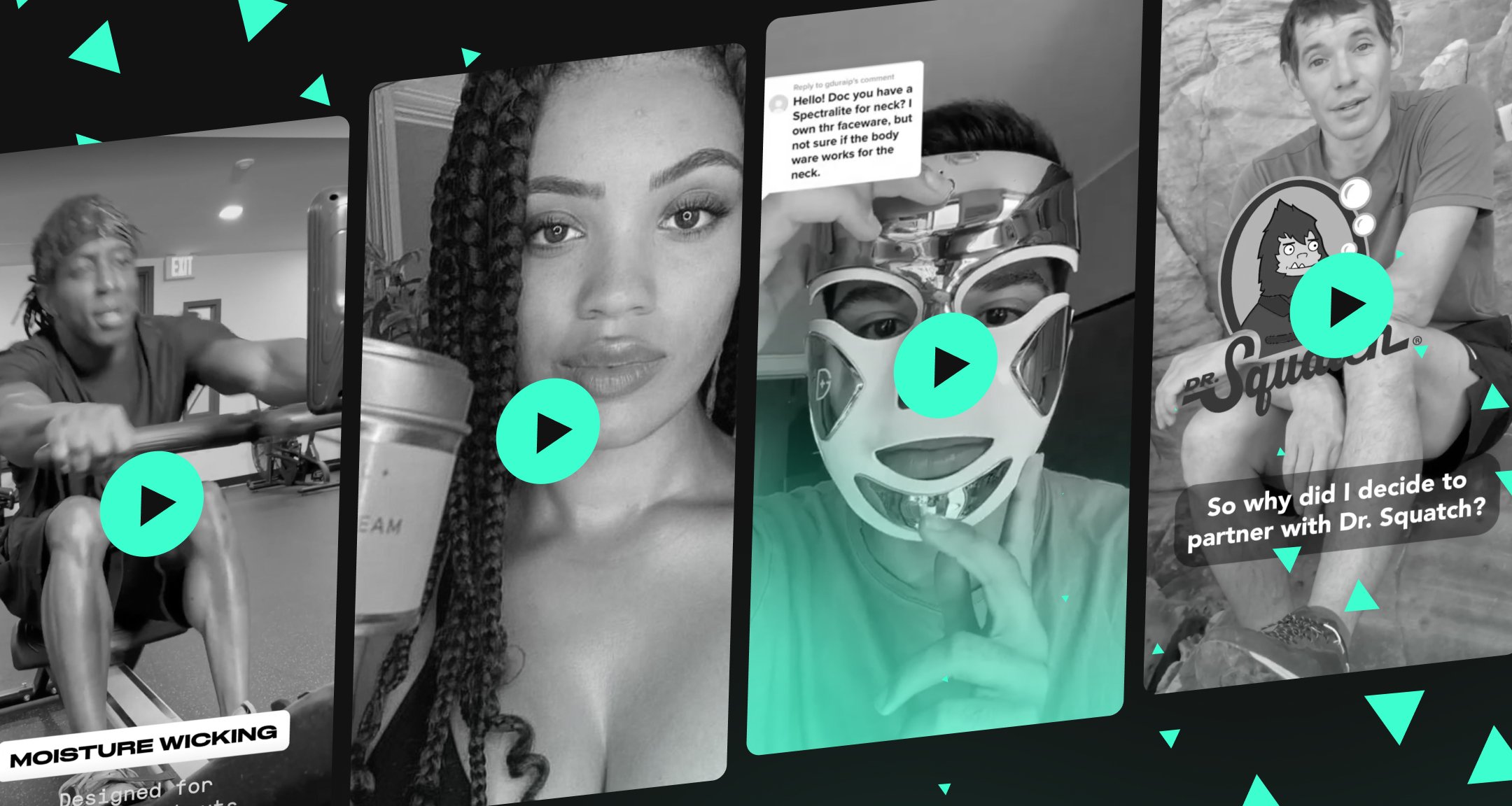 When buying online, there's very little you can do to evaluate if a product is worth the purchase. You can't see the real product. Forget picking it up or trying it out.
That's why the opinion of other customers— in the form of reviews, recommendations, and even social posts— is crucial in your purchasing decision. In this age of Reels and TikTok, a video is worth a lot more than a 5-star rating.
There's proof— 77% of consumers regularly or always seek out visual content from other consumers prior to making a purchase.
It's evident that eCommerce stores can't miss out on leveraging user-generated content videos.
But how can you use videos from customers to convert new shoppers? We'll help you understand how to get started with user-generated video content with UGC video examples from 10 leading D2C brands.
10 UGC video examples and what makes them effective
Brands these days rely heavily on user-generated video content. They place UGC videos on 2 of these most common touchpoints where new visitors are sure to engage— their eCommerce store and various social media sites. When adding these videos to your marketing strategy for your own storefront or social media platform, it's important to know what kind to use and where.
The following 10 D2C brands exemplify how to pick the right user-generated video to show product usage, increase credibility, and convince shoppers to buy.
1. Ava Estell - Explaining how-to on the product page
When he noticed a massive gap in Black representation within the cosmetics industry, Yaw Okyere wanted to change that. Ava Estell is an all-natural skincare brand made for darker skin tones and focused on tackling skin concerns like hyperpigmentation. With a massive following of 299K on Instagram, the brand is loved across the globe.
When browsing your online store, it's always best to clearly explain and elaborate to your shoppers than leave them with unanswered questions. Ava Estell has a "How to Use" section on their product page where shoppers can watch a video to understand how they can get started with their product.
Why it works:
With a "how to use" video, the brand can remove any doubts from their potential shoppers' minds. The video lets them answer common questions they may have on how and where to use the product. With this clarity, shoppers can confidently make a decision to buy.
In fact, by adding videos on-site, shoppers spent more time on the website. With 4.4K hours added on-site and more than 299K videos watched, Ava Estell generated an additional £743K in revenue at an average conversion rate of 7%. Learn how the skincare brand leveraged video.
2. Dieux Skin - Customers share the positive effects of the product
Dieux Skin is a skincare brand born from a need for transparency in results, price, and science. The team genuinely believes in setting a standard for skincare products and it shows! The brand has a loyal following, with its products selling out within just hours of launch and rave reviews from the likes of Forbes.
Since they are all about honesty, the brand shares how customers experience their products. Customers don't just share the results but also how they used the product, their unfiltered opinion, and how it made them feel.
Why it works:
There are a few reasons why user-generated content is effective in convincing new shoppers to try the brand:
Problem relatability: The customer talks about what problems they had, allowing viewers to identify issues they relate to.

Honesty: There's no exaggeration of the product's role in the results.

Directly from the customer: It's apparent by the voiceover and the front-facing selfie mode that the customer made the video eagerly.

Shows results: The video includes a before and after, showing proof of any results that the customer saw the product usage.
3. Vinterior - How the product adds to the customer's life
On a mission to encourage sustainable shopping and an appreciation for characterful furniture, Vinterior is an online marketplace that allows anyone to sell and shop unique vintage pieces. Thanks to the latest boom in acquiring pre-loved and vintage furniture pieces, the brand is now a market leader in the UK, with more than 2K+ sellers globally.
Since each item sold on the website is unique, the brand can't promote individual items. Instead, Vinterior posts about the lifestyle of collecting gorgeous furniture pieces. They reshare customers' videos of how they placed a vintage piece within their living space or how they repurposed a piece of furniture to liven up their home.
Why it works:
Such videos help the brand share a common interest in home decor among its audience. Their videos on social media platforms are a curation of the best home decor and furniture renovation. Thanks to this, new audiences can also pick up inspiration on how to set up their own living space, making the brand's page a go-to for their audience.
Pro-tip: Don't just look for UGC content that talks directly about your product. See how you can reshare content that adds value to your audience, like tutorials, inspiration, hacks, etc.
For instance, if you're a skincare brand, you could reshare videos made by creators about their skincare routines featuring one of your products.
4. Pillow Cube - Increasing social proof with TikTok videos from real customers
Pillow Cube is made for side sleepers, the first of its kind. The brand has gotten rave reviews from top publications like Wirecutter for creating a product that helps customers sleep better and get better neck and spinal support.
With rave reviews and proven results comes a high price tag that may make customers a little reluctant to buy. But Pillow Cube knows just how to tackle that. Website visitors are fully informed about the benefits, features, and even the way the product looks at every touchpoint on the eCommerce store, from the homepage to the product page.
Why it works:
In the interest of educating its website visitors, Pillow Cube has also added a carousel of testimonials taken directly from social media platforms. These testimonials are from different kinds of customers talking about different aspects of the product— how it works, why it's good for sleep, etc.
Pro-tip: In this day, customers have started to share their experiences of products on social media. So, if your products are made well, customers are sure to rave about them! Once you've received a rating from customers on-site, you can get in touch with that customer via email or SMS, asking them to share their thoughts online.
5. Pact - Customers show how they wear it
Launched in an attempt to make the fashion industry more sustainable, Pact is an organic cotton fashion brand that sells clothing that is well-designed, stylish, and ethically made.
Shoppers online have tons of options when it comes to clothing brands. That's why fashion brands need to stand out when marketing themselves. Pact does this with videos and posts that shoppers are eager to watch and save.
Why it works:
For fashion brands, hauls and styling videos are a hit. Styling videos, specifically, allow shoppers to visualize clothing since it's worn by a real person (rather than a model) as well as the different ways they can wear one item.
With more people on social media creating videos that show how they style their looks, it's easier for fashion brands now to find and reshare user-generated content videos that feature their clothing.
6. Sama Tea - How the product is part of their daily routine
Sama Tea is made to provide balance in your body, mind, and heart. The brand follows the learnings of Ayurveda, using adaptogenic plants within their tea blends to help their customers live healthier.
Tea is part of many people's daily rituals, making it all the more special. By sharing how different people approach this ritual, Sama Tea can connect and relate with their audience better. The brand reshares how customers all over the world incorporate their products within their daily tea ritual.
Why it works:
The video shows a very personal moment in the day of the life of a customer. While the product is only one part of the customer's morning routine, the video shows just how much calmness and care it brings to them— values that the brand identifies with.
Pro-tip: When collecting UGC videos, ask customers to share how they make your product a part of their day or routine, however small it may be.
7. Busy Baby Mat - Showing how the product works right on the homepage
Busy Baby Mat is made to keep to keep babies' favorite toys, teethers, and utensils in place. The patented silicone suction placemats are famous for helping mums avoid falls and keep their baby's items sanitary.
Shoppers won't fully understand how the product works or what it looks like with just pictures. On its homepage, the brand has added UGC video content that show how the placemats work, their benefits, and features that are designed keeping in mind the behavior that babies exhibit.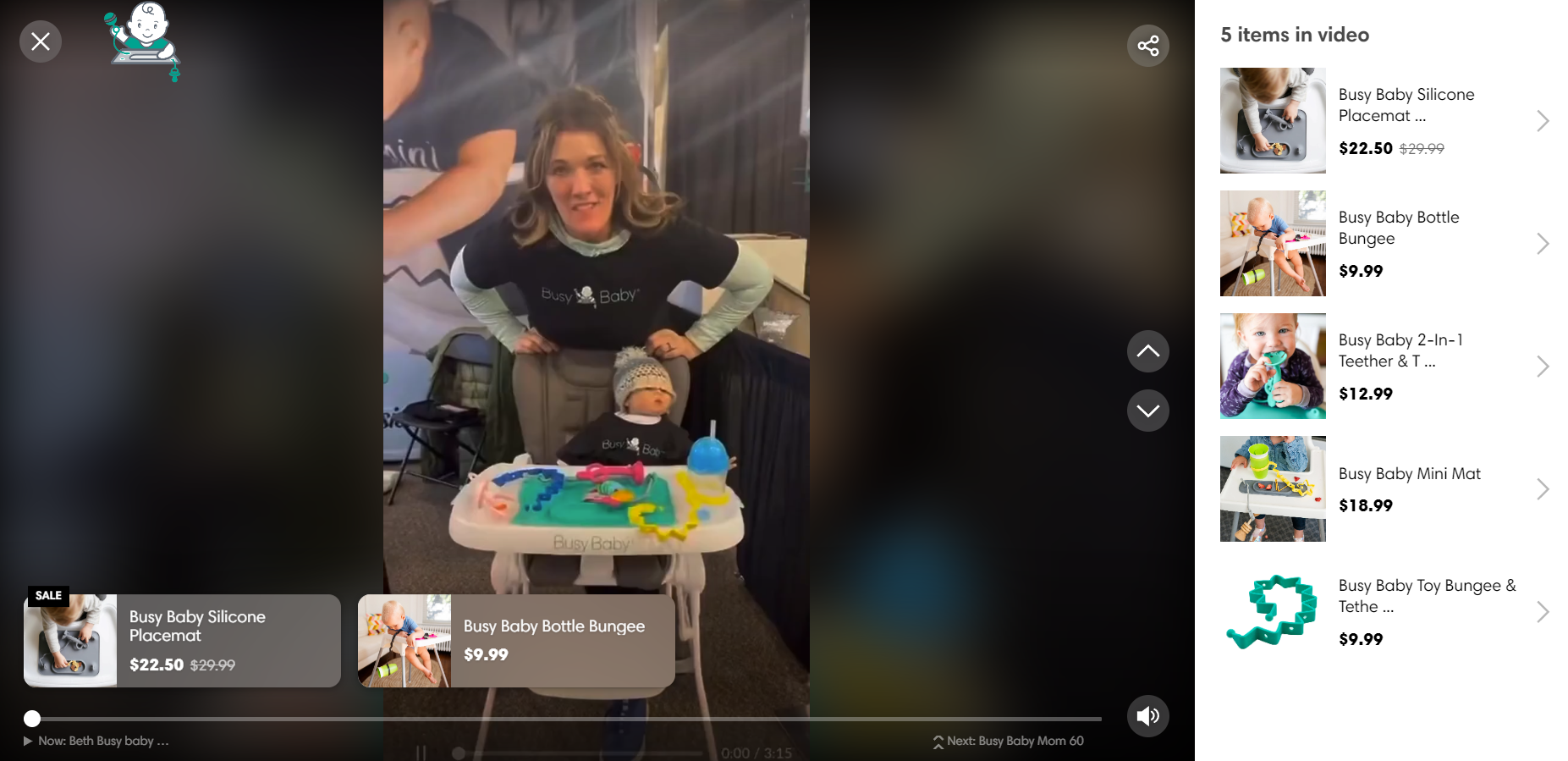 Watch the full video here.
Why it works:
The video shows the product being used by a baby, with proof as to how useful and effective it is. The customer has also added text to explain why they love it, explaining the benefits of the product. By adding these videos on the homepage, the brand can show the value of the product to visitors as soon as they land.
What's more, Busy Baby Mat has made these videos shoppable. So, instead of clicking out of the video and going to the product page to buy, visitors can add the product to their cart while they are fully engaged and watching the video.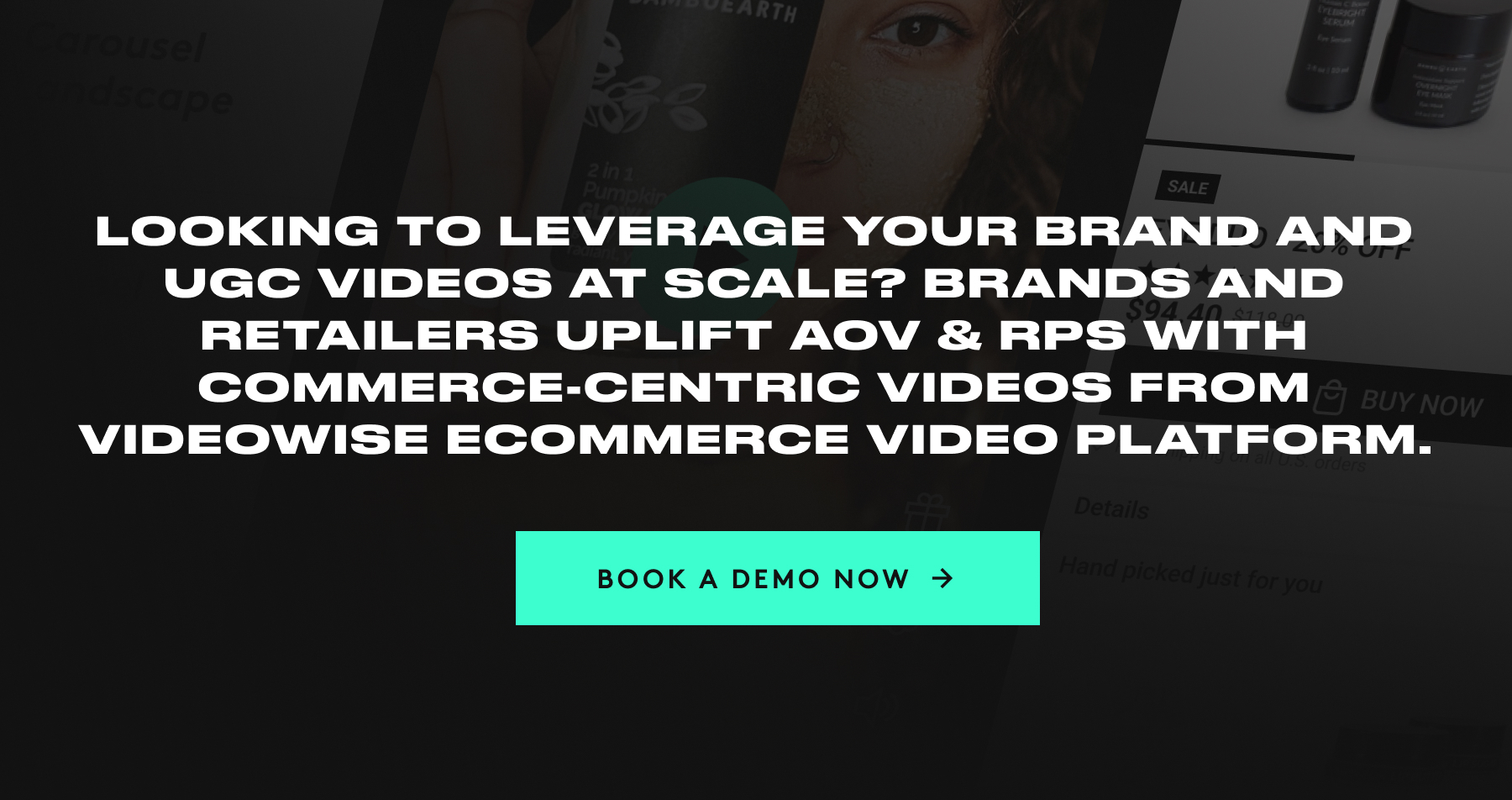 Learn more about the effectiveness of adding shopping videos within your eCommerce store.
8. Once Upon a Farm - Provide value from the community
It's almost impossible for parents to find packaged foods that are healthy and safe for their children. On a mission to change this, Once Upon a Farm creates organic and farm-fresh snacks and meals for babies to big kids.
The brand doesn't just deliver on its promise of healthy packaged foods but has now fostered a community for parents, from helpful tips on nutritious eating to sharing experiences around feeding and food.
Why it works:
Once Upon a Farm reshared a video made by a mom on how to add more veggies to a child's diet. This is one of the best UGC video examples of how you can provide actionable tips to viewers while subtly showing the value of your product.
Besides such how-to videos, the brand also reshares recipes made using their products as well as children's reactions to their delicious treats. This user-generated video content allows the brand to create a positive rapport with its audience and create a sense of community.
9. Immi Eats - A variety of recipes with the same product
If you're looking for a brand that pays homage to ramen, the answer is Immi Eats. The brand is known for its first low-carb, plant-based, high-protein instant ramen.
But, when selling food items like ramen online, it's hard to do it justice with just a few words and pictures. That's why almost every page on Immi Eats' website has videos that shoppers can dive into. These videos feature customers enjoying the ramen, unique recipes, and reactions.
Why it works:
Besides adding UGC visual elements, Immi Eats got a few things right with the video section on their product page.
High engagement and value: Website visitors can watch videos of the ramen being made or eaten from the product page. They get to see different recipes they can try and learn about the product in an engaging way.

Instant checkout: Instead of having to exit the video player to buy, shoppers can add the item to their cart and directly checkout

Less likely to drop off: Within the video player, viewers can also view a section recommending other products so that they can keep browsing.
10. Feel Goods - Real stories from real customers on the product's results
Feel Goods was founded on the remedies our mothers would whip up when we were unwell. The brand is known for its range of natural blends made for immunity, gut, and daily well-being.
On their product page, Feel Goods has added a section of videos about the product that customers shared on TikTok. These videos range from health tips that recommend the product to recipes to even testimonials.
For food brands, one of the easiest ways to pick up user-generated video content is with recipes. Feel Goods is one of the best UGC video examples of it!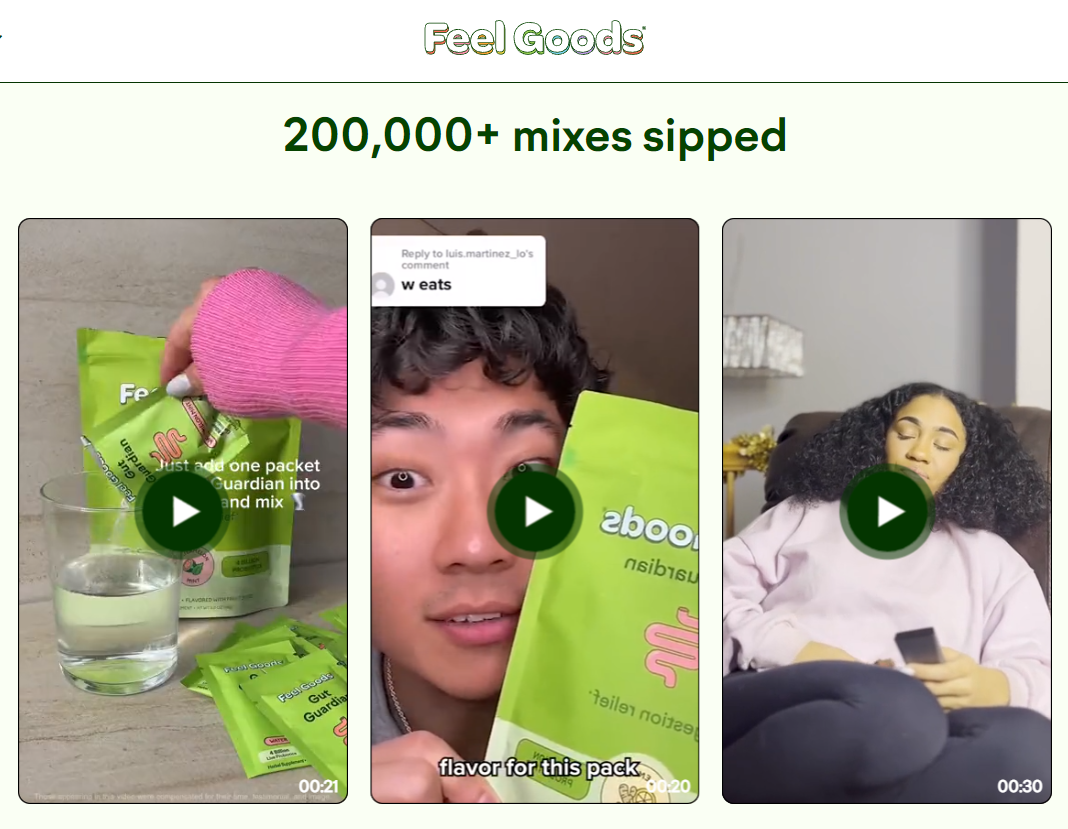 Why it works:
When buying a health product online, shoppers are skeptical since they would be more cautious of what they put in their bodies. So, they need a lot more assurance of its safety and results.
With this section on the product page, the brand can convince new shoppers of the product's credibility and impact through real stories from genuine customers.
Pro-tip: Many eCommerce stores add testimonial videos on their homepage. This way, new visitors can instantly see the value of their products as well as the brand's credibility, making them more likely to continue browsing the store.
Show why customers love your products with user-generated videos
There's no denying the effectiveness of user-generated content. New shoppers can evaluate your brand better when they hear from actual customers about what your product has done for them, converting them into customers faster.
We hope these UGC video examples help you understand the different ways you can use video on-site and within your social media channels to acquire and convert shoppers.
Videos are an essential part of the experience for any eCommerce store, helping you provide visual proof of why your products are worth a buy.
With Videowise, you can add videos to your eCommerce store and even turn them shoppable. This way, visitors can add the product directly to their cart while watching the videos, converting them as soon as they are convinced!
Book a live demo now to see how Videowise can help you increase conversions with video.
Keep up with the latest trends in eCommerce video experiences