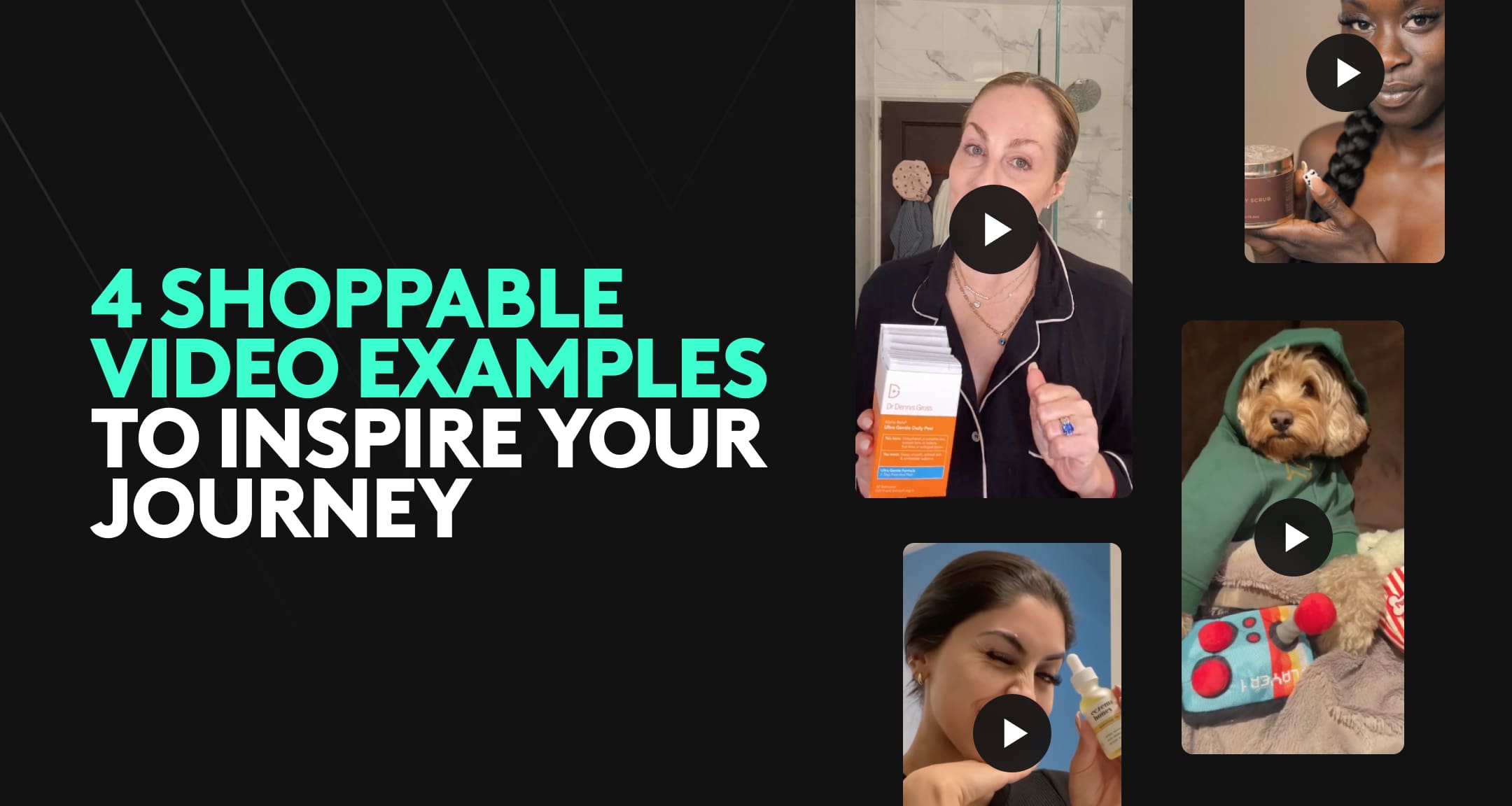 Despite the rapid growth of eCommerce, there hasn't been much innovation in the way customers shop online.
They want more.
They want to understand how the product they're staring at looks in a real-world setting.
They want to see videos of real people using your product.
They demand a more interactive and immersive experience.
Implementing shoppable videos on your eCommerce store can help.
Apolla, one of our customers, achieved up to $193.9k in added revenue after implementing video shopping in their store. In addition, RIFRUF, a dog shoes brand, drove more than $50k after incorporating shoppable video functionality into their online store.
Similarly, several Videowise customers have seen a massive spike in their engagement rate, added hundreds of hours of on-site time, increased their conversion rate, and hit their annual revenue goals (which they were struggling with before)within a few months after implementing video shopping.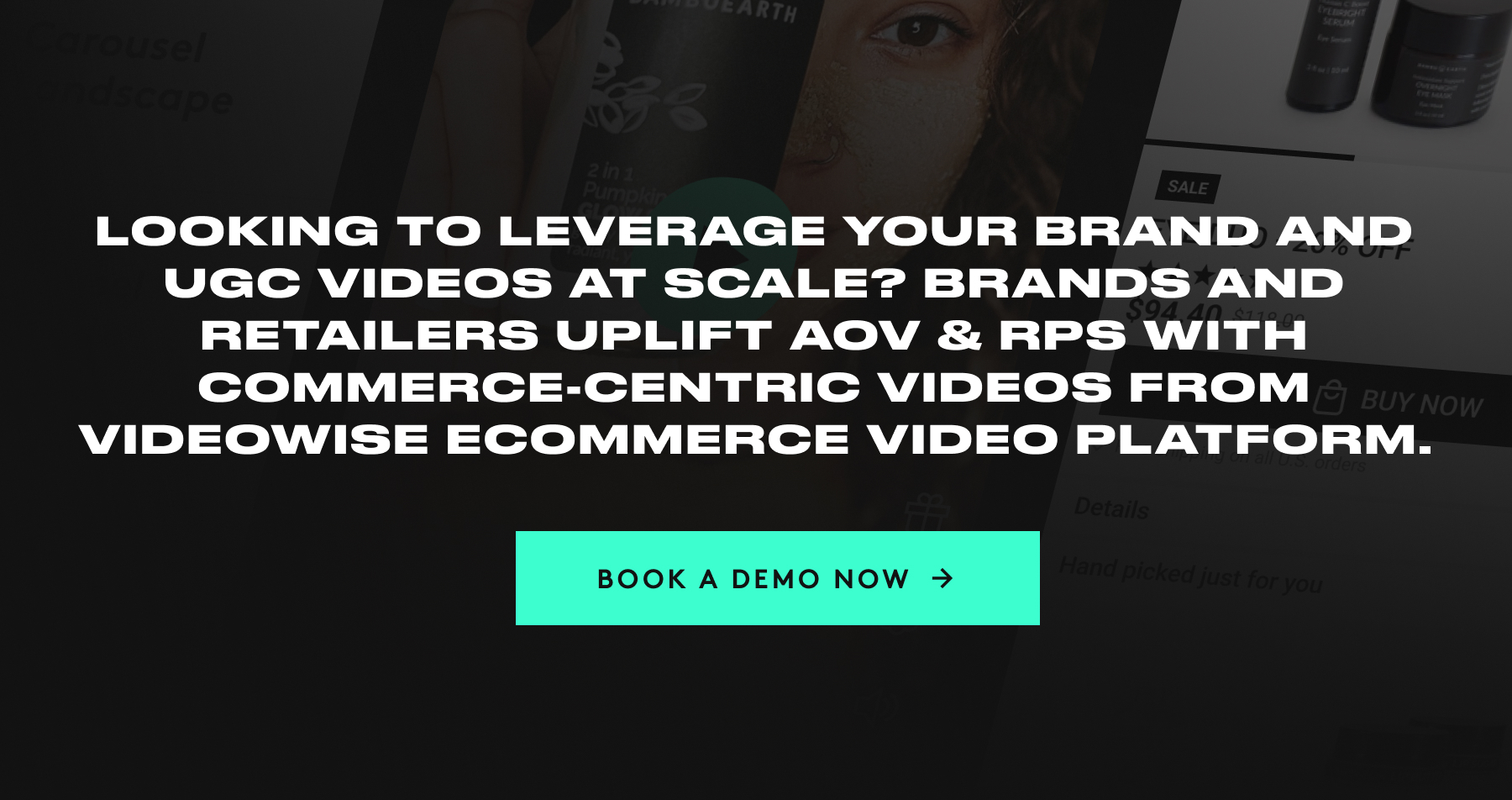 Allow us to share examples of some of the most successful shoppable video campaigns powered by our platform.
4 examples of successful shoppable video campaigns powered by Videowise
Videowise has been the go-to video shopping solution for hundreds of eCommerce stores, some of which include Ava Estell, Artsabers, Apolla, RIFRUF, Busy Baby Mat, Headphone Zone, and several others.
Now, I know you're probably thinking, "Wow, that's a whole lotta stores. Are they all happy with Videowise? Did they all achieve outstanding results by implementing video shopping?"
I don't want to seem biased, but the answer is a resounding yes!
I could go on and on about the success story of every single one of Videowise's customers, but I don't want to bore you with a plethora of information, which is why I will be listing down examples of four successful shoppable video campaigns powered by Videowise.
Excited to dive in with me? Remember to put on your diving suit (just kidding) –
Let's explore their campaigns in depth.
1. Ava Estell drove £743K in added revenue
About Ava Estell -
What's so special about Ava Estell? It's an all-natural skincare brand made with melanin in mind. Their products deal with darker skin tones and work on skin conditions like stretch marks, hyperpigmentation, dark spots, eczema, blemishes, etc.
Challenges -
If you run a cosmetics brand, you're likely aware of how challenging it is to convince customers to purchase your products.
It's just as hard as convincing a toddler to eat their veggies. I know!
Consumers don't trust cosmetic brands these days. They're cautious about what they apply to their skin. Before purchasing from a skincare brand, most customers will probably go through that brand's reviews on Google, Amazon, and other review sites, stalk these brands on social media, look at product review videos and ask their friends or family members for recommendations.
Before implementing video shopping in their store, Ava Estell struggled to show their customers the results their products delivered. While they did have a few Vimeo videos on their product pages, the engagement was extremely low. That's because the Vimeo video player is buggy on mobile devices. And most of their traffic was coming from mobile.
Solution -
So they leveraged Videowise's video player.
They wanted to share real-life customer experiences in the same manner as they showcased their products with shoppable videos. Hence, they created a "Real Reviews from Real Customers" section on their landing page with video testimonials of their customers using the Videowise video player. In addition to these testimonials, they also included before and after videos to demonstrate the effectiveness of their products.
Alongside this, they also linked these videos to their respective product pages.
So, suppose you're interested in purchasing Ava Estell's "The Ultimate Body Care Set," you'll find video testimonials for the product on its product page like this –
Let's talk about the results they achieved after implementing shoppable videos.
Results –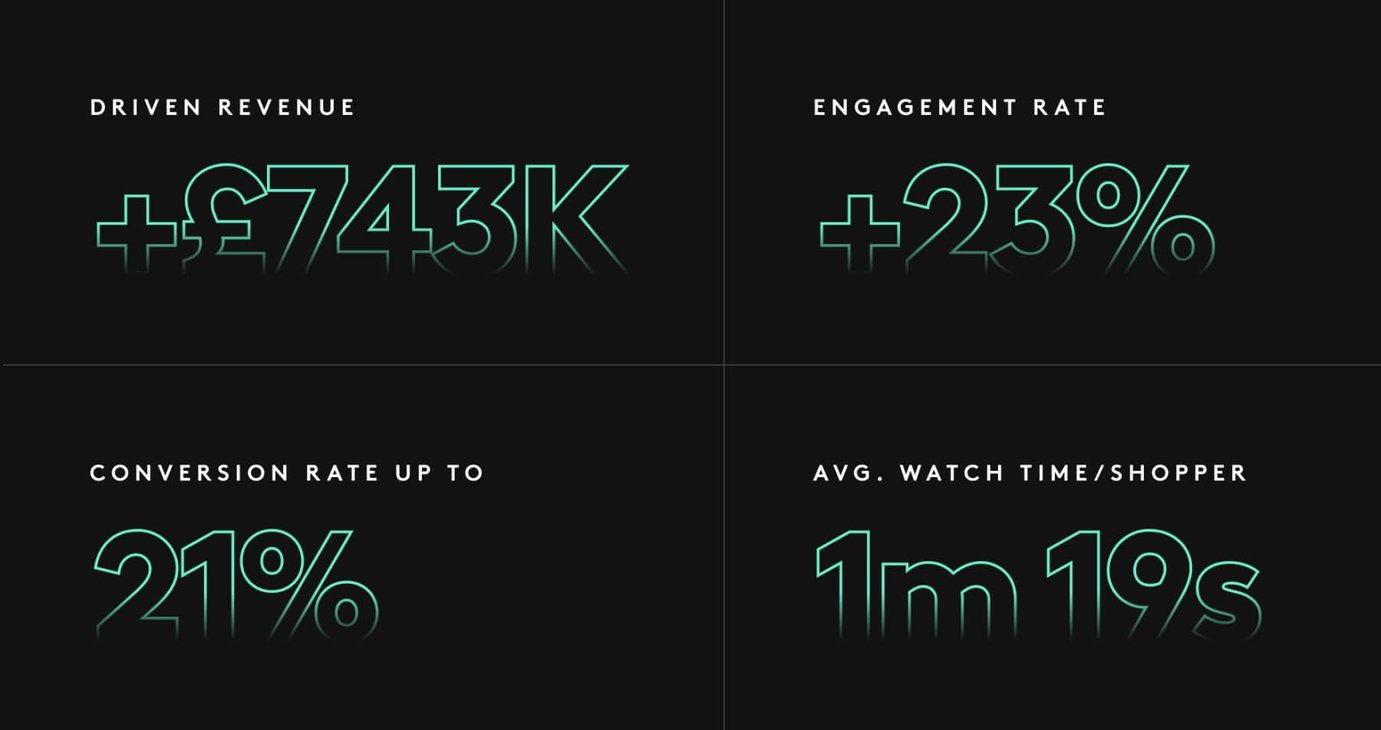 After implementing Videowise's video player to help their customers make informed decisions, Ava Estell generated a whopping £743K+ in added revenue, increased their engagement rate to 23%, drove conversion rate up to 21%, and added more than 4,490 hours of on-site time. In addition, their average watch time per shopper was one minute nineteen seconds – which is seriously impressive.
The skincare brand's best-performing video helped them generate £124K+.
By tracking metrics like on-site engagement, video conversion, top-converting pages, and top-converting videos using Videowise's advanced video commerce analytics, the team at Ava Estell improved their video marketing strategy and GTM approach – as these metrics helped them make performance-based informed and strategic decisions.
Want to dive deeper? Read their in-depth case study here.
Next on our list is Busy Baby Mat, a family-owned business that reported an average conversion rate of 11.49% after implementing video shopping.
2. Busy Baby Mat reported an 11.49% average conversion rate
About Busy Baby Mat -
If you're a parent, look no further. Meet Busy Baby Mat – an online store to make the lives of busy parents easier. What started as a baby mat store has now evolved into a large retail store offering a wide range of baby products that keep babies busy and safer from germs.
Challenges –
Busy Baby Mat offers a wide range of unique and innovative products. However, before they implemented video shopping, they struggled to portray the value of their products. Plain old imagery wasn't cutting it for the brand. They needed to present their products dynamically and interactively to convince parents and increase their sales numbers.
At the same time, they struggled to differentiate themselves from their competitors.
Solution –
Shoppable videos helped them with these challenges. By implementing shoppable videos on their website, they were able to deliver an immersive and interactive shopping experience – which helped them differentiate from their competitors.
Also, they presented their audience with various kinds of videos like testimonials, how-tos, and more to help parents better understand the value of their products. By seeing Busy Baby Mat's products in action, parents could see first-hand how they could benefit from using them, which helped them build trust and drive more sales.
With Videowise, they imported their already-existing videos on Instagram and TikTok and embedded them in their Shopify store. Also, they used Videowise's Find UGC feature to find user-generated YouTube videos with their brand mention. Lastly, they made their video content shoppable, allowing them to deliver a quicker checkout experience and increase sales.
Results –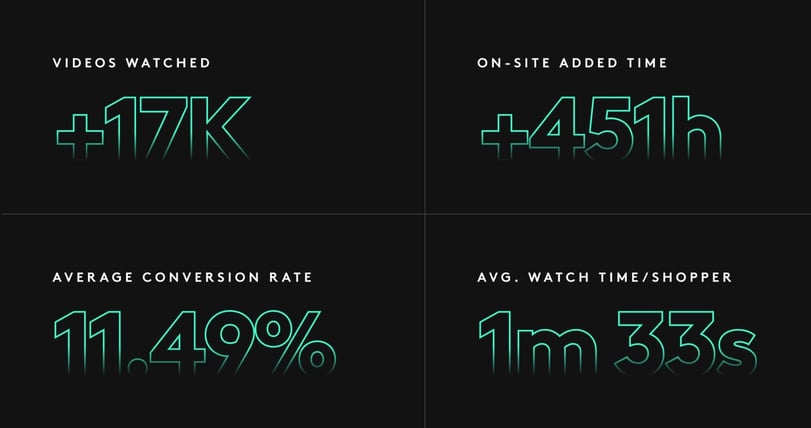 With more than 17K videos watched, implementing video shopping helped Busy Baby Mat achieve an average conversion rate of 11.49%. Also, they added more than 451 hours of on-site time. And their average watch time stood at around one minute thirty-three seconds.
Isn't that impressive?
After implementing video shopping, Busy Baby Mat has constantly been updating its video marketing strategy based on metrics like top pages, top videos, shoppers by device, average order value, and top video widgets, all thanks to Videowise's advanced analytics. These metrics help them measure the impact of shoppable videos and make better data-driven decisions.
Read the Busy Baby Mat case study here.
3. RIFRUF generated $50K in added revenue
About RIFRUF –
Woof woof! RIFRUF came into existence after Peter (CEO at RIFRUF) saw his beloved dog Caesar suffer from paw injuries caused as a result of walking on broken glass and hot asphalt. He was inspired to build functional, high-quality, and at the same time, stylish dog footwear.
So he set out on a mission to protect the paws of man's best friend by creating the perfect dog shoes that checked all three boxes – design, functionality, and quality.
This led to the birth of RIFRUF – a brand that offers a wide range of dog shoes that caters to the needs of both dogs and their owners.
Challenges –
Like many customers, the RIFRUF team struggled to communicate its value proposition before implementing video shopping. Convincing dog lovers to purchase shoes hasn't been an easy journey for Peter and his team. After all, dog shoes aren't a common topic that comes up in conversation every day.
From raising awareness around the need for dog shoes to demonstrating their products much better than using plain-old imagery, the RIFRUF team had a lot on their plate.
So, they decided to tap into the power of video shopping.
Solution –
Video shopping has now become the go-to solution for RIFRUF. Their team closely works with Videowise's customer success teams – who conducted an in-depth audit of their Shopify store and built a personalized video strategy for their business.
Initially, we embedded shoppable videos across different pages – from product pages to story pages to the homepage. The whole point from Day I has been to educate their audience about the importance of dog shoes and to showcase their products and their benefits.
On their homepage, the RIFRUF team has implemented the "Check out the RIFRUF Pack" section to showcase their shoes in shoppable videos.
Also, they have a dedicated "Help Section" on their product pages to help shoppers gain in-depth information about their products.
Results –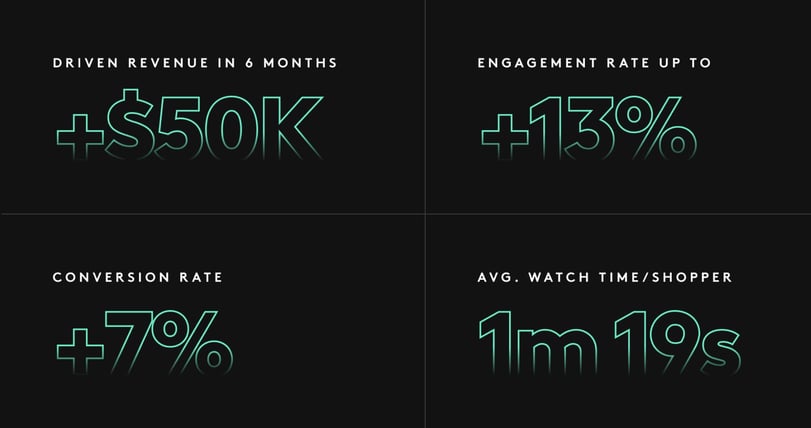 RIFRUF added more than $50K in no more than six months of implementing video shopping. They achieved a conversion rate of 7% and a 13% engagement rate. At the same time, they added more than 500 hours of on-site time – with 19K+ videos being watched to date and the average watch time per shopper standing at one minute and nineteen seconds.
Also, they have been split-testing and closely tracking metrics like top pages, top videos, top video widgets, video conversion, and many more using Videowise's shoppable video analytics to update their video marketing strategy, which helps them achieve better results and make informed business decisions.
Read RIFRUF's case study here.
4. Apolla added +$193.8K after implementing video shopping
About Apolla –
Apolla is a female-owned company offering patented compression socks loved and trusted by thousands globally. They have a vast collection of socks – from leg warmers to show socks. You're likely to fall in love with their unique collection.
And oh – did I tell you, Apolla's team appeared on Shark Tank in April 2022, due to which they received massive exposure?
Challenges –
While generating an insane amount of user-generated content, they didn't know what to do with it. They struggled to put UGC from their most avid supporters in front of their shoppers. Also, they didn't know of a way to present their socks' unique functionality in action. Images didn't cut it for them. And they were hesitant about adding videos to their product descriptions because they didn't want these videos to slow down their videos or impact the user experience.
Solution –
Apolla seriously wanted to kickstart their video journey. They generated an insane amount of user-generated content, especially after they aired on Shark Tank. Using Videowise's Find UGC feature, they found the best UGC on YouTube with their product and brand mention. They converted these videos into shoppable videos on their eCommerce store.
This way, they were able to put themselves as an authentic brand. Also, they could show the value of their products by displaying them in action. Also, they were able to deliver a seamless purchasing journey. Their team didn't have to analyze thousands of videos on YouTube to find the best UGC content around their brand or products.
Results -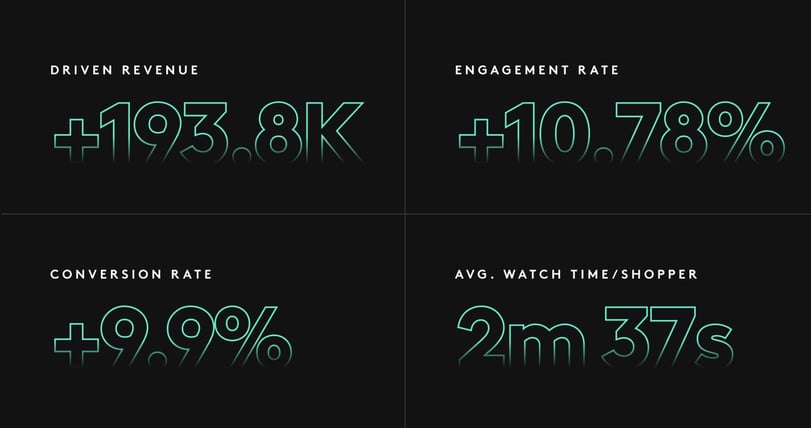 The results they generated have been truly impressive. They achieved up to 21.47% in video engagement. Their average conversion rate stood at 9.94% with a whopping 90.54% ROI. They drove more than $193.8K in added revenue, with their average engagement rate at 10.78%. The average watch time per shopper was two minutes and thirty-seven seconds – an achievement.
As a result of the incredible demand, most of their sizes and styles went out of stock and are now only available for preorder.
While appearing on Shark Tank gave them momentum, they could keep up with it and deliver an outstanding experience by implementing shoppable videos on-site.
Learn more by reading Apolla's case study here.
Falling in love with the idea of shoppable videos? Steer forward with Videowise
I didn't know much about shoppable videos a year ago. But then, Videowise showed me its true potential. They have been at the forefront of the eCommerce revolution since Day #1.
Some common concerns most eCommerce business owners have while implementing video shopping are –
1. What if shoppable videos cause technical challenges like slow loading times and poor user experience?

2. What if implementing video shopping is just too expensive for us?

3. What if customers don't like the video player?

4. What if the shoppable video platform is not compatible with our Shopify theme?

5. And more!
During my first call with the Videowise team, I had similar concerns. But when I tested their platform myself, I discovered that Videowise genuinely empowers eCommerce websites to deliver immersive and interactive shoppable video experiences while protecting the page's loading speed.
At the same time, Videowise offers affordable packages. Their video player is loved by millions of customers worldwide. You can easily add shoppable videos to just about any page of your Shopify store, as Videowise offers compatibility with Shopify 1.0 and 2.0 themes.
Also, I'd like to highlight that Videowise is more just than a Shopify app. It's an all-in-one eCommerce video platform that helps brands deliver an omnichannel interactive video experience, allowing them to meet their customers at different stages of their buying journey.
Videowise offers several other features like find video UGC, advanced video analytics, the ability to embed shoppable videos across different platforms, and more.
To learn more about Videowise, click here.
Also, if you're looking for a Videowise certified partner that can strategically help you incorporate video shopping into your marketing efforts, we recommend exploring our Partner Directory to find the right fit for your business.
Keep up with the latest trends in eCommerce video experiences