Despite the rapid growth of eCommerce, there hasn't been much innovation in the way customers shop online.
They want more.
They want to understand how the product they're staring at looks in a real-world setting. They want to see videos of real people using your product. They demand a more interactive and immersive experience.
Implementing shoppable videos on your eCommerce store can help.
Apolla, one of our customers, achieved up to $193.9k in added revenue after implementing video shopping in their store. In addition, RIFRUF, a dog shoes brand, drove more than $50k after incorporating shoppable video functionality into their online store.
Similarly, several Videowise customers have seen a massive spike in their engagement rate, added hundreds of hours of on-site time, increased their conversion rate, and hit their annual revenue goals (which they were struggling with before)within a few months after implementing video shopping.
In this guide, we'll explain what shoppable videos are, and their benefits, alongside sharing a few examples. Last but not least, we'll help you understand how to implement shoppable videos on your eCommerce store.
What are shoppable videos?
Shoppable videos are a form of interactive video content that allows viewers to purchase products featured in the video from within the video itself. They combine the elements of traditional video with eCommerce functionality, empowering users to shop without leaving the video player.
Jamie Irwin, the Director & Founder at Straight Up Search, believes shoppable videos are one of the most exciting innovations in digital shopping right now. He further states,
"Shoppable videos offer an immersive experience for shoppers as they get to watch product demonstrations while being able to make purchases without leaving the page or having to search through complex menus. This makes it easy for potential customers to find what they're looking for quickly and efficiently, which is great news for businesses hoping to increase their sales figures."
Suppose you sell baby products online. Now, you can either provide your customers with the same old traditional shopping experience (just like your competitors), or you can offer them an interactive and immersive way to shop just like this -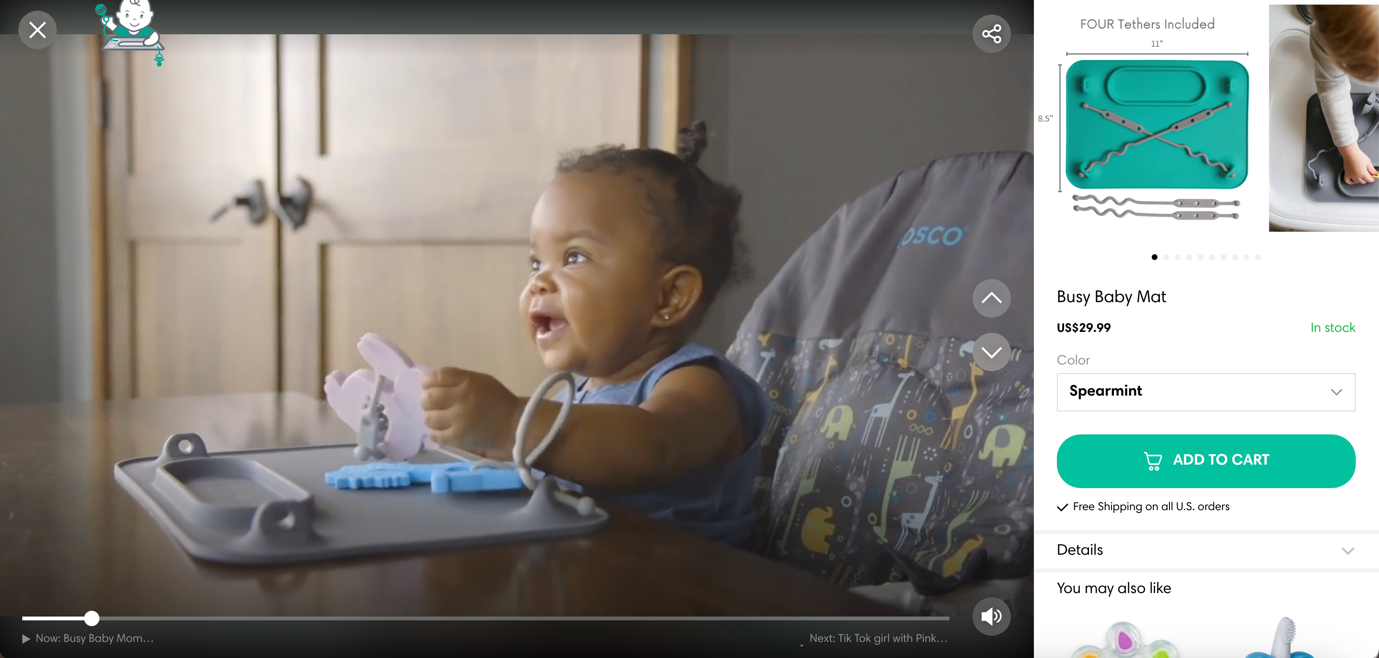 With shoppable videos, your customers will not only see products in action but can also browse through product images, choose color and size, read the product description, and add them directly to the cart. Alongside, eCommerce stores can also add a "You May Also Like" section to show shoppers other relevant products.
Kaleigh Moore, a results-driven eCommerce writer with a proven track record and bylines in Forbes, Fast Company, Adweek, and many other publications, stated –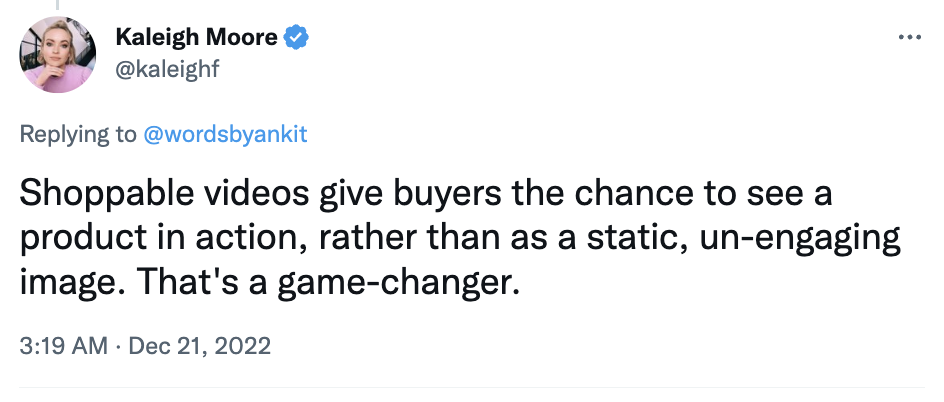 Busy Baby Mat, an eCommerce store selling a wide range of baby products, achieved a staggering 11.49% conversion rate by implementing video shopping on their website.
Last we checked, adding the shoppable video functionality helped them add more than 451 hours to their on-site time, and achieve an 11.49% conversion rate.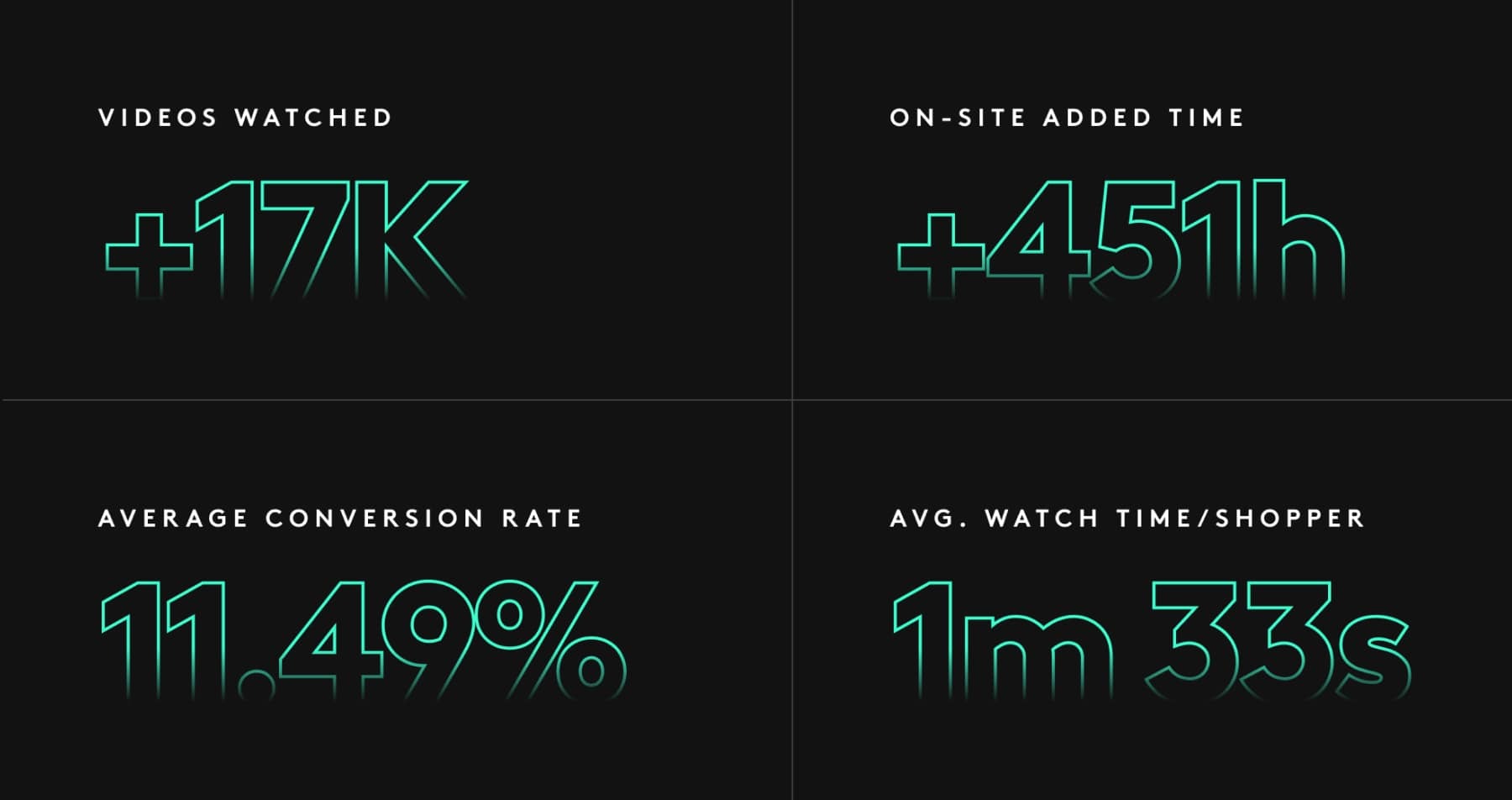 Similarly, hundreds of our customers have reported higher conversion rates after adding the video shopping functionality to their online stores.
Impressed?
Allow me to put in front of you shoppable video examples.
4 examples of successful shoppable video campaigns
Here are four examples of shoppable video campaigns powered by Videowise:
1. Ava Estell drove £743K in added revenue
About Ava Estell -
What's so special about Ava Estell? It's an all-natural skincare brand made with melanin in mind. Their products deal with darker skin tones and work on skin conditions like stretch marks, hyperpigmentation, dark spots, eczema, blemishes, etc.
Challenges -
If you run a cosmetics brand, you're likely aware of how challenging it is to convince customers to purchase your products.
It's just as hard as convincing a toddler to eat their veggies. I know!
Consumers don't trust cosmetic brands these days. They're cautious about what they apply to their skin. Before purchasing from a skincare brand, most customers will probably go through that brand's reviews on Google, Amazon, and other review sites, stalk these brands on social media, look at product review videos, and ask their friends or family members for recommendations.
Before implementing video shopping in their store, Ava Estell struggled to show their customers the results their products delivered. While they did have a few Vimeo videos on their product pages, the engagement was extremely low. That's because the Vimeo video player is buggy on mobile devices. And most of their traffic was coming from mobile.
Solution -
So they leveraged Videowise's video player.
They wanted to share real-life customer experiences in the same manner as they showcased their products with shoppable videos. Hence, they created a "Real Reviews from Real Customers" section on their landing page with video testimonials of their customers using the Videowise video player. In addition to these testimonials, they also included before and after videos to demonstrate the effectiveness of their products.
Alongside this, they also linked these videos to their respective product pages.
So, suppose you're interested in purchasing Ava Estell's "The Ultimate Body Care Set," you'll find video testimonials for the product on its product page like this –
Let's talk about the results they achieved after implementing shoppable videos.
Results –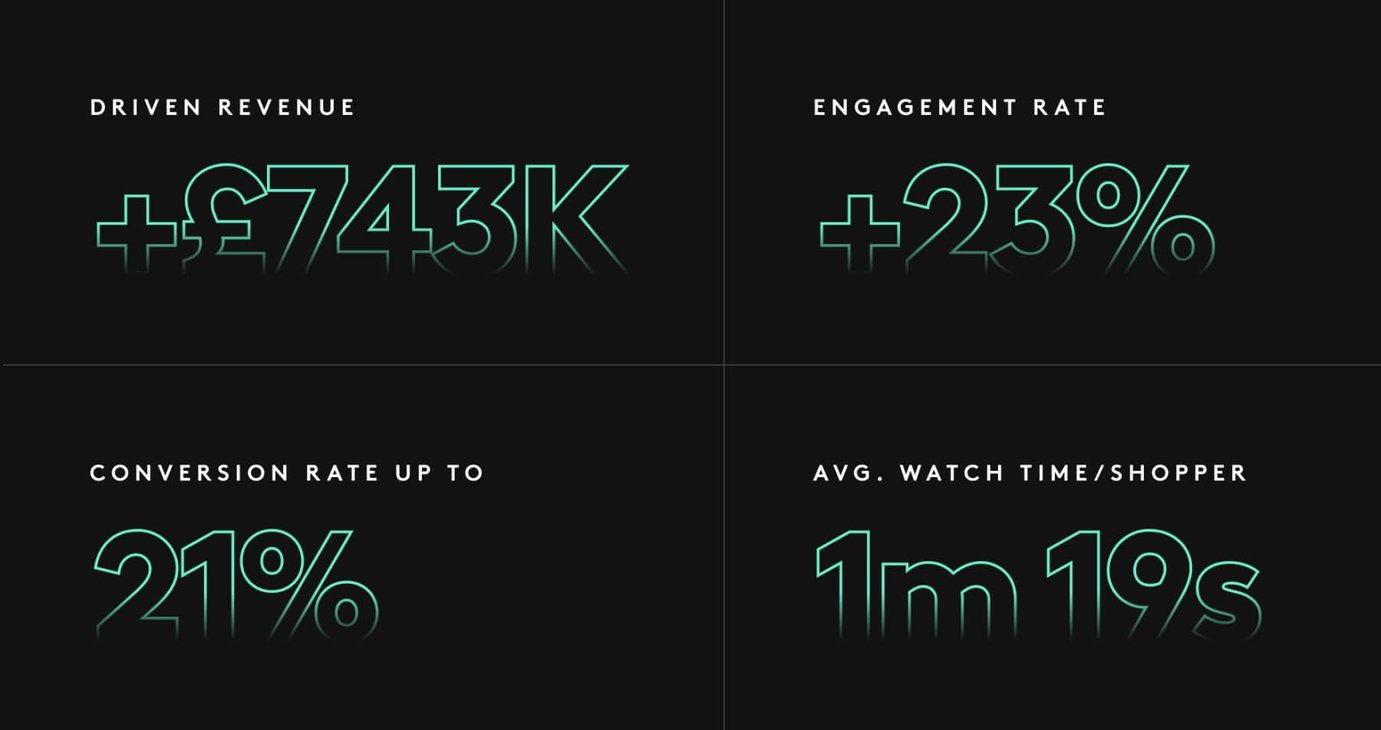 After implementing Videowise's video player to help their customers make informed decisions, Ava Estell generated a whopping £743K+ in added revenue, increased their engagement rate to 23%, drove conversion rate up to 21%, and added more than 4,490 hours of on-site time. In addition, their average watch time per shopper was one minute nineteen seconds – which is seriously impressive.
The skincare brand's best-performing video helped them generate £124K+.
By tracking metrics like on-site engagement, video conversion, top-converting pages, and top-converting videos using Videowise's advanced video commerce analytics, the team at Ava Estell improved their video marketing strategy and GTM approach – as these metrics helped them make performance-based informed and strategic decisions.
Want to dive deeper? Read their in-depth case study here.
Next on our list is Busy Baby Mat, a family-owned business that reported an average conversion rate of 11.49% after implementing video shopping.
2. Busy Baby Mat reported an 11.49% average conversion rate
About Busy Baby Mat -
If you're a parent, look no further. Meet Busy Baby Mat – an online store to make the lives of busy parents easier. What started as a baby mat store has now evolved into a large retail store offering a wide range of baby products that keep babies busy and safer from germs.
Challenges –
Busy Baby Mat offers a wide range of unique and innovative products. However, before they implemented video shopping, they struggled to portray the value of their products. Plain old imagery wasn't cutting it for the brand. They needed to present their products dynamically and interactively to convince parents and increase their sales numbers.
At the same time, they struggled to differentiate themselves from their competitors.
Solution –
Shoppable videos helped them with these challenges. By implementing shoppable videos on their website, they were able to deliver an immersive and interactive shopping experience – which helped them differentiate from their competitors.
Also, they presented their audience with various kinds of videos like testimonials, how-tos, and more to help parents better understand the value of their products. By seeing Busy Baby Mat's products in action, parents could see first-hand how they could benefit from using them, which helped them build trust and drive more sales.
With Videowise, they imported their already-existing videos on Instagram and TikTok and embedded them in their Shopify store. Also, they used Videowise's Find UGC feature to find user-generated YouTube videos with their brand mention. Lastly, they made their video content shoppable, allowing them to deliver a quicker checkout experience and increase sales.
Results –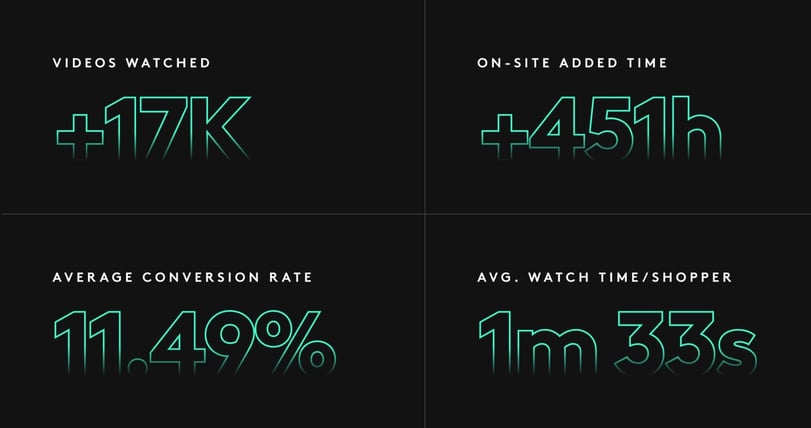 With more than 17K videos watched, implementing video shopping helped Busy Baby Mat achieve an average conversion rate of 11.49%. Also, they added more than 451 hours of on-site time. And their average watch time stood at around one minute thirty-three seconds.
Isn't that impressive?
After implementing video shopping, Busy Baby Mat has constantly been updating its video marketing strategy based on metrics like top pages, top videos, shoppers by device, average order value, and top video widgets, all thanks to Videowise's advanced analytics. These metrics help them measure the impact of shoppable videos and make better data-driven decisions.
Read the Busy Baby Mat case study here.
3. RIFRUF generated $50K in added revenue
About RIFRUF –
Woof woof! RIFRUF came into existence after Peter (CEO at RIFRUF) saw his beloved dog Caesar suffer from paw injuries caused as a result of walking on broken glass and hot asphalt. He was inspired to build functional, high-quality, and at the same time, stylish dog footwear.
So he set out on a mission to protect the paws of man's best friend by creating the perfect dog shoes that checked all three boxes – design, functionality, and quality.
This led to the birth of RIFRUF – a brand that offers a wide range of dog shoes that caters to the needs of both dogs and their owners.
Challenges –
Like many customers, the RIFRUF team struggled to communicate its value proposition before implementing video shopping. Convincing dog lovers to purchase shoes hasn't been an easy journey for Peter and his team. After all, dog shoes aren't a common topic that comes up in conversation every day.
From raising awareness around the need for dog shoes to demonstrating their products much better than using plain-old imagery, the RIFRUF team had a lot on their plate.
So, they decided to tap into the power of video shopping.
Solution –
Video shopping has now become the go-to solution for RIFRUF. Their team closely works with Videowise's customer success teams – who conducted an in-depth audit of their Shopify store and built a personalized video strategy for their business.
Initially, we embedded shoppable videos across different pages – from product pages to story pages to the homepage. The whole point from Day I has been to educate their audience about the importance of dog shoes and to showcase their products and their benefits.
On their homepage, the RIFRUF team has implemented the "Check out the RIFRUF Pack" section to showcase their shoes in shoppable videos.
Also, they have a dedicated "Help Section" on their product pages to help shoppers gain in-depth information about their products.
Results –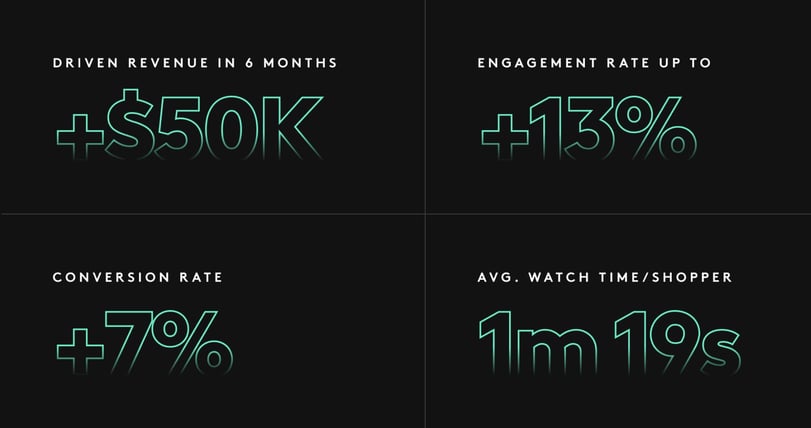 RIFRUF added more than $50K in no more than six months of implementing video shopping. They achieved a conversion rate of 7% and a 13% engagement rate. At the same time, they added more than 500 hours of on-site time – with 19K+ videos being watched to date and the average watch time per shopper standing at one minute and nineteen seconds.
Also, they have been split-testing and closely tracking metrics like top pages, top videos, top video widgets, video conversion, and many more using Videowise's shoppable video analytics to update their video marketing strategy, which helps them achieve better results and make informed business decisions.
Read RIFRUF's case study here.
4. Apolla added +$193.8K after implementing video shopping
About Apolla –
Apolla is a female-owned company offering patented compression socks loved and trusted by thousands globally. They have a vast collection of socks – from leg warmers to show socks. You're likely to fall in love with their unique collection.
And oh – did I tell you, Apolla's team appeared on Shark Tank in April 2022, due to which they received massive exposure?
Challenges –
While generating an insane amount of user-generated content, they didn't know what to do with it. They struggled to put UGC from their most avid supporters in front of their shoppers. Also, they didn't know of a way to present their socks' unique functionality in action. Images didn't cut it for them. And they were hesitant about adding videos to their product descriptions because they didn't want these videos to slow down their videos or impact the user experience.
Solution –
Apolla seriously wanted to kickstart their video journey. They generated an insane amount of user-generated content, especially after they aired on Shark Tank. Using Videowise's Find UGC feature, they found the best UGC on YouTube with their product and brand mention. They converted these videos into shoppable videos on their eCommerce store.
This way, they were able to put themselves as an authentic brand. Also, they could show the value of their products by displaying them in action. Also, they were able to deliver a seamless purchasing journey. Their team didn't have to analyze thousands of videos on YouTube to find the best UGC content around their brand or products.
Results -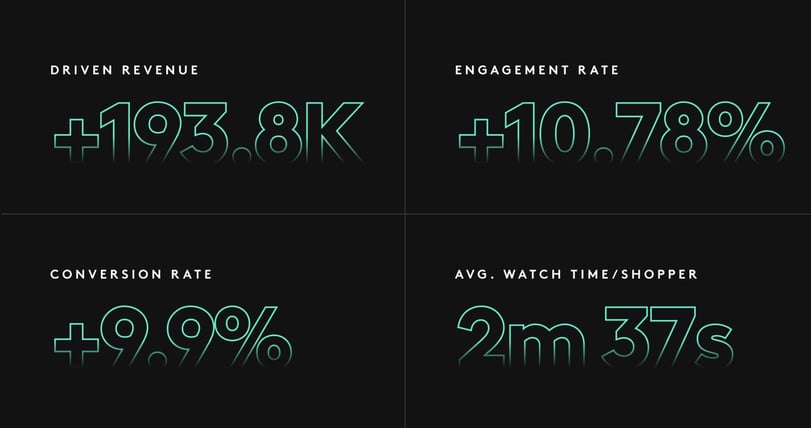 The results they generated have been truly impressive. They achieved up to 21.47% in video engagement. Their average conversion rate stood at 9.94% with a whopping 90.54% ROI. They drove more than $193.8K in added revenue, with their average engagement rate at 10.78%. The average watch time per shopper was two minutes and thirty-seven seconds – an achievement.
As a result of the incredible demand, most of their sizes and styles went out of stock and are now only available for preorder.
While appearing on Shark Tank gave them momentum, they could keep up with it and deliver an outstanding experience by implementing shoppable videos on-site.
Learn more by reading Apolla's case study here.
4 benefits of implementing shoppable videos
Most times, consumers don't really know what they want. They just want to explore and compare different options. By implementing shoppable video functionality in your online store, you can present your products in front of your consumers in an interactive manner.
Allow me to share a few core benefits of shoppable videos:
1. Improved customer engagement
Nowadays, eCommerce stores are struggling to engage their customers. Adding shoppable videos to your store is an excellent solution to this lack of engagement problem.
Want to engage your customers? Do it with videos. Do it by giving them an opportunity to experience your products in a visually-appealing manner.
Data fetched from Vidyard's 2022 State of Video report indicates that video is the top performer for driving conversions. About 70% of sellers have reported that videos convert better than other forms of content.
By putting shoppable video content in front of your customers, you're allowing your customers to have a thorough understanding of your products. You're giving them an opportunity to experience your products in action before purchase. Most importantly, you're building trust – as your customers will know that you're willing to show your products in use prior to purchase.
2. Enhanced product understanding
Let's say you want to take your family on a camping trip. To make sure that everyone has a comfortable place to sleep, you decide to purchase a family tent. Just by looking at the wide range of options online, you feel overwhelmed. You spend hours reading product descriptions, looking at images, and reading reviews – yet are unable to get a good sense of what the tents are like in person.
You're worried about ordering the wrong size. Or what if the tent you order is just too complicated to set up? Worse – what if the quality doesn't meet your expectations and falls apart on your first camping trip?
No matter what you sell online, it's important to note that your customers are confused. Sure, a couple of product images, a lengthy description, and your reviews section can give them an idea of what they're buying. But let's face it – they want more. They want a detailed understanding of the product before they're ready to purchase.
That's what shoppable videos can help your customers with. By showing videos of your products being used, your customers can have a much better idea of the size, features, and quality of your products. Also, they can get a sense of how your products will fit into their lives and whether they'll serve the purpose.
3. Increased sales
Shoppable videos allow customers to have a much better understanding of the products – as they're able to see the products in action. Also, consumers are highly likely to trust an eCommerce store if they're willing enough to show their products in use. In addition, you're giving your customers the ability to browse your online store and shop for products in an interactive manner.
Since shoppable videos are fun, interactive, and engaging, your customers are highly likely to spend more time in your store and consider your products. They'll easily be able to find what they're looking for and experience products before even purchasing them. Give them the ability to checkout at a lightning-fast pace, and you'll see a spike in conversions, resulting in increased sales and revenue.
4. Ability to use them anywhere
Want to run shoppable videos, SMS, and/or email campaigns? Or maybe you just want to embed them across different websites outside your online store? The best thing about shoppable videos is that you can add them anywhere.
Should you choose to create shoppable videos with Videowise, our platform will allow you to share shoppable videos as links, in chat messages, to emails, and across different websites.
Click here to book a demo to learn more.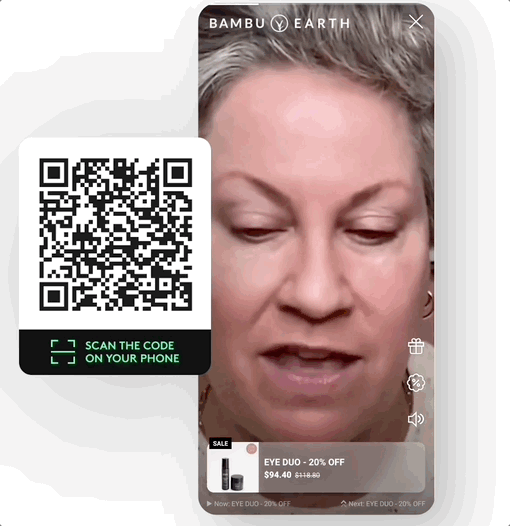 Oh, and did I tell you that you can upsell with QR codes on the packaging? All your customers need to do is scan the QR code on packages, and they'll be able to access your shoppable videos playlist in no time.
Alongside this, some other obvious benefits of shoppable videos for eCommerce stores include –
Builds confidence.

Increases customer satisfaction and retention rates.

Helps gain a competitive advantage.

Leads to increased reach and visibility.
How to implement shoppable videos on your eCommerce store
To implement shoppable videos on your eCommerce store, follow these steps –
1. Define your goals
Tired of watching your website visitors bounce off? Looking to turn your eCommerce store into a party that everyone wants to attend? Finding ways to engage your visitors and increase sales? While integrating interactive and engaging video content into your eCommerce store is the answer, you need first to define your goals.
I know – the ultimate goal is to increase your sales and drive higher revenue. But you need to be more specific while setting your goals. Setting unrealistic goals can lead to a number of negative consequences, like lowered morale, decreased productivity, and lesser innovation. Set realistic SMART goals like –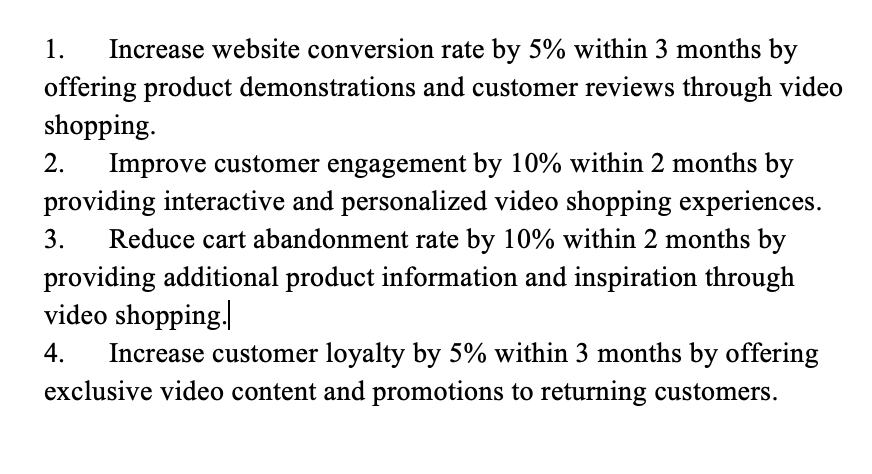 Set quarterly goals. Break them down into objectives – which you'd like to achieve on a monthly basis. Don't just set short-term (quarterly goals). Set long-term goals (five-year or ten-year goals) as well like –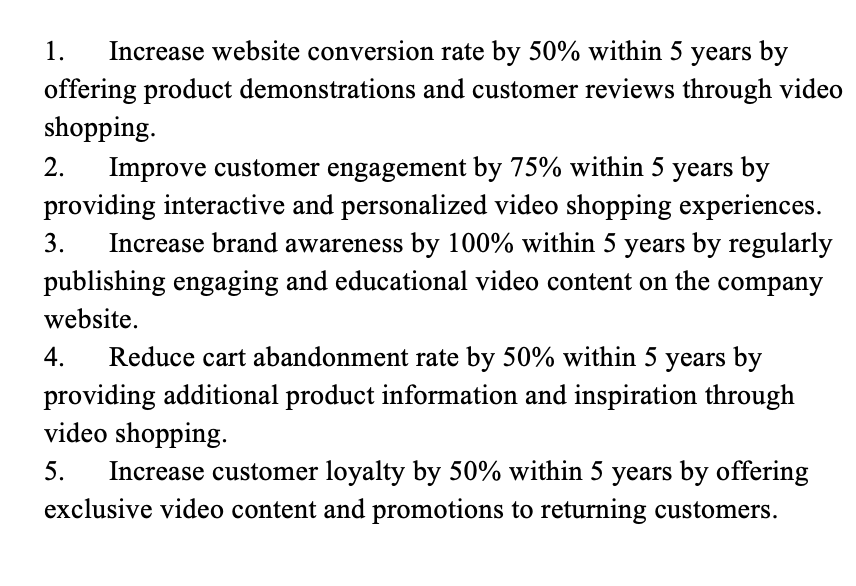 After setting your goals, the next step is to identify your target audience.
2. Learn what kinds of videos your target audience resonates with
The last thing you want to do is put boring and unengaging videos in front of your target audience. If you do that, you'll see the complete opposite of what your expectations are.
Don't do that.
Instead, focus on the quality of your videos.
Most importantly, make sure they're engaging and compelling enough.
To create compelling videos, you first need to understand your target audience. Dive deep into their demographics, behaviors, and interests. Learn what type of video content engages them. Your competitors may not have implemented shoppable videos on their websites. But there are chances they're posting product videos on their social media platforms. Learn what type of videos posted by your competitors have received good engagement rates.
Do they like something funny? Or is their taste somewhat serious? Maybe they want to see something motivational?
While this will just give you an idea of what their taste is, we also recommend testing and measuring. Test out different types of shoppable videos and measure which videos result in the highest engagement and conversion rates, drive the most revenue, and add the most on-site time.
With Videowise, you can not only set up shoppable videos for your eCommerce store but also dive deep into their performance with detailed engagement and conversion reports, enterprise-level data processing, customer journey from view to purchasing, and more.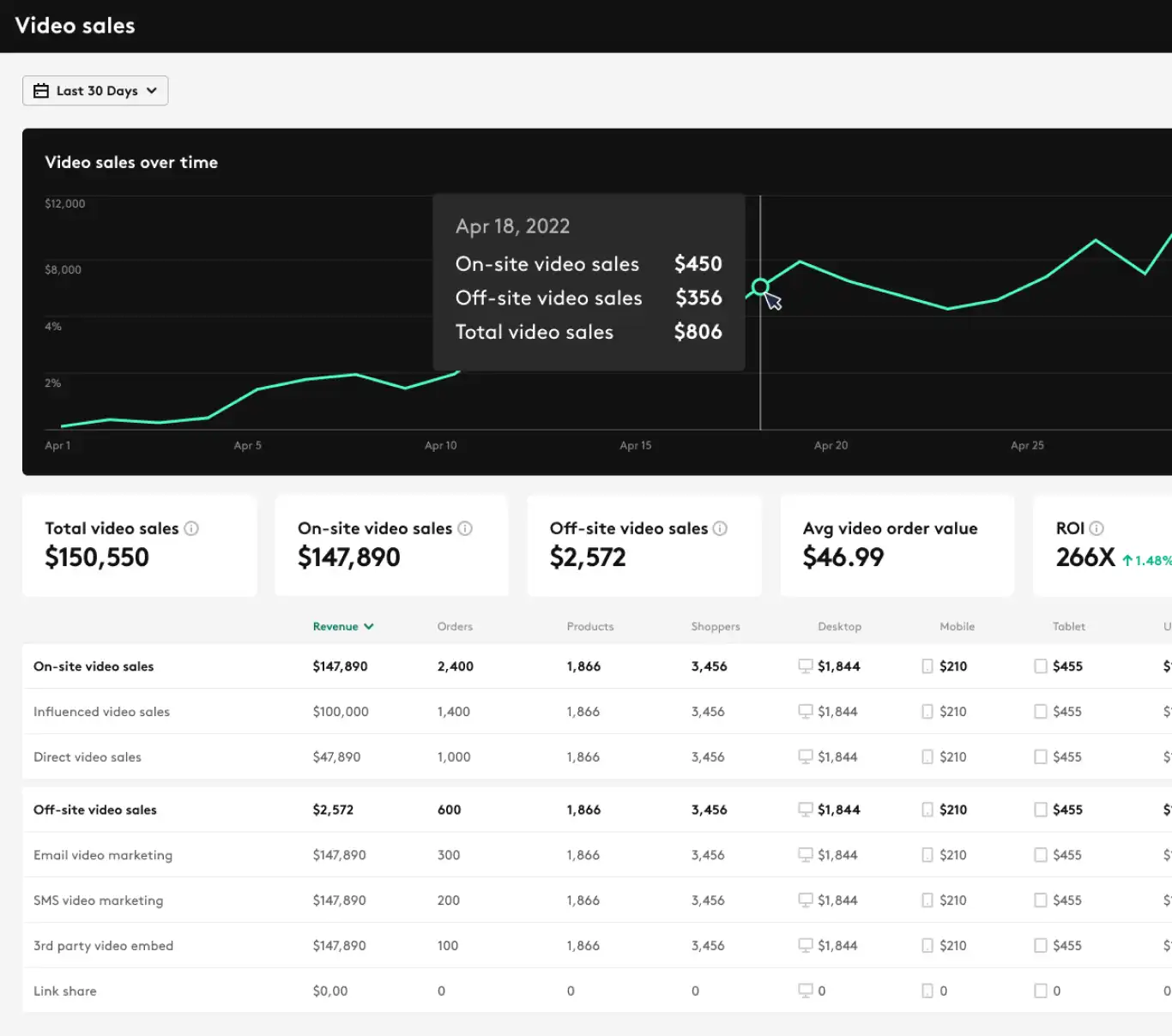 This way, you can conduct experiments and make informed data-driven conversions.
The next step in our journey is to create high-quality videos.
3. Create high-quality and engaging shoppable video content
You need videos to set up shoppable videos on your store. Once you have learned what type of videos your audience enjoys watching, it's time to produce them. Either you can hire a videographer or agency to shoot product video content professionally, or you can do it all by yourself using your smartphone or camera.
Producing product videos doesn't necessarily mean you're solely displaying your products in action. In all our years in the eCommerce industry, if there's one thing we've learned – it's that if you want to drive conversions, you need to share a compelling story.
Create a script. Brainstorm ideas. Don't ignore the pre-planning process. Create a shot list – where you list down all the shots. Think about the environment and lightning. Pay attention to composition.
You don't necessarily need to have one video per product. You can showcase multiple products at once in a single video. Using Videowise's shoppable functionality, if you have multiple products in a single video, you can ensure that your audience is able to select the product they want to purchase like this –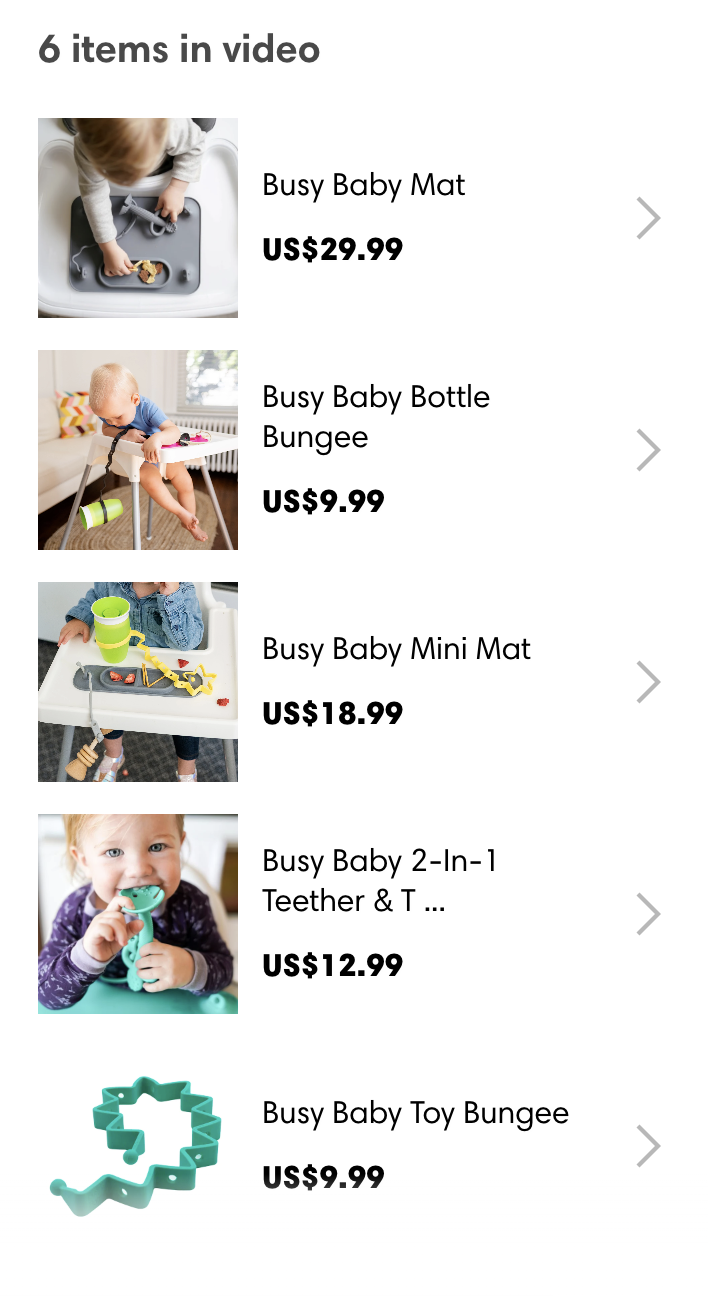 Edit them heavily to put the best version in front of your viewers. After all, you want these videos to engage your customers and drive conversions.
Should you decide to implement shoppable videos using Videowise, we highly recommend diving deep into our FAQs section.
4. Use an eCommerce video platform like Videowise
Once you have the videos, it's time to set up shoppable videos functionality on your store. We're not asking you to ditch the traditional online shopping way – where your customers browse through different product listings.
Nope!
Instead, you can allow them to choose what kind of shopping experience they're looking for. If they want to do it the old-fashioned way, that's great. If they're looking for a far more interactive experience? Create a "See It In Action" section just like Busy Baby Mat did on their store.

To set up shoppable videos, you need a shoppable video platform. While there are many platforms to choose from, select a platform that –
Is easy to set up.

Has a smooth learning curve.

Doesn't require you to spend a dime.

Focuses on the user experience – You need to make sure that the shopping video functionality doesn't cause slow loading times and other technical challenges.

Has a user-friendly and interactive video software.

Prioritizes data security – For us, your data is one of our biggest priorities.

Allows you to find user-generated content related to your brand and products on social media.

Provides advanced analytics.
At Videowise, our focus is to help eCommerce stores easily set up shoppable videos and deliver an immersive experience to their customers without having to worry about technical challenges and their data. We have compiled a comprehensive list of eCommerce apps in our guide to assist you in growing your store. Be sure to check it out!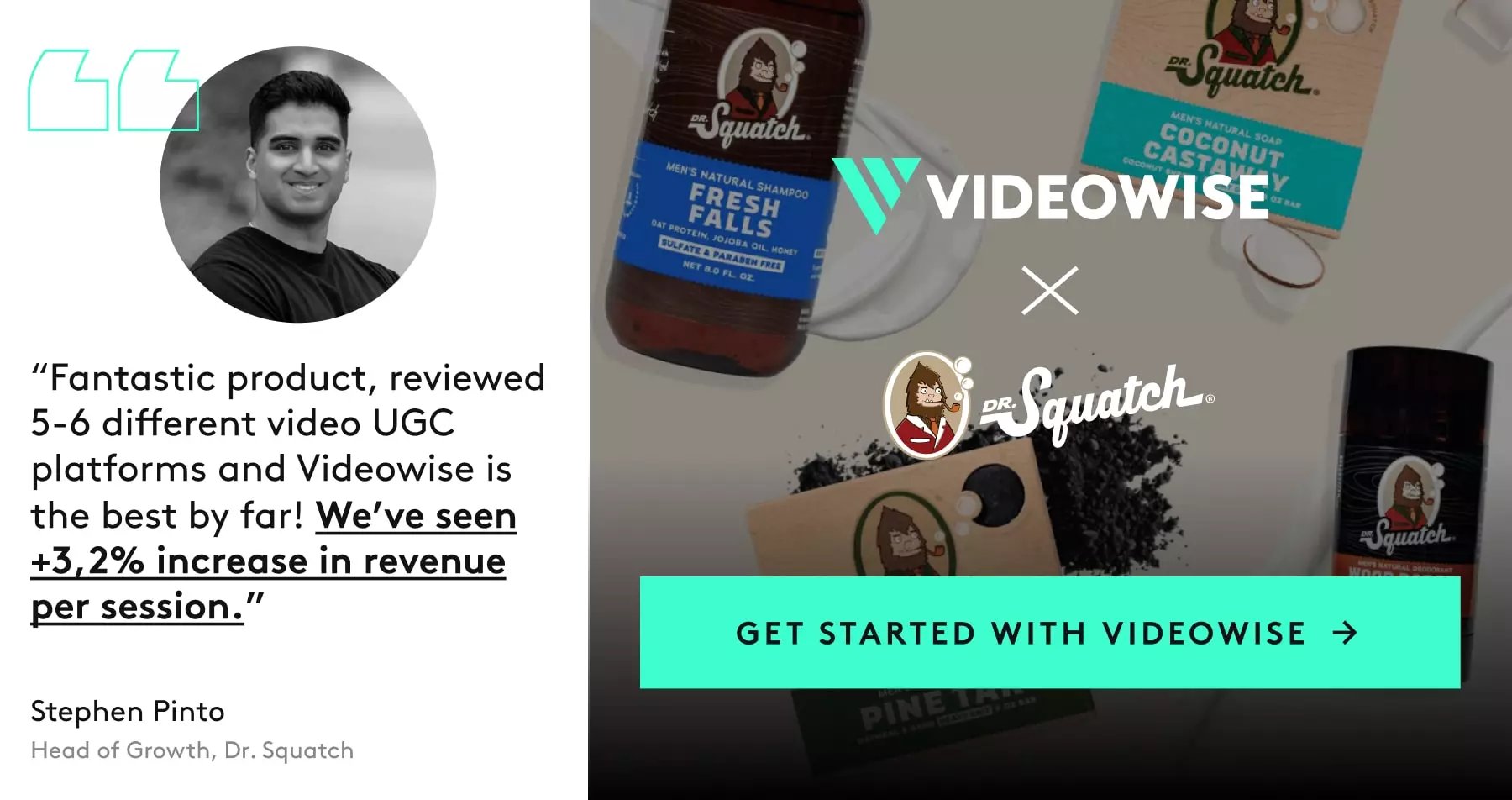 5. Get the word out
Once you have set up shoppable video functionality on your website, it's time to get the word count to drive traffic to your website.
Roll out an email to your email list like this –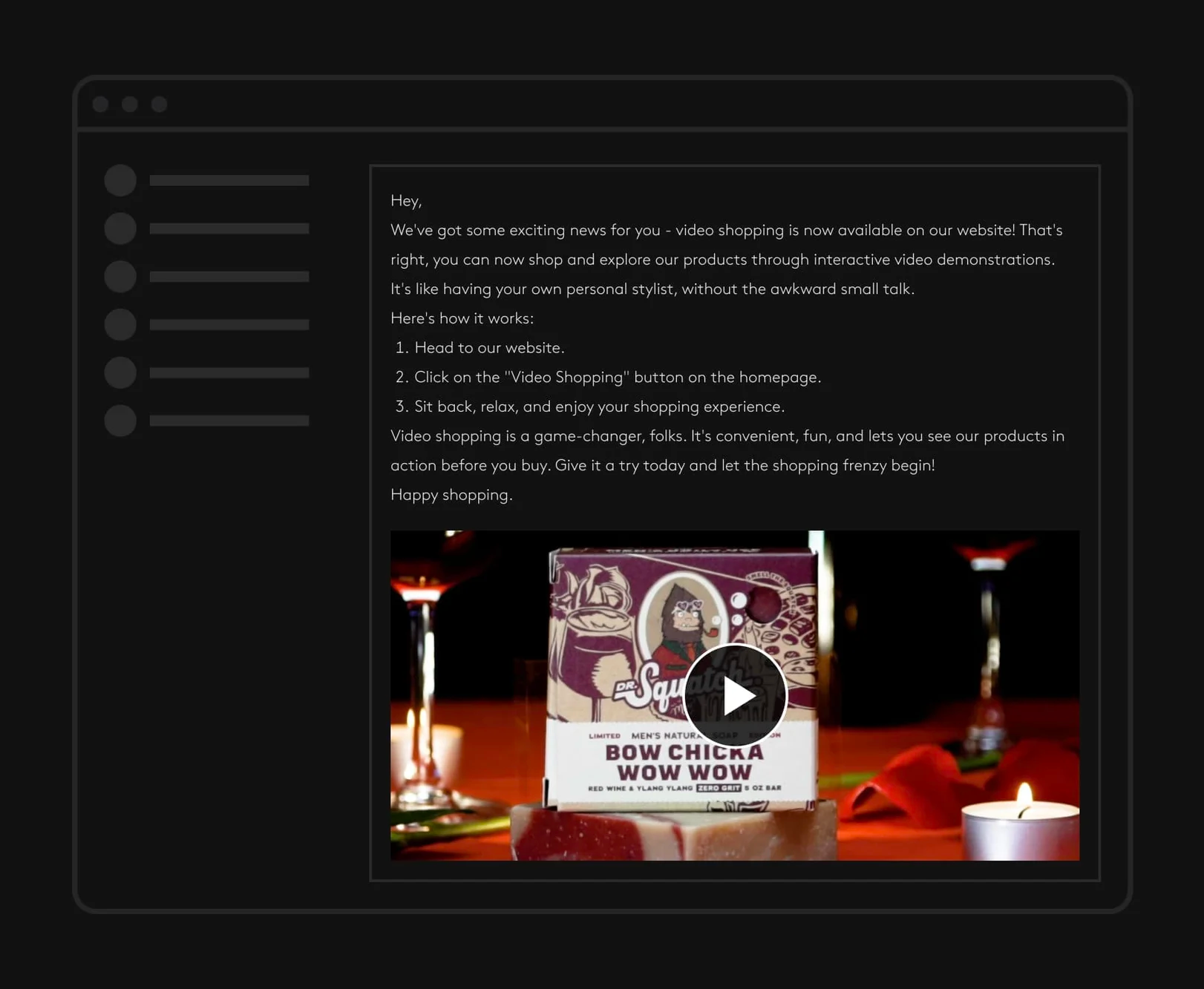 You can also share shoppable videos via email to give your customers a taste of what they can expect.
Promote it on socials in the form of Instagram Stories, Facebook Posts, and in a variety of different ways across other social media platforms. Get the word out via SMS. Partner with influencers. Run paid advertising campaigns to target more customers.
In the initial stages, I recommend testing different types of shoppable videos, measuring them, and identifying the ones that resulted in the highest engagement and conversion rates. Once you know what works well with your audience, you can drive your efforts and money toward it and get rid of the junk.
Talking about measuring, how do you track the performance of your shoppable video marketing efforts?
6. Measure and optimize
Peter Drucker once said, "You can't manage what you can't measure" If you're spending your time, efforts, and money setting up shoppable video functionality on your website, you expect higher conversion rates, increased on-site time, and increased sales.
We understand that you want to drive more revenue.
And while implementing shoppable videos is a terrific experience for consumers, it's important you put your best foot forward.
What if a few of your videos don't resonate with your target audience? Or what if you want to track your customers' video shopping journey? With Videowise, you can uplift conversions with our platform's deep video performance insights. From transparent revenue attribution to the in-depth customer journey to enterprise-level data processing, we offer the most in-depth analysis to help them stay on top of their video sales, viewer engagement, audience segmentation, top videos, top pages, and more.
Falling in love with shoppable videos? Steer forward with Videowise
Customers are tired of the traditional online shopping experience. It's just so confusing. They want more. They want to make the right purchasing decisions. Give them what they want by implementing shoppable video functionality on your website.
It's a win-win for both customers and eCommerce stores.

Ankit Vora
Ankit helps eCommerce brands thrive by empowering them to deliver an immersive and interactive online shopping experience to their customers. He's a B2B SaaS writer with over seven years of experience in the eCommerce industry. He's a gamer at day and a writer at night (because opposite time zones are a thing.)
Keep up with the latest trends in eCommerce video experiences