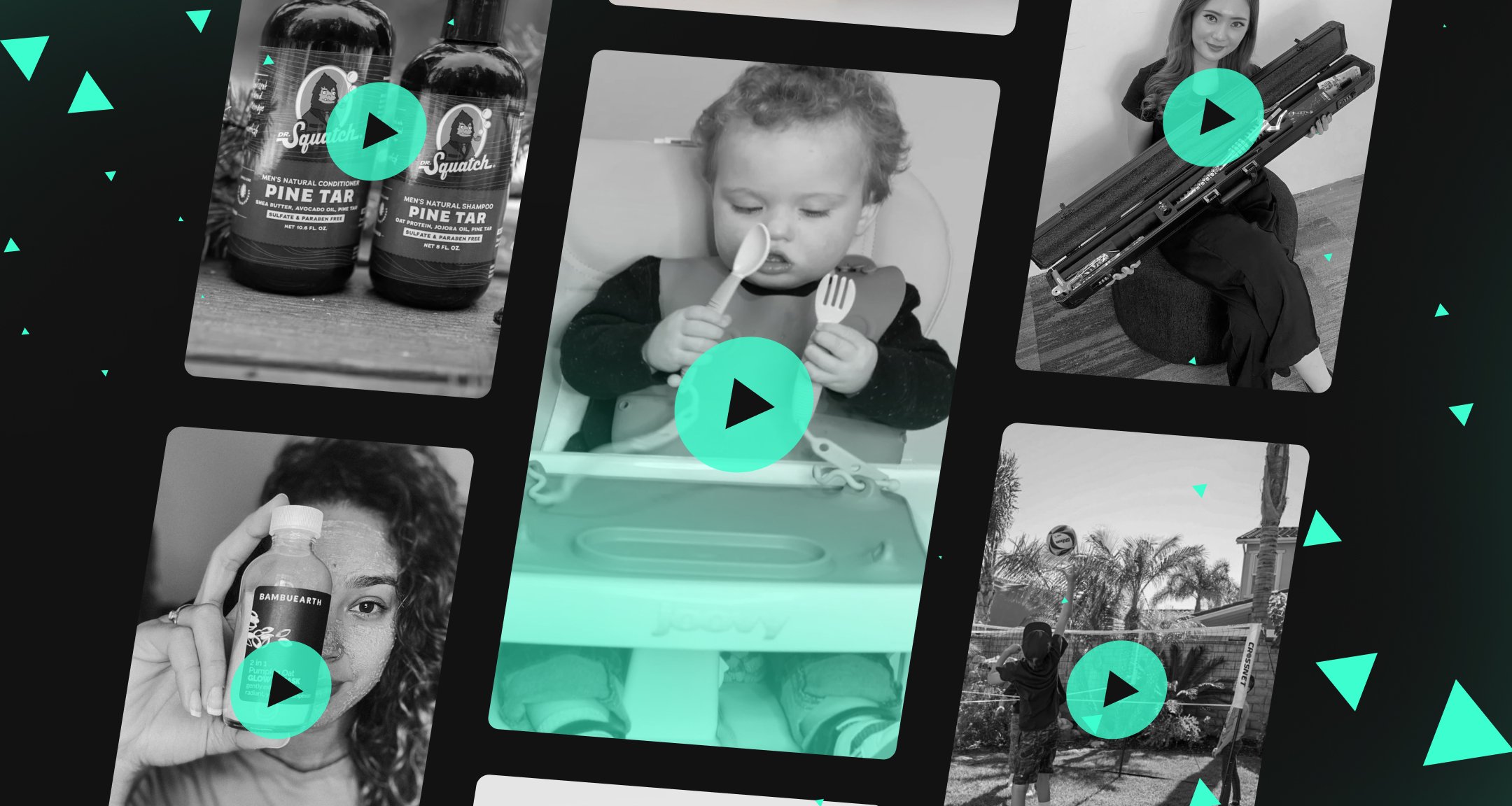 A product video shows your product, its best features, how it works, and why your target customers want—nay, need—it. But with a blank slate in front of you, it can feel overwhelming to get started.
That's why we've put together a list of the 27 best product video examples for eCommerce companies across all sorts of product types. From plants and pets to camping and household items, we've got a product video example that will strike inspiration for you.
1. Dollar Shave Club
You're likely no stranger to this Dollar Shave Club video, but its success is the reason we're using this example to kick off our list.
This video came out 10 years ago, only cost $4,500 to make, and generated an incredible ROI. It's a lesson in how you don't need a fancy production company or big budget to make a splash with your product video.
Instead, take a page out of DSC's book. Have your founder or someone else on your team walk around your warehouse, studio, production area, and what have you, and talk about the product. Throw in your brand personality and give it a go.
You, too, might be able to create a mega-viral video that helps propel your brand's potential.
2. The Sill
The Sill is an online plant shop that runs on the tagline "Plants Make People Happy." They created a small series of product videos using that hashtag to help sell that point.
We see one of these videos above, where a rather tired-looking woman catches a glimpse of one of her plants and instantly gets a smile on her face, turning her morning routine around. Plants make people happy—you should get one is the overall message. And it shows.
Showcase how your product makes people feel to generate an emotional connection with the viewer.
3. Homesick Candles
Homesick is a brand that sells candles that smell like various cities and states around the United States. They've even branched out to a few other countries as well.
This product video resonates with anyone who might be from Northern California. It shows the candle, then zooms in to showcase all of the various elements that helped pull this candle and its scent together.
The great thing about this video is that it creates the opportunity for the company to create hundreds of videos just like it, one for each of their candle's locations, appealing specifically to people from each area.
4. Poppin
This Poppin video is a great explainer video that showcases how their solution works and why it's better than other solutions. It's also a simple way to create a product video without utilizing video footage.
Instead, they've taken high-quality images of their products in use or basic product images with the backgrounds removed and paired them with text and a voiceover artist. The voiceover provides a detailed explanation of Poppin's story, helping to sell potential customers on their office decor and supplies.
5. Busy Baby Mat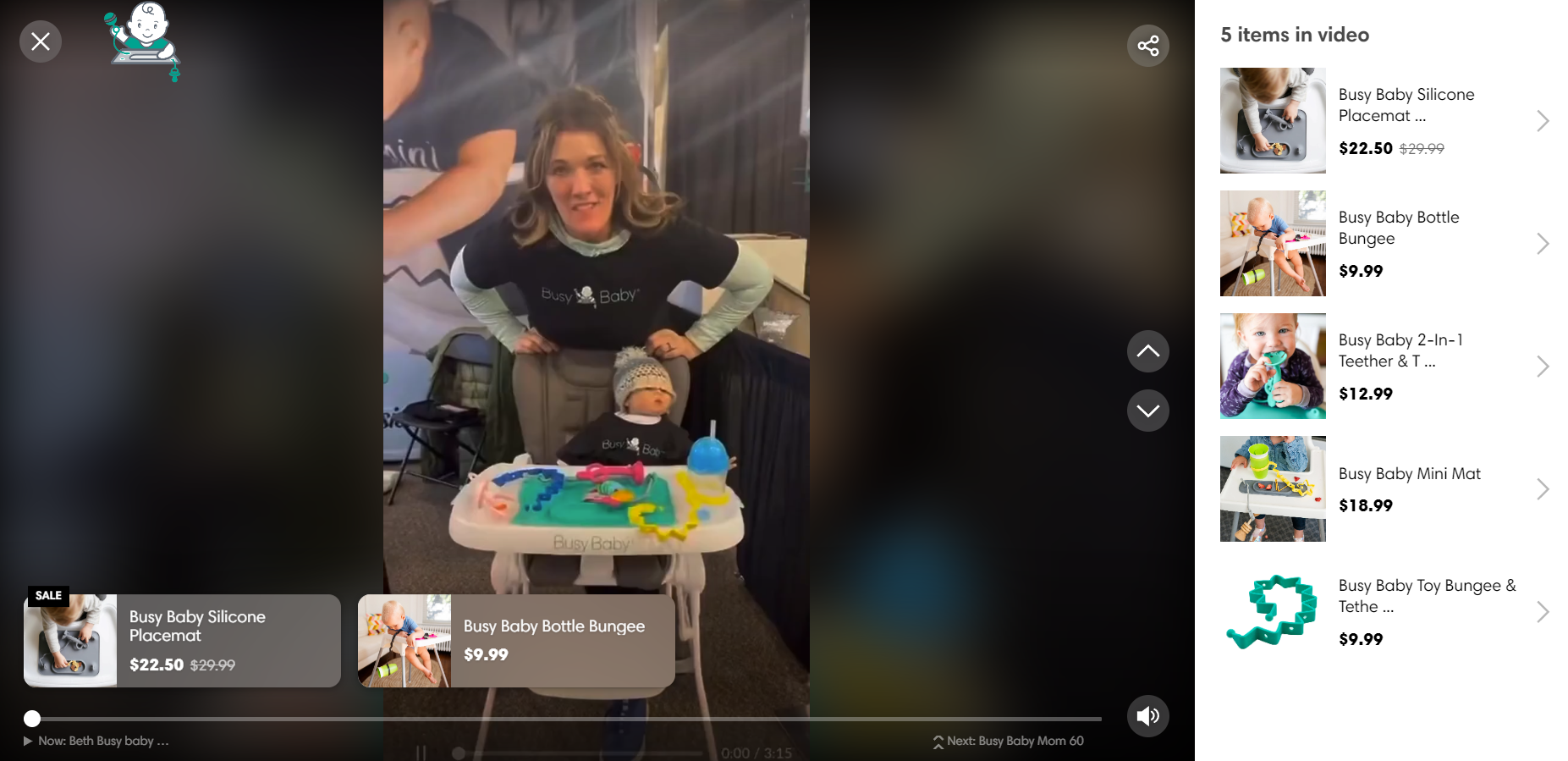 This product video is perfect because it focuses on just one single product but showcases all of the product's benefits and uses. This silicone baby mat can be used in many different ways, all of them helpful in keeping a baby occupied while the parent does everyday tasks and errands.
Plus, it's a video that's been made shoppable through Videowise! Parents watching the video immediately see the product, images, price, and color options in their sidebar. They can choose the one they want, click "Add to Cart," and immediately complete their purchase.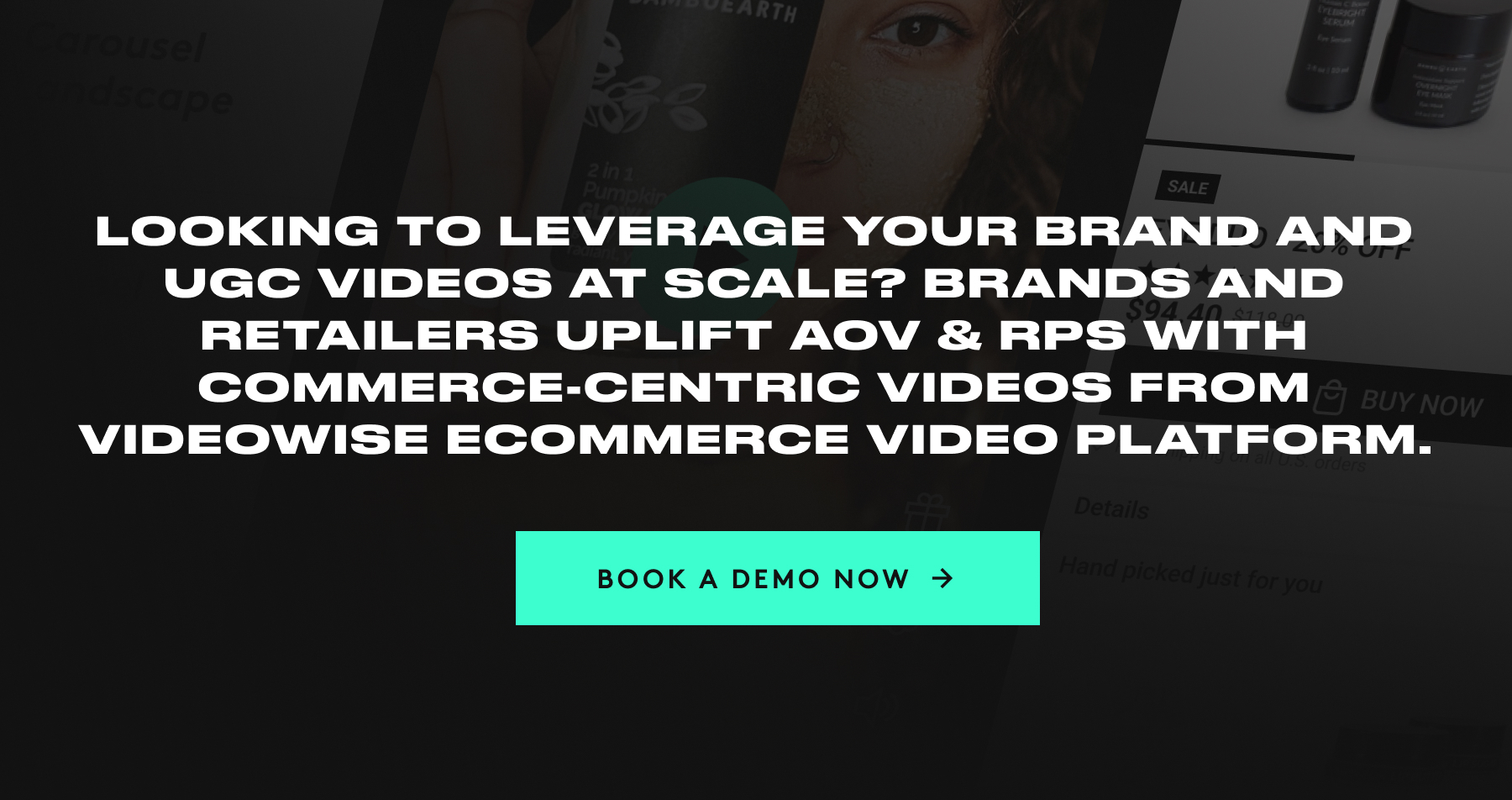 This is a great way to generate even more conversions on your website. Make it easy for your customers to buy your product—and you can easily do that through a shoppable video.
6. LEGO Life
LEGO is a popular kid's toy brand that has been around for over half a century. While it's extremely well-known and likely doesn't need a product video in the traditional sense, the brand created one for a new type of product: the LEGO Life app.
LEGO Life is essentially a social media platform dedicated exclusively to LEGO. Its users can take photos of their creations, see what other customers create, and more. An app like this is a great way for a retail company like LEGO to build an even larger and more engaged community of customers.
7. BarkBox
BarkBox's product video is only 15 seconds long, but it's a great example of how you can make your point in little to no time at all. The brand has used adorable footage of a very excited dog in front of big, bold letters explaining its product.
The video uses a clear call to action, making this simple video extremely easy to understand and effective. It's the perfect example of how you don't need a drawn-out video to grab attention. Use what you have and make it pop.
8. Solo Stove
Solo Stove's product video shows us how effective it can be to take a lifestyle approach using live-action video footage. The brand filmed a group of friends bringing their Solo Stove out onto the beach for a night of fun.
Showcasing how your customer's life can improve with your product—especially through live-action footage—helps create compelling product videos that grab the viewer's attention and make them want to be in your video, experiencing that moment.
9. Body Restore
Body Restore's product demo video is similar to Solo Stove in that it uses real footage to paint a picture of what life could be like when using its product. However, Body Restore's video is real and attainable.
The bathroom is a standard bathroom rather than one the company's target audience would likely never see in real life. The video walks viewers through exactly how the product should be used as well as the effects it can have on the user.
Use these lessons in your own product video. Make your product and the lifestyle it represents feel real and attainable rather than a pipe dream.
10. Ember
On the opposite end of the spectrum, Ember shows us how effective it can be to create a product video that helps your potential buyers dream of a better life—and how its product can be a part of said life.
Both options can help people feel like they can attain a better life—but one is more realistic now while the other is more of a goal life. Both are effective approaches. You just have to decide which direction you want to take.
11. Hydroflask
Hydroflask is an insulated water bottle company that does a great job of creating extremely specific product videos. This video, in particular, focuses only on its flagship product—its hydration bottles and all of the product's features, sizes, and colors.
However, Hydroflask also creates quick 30-second videos that focus on other products: different types of water bottle lids, insulated totes, water bottle straps, and other complementary product options.
While a video that covers all products in one can be a great way to showcase everything your brand offers (and take a look at #27 on this list to see an example of this type of product demo video), several quick videos that focus only on a specific product can be useful for generating both new customers and retaining existing customers.
12. Vintorio
The best thing about Vintorio's product demonstration video is the juxtaposition of what the result is with and without its wine aerator. The video also walks viewers through the product's key features and why it works so well so quickly.
Furthermore, the video also covers how to clean, store, and put together the aerator pourer so interested customers can make their purchase and immediately know how to use it properly. The best product demo videos easily show how their products work in an easy-to-understand way.
13. BAGGU
BAGGU is a company that sells a variety of types of reusable bags—shopping bags, shoulder bags, tote bags, fanny packs, and more. With that many different types of products, it can be difficult to put them all into one video. But the above example shows an innovative way that many of their products can be used—with a two-in-one gift!
This creative product video showcases all of the different types of BAGGU bags but also shows them with a different item inside of them, showing off exactly how the videos can be used. We love that the video also makes sure to let viewers know the name of each BAGGU product before it's shown so they can easily pick and choose their favorites on the website and check out.
This type of video would be an extremely effective shoppable video with a sidebar that allows video viewers to add their favorite products to their cart and check out without ever even leaving the video.
14. Bentgo
Bentgo gives us another one of the best product demo video examples in this list by showcasing how the different types and sizes of its products can be used in real life. The best part is that the video includes size and portion information right alongside the video so viewers can choose the best options for their needs.
This is another video that would make an excellent shoppable video. The brand could share it on social media or embed it on the website to make it even easier for viewers to purchase the size(s) they need.
15. Le Creuset
Product videos can also be a great way to announce a new collection or product launch. Le Creuset takes this route by using video to showcase their L'Amour collection just in time for Valentine's Day.
The video is incredibly simple, using an animation effect to add a heart design onto still photos of the cookware. It's only 11 seconds long, but it's a great way to promote a special product collection.
16. Therabody
This Therabody product video uses x-ray footage to showcase the inner workings of the massager. By showing off the gears and other parts, you're able to build social proof and demonstrate that your product is high-quality.
It then turns into more of a product demo video, showcasing how it can work with the Therabody app. Having all of this upfront can help interested customers make an informed decision on if this is the best product for them.
17. Nintendo Switch
Nintendo is a popular gaming system in itself, but they still promote new offerings with a product video. In this video, they're showing off the different games that can be played, the different ways the system works, and more.
They're using a lifestyle approach, featuring people using the system and having a great time. This appeals to people who are interested in a similar lifestyle, creating a desire to purchase their product.
18. iRobot
iRobot's product video focuses more on a product feature rather than the physical product. However, calling out that their product only uses this feature is a unique selling point (USP) in and of itself.
The video's background music also makes for a compelling product video, grabbing attention and getting viewers interested. The text effects also fall in line with the music's beat, pulling the entire 15-second video together nicely.
Consider unique features that your products have and how you can promote those. Even by just talking about your product's main features, you can still promote and sell the products themselves.
19. Trek
This Trek video is one of the more straightforward product demos we've seen so far. With voiceover and video footage highlighting important features, this video is a clear explainer video. It showcases how the features work, what the product can be used for, and more.
With an expensive and complex product like a bicycle, it makes sense that the product demo video would be a lot more in-depth. Consider whether your product needs video content more like this—informational and comprehensive—rather than a quick overview.
20. Big Blanket Co
Big Blanket Co uses humor in its comprehensive, three-minute product demo video. This video tells a story, starting from why viewers need the Big Blanket and highlighting pain points, moving into a demonstration and features of the product, and finally covering customer reviews.
While this video works as a whole, it can also easily be broken up into smaller bite-sized videos to use for ads or social media video content. This is a clever product marketing strategy—creating a single video that works together as a unit but also is sectioned off enough to be able to exist in parts.
Creating a video like this can also keep costs down. Focus on one single production—but then repurpose parts of the video as their own standalone videos.
21. AeroGarden
Sell your product by walking interested customers through exactly how to use it. That's what AeroGarden does in this product demo video that highlights one of its products, the Seed Starting System.
The video is a complete tutorial on the product, including a satisfying time-lapse of the seeds germinating. A product like this can seem overwhelming, especially for someone new to gardening. But by breaking down each step, AeroGarden has made its product seem much more approachable.
Use your product demo videos to walk potential buyers through how they're supposed to use your product. Some products are less straightforward, and there are many use cases—others need to present a step-by-step to help customers feel like they can actually make a smart purchase.
22. Keurig
This Keurig video is another stellar example of how a brand's video can hone in on a key feature rather than the product itself. Showing off the product's new BrewID feature that allows the coffee maker to automate settings based on the type of coffee its brewing is a technologically advanced option that many coffee lovers would be excited to get their hands on.
The video is a quick, 15-second highlight of the feature, but it's effective. It shows how the feature works and what the end experience is—a phenomenal cup of coffee.
23. Fitbit
Sometimes it's all about the video footage, but sometimes the background music really takes the stage. While this product video showcases all of the main elements of a Fitbit, the audio helps make the sale.
Using upbeat music to accompany the video helps online fitness company Fitbit resonate with its target audience—fitness enthusiasts—better. The video also runs through all of the most exciting features of the newest Fitbit product and how it solves each potential pain point of its target customer.
24. Vitamix
This Vitamix product video pulls its viewer in with salivating video footage, upbeat audio, and compelling copy. Ending with the key message, "There's only one Vitamix," helps elevate the brand and make it seem more exclusive.
Even with video content, the copy can still have a big role. Whether it's in the script or words juxtaposed on the screen as we have in this example, your copy can make or break your video. Use compelling copy to resonate with your target audience.
25. Nike
This Nike product video example is similar to the LEGO example from earlier in our list—a popular eCommerce brand ventures into apps to help build a community. In this example, we see Nike building a virtual and augmented reality app that enables customers to create their own custom Nike designs.
These designs can be shared online as well as used within online games. This is a feature of the Metaverse that many techies are hoping to see come to fruition—a virtual reality space where people communicate via avatars.
26. Ruggable
Ruggable's product video showcases the product's benefits in a short 20-second snapshot. The video features a basic but comprehensive voiceover that explains what the product is and paints a clear picture of why people need it.
This classic example of a product video can easily be emulated by other brands. Highlight your product's best features alongside visually appealing video footage to start generating sales.
27. Redsbaby
The last product video example on our list comes from Redsbaby. This video covers much of the Redsbaby product range and how the brand's products can be used in a family's day-to-day life. It also showcases multi-use products, like the bassinet that doubles as a baby carriage.
Many product videos benefit from being specific. But Redsbaby is going all out by showing off everything the brand has to offer. Consider creating a product video that's more of a brand explainer video.
A cool product video like that can sell your entire brand rather than a single product, improving customer retention and getting your target audience to come back for purchases again and again.
Use these product video examples for inspiration
Gather inspiration for your own product video by finding examples here that might resonate with your audience. Then start planning for and filming a video to promote your product(s). Turn it into a shoppable video on your website to increase sales and conversions.

Chloe West
Chloe West is a digital marketer and freelance writer, focusing on topics surrounding social media, content, and digital marketing. She's based in Charleston, SC, and when she's not working, you'll find her playing card games or watering her plants. Connect with her on Twitter or LinkedIn.
Keep up with the latest trends in eCommerce video experiences