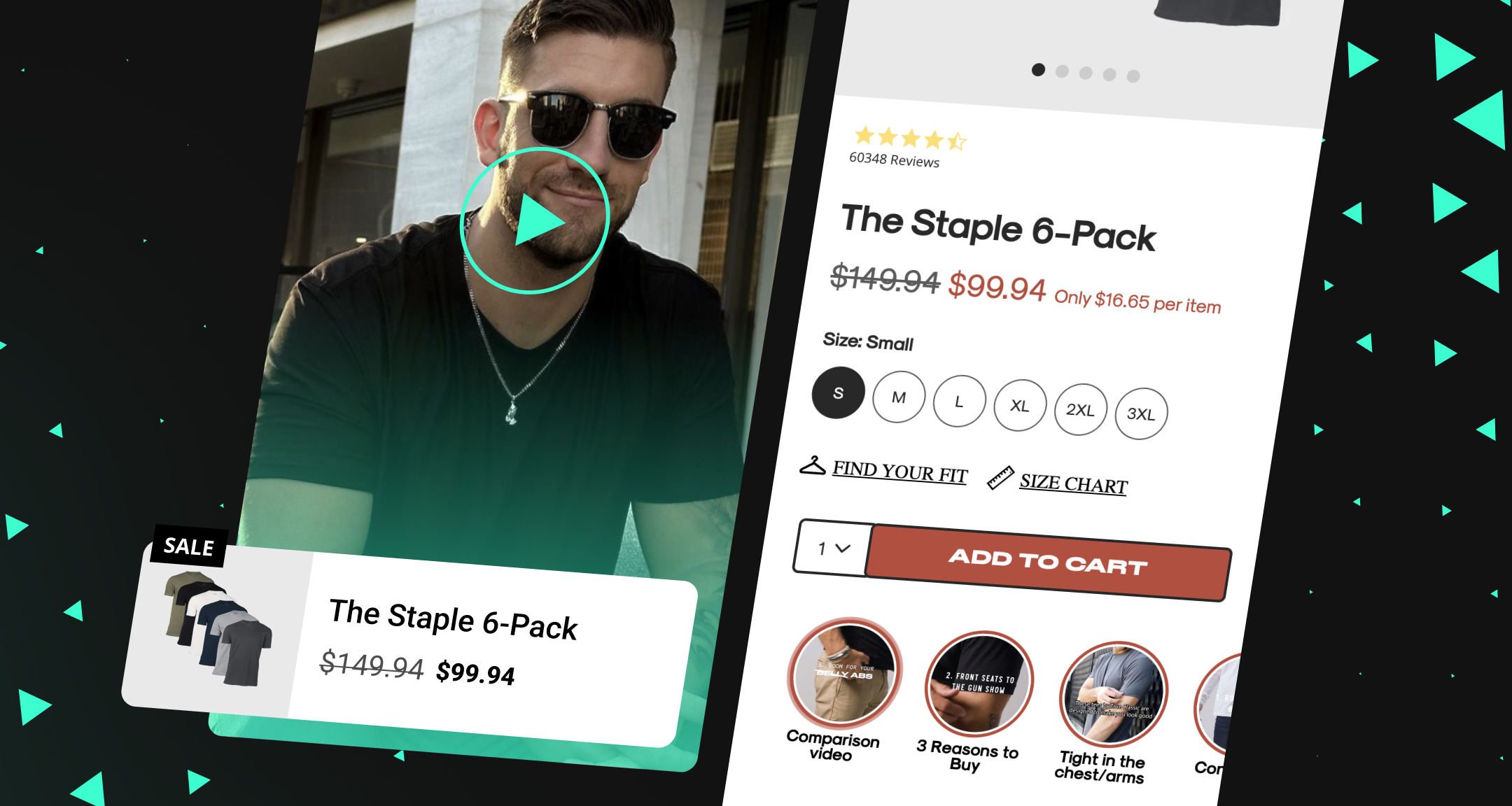 In 2019, Instagram introduced "Instagram Checkout," a game-changing shoppable content feature, sparking a social commerce craze.
Soon, major players like Pinterest, Snapchat, and TikTok jumped on the bandwagon with their own version and took social commerce to the next level -- a staggering $724 billion in revenue in 2022 and a predicted leap to $6 trillion by 2030.
At the heart of this revolution is shoppable content, which empowers users to engage directly with products on social media, driving traffic, increasing sales, and skyrocketing ROI.
In this article, we'll discuss all about shoppable content and how eCommerce brands can leverage this powerful tool.
Let's get started!
What is shoppable content?
Shoppable content is any type of online content, usually visual, but not always, that allows people to buy products directly from the content itself. The most popular shoppable media include videos, ads, and social media posts (among other things). With shoppable content, people can browse, learn about, and buy products all at once -- making shopping much easier and more convenient.
And because people expect instant gratification and immediate satisfaction in whatever they purchase, you can use it to your advantage by offering products that get the job done right away and stand out from the competition.
Busy Baby Mat, a baby products brand, did just that by partnering with Videowise, an eCommerce video platform, and added shoppable content on their website.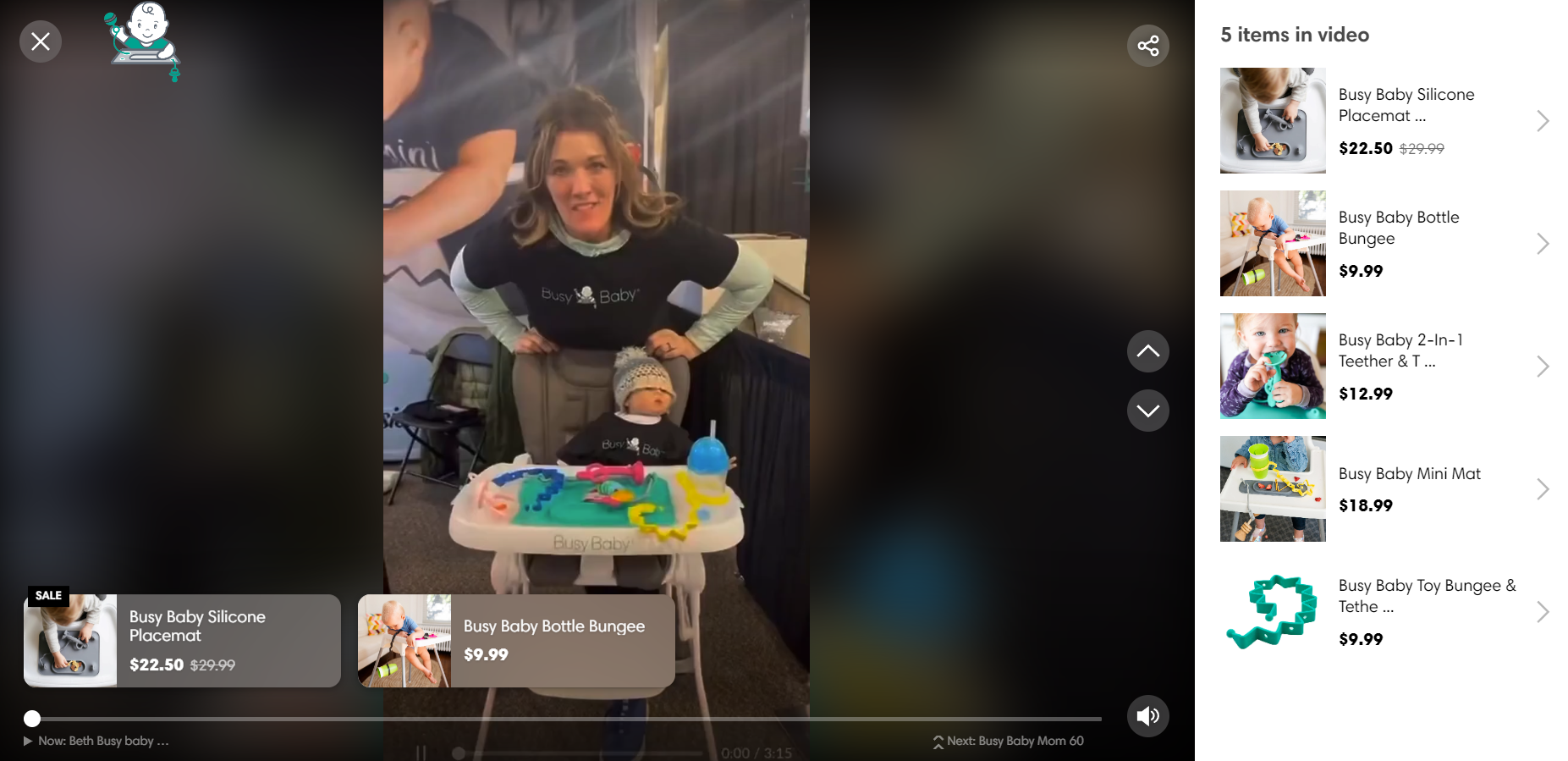 By embedding informative videos that show how their products work in real-life situations, Busy Baby Mat was able to provide an immersive and interactive shopping experience for their customers. The result? A boasting 11.49% conversion rate reflects parents' confidence and satisfaction with the brand.
This is just one example. You can use shoppable videos and improve the experience for your customers in countless ways.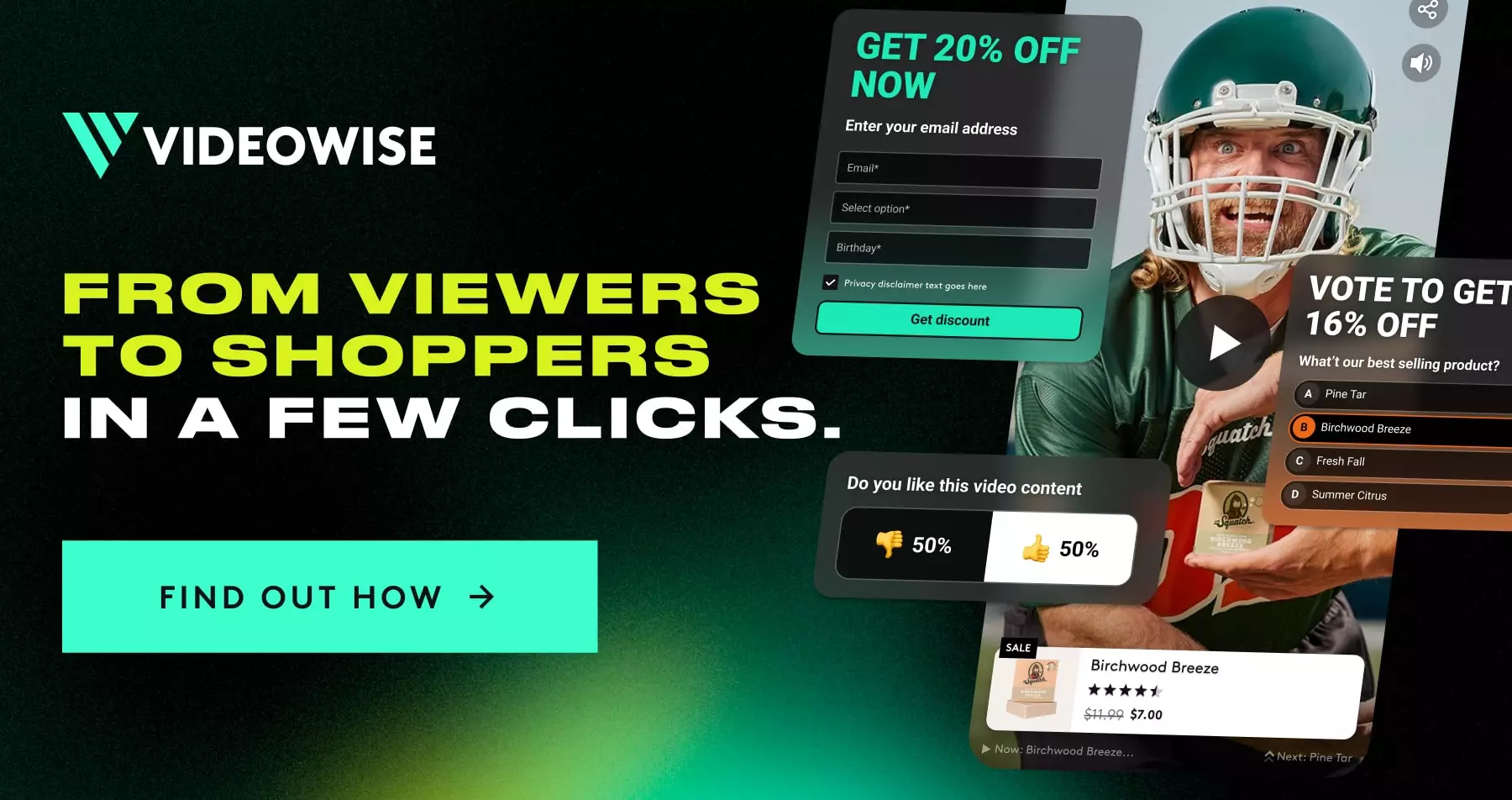 Why should eCommerce brands invest in shoppable content?
Shoppable content is a powerful tool for businesses. From providing a streamlined path to purchase to improving conversion rates, shoppable content can completely transform how businesses market and sell their products. Let's have a quick look at some of the benefits it offers:
1. Streamlines path to purchase
Shoppable content heavily reduces the time and effort when a customer likes a product and decides to buy it. It's like they walk into their favorite store and pick up the product they want without any hassle of searching for it on a different website or going through a lengthy checkout process. It enhances the shopping experience for customers and increases the chances of converting a viewer into a buyer as the purchasing process becomes more convenient and seamless.
2. Personalized shopping experience
How often have you been browsing through a store, and the salesperson comes to you with a product recommendation?
According to research, 75 percent of consumers expect personalization—such as tailored promotions and recommendations on their smartphones or tablets—to make navigation easier in-store and online.
Shoppable content also does the same but in a digital environment. It helps businesses replicate the personalized, one-on-one shopping experience for shoppers by showcasing products that are tailored to their preferences and interests. So they'll never have to settle again when buying something specific.
3. Improved conversion rates
No one likes to click tons of pages or fill out forms to buy something. Having shoppable content a core part of your marketing strategy will help customers easily purchase your products without having to leave the website they are visiting.
And the good news is you can easily add shoppable videos to your website, improve your conversion rate, and increase sales. Just implement Videowise on your website and keep your shoppers engaged throughout.
Book a demo with Videowise to learn more about it!
4. Increases customer loyalty
When customers can seamlessly buy what they want, it creates a more immersive and engaging experience that builds a stronger emotional connection between customers and the brand. In fact, 60% of consumers say they'll become repeat customers after a personalized shopping experience.
With shoppable content, you can create an army of loyal customers that will keep buying from you and spread the good word about your product. All you have to do is create a shoppable experience that is engaging, fun, and easy for them.
5. More measurable
Measuring the impact of your marketing efforts is a critical part of running a business.
As aptly said by Peter Drucker, "You can't improve what you don't measure."
With shoppable content, you can directly and easily measure a campaign's success by tracking all the clicks and conversions. It gives you tons of data to determine what type of content works best for your audience and how to improve it for better results.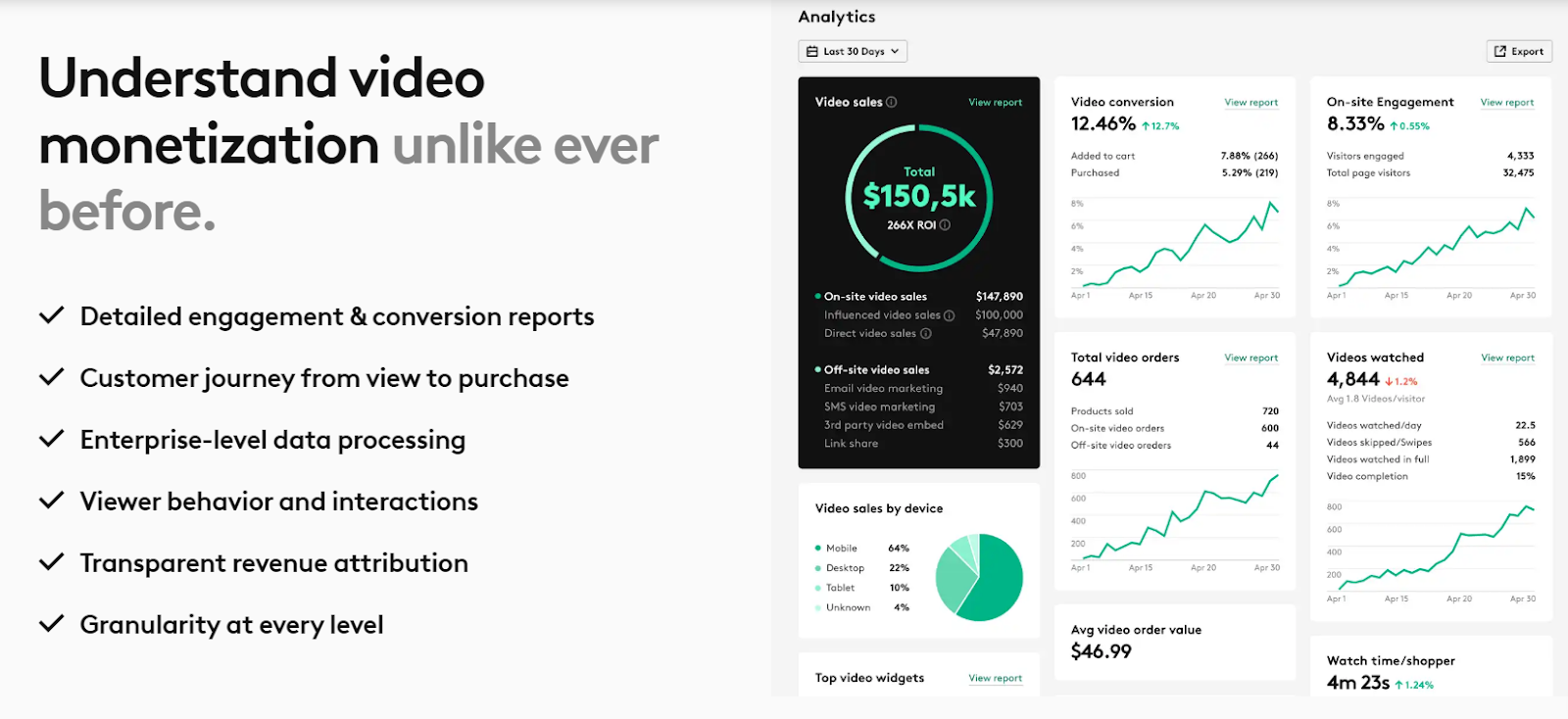 With Videowise's advanced video analytics metrics, you can access tons of performance metrics and optimize your shoppable videos for conversions in no time. For example, you can track the average on-site influenced video sales conversion rate to measure how effectively your videos are influencing sales.
Types of shoppable content
So, now you know what shoppable content is and what all you can achieve by using it, but how do you decide which is the best format for your business?
Well, there is no one-size-fits-all answer here. It entirely depends on key factors, such as your brand, product type, and target audience.
However, a few formats might work well for your business and help you turn viewers into customers. Here are some examples of the most common types of shoppable content:
1. Shoppable videos
Have you ever watched a video of someone trying on clothes, shoes, or accessories and considered buying them yourself? That's what shoppable videos do. They let you watch a video, choose the items you like, and purchase them directly from the brand without leaving your browser or app.
Shoppable videos combine the power of video storytelling and shopping - making it easy for customers to purchase directly from the video while making it easy for businesses to show their products in fun, engaging, and interactive way.
According to per a report, 84% of people say they've been convinced to buy a product or service by watching a brand's video. And that's just the beginning: shoppable videos are slowly becoming one of the most powerful tools for businesses—giving brands more opportunities than ever!
RIFRUF designs and sells unique and functional dog shoes. But the real challenge was connecting the customers to their products and explaining the "why" behind them. So, instead of doing all the talking, they turned to Videowise and started implementing shoppable videos on different pages of their online store, including the homepage, product pages, and story pages.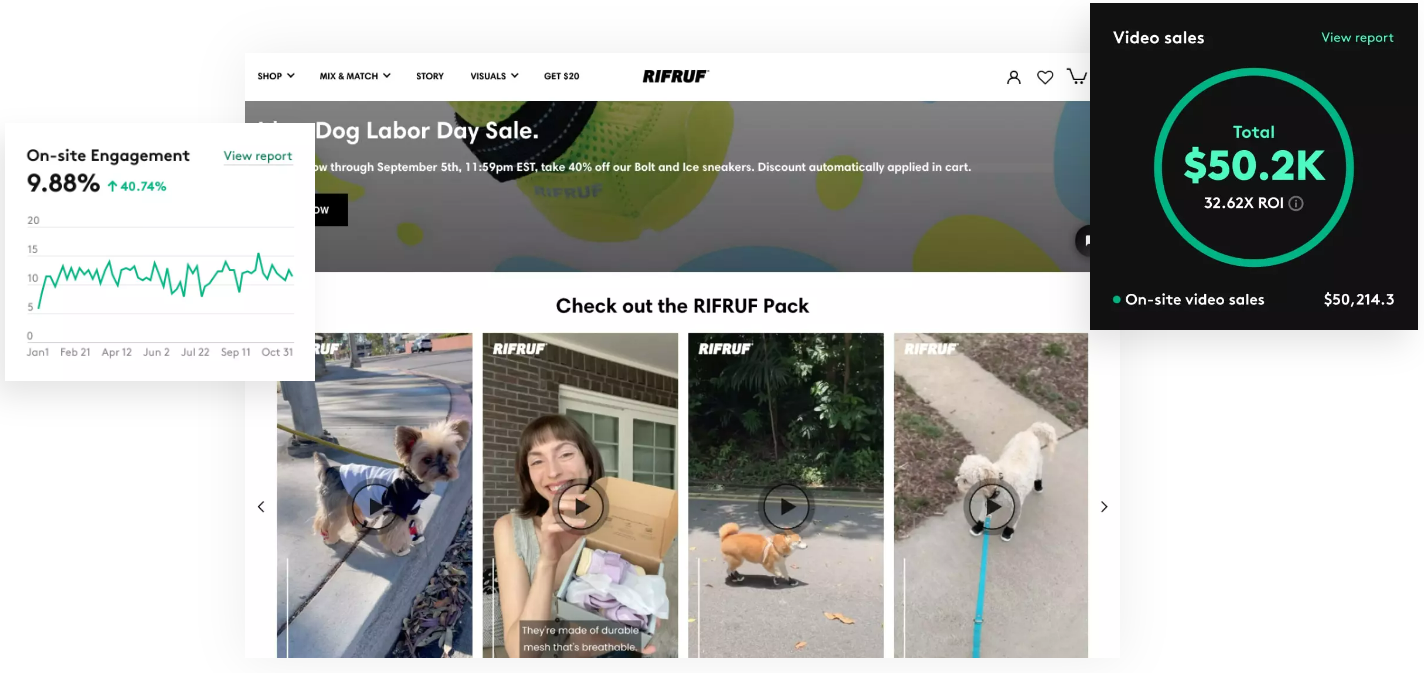 Combining the power of video storytelling and a strong product line, RIFRUF generated over $50k in added revenue, with a conversion rate of up to 16%.
Read the RIFRUF case study here.
2. Shoppable ads
If your traditional ads are not working for you, it's time to step back and try something different. With shoppable ads, you can let customers buy directly from your ad. These types fit well into any marketing strategy as they can be implemented anywhere —on social media, your website, and even display ads.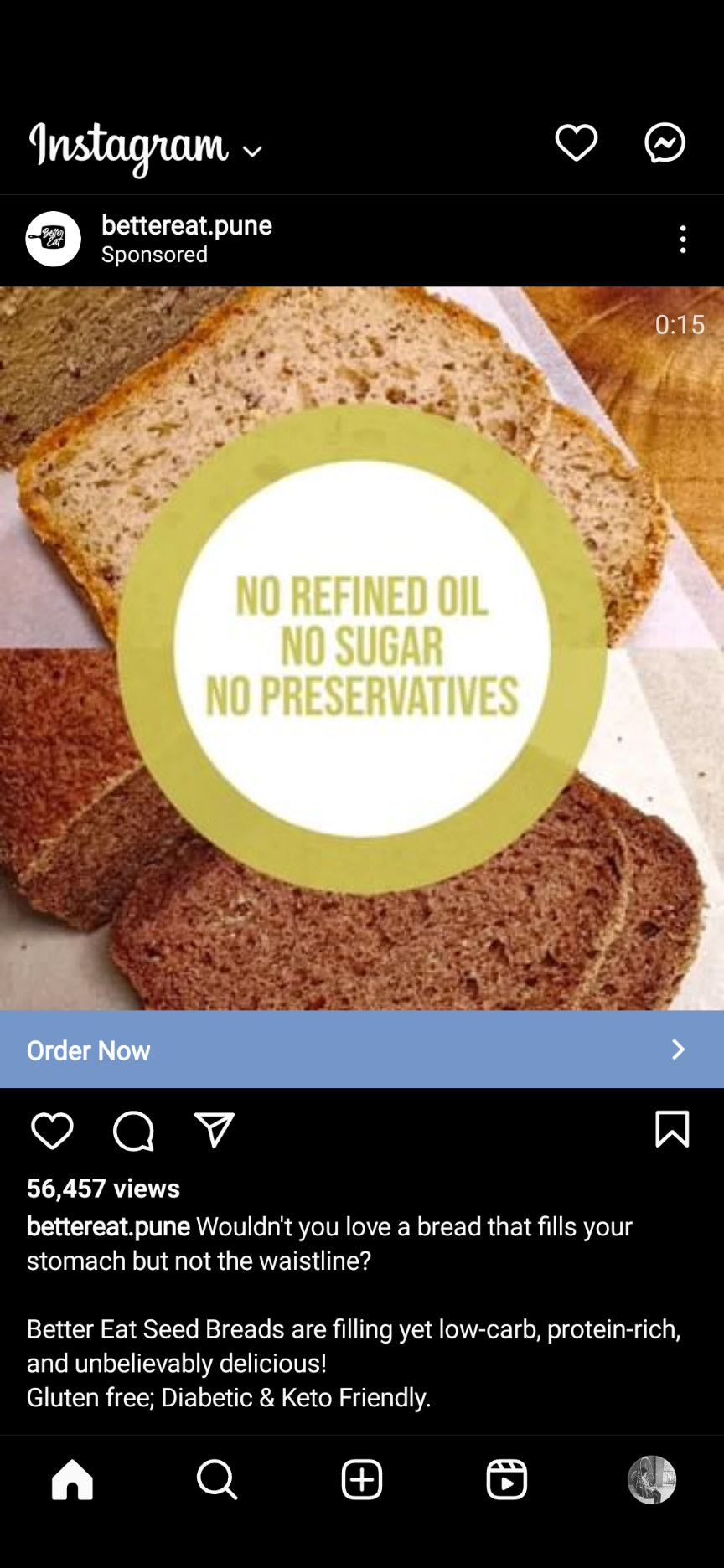 You can add a "shop now" button to your ad and link it directly to any product page on your store. Shoppable ads are always accompanied by a call-to-action button—whether the user is watching a video or looking at an image, they'll have one-click access from wherever the ad is placed.
3. Shoppable social media posts
As per a report by Statista reports, social shopping generated more than $724 billion in revenue in 2022 and is expected to grow at a rate of 30.8% from 2022–2030.
It's clear that social shopping isn't going anywhere, and there is a huge opportunity for online retailers. That's why it's so important to make shoppable posts one of the key aspects of your social media marketing strategy. You can do this by picking the right social media platforms that work best for your business and ensuring you're active on them constantly!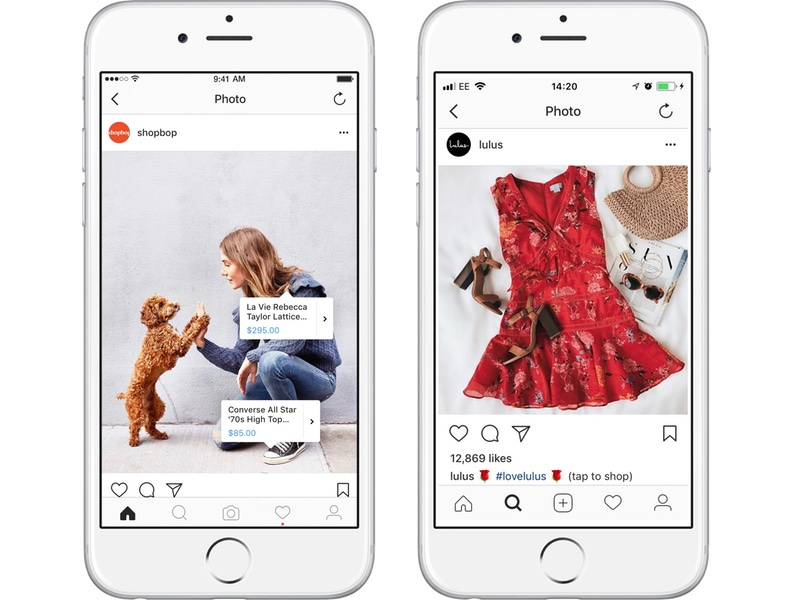 As per Mihaela Tudorache, Product Manager at Videowise:
"When it comes to shoppable content, you need to decide which platform you want to leverage. Whether it be Instagram, YouTube, TikTok, or your own website, identifying where your audience is most active and where they are most likely to engage with your content is important."
Once you've chosen your platform, focus on creating quality content to help people learn more about your products and services while making the customer journey easier and more enjoyable.
As Kevin Wang, Co-owner of Inyouths LED Mirrors, perfectly pointed out, "The most common mistake businesses make when implementing shoppable content is not investing enough time and resources into understanding the platform. Shopping posts are very different from other types of content, so it's important to understand the nuances of how they work. It's also vital to thoroughly research your target audience and test out different strategies before launching a shoppable post-campaign."
4. Shoppable user-generated content
"People buy from people."
Whenever I hear that statement, I think of user-generated content's power. In this case, we're talking about your loyal customers and how they can help you sell more products by creating shoppable images and videos. People want to see what others do with the products, so let them experience it!
In fact, as per research, 49% of consumers feel that online business reviews are as trustworthy as personal recommendations from friends or family.
So, by combining the power of UGC and shoppable media, you can create a highly engaging user experience for your potential customers that drives sales, just like Glossier did. Here is what their post looks like: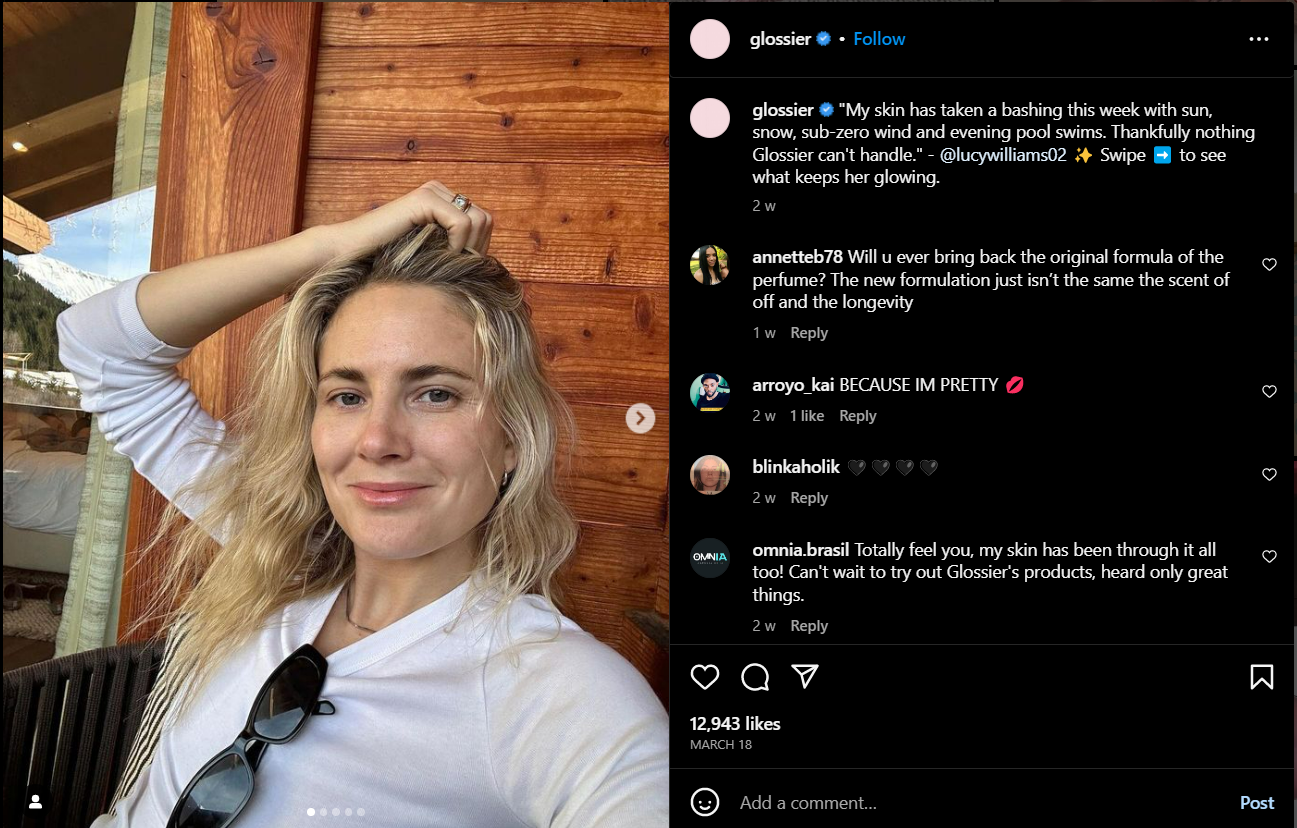 You can embed user-generated video content on your website and make them shoppable with Videowise. As a YouTube Compliant Partner, Videowise can help you find positive videos about your brand and products on YouTube, make them shoppable, and monetize them directly on your site, or you can use them in your other marketing strategies.

Book a demo with Videowise experts and turn your customers into advocates.
Best practices to create shoppable content
Shoppable content is key to engaging customers and increasing sales. Here are some best practices for ensuring your content captivates and encourages consumers to purchase—and buy from you again:
1. Define clear goals
Before creating content, think about what you want to accomplish.
As stated by Mihaela,
"Goals such as driving sales, increasing brand awareness, or improving engagement could be what you're wishing for as a business. By defining these objectives, you'll have an easier job of creating content that will resonate with the target audience."
2. Optimize video
Videos are incredibly effective in showcasing products and capturing attention. Ensure your videos are high quality, mobile-friendly, and have engaging visuals. You can even include captions and transcripts for accessibility and better SEO.
As Ryan Mckenzie, Co-Founder & CMO Tru Earth, aptly put it, "With the prevalence of smartphones and tablets these days, it is essential to make sure your content is optimized for those devices. This means ensuring that the images, videos, and shopping links are all properly sized and working correctly."
3. Leverage user-generated content
Authenticity sells. Add as many customer photos, reviews, and testimonials as possible to build trust and showcase your products in real-life scenarios. Genuine customer reviews add credibility and increase your chances of converting viewers into shoppers.
4. Show shoppable links early
No matter what type of content you create, ensure your audience can access product information and instantly shop for what they like. Position your shoppable links and CTA prominently and early in your content to maximize their impact and minimize distractions -- keeping viewers engaged throughout.
5. Show your product shots slowly
Give your viewers time to process the information and appreciate the product's features. Slowing down the pace of product shots in social feeds allows viewers to observe minute details of your products and make an informed decision. It will help you build an honest, strong with your customers.
6. Showcase new products
Launching a new product or collection? Make it the star of your shoppable content. Highlighting fresh arrivals can make your customer more curious and drive impulse purchases.
7. Provide all necessary details
Don't leave your audience guessing. Provide as much relevant data as possible, from cost to size specifications. The more informed a customer is, the less likely they will have questions about what's being offered or hesitate to purchase.
Build your shoppable video strategy now
Today when instant gratification is the new average, and consumers crave quick, easy, and engaging shopping experiences, shoppable content is rapidly emerging as a game-changer for eCommerce. By harnessing the power of shoppable content, you can change how your customers interact with your brand.
And if you haven't started using shoppable content, it's time to get moving and elevate your marketing efforts. With the right shoppable video strategy, you can create a seamless customer experience and generate more sales in less time. Videowise can help you create compelling shoppable content to engage and convert your customers.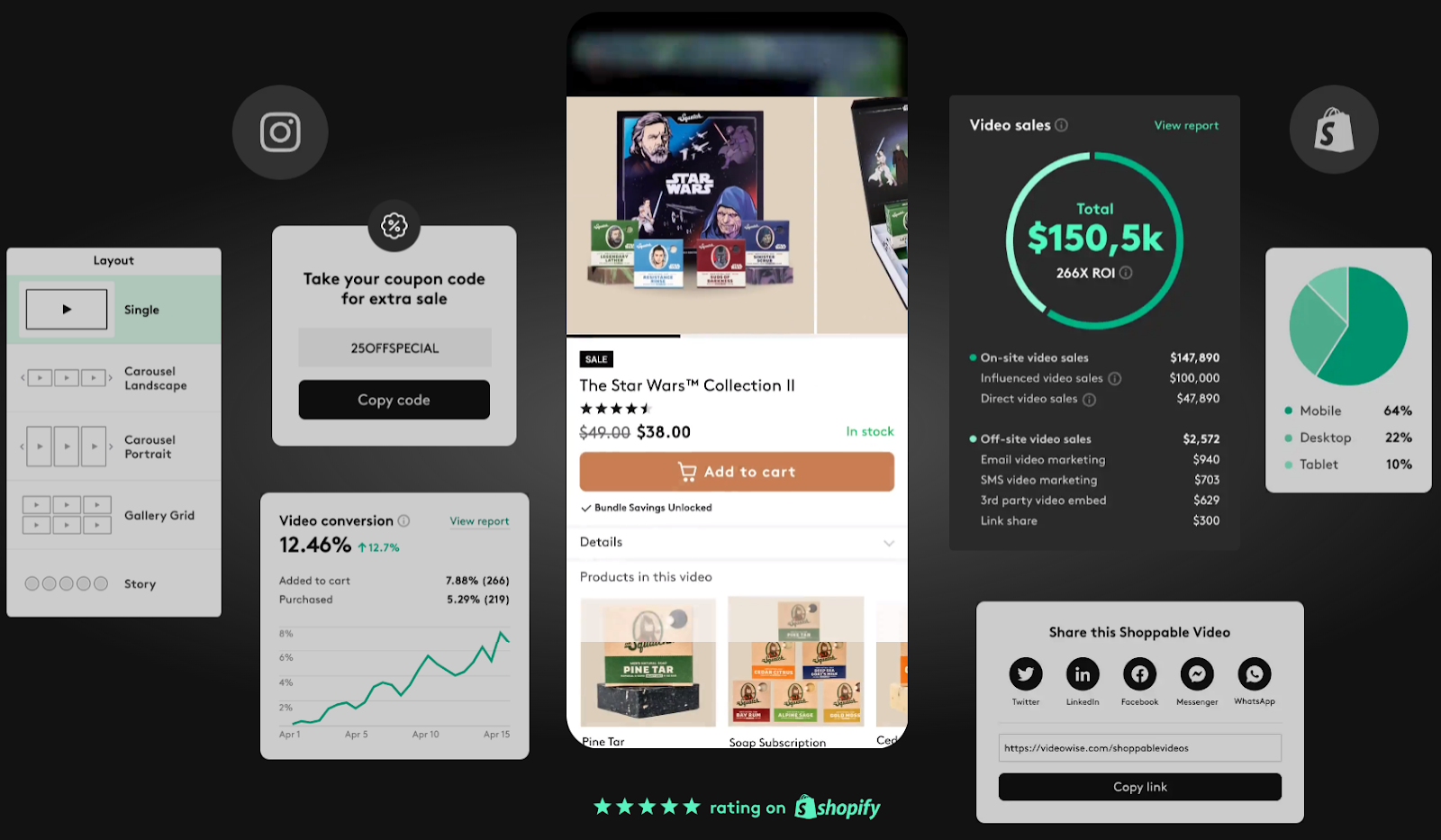 Book a demo with one of our experts and create shoppable content that drives ROI for your eCommerce business.
Keep up with the latest trends in eCommerce video experiences