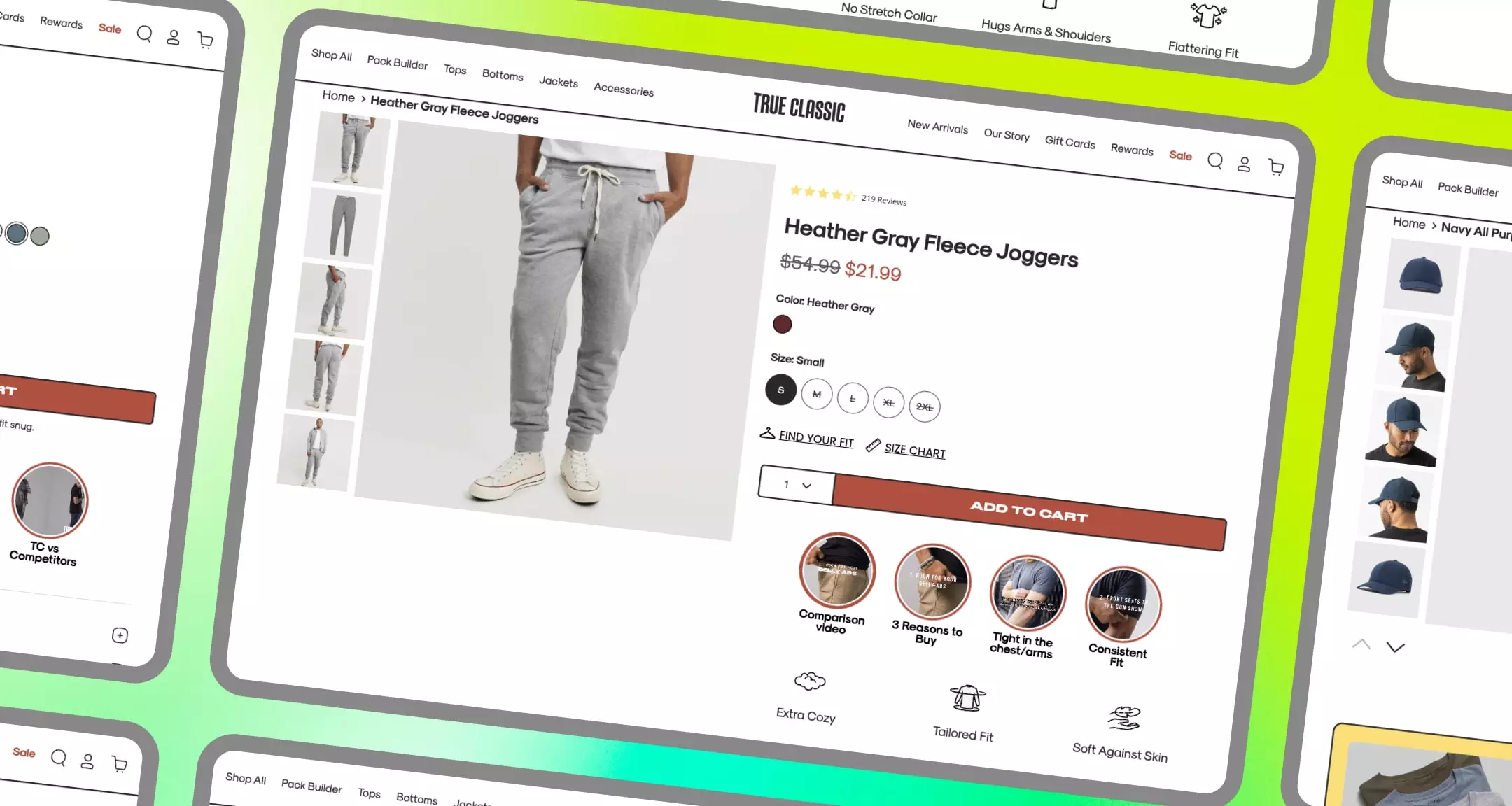 Creating the perfect product page for your eCommerce business is an art and a science.
Art, because you have to design an intuitive interface and let your brand personality shine visually. Science, because you have to understand your shoppers' needs and expectations to create compelling content aligned with your brand values.
Not every brand is able to achieve this delicate balance. That's why we created this roundup of 13 excellent eCommerce product page examples to inspire you and share actionable tips to transform your pages from meh to mama mia!
Stick with us till the end to find our top practices for creating compelling product pages.
Elevating the Online Shopping Experience: 13 Stellar eCommerce Product Page Examples
Let's break down these 13 eCommerce product page examples to help you create the perfect page for your products.
1. Last Crumb
How it's structured
The product page immediately catches your attention because of its unique structure. Half of the hero section includes a high-definition picture of different cookies, and the other half includes product details their target audience would need, like the product description, price, and cookie names.
Unique detail: When you click on any of these cookies, you can see very short descriptions while the cookies shake!
Scrolling down, you'll see a video of how the cookies are packaged in a luxe black box. This is a superb way to create more appeal for your product and nudge online shopping visitors to place an order from your eCommerce store.
The page humanizes the brand by mentioning the back story of how the collection was created. Paired with high-quality product images, this minimally aesthetic page ends with three FAQs about shipping timelines, shelf life, etc.
Why it's worth emulating
The Last Crumb's product pages lean heavily on their distinctive visual style. With high-quality images and creative descriptions, the page makes you crave these cookies. A good UX element is the pricing and add-to-cart banner, which is readily available as you scroll up and down the page.
Key takeaways
Add high-quality visuals and choose a good color palette that aligns with your brand personality.

Create credibility for your products by adding a behind-the-scenes or packaging video.
2. Cosmix
How it's structured
In the hero section, you can see a carousel of product photos—a mix of infographics and customer pictures. The right side shares more details like the product flavors, pricing, protein quantity, and customer rating.
This page is unique in that it ditches the usual product specifications and covers two important details: who this product is for and excluded ingredients. The No-No List helps prove the health considerations of this protein supplement.
The usage instructions and reasons to try this product also build trust among visitors and help them make an informed decision. This is followed by a long list of FAQs to answer all possible customer questions and reduce any uncertainty regarding the solution.
Why it's worth emulating
This product page by Cosmix includes a video by the brand's co-founder to add a personal touch for visitors. It also includes details that directly handle people's objections and set them up to try the product immediately. By sharing essential details up top and including helpful instructions, this page encourages visitors to buy the product.
Key takeaways
Instead of playing by the book, ask customers about their biggest concerns related to your product and answer/address them on your product pages.

Add as many FAQs as necessary to ensure potential customers don't leave the page without placing an order.
3. Javy Coffee
How it's structured
The page starts with a banner calling this product an exclusive release. It includes a catchy product title and a short description with three key attributes. The reviews add more credibility, while the buying options simplify the decision for new/existing customers.
Unique detail: This product page has two cool elements—one, a 100% refund guarantee, and two, a 'call it magic' callout box.
The first element is intriguing because interested shoppers can place an order without worrying about the taste. It also shows the brand's confidence in its product. The second element shares a BTS detail to convince you about its effectiveness.
The rest of the page includes thousands of positive reviews and ends with an FAQ section. What's unique about this part is the helpdesk option. You can chat with Javy's customer support agents to learn more about this coffee.
Why it's worth emulating
While this is a fairly short page, it gives you everything you need to offer a seamless online shopping experience. From instructions on using the coffee to the ingredients list, this page convinces you to buy the product without taking too much of your time.
Key takeaways
Add details about your process of creating a product to capture shoppers' attention.

Include the option for visitors to chat with your team to make a better purchase decision.
4. Frank Body
How it's structured
The page opens with a bold sentence on the product image. It draws you in to swipe and scroll to learn more. The entire page is written in first-person style from the perspective of the product. In addition to the product photos, it includes a before-after comparison of people who used this body scrub. This instantly builds social proof!
You'll also find a good upselling option—buy a body lotion along with the scrub. The 'inside me' section includes the ingredients list, while 'how to use me' shares step-by-step instructions for using the scrub.
This product page also includes a 30-second video on how to use the product. Besides reviews, it shows related products to buy from your eCommerce store and ends with a link to a magazine article featuring this product.
Why it's worth emulating
Frank Body's unique visual style sets it apart from the crowd. The first-person narrative is a nice touch, while the before-after pictures convince their target audience about the product's effectiveness.
Key takeaways
Work with a designer or illustrator to create a visual language for your brand.

Collect proof from your customers and create case studies to prove your product's worth.
5. RIFRUF
How it's structured
This page opens with a collection of product images on the left and specific details on the right. The right panel includes a long product description along with the product price and ratings. This is followed by the color and size options.
As you scroll down, you can see a couple of shoppable videos explaining the product in more detail. After this section, you'll see customer reviews and then a set of FAQs, along with another video showcasing this item in action.
Why it's worth emulating
This example shows you the impact you can create by embedding shoppable videos on your product pages. It communicates everything about the product—usage instructions and care guidelines—with visual detail.
Key takeaways
Embed shoppable videos to give visitors the convenience of a quick checkout.

Show your product in action in real life with videos and screenshots to win people's trust.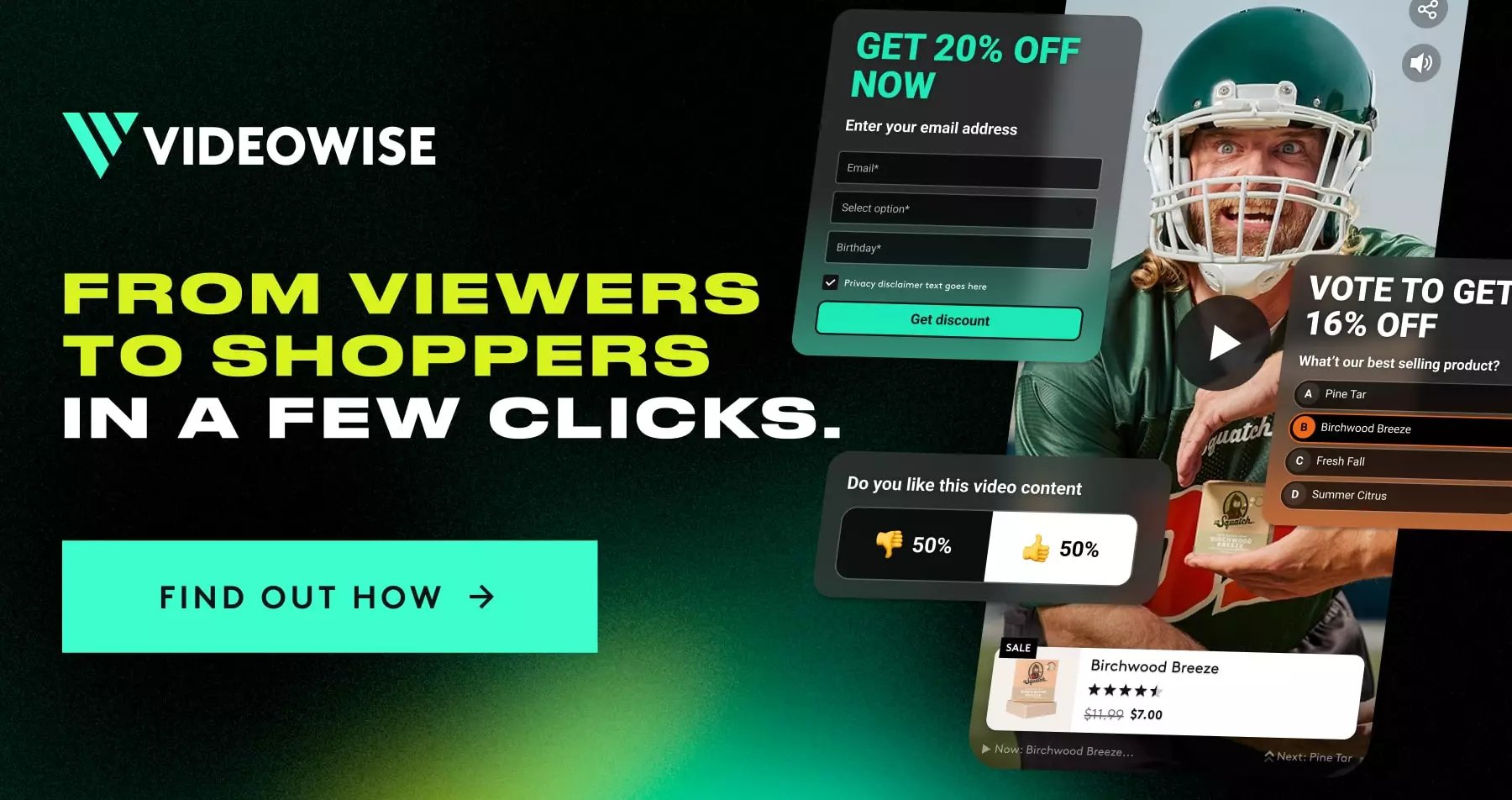 Pro tip: Use a powerful video commerce platform like Videowise to turn a video into a shoppable format and embed them anywhere, including your product pages. Book a demo to learn more!
6. d'you
How it's structured
The page opens with a plain hero section showing a product image, ratings, size, price, and description. As you scroll down, you'll find more information about expected results, benefits, and ingredients.
Interestingly, the ingredient list emphasizes the benefits and shows exactly which ingredients in the product will help in achieving these benefits. This page also includes social proof with a set of four before-after visual case studies.
You'll find a short video on how to apply this product, along with the best routine. Notice how this routine includes recommendations for other products by d'you—cool upselling trick! The page includes FAQs and callout quotes from customers, followed by reviews.
Why it's worth emulating
The visual structure can make or break your page, and this example proves that. It includes a combination of photos and videos in a neat product page layout to persuade anyone who visits this page. The ingredient list is a great touch too!
Key takeaways
Show customers how to best use your product and answer their questions rather than just telling them to do this or that.

Ditch the mainstream product page layout and design a standout interface.
7. Made In
How it's structured
This page shows a high-definition video of the product and shares some of its main value propositions. It also includes a "pairs well with" section to instantly upsell potential customers.
You'll find all the necessary information on the right, with product images showing it in action. The page also gives a shout-out to three famous chefs who helped in designing this wok—building credibility for its effectiveness.
The rest of the page includes recipes, FAQs, reviews, and a detailed care guide for this product. The 'customers also loved' section shares some recommendations to check out other products.
Unique detail: Along with pictures, you'll also see an option for "click to unbox." This interesting button shows you an unboxing video about the product's packaging and size.
Why it's worth emulating
As one of the best minimal product page design examples, this page justifies the idea of less is more. Without too many design elements, this page wins people's trust by spotlighting the makers of this product, sharing an unboxing video, and giving away a detailed care guide.
Key takeaways
Include videos of your product to give buyers clarity on its size, features, and key value proposition.

Make life easy for potential customers with instructions on how to use and maintain the product for a longer life.
8. Apolla
How it's structured
This product page tells you all the essential product details—rating, colors, size, and price—as soon as you land here. The image carousel on the left includes photos from actual customers and a 30-second video showing the socks in real life.
The page reduces friction for site visitors by adding this right under the Add to Cart button. You can learn more about their exchange/return policy, satisfaction guarantee, and payment options.
Further down the page, you'll see lots of videos showing the socks in action. The page also includes a description of how these socks are designed. The best part? There's an entire section dedicated to customer testimonial videos—talk about social proof!
Why it's worth emulating
Even with its minimal design, this product page stands out because of its quality of content. By showing the socks in action and including genuine reviews from customers, Apolla gives buyers enough reasons to place an order.
Key takeaways
Leverage video content to communicate quickly with potential buyers and take them closer to purchase.

Add trust badges and information about your shipping policy toward the top for effective decision-making.
9. Alala
How it's structured
This page shows a high-definition product photo and the name in a big font. Unlike traditional pages showing a description, this page includes a brief customer review. It also creates a sense of urgency with a small tag for "final sale." The "Shop the Full Look" option is a great opportunity to upsell!
The product page includes other crucial product details like its fabric, fit, care instructions, etc. You can see more products related to this one at the end of the page.
Why it's worth emulating
This page gives the eCommerce site visitors as much information as possible without overwhelming them. Its classiness aligns with the brand's personality. Instead of adding an FAQ section, the page gives you a live chat option to clarify your doubts and place an order.
Key takeaways
Match the design of your product pages with your overall brand identity.

Simplify the buying process by adding helpful options like 'find your size.'
10. Nest
How it's structured
This page includes a neat product photo and the many color combinations you can choose from. It gives you a snippet of the description and a small section on the reasons to buy this item. Scrolling down, you'll find essential details about the product—dimensions, materials, delivery options, etc.
A section showcasing its origin story and a shout-out to the designer is other cool feature of this product detail page. You'll find a selection of articles to style this product and a section on similar items to browse.
Why it's worth emulating
This page is a great example of how to incorporate multiple elements in a single product page. While you can use the first half of the page to share crucial product details that buyers look for, you should dedicate the rest of the page to adding more context around the product.
Key takeaways
Include a section to showcase your product in action with user-generated content.

If you offer multiple payment options, highlight that on your product pages to help buyers make a confident purchase.
11. Fine Little Day
How it's structured
As soon as you land on this page, you know it's not one of the typical product pages. Its unique image carousel and minimal details in the hero section invite you to scroll down (or left) and learn more. When you click on the tiny arrow near the description, you'll get more insights about this item.
This short page includes four quick info items and another slider to share relevant recommendations. The rest of the page introduces you to the artist and highlights other products from their collection.
Why it's worth emulating
If you don't have much information to share about your products, make sure that your interface looks different from the rest. A short page can work wonders when it delivers the right information and tackles buyers' questions.
Key takeaways
Experiment with the way you showcase your product in photos or videos.

Make shipping costs and payment information easily accessible to encourage buyers to place their orders.
12. Rei
How it's structured
This neat product page by Rei includes a product media carousel and all the essential details up top. The carousel includes a 2-minute product video covering every aspect of this bag in high definition.
Immediately under the hero section is a set of recommended products in case you don't like this option. Then you'll find a long list of the bag's features alongside a table of technical specifications. While this isn't the best design, it conveys the necessary information to make a buying decision.
Unique detail: The page shows you the most helpful positive and critical reviews to maintain complete transparency. This is a great move to help visitors make an informed decision.
Why it's worth emulating
This page stands out because it relies less on design and more on the content to convince visitors. The content in different formats is meaningful and relevant for Rei's target buyers.
Key takeaways
If you can't invest enough in designing the perfect page, make sure the content sets you apart.

Encourage transparency in user reviews to create a loyal following for your brand.
13. Artsabers
How it's structured
This page opens with a big shot of the product and the name. You'll see three main features, ratings, and a product video on the right. This is followed by a longer description, shipping policy, warranty details, and more specifications.
Where this page steals the show is a 10-minute shoppable video where a creator unboxes the lightsaber and shows how it works. You can also see a couple of TikTok videos (turned into the shoppable format) embedded as social proof.
Why it's worth emulating
The page looks very different from any page we've seen in this list. That's because it matches the brand's visual identity and follows the same design elements. It's also structured differently, with a lot of videos placed in different parts of the page.
Key takeaways
If your product sells for its looks, double down on video content and make them shoppable.

Source user-generated content on social media and add them as a showcase on your product page.
Here's the digest: 5 best practices to create remarkable eCommerce product pages
Based on our analysis of the 13 best eCommerce product page examples, we came up with these five best practices for designing stellar product pages. Let's look at each practice to get you started:
1. Leverage visual commerce: Visual commerce is about using high-quality product images, GIFs, and videos to visualize your product properly. Savvy buyers don't get sold on static, boring images. They want more—user-generated content, shoppable videos, 360-degree product videos, etc. Add these to different places on your product page and educate + engage online shoppers proactively.

2. Speak your shoppers' language: Your product page copy can make a world of difference for shoppers. Ditch the sales talk and get into their shoes to write from their perspective. Focus on their pain points and show them the promised land. Then explain how your product can take them to this promised land. Be their guide instead of pushy sales reps!

3. Fine-tune your page structure: Most unique product pages look visually appealing because of how differently they're structured. Design your page's structure such that it leaves a memorable impression on every first-time visitor. A/B test the structure and get online shoppers' feedback to simplify it for a frictionless customer experience.

4. Grab those upselling opportunities: Recommending similar products is fairly common. But the best product pages do better than the rest because of how they upsell visitors. Weave more products into the narrative and encourage shoppers to check out (and buy) more items along with the one they're looking at. Strategically place your upsell boxes to pique buyers' curiosity and lock them in!

5. Give them an option to chat: To create a truly seamless customer experience, you have to let visitors talk to you about their concerns or queries. Leave a window for them to pop by with their doubts anytime. This can be through live chat, email ticket, or chatbot option. You can also encourage them to ask questions via WhatsApp or social media.
Bookmark this handy list of best practices to create product pages and watch those conversion rates skyrocket!
Delight shoppers with unforgettable eCommerce product pages
That's a wrap! Use this list of examples to create brilliant product pages for your eCommerce website and turn visitors into paying customers. Strike the perfect balance between copy, visuals, and the interface to make your page unforgettable for anyone who lands there.
Book a demo for Videowise to learn how you can leverage shoppable videos to maximize conversions.

Shreelekha Singh
Shreelekha is a freelance writer fuelled by an untaught curiosity to dig deep into any subject and write content that makes readers tick. She specializes in MarTech, eCommerce, and productivity niches. When she's not at her desk, she's usually soaking in the adrenaline of football and F1.
Keep up with the latest trends in eCommerce video experiences