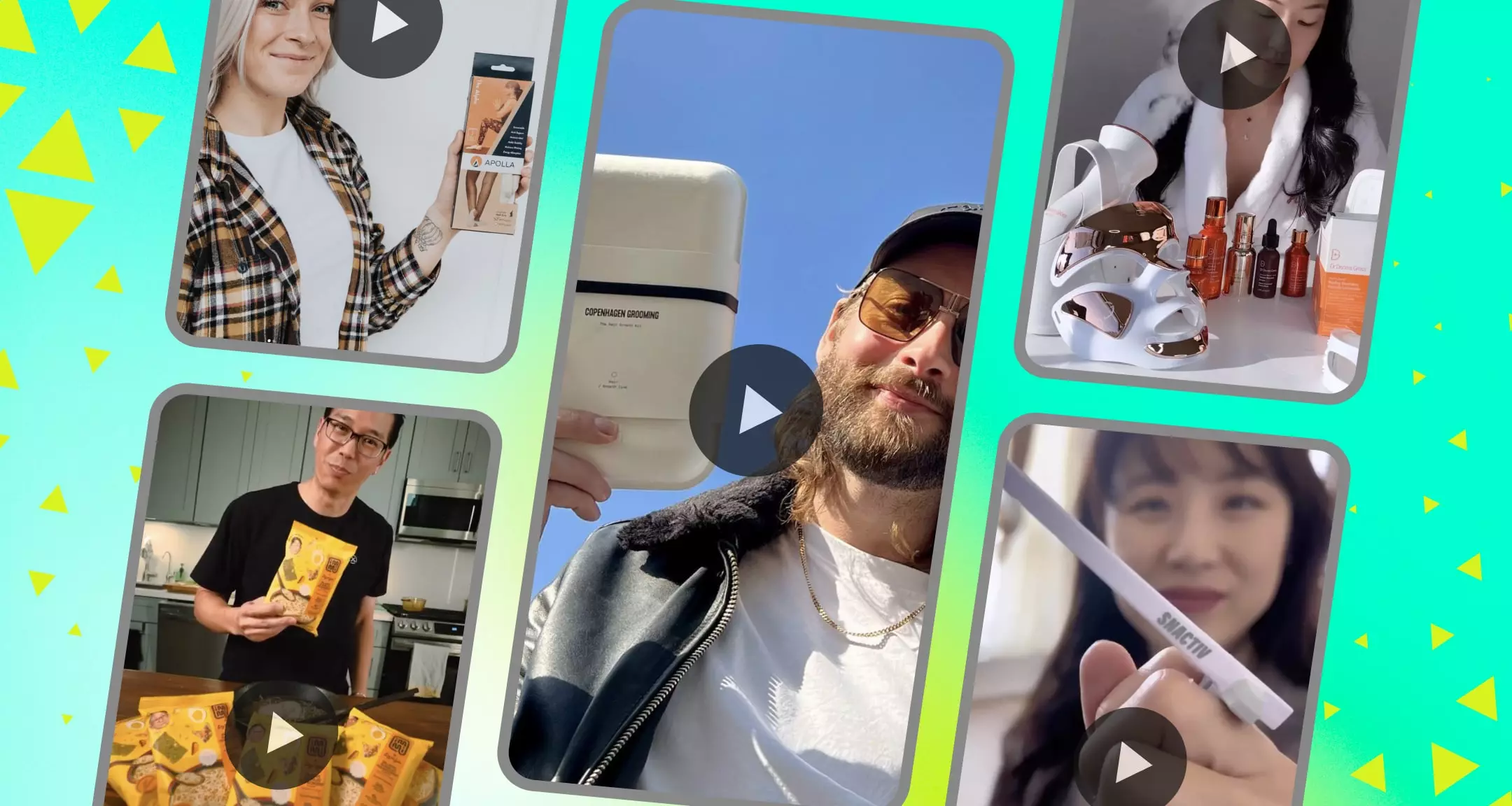 We all know how important video marketing is to a business—the fact that 91% of brands are currently using video as a part of their overall marketing strategies proves this.
However, you can't create video content blindly without having a solid understanding of what your target audience wants to see or what the latest video marketing trends are. By familiarizing yourselves with the latest trends, you can emulate those strategies for your viewers and probably achieve a higher conversion rate.
Throughout this article, we're going to dig into the 14 hottest video marketing trends of 2023. Use these in your strategy to reach a wider audience and grow your business.
Let's get started.
1. Short-form video content
Short-form video content has been taking the world by storm for the last few years. TikTok's massive popularity led to the adoption of Reels by Instagram and Shorts by YouTube.
A short-form video is defined as a video that is less than three minutes in length—though 83% of marketers state that the best short-form videos are less than 60 seconds long. When 30% of marketers say they don't have enough time to create video content, a 60-second-or-less video provides an outlet for quick and easy creation.
Short-form videos also have a better ROI than long-form videos, with videos about products and services performing the best.
However, there are so many popular types of short-form videos you could create. Put together comedic sketches related to your brand, create a product demonstration, share customer testimonials, and more.
Here's an example of a product demo video that walks viewers through how one of The Woobles' crochet creations comes packaged and can be made into an adorable little stuffy.
This short, 9-second video uses a popular audio clip that small businesses and creators love to use about going viral. By including popular audio clips in your content, you increase the odds of your content showing up in the feed and going viral.
Another popular type of short-form video is to use memes in your content. This video places a popular GIF on top of a recorded video by the brand in order to create a piece of humorous, relatable content.
One thing these short-form videos have in common is that they're all shot vertically. This is also a huge trend in video marketing—using vertical video to put on short-form video apps, social media stories (more on that later), and more.
Even if you're recording horizontally for YouTube, Facebook, etc., try to position the main elements in one area so you can easily crop and repurpose the footage in a vertical format.
2. Live video
Live streaming is a consistent video marketing trend, but with how accessible it continues to be, it remains extremely popular. A live broadcast is a great way to interact with your audience in real-time, showcase the product creation process, and even host live events.
One great way to sell (especially on TikTok) is through a live shopping event. This is what Mazza Boutique did with one of their recent live streams. The team went live to show off several products, adding links to the products from their TikTok shop to make purchasing easy. They even added a promo code (TikTok) for viewers to use.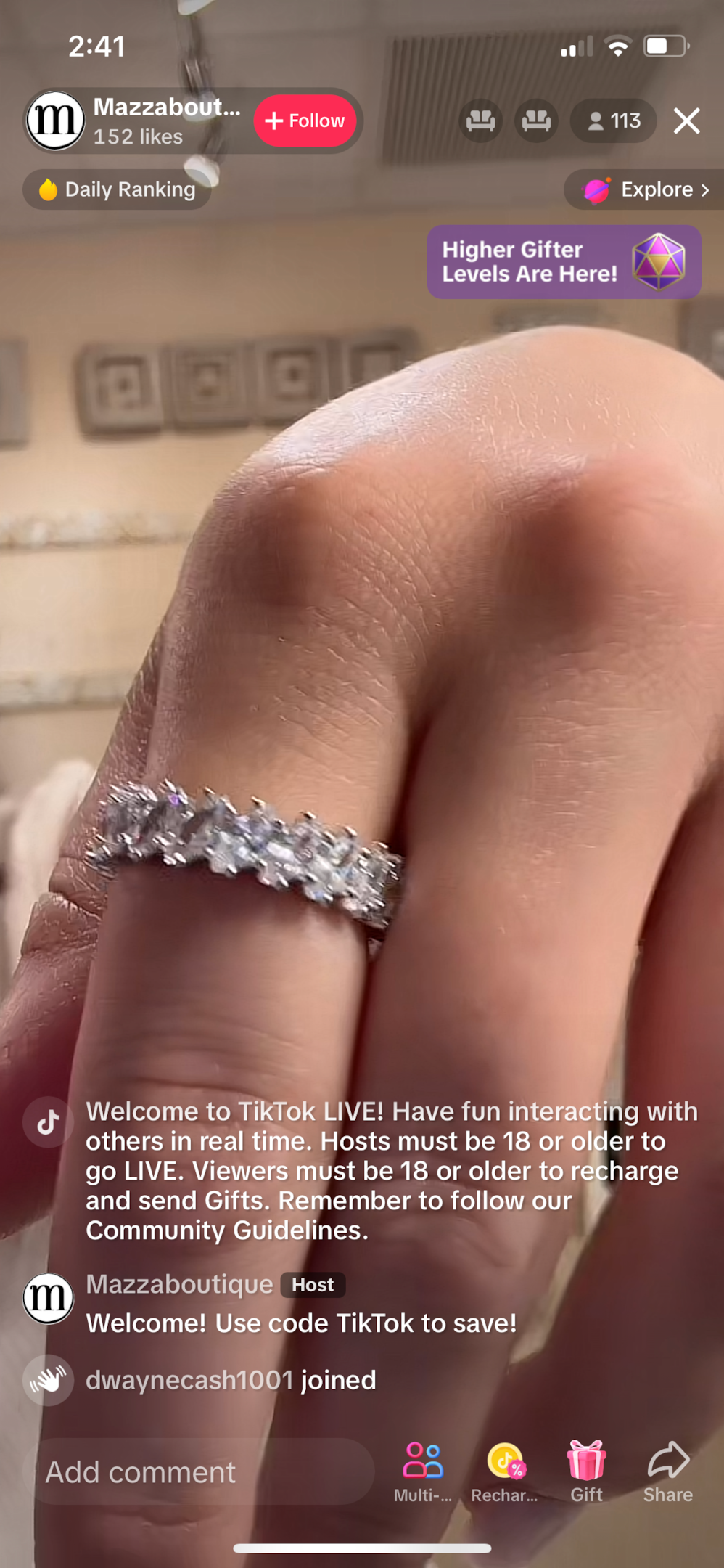 Another great way to use live streaming for your eCommerce business is by creating products live. This is what soap shop Lather and Soul did in their recent TikTok live. The business owner broadcasted live while creating various bars of soap, walking her viewers through them, and interacting with her audience.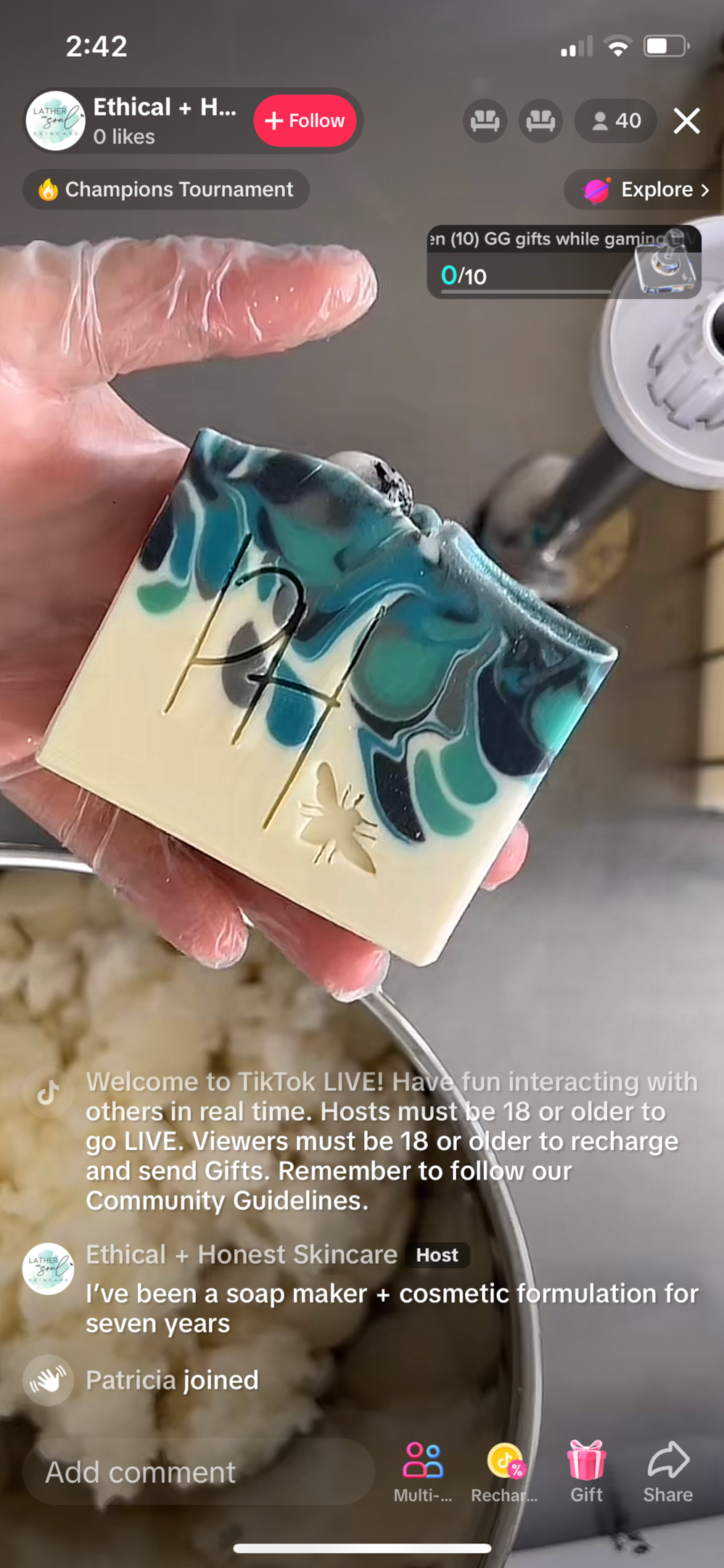 Or another fun idea is to pack orders while live—this is exactly what Sincerely Yours Boutique did in a recent live video. Let your customers in on the various parts of your business—and maybe someone will even place an order and request that you pack theirs live for them to see as well.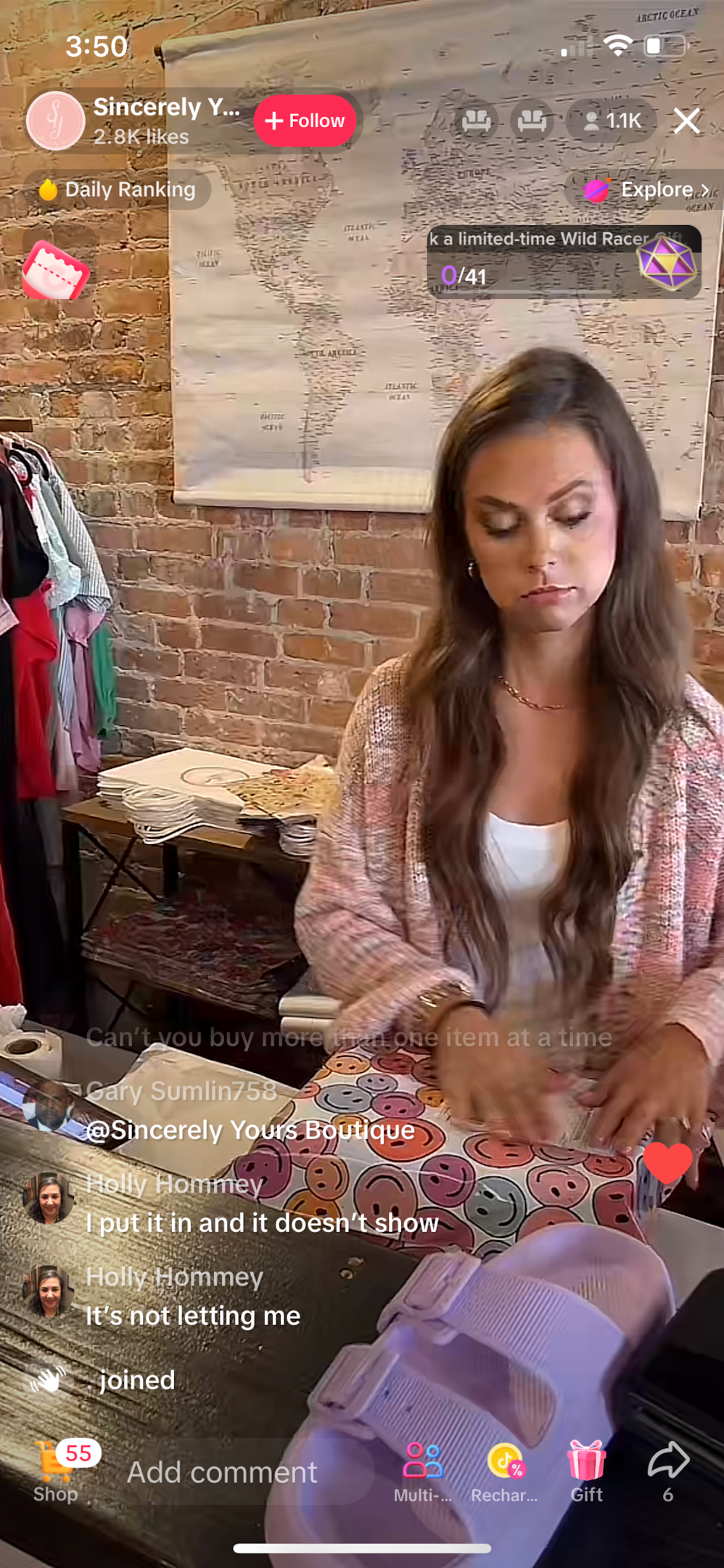 Live streaming can also be useful for hosting and participating in large online conferences or seminars. These virtual events became popular to do the lockdowns in 2020 due to the COVID-19 pandemic—and they're not going anywhere.
With the ability to save on airfare and lodging, many professionals are opting to attend remote events. Live video makes these possible.
3. Shoppable videos
Shoppable videos are interactive videos that enable viewers to purchase products directly from the video's interface. Due to the nature of video marketing, the ROI can often be difficult to discern.
However, when you're able to generate sales directly from one of your videos, you're able to see very tangible results from your strategy.
This is just one of the reasons that shoppable video is becoming so popular in the video marketing world. Another is that they work.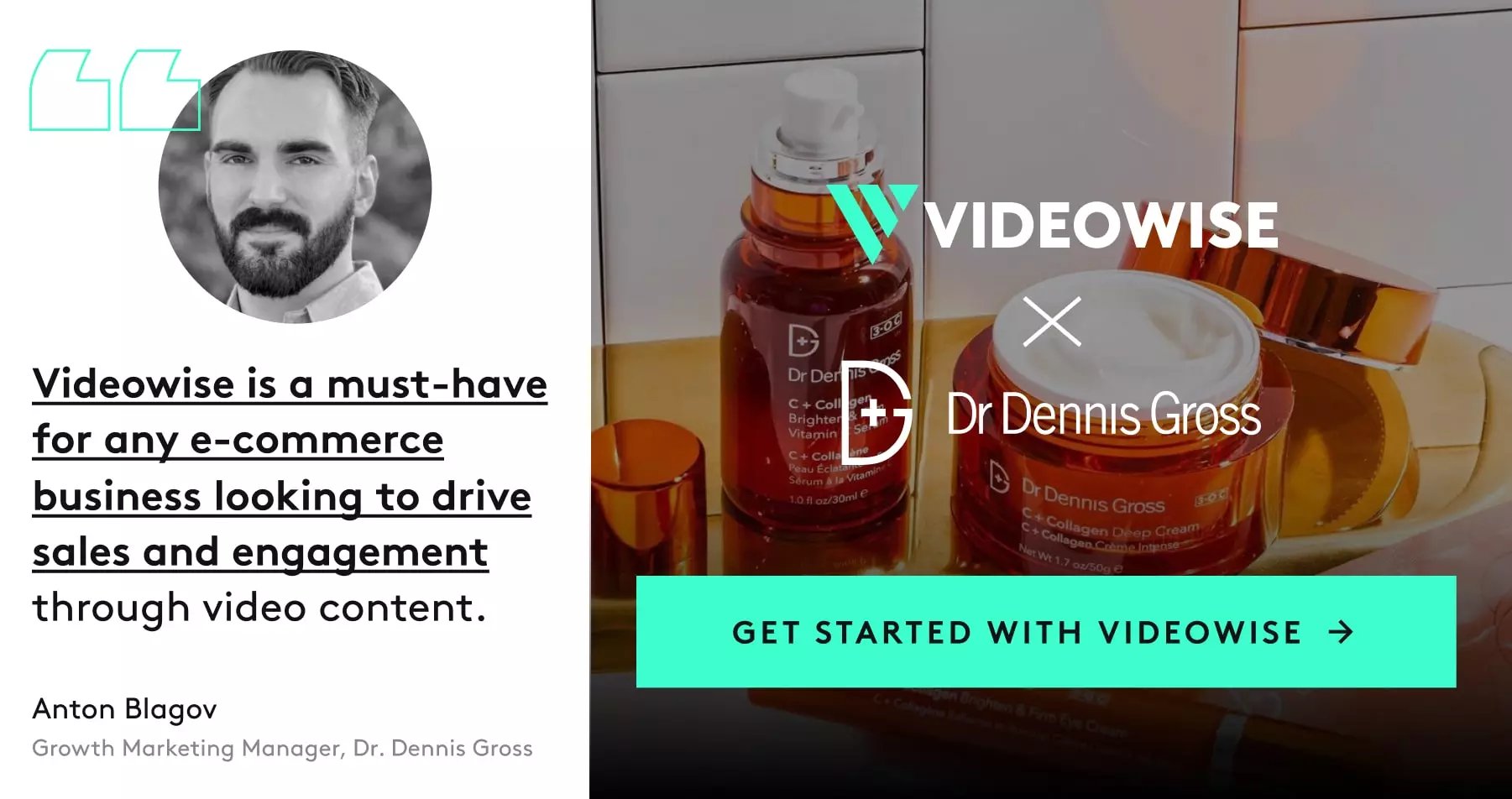 eCommerce shop Busy Baby Mat started incorporating shoppable video into their marketing strategy and generated over 450 hours of additional on-site time and a nearly 12% conversion rate—as a direct result of their new shoppable video content.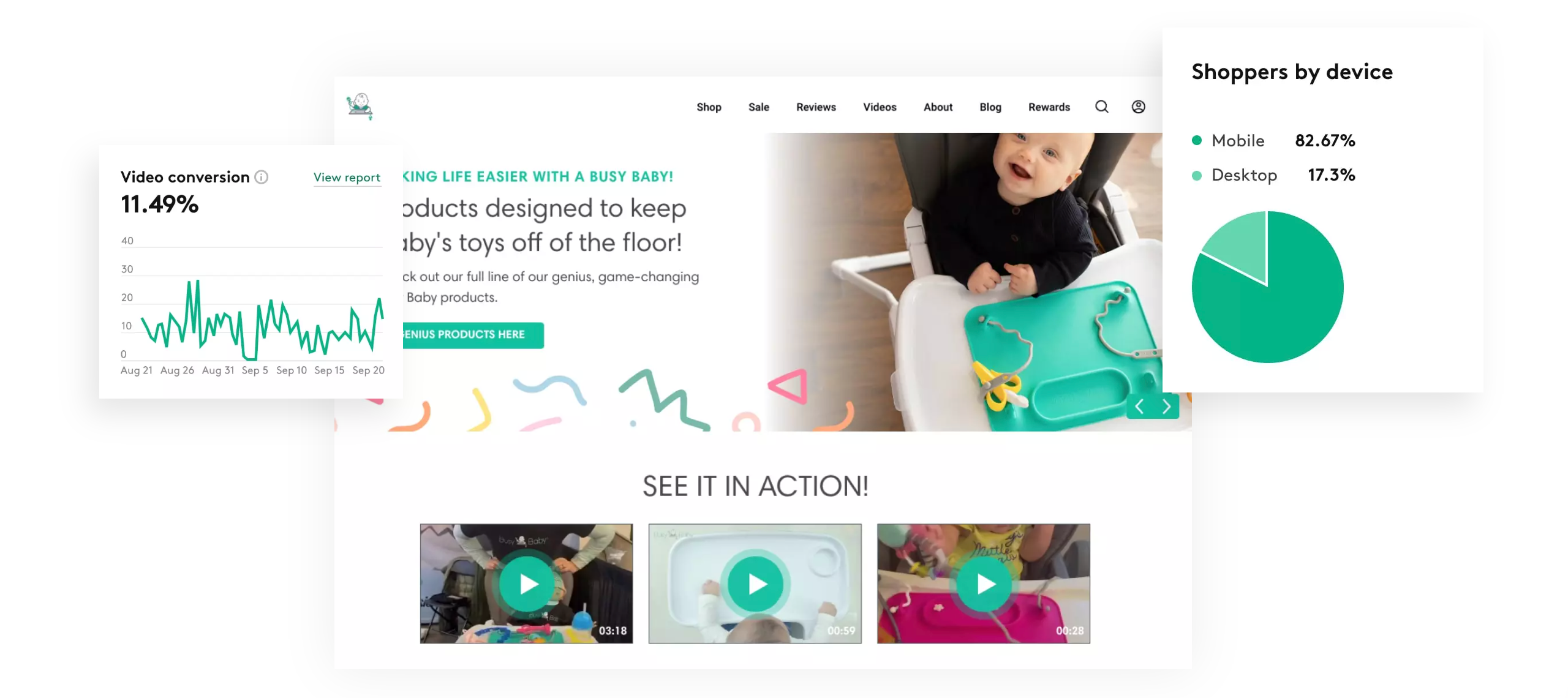 4. Simplified video production
This trend is likely in part due to the influx of short-form, vertical videos that are often all shot on smartphones. But simplified video production is becoming a major trend.
And this is one that we love to see because it means video production is becoming much more accessible to companies of all sizes. Large corporations and small, one-person shops can both benefit from video marketing.
While there are some types of videos you might still want to create with a major production—like explainer videos or product videos—there are so many more that can be filmed with just a smartphone, a ring light, and a tripod.
More than that, you can use your raw footage as a part of your videos. Goodbye, expensive and hard-to-use video editing software. Hello to the ability to record and immediately share.
Here's an example of a simple video by candle/soap company Sparta Candle Co. The team has a really basic filming setup—likely, as we mentioned, not much more than just a smartphone and a tripod. They may not even have any lighting other than the room's lighting.
But it works. It's a timelapse of two team members creating one of their new soaps. It's mesmerizing, incorporates fun audio, and appeals perfectly to their audience—with little to no hubbub about production.
Here's another example from the same company. No extra lighting—and not even a tripod this time around. Just some basic filming and voiceover to explain a bulk order they're packing up on camera.
5. UGC videos
UGC—or user-generated content—videos are videos that were created by a customer about your product. These are fantastic videos to try to incorporate into your own content strategy. They're a much more authentic type of content.
However, one thing that has popped up lately in the UGC world is UGC creators—content creators who specialize in creating UGC videos for brands to share on their pages.
While these are contracted by the company, they still give off that air of authenticity, resonating more with a company's audience than traditional marketing content would.
Let's take a look at a couple of UGC videos. Many UGC creators are not creators in their own right, instead focusing on recording videos for brands rather than building up their own audience, so it can be difficult to tell which videos are paid-for UGC versus organic. But this isn't always the case.
In this UGC video for a toilet paper brand, a creator put together a skit about getting the "best bum photo" for a contest the brand was putting on. It makes for a humorous piece of content (right in line with the brand's personality) that the company was able to share on its own feed.
Here's another fun example. Creator Adrian Bliss is famous for his skits with dramatic costume changes where he plays all roles involved. This one is about flies going on a vacation—with most choosing to use WayAway (the brand in question) and the other choosing to fly on its own…with catastrophic results.
Newer brands may turn to creators to help build their library of UGC. However, once they become more established, it's likely you'll find plenty of organic mentions of your brand in your customers' content. You just have to ask for their permission to use it.
6. Video SEO
While we often talk about video marketing and search engine optimization, you don't always hear those two mentioned in the same strategy. However, with Google showing more and more videos in search results, it's time to start focusing on video SEO.
According to Google, video (mostly from YouTube) appears in search results in four different places: the main search results page, the Images tab, the Videos tab, and Google Discover.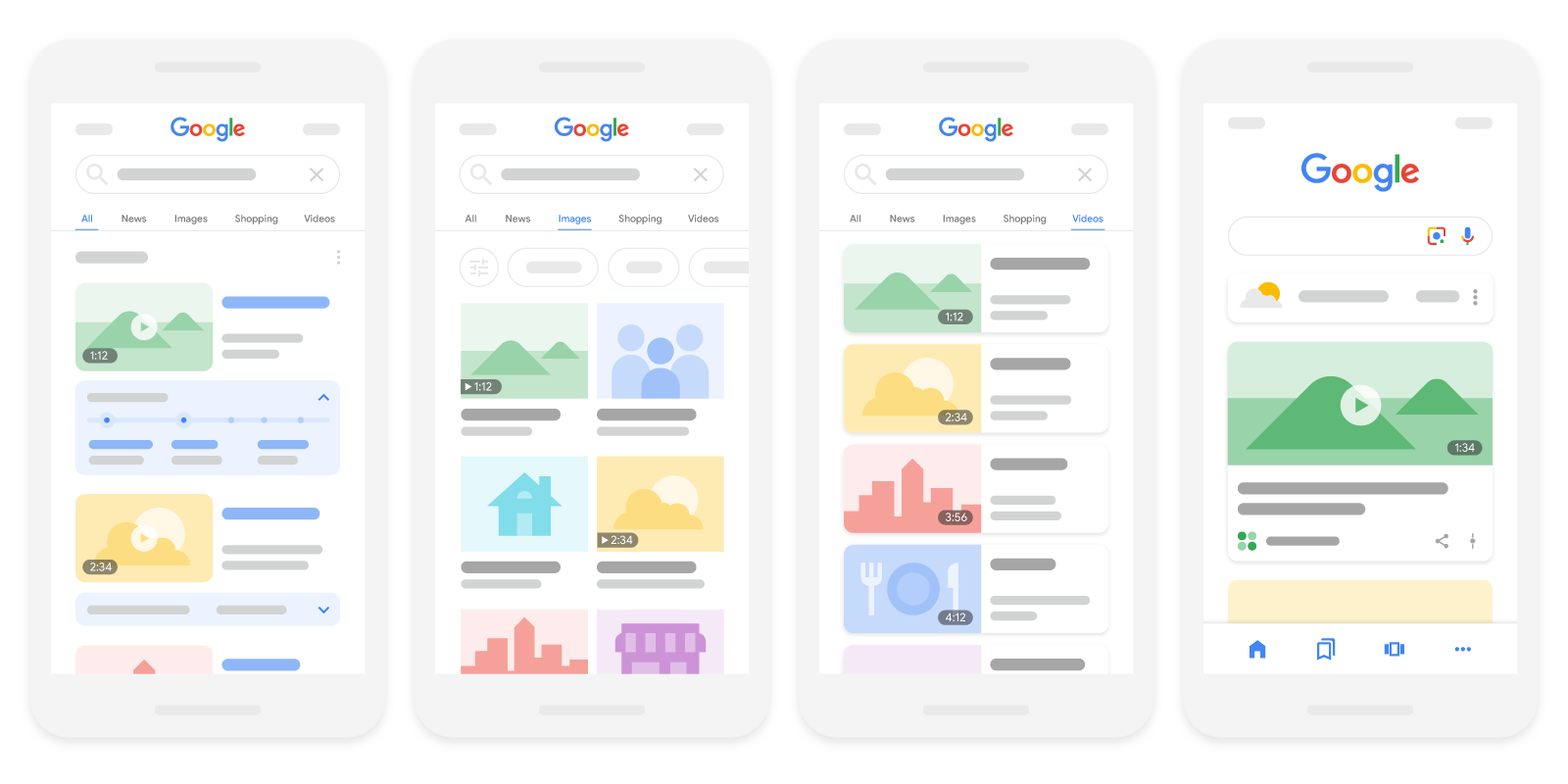 In this day and age, it's not enough to just get your articles to rank on Google—you want your video content to rank, as well.
Here are a few video SEO tips for getting your video content in Google's search results:
Make your videos easy to find by placing them on public web pages, using meta tags, and creating a video sitemap

Turn on indexing for your video content

Ensure Google can fetch your video files

Add key moments to your YouTube video
7. Vlogging
Vlogging, or video blogging, has been around for a long time—the first vlog was uploaded to YouTube in 2005. However, this has typically been done by bloggers, creators, influencers, and others using this as a more personal nature.
But now, vlogging is making its way into brand marketing strategies. People want to see a more human side of businesses, and vlogging is the perfect way to do this.
For example, companies can have team members take over their social media with "Day in the Life" videos. The team members can explain what they do, how their work impacts the products the customer receives, and more.
This gaming dice creation company vlogged their experience at a convention the business owner recently attended.
Your vlog videos can cover a lot of different things—how you make your products, how you grew your business, what your product creation station looks like, what your order packaging and shipping process looks like, and so much more.
8. Educational video content
Educational video content is nothing new in the world of B2B software and service companies. Creating long-form video content to educate their users on how their tool and their industry work is a common strategy.
However, educational video content can—and should—be used in the eCommerce world as well. Educate your audience about your industry, how your products work, and more.
For example, if you sell healthy cereals, start talking about common ingredients used in your cereals versus other cereals. Educate your audience on how to live a healthier lifestyle so they're more aware of what they're putting in their bodies.
As another example, this marshmallow company is educating its users (via short-form video) on if its marshmallows can be roasted—and what it looks like when they are.
Creating educational video content can help your customers (and potential customers) feel more secure in their purchases from you. They gain a better understanding of your industry, why your product is the best one to buy, and how it works.
9. AI videos
With AI making a big splash in the content creation world, why not try it out for your video? AI—or artificial intelligence—can create copy, art, code, and even video.
There are a number of ways to use artificial intelligence tools in your video marketing strategy. Here are just a few:
Cut down long-form videos into bite-sized clips

Repurpose written content into video content

Auto-generate captions for accessibility (more about accessibility later)

Get AI to completely create a video from scratch—just by providing it with a script
There are a number of AI video generators you can test out to see which makes the best videos for your needs. Consider parsing pieces of AI-generated video with your own product footage to create a full video at a much faster pace.
10. Silent videos
Silent videos—or, at least, providing the ability to watch videos silently—are a major trend for this year. 75% of people keep their phones on mute even while watching video content. Whether they're out in public, lying in bed, and don't want to disturb a bedmate or roommate, etc., there can be many reasons someone can't have or doesn't want their sound on.
But this presents a problem when most if not all, videos include audio. Enter silent videos.
Silent videos don't necessarily need to be silent. Many still have some sort of background audio for those listening with sound. And others have dialogue—but they include captions so the content can still be consumed silently.
Here's a great example of a "silent" video from makeup brand KimChi Chic Beauty. There is a song in the background, but the entire point of the video is to show off the pigment of their eyeshadow. It's purely visual and can be easily viewed no matter what volume someone's phone is.
11. Video accessibility
We've mentioned captions a lot in this article. That's because they are a requirement for video marketing. Not only do they allow people to watch videos in silence, but they also help people with disabilities access your content.
66% of users end up feeling frustrated, let down, excluded, or upset by inaccessible entertainment. Ensure that you're not part of that problem.
Here's an example of a video that includes captions for everything the man in the video is saying. This can help those who may be hard of hearing or using a screen reader to still understand what is being said in the video.
Other ways to make sure your video content remains accessible are:
Including alt text on all audio/video uploads/embeds on your website

Of course, adding captions

Providing transcripts for your audio/video content

Filming with colors that are easy to see

Including audio descriptions for visual content
12. Looping videos
A looping video is a video that automatically replays itself. TikTok videos, Instagram Reels, and YouTube Shorts are all examples of automatically looping videos.
However, you can use that loop to your advantage to increase plays and the amount of time people spend watching your video. Do this by making your audio and/or video footage appear to merge the end and beginning of your video together seamlessly.
Here's an example (and description) of how to do this:
This type of video is fun and extremely creative. Come up with ways you can make your videos loop to increase the number of views your videos get and engage your audience for even longer.
13. Social media stories
Most social media platforms include some sort of story—disappearing photos and videos that your audience can view and interact with. Instagram Stories is one of the most popular platforms for this type of content.
Brands can use a number of content formats here—graphics, text-only, images, and video. However, we're starting to see a trend towards a lot more videos. This falls right in line with the vlogging for brands trend—stories provide a great outlet for vlogging-type content.
Because this type of content is taken at the moment, it also doesn't include fancy equipment. Just a video marketer and their smartphone.
If you haven't yet, start incorporating social media stories into your video marketing strategy. Don't put this solely on your brand's social media manager. Instead, work with them to create solid video content that helps bring your customers into the fold of how your brand creates and sells its products.
14. Video animation
Animated videos are becoming more and more popular. More than half (55%) of video marketers created animated video content last year—and that's likely to increase this year.
Video animation takes all sorts of forms. You can easily create a basic animated explainer video using DIY video editing software like Canva, Visme, or Biteable. You could also use an AI tool like Steve AI to create an animated video.
But the most common way is to hire an animator who can help create high-quality animated video content. This can be a fun way to promote your products.
Here's an example of an animated video from mattress company Purple. By using animations of oddly shaped animals, they're able to showcase just how flexible and comfortable their mattresses are.
Then, we have this animated video from the Book of the Month Club. It's an explainer video showcasing how their book club feature works. While this absolutely could have been done by filming real people, the animation makes it feel funnier and more relatable.
Animation is a great medium for your video content—and a huge trend for this year. Consider how you might want to work animation into your video strategy and if a job posting needs to be sent out for a skilled animator.
Find inspiration from these video marketing trends
Ramp up your video marketing strategy this year by incorporating as many of these trends as you can. Consider going live more often, creating looping videos, working with a UGC creator, or creating shoppable videos. Video marketing can have a direct impact on your bottom line, so start investing today.

Chloe West
Chloe West is a digital marketer and freelance writer, focusing on topics surrounding social media, content, and digital marketing. She's based in Charleston, SC, and when she's not working, you'll find her playing card games or watering her plants. Connect with her on Twitter or LinkedIn.
Keep up with the latest trends in eCommerce video experiences