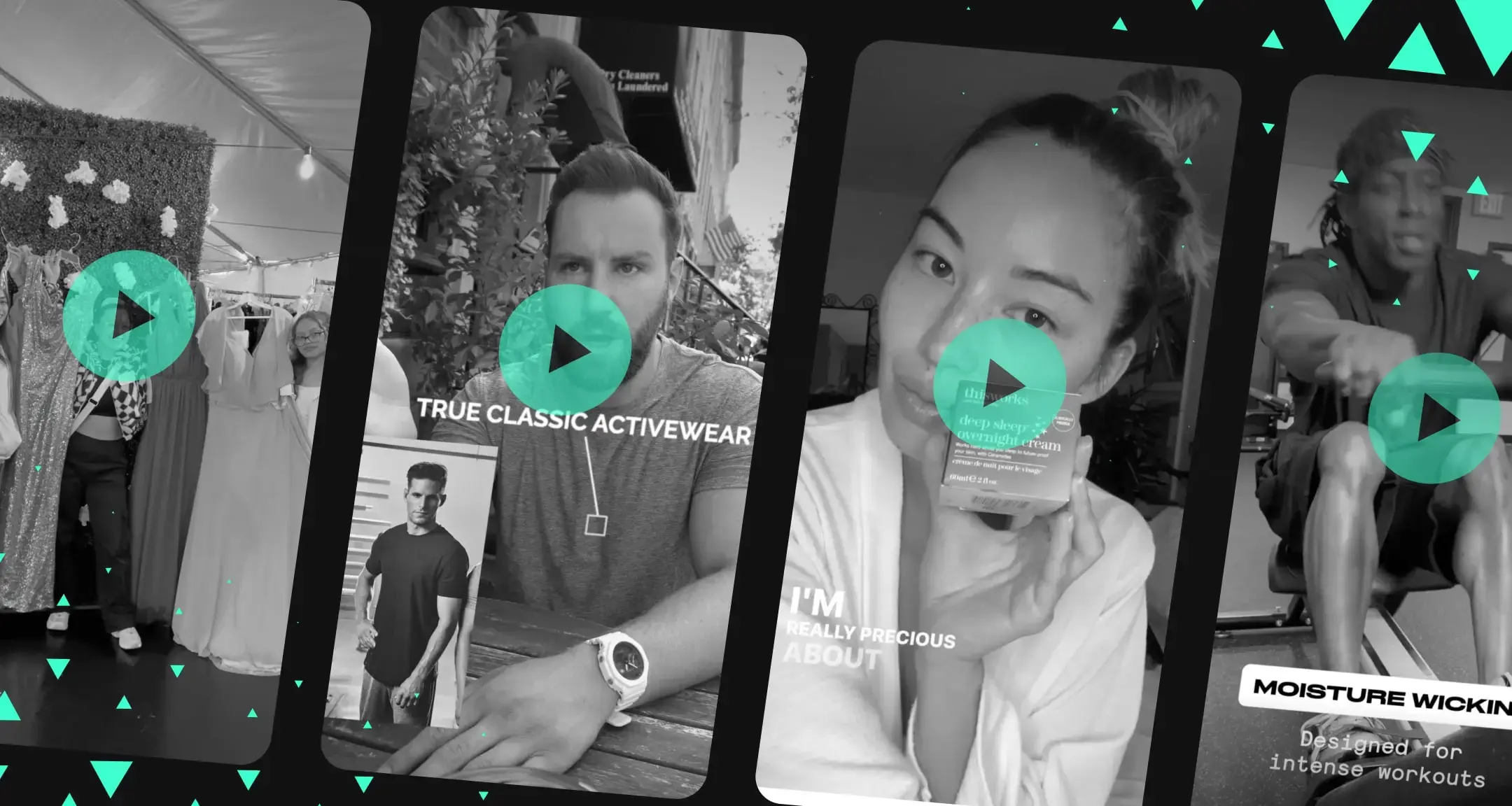 While using videos is one of the most effective form of marketing these days, videos made by brands just don't cut it.
Nowadays, consumers don't want to hear about products solely from a brand as it is evident that the brand is trying to sell it to them. Instead, they would prefer to learn about products from other consumers, just like them!
This is why eCommerce brands need to leverage UGC video, meaning videos created by consumers featuring the brand and its products.
In this guide, we'll talk more about user-generated video content and what it is.
So without further ado, let's dive straight into it.
What is user-generated video content?
User-generated video content is any video content created by consumers about a brand rather than by the brand or a commissioned creator. Typically, people create content using standard equipment like a smartphone rather than professional equipment, which a brand or a paid campaign would use.
For instance, many consumers post "Get ready with me" videos where they show how they do their makeup looks - while also tagging the products they are using. Now, imagine - if one of your customers uses your products in one of these videos, wouldn't you want to post it on your brand's social media handles?
Not sure how to identify user-generated video content that works?
Here's a list of user-generated content examples (along with why they are effective).
Why is UGC video content important?
With more and more consumers creating UGC videos, brands can leverage them to increase their visibility, build trust and sell more.
Let's dive into the multiple reasons why user-generated videos are a must-have in your eCommerce store's marketing strategy:
1. Increase brand awareness
When your customers share content about your brand and products/services on their social media handles, they're spreading awareness about your brand. It's highly likely a percentage of their followers haven't really heard of your brand - which means, when they post UGC featuring your brand's products/services, more and more people get to know about you, contributing to increased brand awareness.
2. Drive more traffic to your website
Once your customers start posting UGC videos on their social media handles featuring your brand's products/services, more and more people will know about your brand. Some of these people may want to explore your brand and get to know more about it even further. To know more, they'd head over to your social media handles or online store.
This way, user-generated content created about your brand can effectively bring more traffic to your eCommerce website and even increase sales.
3. Increase brand trust and credibility
There's no doubt that shoppers prefer to hear from other customers than from the brand itself. In fact, 49% of consumers trust reviews as much as personal recommendations from friends and family members.
User-generated content is authentic, created by real people rather than to sell, and provides a unique perspective on the product and how it's used in real. When brands share user-generated content, they put their customers' opinions in front of their audience.
This unique and authentic content from other customers would make the brand seem more trustworthy and credible to potential shoppers.
4. Foster a sense of community
With user-generated videos, you can foster a sense of community among your audience and increase loyalty.
By putting your customers at the front and center of your marketing campaigns, you make them brand advocates. Your audience will see customers (who are just like them!) share how they use your products and why they like the brand. They would then be more eager to engage with your content, leaving comments and even creating content of their own that feature your brand.
Your audience wouldn't just interact with your content and your brand but also talk to other customers in the comments, discussing your products and related topics.
Moreover, the users whose content got featured by your brand would feel recognized, and the positive feedback they get would reinforce a sense of belonging, making them want to engage with your brand more frequently.
5. Improve SEO ranking
More user-generated content means more content about your brand that you can use on your website or various social media sites, helping you build an online presence that search engines will use as signals of popularity.
UGC content can also generate more backlinks to your website, showing search engines that your website is credible and, in turn, improving your search engine ranking.
6. Understand customers better
As consumers share user-generated content, you can also use it to get insights into what these customers prefer, how they use your products, and even how they feel about your brand.
Such high engagement behavior, like creating and sharing UGC, also means that the customers would be willing to share constructive feedback and their experience with the brand.
You can then use these insights to tailor your messaging to sell better, improve your processes, and even iterate on your products to cater to your customer's needs better.
For instance, a travel bag company may find that their consumers use one of the side pockets of their bag to carry their passport or their phone. The brand can then share packing hacks on its social media platform or even redesign the side pocket to help customers pack better.
7. Increase conversion
More trust, a sense of community, and higher traffic ultimately contribute to higher sales.
Adding UGC content to your eCommerce store can have a huge impact on your conversion rate. In fact, product pages that include UGC see an 8.5% lift in conversion. When visitors interact with the user-generated videos, the conversion increase is as large as 100.6%!
7 Types of User-Generated Content You Should Know About
While we're specifically talking about user-generated videos, UGC isn't just shared as videos. Consumers post about the brands and products they try across the internet in different formats, which is based on where they are posting it.
Here are seven different types of user-generated content you can leverage:
1. Images
While video felt like the only format that was being consumed on platforms like Instagram, images have had a comeback recently, with carousels receiving just as much engagement as videos.
Since they are low-effort and easier to consume, images are a great way for customers to share their appreciation for a brand. These can be images of the product in use or even before and after pictures showing how the product has made a difference in their life.
2. Videos
Everyone's creating videos these days! Whether you're a professional creator talking about fitness or fashion or a consumer eager to share your experience with a product, videos have become the go-to format for user-generated content.
You don't have to do much as a brand to collect user-generated video content. As long as you have a value-adding product and great customer support, the UGC videos will roll in easily.
3. Product Reviews
Many customers are willing to go out of their way to leave a product review if their purchase has exceeded their expectations, whether in quality, functionality or even customer service.
Product reviews are crucial user-generated content for online stores, helping the brand convert website visitors into customers. In fact, 49% of consumers trust reviews as much as personal recommendations from friends and families.
Gymshark has a reviews section at the bottom of every product page to showcase reviews with detailed information on fit and comfort so that new visitors can easily evaluate the product.
Pro-tip: Once the product is delivered, send the customer an email, asking them to review the product they bought. Many eCommerce brands create incentives for writing a review, like loyalty points or a discount on the next order.
4. Testimonials
Testimonials are written quotes directly from loyal customers, used to build trust with potential customers. Many brands receive testimonials via email or on various social media sites, as customers share how much the product has impacted them.
Cosmix is a wellness brand that leverages its community and UGC to showcase the effectiveness of its products. They share testimonials that their customers share on their Instagram Story, linking to the product mentioned by the customer so that new audiences can easily learn more about the product.
5. Blog posts
Even in this decade, blogs maintained by creators have a niche popularity. While it's easier to reach to new customers on social platforms, creators still don't own their audience on social media. With a blog, creators have complete ownership of their subscription list. When sharing content on their blogs, creators are sure to feature different products they use. Blog posts might not be a common type of user-generated content, but it's still relevant!
What's more, blog features are great for your SEO. When a creator features your product in their blog, they will link back to your website or even specifically the product page, giving you more backlinks and better search engine ranking.
Pro-tip: Brands usually reshare the blog feature on their social media as an image or even within a video, including their reaction to the promotion. This gives customers a peek into how much the blog feature means to the team behind the brand.
6. Live stream
Many customers stream live to share in real-time and interact with their audience better. As the format became more popular, even beauty and fashion customers have started to leverage this format, running biweekly streams with tips and product features, making them user-generated content!
The reason for its popularity? Live streams are as engaging or even more than other kinds of user-generated content. Audiences are plugged in real-time and interact with questions and comments, which means they pay better attention to what the creator is sharing.
7. YouTube content
With more than 2.6 billion monthly active users, YouTube has a massive audience for consumption and a proportionate creator base, sharing videos on everything from humor to fiction to product reviews.
Many people on YouTube share their lifestyle on the social media platform, showing what products they use, their opinions on the product, how they use it, and more. So many consumers turn to YouTube for their purchasing decisions as they research different products and evaluate them to identify the right buy.
A YouTube creator sharing user-generated video content about your products can go a long way in driving traffic and sales for your brand.
For instance, the creator below has shared what products they use to tackle a specific skin issue they have. Besides the view count, the comments make it apparent just how effective the video is in getting audiences to adopt the products she's mentioned.
How can you use UGC videos for your eCommerce brand?
Identifying user-generated video content is just one part of the marketing strategy. Most importantly, you need to use it to your advantage so that you can ultimately convert your audience into shoppers.
There are three main touchpoints where you can use consumer-generated content to amplify your trust and increase sales for your eCommerce brand:
1. Social media platforms
Instead of only sharing content made by your brand on your social media accounts, adding user-generated content to the mix is more effective. Many brands share mostly helpful tips and behind-the-scenes, leaving the product advocacy for the UGC that they reshare.
With this marketing strategy, you can show your authority in the field while amplifying real stories and experiences of using your products.
Here are three easy ways to reshare user-generated posts onto your social media feed and show audiences how much customers love your products:
Reshare images and videos posted by customers onto your social media feed, with a caption giving more information about the product.

Screenshot messages sent by customers and share them on your Instagram Stories. You can even use the Q&A feature to collect customer responses about your products, how they use them, what they love about them, etc.

Use images shared by customers for a custom post. For instance, skincare brands can take before and after pictures and use them for a carousel or even a voiceover video that explains the positive effects of the product.
Pattern Beauty does this well! The haircare brand reshares videos made by its customers about how they use their products. The brand adds its caption, giving some context on the product the customer talks about and a link to the product for easy access.
Need more guidance on using social media videos for your marketing? We have a guide on how to use TikTok for eCommerce brands.
2. Your eCommerce store
When a visitor lands on your eCommerce website, you must convince them within a few seconds that your products are worth buying. This is why you need to host user-generated content across different touchpoints of your site, showing how and why other customers love the brand and increasing your credibility as they browse through.
Let's explore how you can add user-generated content to different parts of the customer journey on your site:
Homepage
The homepage is usually the first interaction that new visitors have with your brand. Here, you need to establish credibility fast.
For this, you can add a testimonial section that shows how the shopper liked the product, how it improved their overall lifestyle, etc. Testimonials on the homepage are especially ideal for brands that sell products requiring higher customer buy-in, like health products.
Vital Proteins has a "Customer Testimonials" section on its homepage, with 3 testimonials from different types of customers. These prove the positive impact of the brand and its products.
Product Page
The product page is where the customer is looking for as much information about the product as possible. Almost every brand has a product reviews section, with reviews collected from past customers.
Besides reviews, another user-generated content that customers would find helpful is videos showing the product in use.
Busy Baby Mat has a section on its product page with videos from other customers on how they've used the product for ease, functionality, and fewer spills during mealtime.
These videos are imported from various social media platforms like TikTok. Once a website visitor clicks on the video, they can scroll through all the videos just like on social media. For more information on the products in the videos, they can click on the items featured section and even add the product directly to their cart!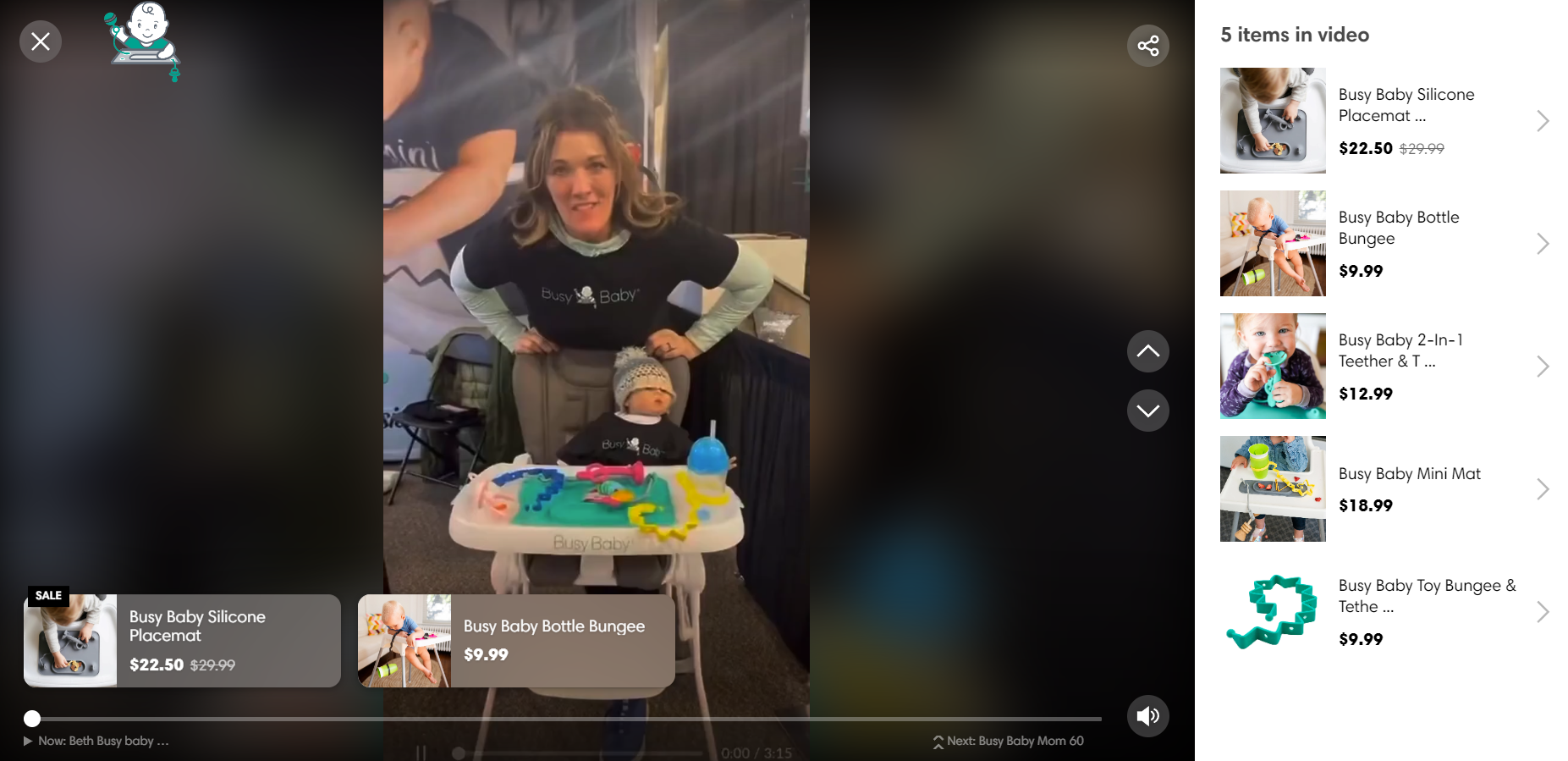 The brand uses Videowise to automatically collect UGC videos from social media platforms and add them to its store's pages. With the app, the brand can also make the video shoppable, making conversion easier and faster.
With Videowise, Busy Baby Mat has seen 27% more conversion and an added time of 451+ hours on-site.
Add user-generated videos to your eCommerce store for increased engagement and conversion. Get started with Videowise now!
3. Email
One of the biggest problems that many brands have is the low click-to-conversion on their email campaigns. Here's why.
When subscribers click on your email, they land on an engaging and colorful email. They are welcomed in, shown pictures, and sometimes, they even get to hear a story. At this point, they are highly engaged. They then scroll down to the CTA, where they are prompted to click and learn more about your products.
However, once they click on the CTA, they land on a standard-looking product page that they've seen a thousand times. Here, they aren't engaged as they were when they started reading the email. At this point, most subscribers would drop off from disinterest.
Instead of the standard product page, you can take the subscriber to a video made by a real customer that explains more about the product. This way, they can understand the product and whether it fits their needs. If it does, they can checkout directly from the video player.
Using Videowise, you can turn user-generated content into a landing page. This user-generated video campaign can be linked to your email. This way, you get to keep your customers engaged until they add to the cart and successfully convert.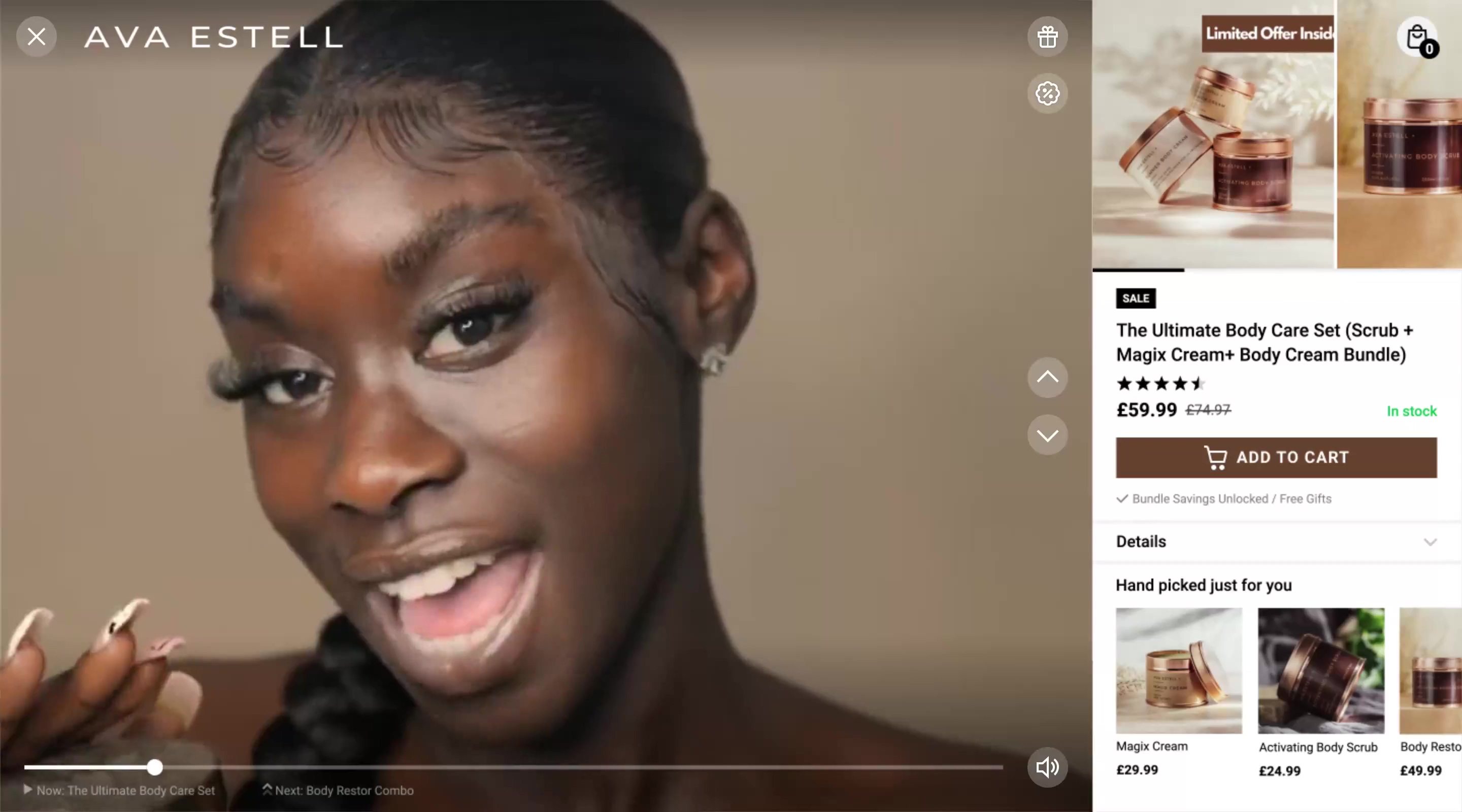 Learn more about shoppable video marketing for your email campaigns.
Frequently Asked Questions
1. Why is UGC better than paid influencer content?
While paid influencer content effectively targets a specific high-interest audience, user-generated content is still a better marketing strategy to prioritize. Here's why:
Cost-effective: Getting started with user-generated content takes little to no investment. All a brand needs to do is build strong loyalty among its existing customer base.

Authenticity: Unlike paid influencer content, UGC is authentic since it is made by real customers. The customer experience is also more genuine, making the video more trustable. This is why user-generated video content is likely to have higher engagement and conversion than paid influencer content.

Builds community: When brands share UGC, customers are at the front and center. Sharing user-generated videos also helps customers connect with each other through their interest in the same topic rather than interact with just the brand.
2. Do people trust user-generated content?
Yes, it is proven that people trust user-generated content. Some statistics even show that social media campaigns using UGC have 50% higher engagement and 29% higher conversion rates than campaigns that don't.
However, it's important to note that trust varies depending on specific factors like the type of content, the context in which the content is shared, etc. Here are some factors that have an impact on how much customers would trust user-generated content:
Quality of content: Low-quality images or videos are seen to be less trustworthy than UGC, which is of high quality in editing and clarity.

Source and placement of content: Where the content is shared plays a vital role in whether potential customers would trust it. Seeing user-created content on an unfamiliar or unreputed website would create no impact on the shopper. But, if it is on Pinterest or the profile of a well-known creator, the UGC would be seen as trustworthy immediately.

Higher trust in social media: User-generated content shared on popular social media sites is more trusted than content shared on any other source.

The popularity of the creator: Consumers trust content created by creators who are more popular, with a larger follower count than creators with a smaller audience.
Don't miss out on UGC videos!
User-generated content is a must-have in every eCommerce brand's marketing strategy. With user-generated video, you can make it easier for new audiences to relate to your brand, trust your products quickly, and ultimately convert into shoppers.
This is why adding user-generated video to your website is vital. With UGC video content from your customers on your product pages, store visitors who are considering your products could see a first-hand experience of using your products.
You can add user-generated videos to your online store with Videowise. Besides importing UGC videos from social media platforms like TikTok and Instagram, you can make the videos shoppable so that your visitors can directly add the product to the cart once they view the video.
Get started with Videowise now!
Keep up with the latest trends in eCommerce video experiences