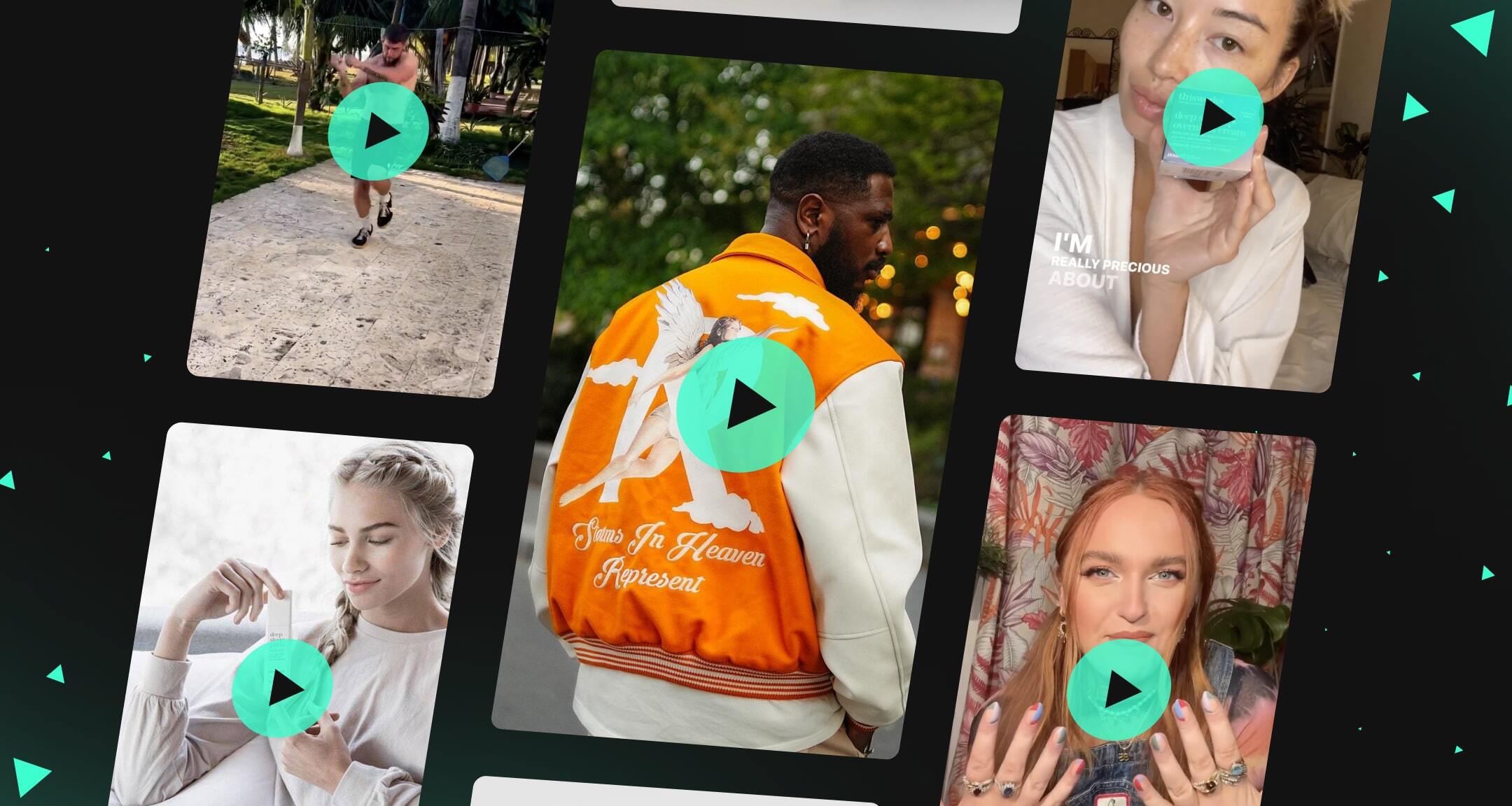 If you run an eCommerce business, you can't sleep on the power of video marketing.
Videos lie at the core of today's buying journeys, with 85% of consumers considering videos essential for their online shopping experience.
But here's the catch: creating videos is no easy feat. You must juggle multiple factors—costs, timelines, skill, quality, etc. Your video marketing strategy might fall flat if you can't find the sweet spot between these moving parts.
So, the one question on every merchant's mind is: how can I create high-impact videos without this headache?
Simple—with eCommerce video makers. With video makers, creating eCommerce videos—like product demos, how-to videos, and more—is a walk in the park.
In this article, we'll review the 10 best eCommerce video makers to help you create exciting videos and take your eCommerce video marketing to the next level!
10 best eCommerce video makers to try in 2023
A video maker is essentially a video editing platform designed to help you create videos effortlessly. Every video maker has a template library where you can choose from professional templates, customize them, and make stunning videos.
eCommerce video makers offer video templates, design ideas, and other features specifically for an online business's target audience. Let's walk you through the top 10 video makers for your eCommerce store:
Best for: Creating custom animated videos
G2 rating: 4.3 out of 5 (43 reviews)
Pricing: Free, Basic at $19/month, Pro at $39/month, Pro+ at $79/month, billed annually
Wideo is an animated video creation platform. It focuses explicitly on animated videos for various formats, like product demo videos, explainers, testimonials, how-to videos, and more.
This eCommerce video maker allows you to choose from its collection of eCommerce video templates and customize these pre-made videos per your needs. Alternatively, you can directly upload your photos and music, then choose your animation styles to design a custom video from scratch. Wideo users particularly love the keyframes and their cost-effective functionality.
Key features
Create personalized videos according to details like name, location, image, and more

Get instant help in designing the perfect storyboards for your video marketing campaigns

Enjoy a simple and intuitive interface to get started with the platform effortlessly
What customers say:
"Creating interactive videos is fantastic. I have used other interactive video-making software, but they're expensive and limited. Wideo allows me to create interactive video content in seconds using ready-made templates and saves a lot of time too."
Best for: Converting other content formats into video
G2 rating: 4.5 out of 5 (65 reviews)
Pricing: Community at $0, Basic at $29/month, Starter at $79/month, Professional at $190/month
Lumen5 is a video creator tool designed specifically for video marketing on social media platforms. The tool works with AI algorithms to transform your ideas into scroll-stopping videos.
Lumen5's eCommerce video maker is a top choice for producing product videos. It can save the time and effort needed to create a video by instantly converting your photos and media into a product video. You simply need to upload your files on the platform, pick an ideal video template, and the app will do all the heavy lifting to stitch these files together. You can edit the output as you like!
Key features
Work with a slick interface and enjoy a minimal learning curve to get cracking quickly

Choose from a wide selection of pre-made templates designed for your target audience

Convert content in any format (blog, social posts, audio, etc.) into compelling eCommerce videos
What customers say
"Lumen5 is very easy to use. But the options to change media and the AI functionality are the best. I use this to convert my blogs to video, which is always on point."
Best for: Creating videos with a minimal learning curve
G2 rating: 4.1 out of 5 (11 reviews)
Pricing: Free, Basic at $9.99/month, Plus $19.99/month, Business at $29.99/month
FlexClip is a video editor with over 5000 rich video templates and a massive library of stock media to simplify video marketing for your eCommerce business. The tool has a versatile editor with various features like creating GIFs, merging multiple clips, adding transitions, and more.
You can easily customize any ready-made template of your choice with your text, CTA, and branding. Users love its intuitive drag-and-drop editor that doesn't require too much technical knowledge.
Key features
Store and manage your video drafts from anywhere with FlexClip's cloud storage

Use a great alternative to heavy-duty video makers and produce video content seamlessly

Experiment with an all-inclusive editor, including features like trim, merge, combine, convert, etc.
What customers say
"The interface is pretty easy to use, and it's clearly optimized for novice video editors or people who just need to crank out videos fast. Editing tools are easy to get to and appear in obvious places on the screen, so it's pretty hard to get lost."
Best for: Creating different types of eCommerce videos
G2 rating: 4.4 out of 5 (88 reviews)
Pricing: Free, Professional at $15/month, Business at $39/month
Animoto is a dynamic video maker with a user-friendly interface and massive template gallery to empower users at every skill level. The platform has a specialized function to create product videos in a few minutes. You can create product demo videos, explainers, and behind-the-scenes, and try any other formats.
It's easy to upload your clips and personalize your drafts with on-brand colors, fonts, and visual elements. Once your video is ready, share it directly to social media or download the file to publish elsewhere.
Key features
Try the tool for free and get a taste of what it can do for your video marketing goals

Work on a lightweight platform that doesn't require too much RAM or space on your system

Never create a video from scratch when you can choose from its template library and stock elements
What customers say
"I love how easy Animoto makes it to create, edit, and cut videos. I am not tech-savvy and was able to easily use this and to make good videos."
Best for: Making multi-platform videos
G2 rating: 4.2 out of 5 (388 reviews)
Pricing: Starter at $9/month, Standard at $25/month, Advanced at $65/month, Enterprise at custom pricing
Vimeo is a video experience platform with powerful features to design videos for any vertical. Its eCommerce video maker includes templates for themes like new products, sales and discounts, brand stories, video ads, and more.
One of Vimeo's unique differentiators is the guided template feature. These professional templates give you a few choices and ask for your input, then give you a finished video at the end. The brand also curates top tips from video experts to help online store merchants, and marketers get the most bang for their buck.
Key features
Create native videos and ads for all social media platforms and maximize conversions

Add detail-rich captions and calls to action in your videos to communicate your message

Browse and choose from thousands of video templates with complete customization option
What customers say
"I like how comments can be made directly on the video pinpointing where the changes and comments are to be made; previous versions can always be viewed and downloaded. Comments can be replied to and marked off as complete."
Best for: Ideating, designing, and scheduling social media videos
G2 rating: 4.7 out of 5 (76 reviews)
Pricing: Solo at $25/month, Starter at $49/month, Growth at $98/month, Agency at $126/month
Predis.ai is an AI-powered social media management tool with a dedicated feature for creating eCommerce product videos. You can convert static product photos into videos presenting your brand's best features. The best part: you can automatically generate the caption and hashtags for every video and upload it directly to your social profiles.
Predis.ai is also one of the few video makers with a ChatGPT integration. Use the chat function to generate interesting ideas for video content to resonate with your target audience.
Key features
User-friendly interface where you can add your store URL, and the tool will automatically generate videos

Showcase your creativity and customize your videos with a powerful and versatile editor

Schedule each post directly from the app in a few clicks and track performance
What customers say
"I like that the tool brings inspiration for content, but also layout. It helps me to generate more social media posts based on the input it creates. I love that you can use your own branding colors and logo, and even the occasional mailings to get you up and running are a plus."
Best for: Creating 3D videos for product demos and more
G2 rating: 4.6 out of 5 (246 reviews)
Pricing: Free
Blender is an advanced video maker suited for creating 3D designs. It's perfect for an eCommerce brand selling products like furniture, machines, storage solutions, and more. With 3D modeling, compositing, and simulation, you can give potential customers a better idea of your products' appearance in any setting.
While you'll have to go through a learning curve to get the hang of Blender, it's a great video creation platform to bring your products to life through video content. The best part: thanks to the Blender community, you'll quickly find tips and tutorials to get the best out of the platform.
Key features
Use a powerful, all-inclusive tool to showcase your product in 3D and deliver an immersive experience to shoppers

Work with a lightweight platform with an extensive feature set, like sculpting, animation, VFX, rendering, and more

Try your hand at 3D videos with a free, open-source tool and design unique videos to grab buyers' attention
What customers say
"An amazing all-in-one software that can be used to learn 3D modeling, animation, VFX, video editing, and more. Just as impressive as its versatility is the grassroots community that keeps this software moving forward. Constantly updated with new and more powerful tools."
Best for: Creating videos for email campaigns
G2 rating: 4.1 out of 5 (59 reviews)
Pricing: Custom
Rocketium is a CreativeOps platform with a designated functionality for creating eCommerce videos. The tool helps retailers increase sales and drive brand awareness through compelling product videos.
You can work with a template or convert your data into videos. Once a draft is ready, collaborate with your team effortlessly and save time on back-and-forth communication. You can also design email campaigns and increase your response rate with personalized video content.
Key features
Convert any data in spreadsheets or JSON files into videos

Integrate different channels for directly publishing all the content

Minimize cart abandonment with video-based discount coupons
What customers say
"I like the ease with which even people with no expertise in the designing field can make creatives with Rocketium easily. Rocketium also helps us create vernacular creatives and thus enables a smooth flow of Marketing work when the Designer's bandwidth is choked."
Best for: Creating and posting social media ads
G2 rating: 4.3 out of 5 (46 reviews)
Pricing: Basic at $29/month, Annual Standard at $59/month, Annual Pro at $199/month
Promo is a video editing platform with a user-friendly interface and robust editing capabilities. Whether you want to create a personalized video for your email campaigns, explainer videos for your brand website, or social media ads to increase sales, the platform offers a range of templates and tools to give you high-quality results.
Promo can help you design and manage end-to-end eCommerce video marketing campaigns. Their team keeps adding more templates to their library. Plus, you can create and download as many eCommerce product videos as you want—even in the free plan.
Key features
Host and access all your videos (finished and unfinished) on your cloud account

Post videos directly on your social profiles and manage your social calendar

Access a powerful set of tools for start-to-finish video workflows
What customers say
"The best part of using promo for me was how easily it connected to Shopify and how easy it made publishing the videos, and how quickly it created the videos overall. I would highly recommend this."
Best for: Making eCommerce product videos
G2 rating: 4.7 out of 5 (27 reviews)
Pricing: Free (for a month), Pro at $14/month, Business at $30/month, Enterprise starting at $55/month
Flixier is a cloud-native video editing platform with a collaborative interface. Its eCommerce product video maker is perfect for brands looking to create high-quality and immersive video experiences.
The platform has a nuanced editing suite. But users can get the hang of the editor quickly to create product videos of professional quality. It also works on cloud servers, giving you on-the-go access and putting no pressure on your systems.
Key features
Enjoy quick creation and editing speed (<3 minutes) with Flixier's user-friendly interface

Collaborate with your team from anywhere and streamline your video production workflows

Repurpose videos into different sizes and formats for distribution across multiple channels
What customers say
"One of the things that I love the most about FLIXIER is that I can edit my clips on the go, without the need for an expensive laptop. The platform also provides me with a vast library of videos and images that I can use as b-roll footage in my projects, saving me both time and money."
What to look for in an eCommerce video maker
Now that we've covered the top 10 eCommerce video makers in the market let's address the bigger question: how do you know which tool is the best for your needs? The honest answer: it depends.
Since every eCommerce business has varied video needs, the choice of an ideal video maker boils down to these factors:
Editing suite: The editing suite should support multiple functions, like trimming, cropping, resizing, re-sequencing, and more.

Pricing plans: Consider your budget for eCommerce video marketing to compare the prices for different platforms.
Collaboration: If you want to create videos with multiple stakeholders, closely review the collaboration features for every platform.

Learning curve: Depending on the urgency of your video requirements, consider the time and effort it'll take to get a complete hang of the tool.

Template library: Check the collection of templates for product videos to showcase the top features, share your story, highlight multiple use cases, and post on different channels.

Customization options: Check the customization options to modify templates or original videos and create stellar content easily.
Get the best out of your eCommerce videos with Videowise
Creating eCommerce product videos is just the first step. If you're not distributing and presenting these videos well, you're leaving money on the table… for your competitors.
Videowise helps eCommerce brands get the most out of their product videos by converting them into shoppable videos. Unlike traditional video platforms, Videowise empowers merchants like you with the following:
Easily embeddable and responsive video widgets placed on any page of your website

Designing immersive experiences through multi-channel campaigns (SMS, email, QR codes, etc.)
Adaptive video player design to create interactive videos that promote ease of product discovery and one-click checkout
In-depth analysis of the ROI with a comprehensive dashboard showing direct revenue attribution, engagement, and conversion
Our infrastructure is designed to protect your page speed and showcase videos without affecting this speed. What's more, you can access granular data to understand how long shoppers interacted with your content, what was the time between discovery and purchase, and more.
In essence, Videowise can help your eCommerce brand get the maximum returns on investment and deliver a seamless shopping experience.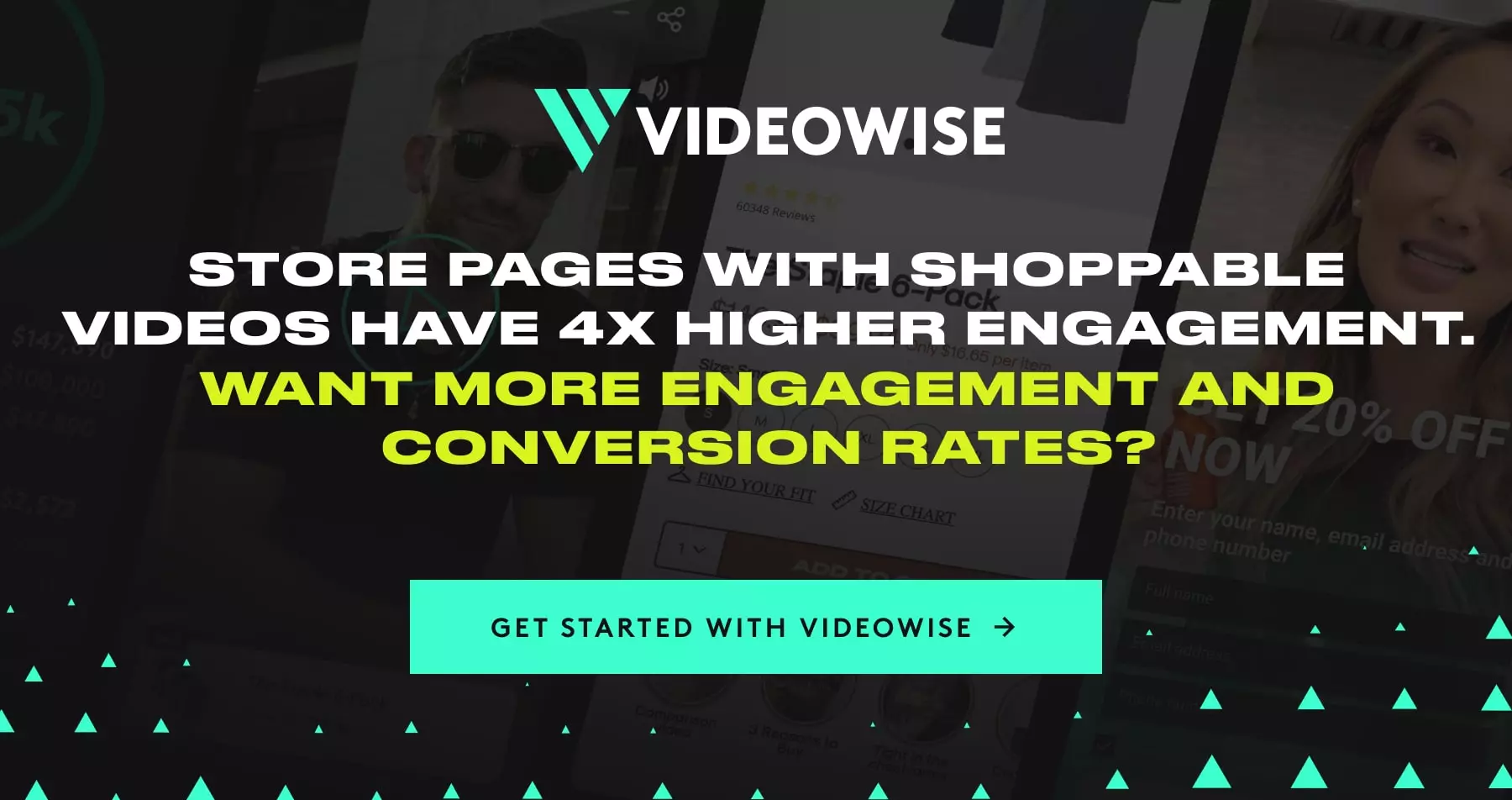 Maximize your marketing performance with these eCommerce video makers
That's a wrap on our guide on the top eCommerce video makers. The right tools can change your video marketing game and boost your bottom line.
Bookmark this guide to shortlist the ideal platforms and pick the best one to create enticing videos, positively impact your audience and drive sales.
Remember: your videos should convey your story and be consistent with your brand identity. So, add your logo and color palette to deliver a coherent experience to shoppers. When you publish your first video, use Videowise to host it as a shoppable video across channels.
Book a demo to learn more today!
Keep up with the latest trends in eCommerce video experiences