Running a successful DTC store is challenging, but with the right eCommerce strategies, you can overcome common challenges like low traffic, high bounce rates, and cart abandonment.
In this blog post, I will share twelve strategies that you can use to maximize your store's revenue and customer satisfaction.
These will help you improve your conversion rates and increase loyalty—so customers come back for more.
Let's dive in.
1. Implement shoppable videos
It is becoming increasingly common for shoppers to watch videos of products before making a purchase. Shoppable videos allow customers to familiarize themselves with a product's feel, look, and features in real life rather than just on screen—and can help boost sales.
As per a recent study, "89% of people say watching a video has convinced them to buy a product or service."
And that's a huge opportunity for you. The best part is that you don't need to invest in a new video studio or hire a video editor. You can easily create shoppable videos using Videowise and monetize videos by embedding on-site or sharing them off-site in your marketing campaigns (SMS, email, social media, PR).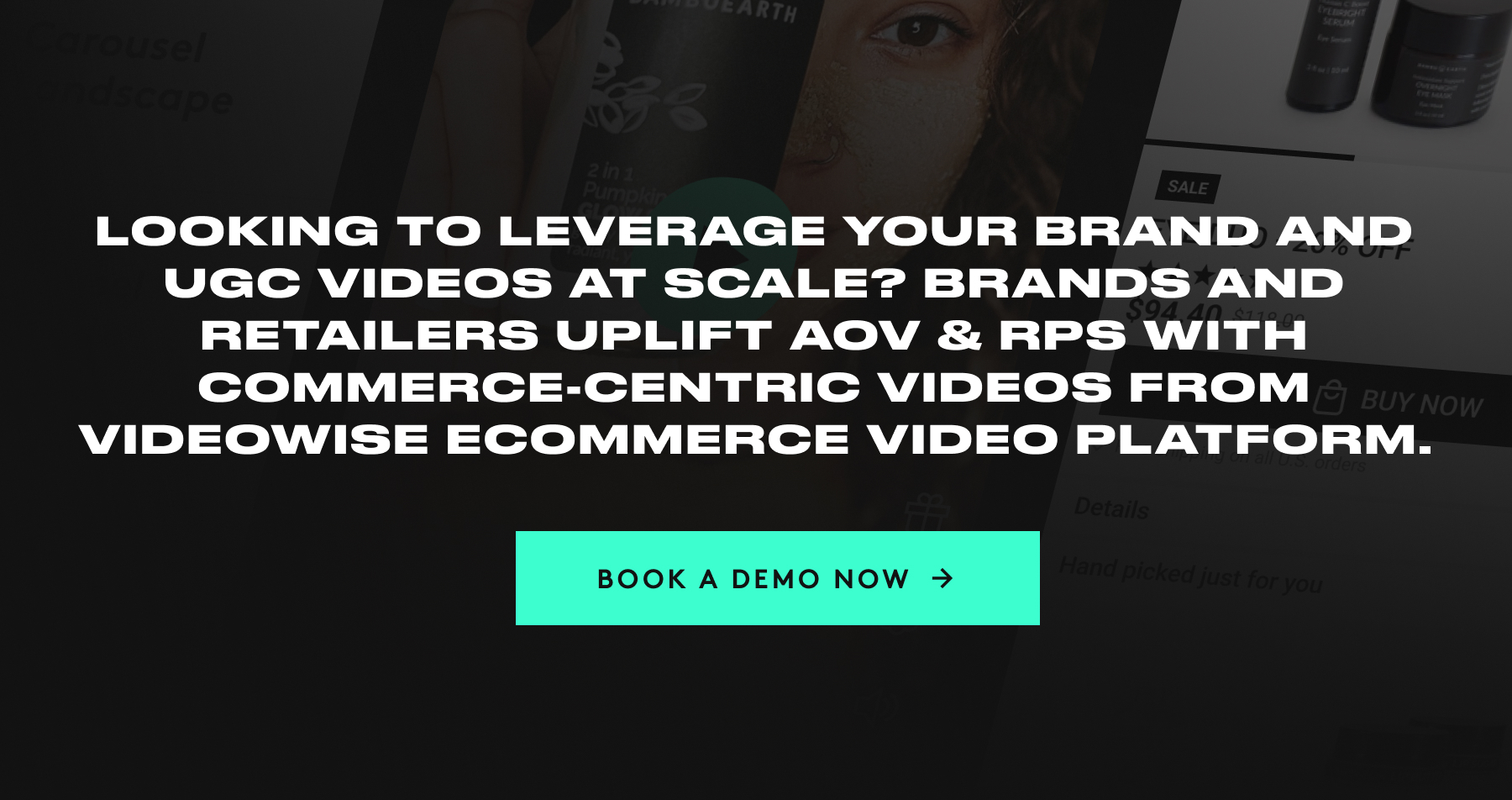 Shoppable videos have allowed online shoppers to get beyond the ads and tried-and-true "Look, I'm holding something!" photos. Instead, they can clearly see products in action—just as Ava Estell did with their videos.
This all-natural skincare brand generated £743K at up to a 21% conversion rate with shoppable videos. Now is the time to start if you're not already using shoppable videos.
Read more about using Videowise for your eCommerce store here.
2. Build supply chain muscle
Building supply chain muscle means ensuring that all parts—such as sourcing, manufacturing, transportation, and distribution of a company's supply chain work together efficiently to meet business objectives.
It will help you:
cut costs

reduce waste

speed up your delivery process

manage risk

scale business
Building supply chain muscle requires a strategic approach that identifies the most important goals of the business and aligns them with supplier capabilities to build strong relationships.
Here are some ways you can build supply chain muscle:
Develop a supply chain strategy:
It's essential to have a strategy that helps your brand identify its supply chain needs, define supplier capabilities and requirements, and establish processes for managing the supply chain. Developing a strategic approach will help you avoid the pitfalls of over or under-investing in inventory management systems that don't fit your business needs. You'll want to look at your long-term goals and create a plan that includes the steps needed to reach them.
Work with reliable partners:
There are myriad ways to establish supply chain partnerships, including manufacturers, distributors, and logistics providers. You can work directly with manufacturers and distributors or use third-party service providers to manage your inventory and distribution operations. Whichever route you take, developing solid relationships with suppliers is essential for success in the eCommerce space.
Invest in technology:
A big part of the supply chain is technology. From shipping software to inventory management systems and more, there are many tools available for eCommerce sellers to use. The most beneficial technologies are those that help automate processes so you can save time and money. If you don't have the budget to invest in technology, consider outsourcing your supply chain management. This will allow you to focus on selling products while someone else manages your inventory and distribution.
Focus on sustainability:
Sustainability is a big deal for consumers nowadays, and it should be for you too. Whether your products are organic, fair trade, or eco-friendly, buyers want to know that what they're purchasing was made ethically. If you can't offer sustainable options, consider partnering with brands that have them available. This will help increase sales while also giving customers more options to choose from.
Continuously monitor and improve performance:
The best way to ensure your business grows is by paying attention to its performance. Use metrics such as daily, monthly, and yearly sales; customer satisfaction surveys; social media analytics; website traffic patterns, and more to track progress. Then use this data to decide what you need to change or improve.
Building a solid supply chain muscle is a long-term investment—but it's one that will pay off in the end.
3. Lean into zero and first-party data
Customer feedback should be the biggest driving force for your business. Whether you use it to make your product better, increase your customer base, or retain existing customers, having zero and first-party data can help you in every way possible.
Zero-party data is anything customers can directly provide, like their names, emails, or answering your quizzes, surveys, etc. First-party data is what you collect about your customers through your website, such as on-page behaviors, browsing history, etc.
Here is how you can use zero-party and first-party data to improve your DTC store:
Collect zero-party data:
Ask your customers about their interests, goals, challenges, and preferences to know them better and provide solutions through your products, wherever possible.
Use first-party data:
Use your full website analytics to collect data that informs you about your customers' behaviors, such as when they abandon a purchase, the time they spend on the product page, etc. You can even track how your users engage with the product's shoppable videos and how many of them convert with Videowise advance video analytics solution, and have a transparent revenue attribution.
Personalize the shopping experience:
Lastly, merge your zero and first-party data to provide your customers with a seamless, personalized shopping experience, so they keep coming back to you for more.
4. Invest in owned brick-and-mortar stores
Although online stores have made it possible for consumers to buy products without leaving their homes, brick-and-mortar stores provide a level of personal service that most web retailers can't match, making them an essential part of any business's marketing strategy.
If you don't have any retail outlets yet, consider opening a small store in your area—even if it's just a pop-up shop or kiosk at first.
As per a study in 2021, 46% of consumers said they would be willing to buy from a brick-and-mortar store rather than online.
It gives you a chance to connect with your customers on a personal level and build trust among potential clients. Use your retail location as the foundation for excellent customer service—and then expand it into other areas of communication, like e-mail or social media:
When asked Ryan Mckenzie, the Co-Founder & CMO of Tru Earth, about how DTC stores differentiate themselves in a crowded marketplace—he said:
"Focus on customer experience. It's no longer enough just to offer good products; companies also need to offer great service and help customers feel valued throughout their entire journey. Investing in a great customer support team and streamlining your order processes can make all the difference. Additionally, creating unique content and interactive experiences on your website will help you stand out from the competition."
By providing excellent customer service through a combination of in-store and online help, you can easily make your customers feel valued. Just open multiple channels for them to reach you—phone, email, social media, and live chat. You can even set up an omnichannel marketing strategy to give customers the most seamless experience possible.
Your customers are the driving force behind your business. Treat them well, and they will stick with you through thick and thin.
5. Consider consumer feedback at every step
Anytime you make important business decisions—for example, whether or not to update your website, add a new product line, or promote an existing service—it's always good practice to consider what your customers want.
If your customers ask for a particular product or service, they may be willing to pay for it. Listen to their feedback and take action accordingly – you can even use social media as a tool for gathering consumer insights.
According to Georges, the Director of eComm & Ads at Maddle, "one of the most common mistakes that DTC eCommerce stores make is trying to appeal to everyone and successfully appeal to no one. When starting an eCommerce business, it's important to dial into your target customer and capture their interest. Once you have established yourself with this group, you can either scale vertically (add more products for the customer) or horizontally (find similar audiences)."
By including your customers in the process, you can create a product they will love and promote to the world.
You can also directly ask them what they like about your store and what they would change, and even let them vote on their favorite design concepts. Getting feedback doesn't have to be expensive or time-consuming; there are plenty of free tools out there, such as SurveyMonkey or Google Forms, that can help you get started right away!
6. Stand out with interactive ads
Interactive ads are a great way to involve your customers in product creation. You can use this to give your audience a sneak peek of what's coming out next or even just as an entertaining little game they can play while scrolling through their newsfeed. It's also a way for you to collect data about who is engaging with your brand and the type of content that resonates most with them—all without having the extra work of actually creating new content!
Whether promoting a sale or sharing some interesting content, adding an interactive element to your ad can help you get 10X higher interaction rates, as it did for Nissan.
There are various types of interactive ads you can create:
Playable ads

Lead ads

Interactive banners

Facebook instant experience ads
You can achieve similar results by implementing interactive (shoppable) videos on your site or sharing shoppable videos as a link anywhere — in your SMS, WhatsApp messages, email marketing campaigns, or embedding on 3rd party websites.
Learn how you can maximize your sales with video shopping here.
By testing different options and finding what works best for your brand, you can create an interactive shopping experience that's personal and effective while expanding your reach in the process.
7. Retarget and re-engage your customers with email
With over 300 billion emails sent and received daily, email is still one of the most effective ways to reach and engage your customers.
With email, you can re-engage with recent buyers, introduce new products and promotions, share exclusive content or behind-the-scenes sneak peeks, and so much more. By sending personalized emails triggered by specific actions on your site — like adding items to their cart or viewing a particular product page — you'll be able to get your audience excited about what's coming next in the buying process.
To increase sales from your DTC store, build a strong email list and stay in touch with your customers. A well-crafted newsletter or automated email campaign can be an easy way to bring in consistent revenue without major effort on your part.
According to Mathew Ramirez, Founder of Rephrasely,
The most effective eCommerce strategy that I have seen work for DTC stores is email marketing. Email marketing is a way to connect with customers and stay top of mind without being intrusive. Email marketing also helps grow your email list and gather customer data to understand your customer needs better.
A well-planned email campaign can be pivotal to the success of an eCommerce business. The key is to find a balance between sending too much information (which could annoy customers) and not enough content (and having subscribers unsubscribe) —not something that's easy to do!
If you email your subscribers too frequently, they might unsubscribe from your list. However, if you don't send them any emails or send only a few emails occasionally and irregularly, they may forget about who you are and why they subscribed in the first place.
Hence, finding a sweet spot that keeps your subscribers engaged without overwhelming them is crucial.
The best way to do this is by sending regular emails, such as once or twice a week. (or biweekly)
Email marketing campaigns are easy to set up, inexpensive, and can be easily automated so that you don't have to spend time manually sending out emails.
In addition, it allows you to stay in touch with customers without being invasive or annoying them into unsubscribing from your list.
8. Provide sales-focused support
Today's customers expect more than just a great product. They want an entire "wow" experience—from shopping and buying to using the product (and telling others how much they love it) or reselling it.
If you want to provide the best possible user experience, you must offer sales-focused support. This means helping customers find the right product while answering questions about how to use it correctly and troubleshooting issues whenever needed, so they can rather spend time using the product instead of searching for solutions.
To put your customers at ease, create a customer support system that allows them to communicate directly with the company—ideally through email or some type of ticketing system.
But before that, you can make a list of FAQs for customers to refer to if they have any questions about your product. They may be hesitant to contact you, but with an FAQ page, they will know exactly where all the answers are. I personally prefer reading FAQs first before reaching out to customer support with my queries.
A good way to give your customers a seamless experience with their purchase is by letting them access the products they like in as little time (or a few clicks) as possible.
"Three clicks are the maximum. A common mistake I've seen is a web page that requires more than three clicks to go from the home page to the product page. This makes it harder for customers to find what they are looking for and can lead to lost sales. To avoid this, make sure your navigation is easy to use with clear labels and categories, so customers don't have too much of a hard time finding what they need'', said Ryan from Tru Earth.
Due to this, you must ensure that your website is simple and easy to navigate for customers to find what they are looking for, which helps you grow your DTC store.
You can also make it easy for your customer to buy your products with shoppable videos. As discussed above, shoppable videos are interactive videos that allow users to shop what they like with just one click -- without leaving your website.
You can also use video to show customers something they don't know about your brand.
For example, you can create a video showing how a product is made or what goes into the process. This helps your customers understand and appreciate all the work that goes into their favorite items, which lifts customer satisfaction immensely!
No matter what your goals may be, videos are an excellent way to engage with customers and build credibility.
9. Think mobile-first
The 2022 study found that consumers spend 4-5 hours daily on their smartphones. It's no surprise that—with so much time spent with these devices—consumers expect mobile experiences to be top-notch.
If you aren't optimizing your website for all devices, you could lose out on traffic and sales. Your customers use phones and tablets in record numbers; if they can't take advantage of the features available—even basic ones like a simple shopping cart or search function—they will move on to another brand.
RIFRUF, a dog shoe brand, knows the value of mobile-first design. Their website is fast, responsive, and simple to navigate on every screen. This makes it so much easier for customers to find what they're looking for and buy the products immediately.
With an eCommerce dedicated interactive video player designed specifically for mobile, RIFRUF was able to add +$50k in revenue at a 16% conversion rate. Surprising, right?
Read the RIFRUF case study here.
To make your DTC store mobile-ready, here are some quick tips:
Make sure your website loads quickly and works responsively across all platforms.

Eliminate any unnecessary page elements that could slow down your site.

Create a mobile-friendly checkout process that works for all devices.

Keep your site's design simple and clean, so it looks clear and is easy to read on small screens.

Include a "Shop Now" button on all possible pages, so mobile users can quickly buy what they want.

Optimize your product images so they look good on all devices.
Videowise allows you to create shoppable videos with mobile-first swipe-up experiences. It also provides the following:
Better site optimization.

Using things like compressed thumbnails.

Lazy loading.

Scripts under 100kb.
Now, you don't need to worry about videos slowing down your website on any device. Use videos wherever you want with Videowise and keep your customers engaged throughout, just like RIFRUF did.
Being mobile-ready is a must for any eCommerce site. And with the rise of mobile commerce and mobile devices, having a responsive website is more important than ever. You don't want your customers to pinch and zoom their way through every page on your site.
10. Provide a virtual try-on experience for products
Virtual-try is another great way to show your customers how a product will look visually. This gives them an idea of what it would look like if they wore it and helps them decide whether or not they want to purchase it. You can do this by creating a 3D model of your products and allowing users to try on different colors and sizes of those products virtually based on their preferences.
One such example is the Virtual Artist feature by Sephora. It lets customers try on makeup products by bringing virtual reality (VR) technology to the beauty industry. The app uses facial recognition to detect your eyes, lips, and cheeks, allowing you to try on different makeup products virtually.
Source: Sephora
With the Sephora Virtual Artist, you can get custom step-by-step tutorials, color-match your makeup to your outfit, and compare hundreds of color swatches from different brands side-by-side on your virtual arm.
Overall, the Sephora Virtual Artist is a game-changer for the beauty industry, allowing customers to try on products and learn new makeup skills without ever leaving their homes.
This is a huge win for Sephora, as they saw a 16% increase in usage per user and a 48% overall increase in traffic.
Here's a step-by-step process so you can provide a virtual try-on experience for your products:
Choose the right technology, such as AR or VR, that best suits the product and target audience.

Create 3D models of the products using software tools or by hiring 3D modeling experts.

Integrate the virtual try-on experience into the website or app by creating a dedicated page or section for virtual try-on.

Allow customers to upload their images to make the virtual try-on experience more realistic.

Ensure the virtual try-on experience is user-friendly and easy to use by creating an intuitive interface that customers can navigate easily.

Provide accurate measurements of the products to help customers make informed purchase decisions.

Collect customer feedback to improve the virtual try-on experience by providing a feedback form or conducting surveys.
If you can create and execute your virtual try-on product strategy successfully, you will be able to enhance the online shopping experience for your customers, increase your sales, and establish a strong competitive advantage for your brand -- everything with one simple, well-executed strategy.
11. Offer exclusive products or limited editions
In a recent survey, 94% of Americans said they would take advantage of an exclusive offer. And when these types of deals are used along with other persuasive tactics like urgency and frequency — well, it's a winning strategy for retailers.
Plum Porch, an online gift shop & dress boutique store, recently launched a successful campaign to create an engaging and persuasive customer experience. They ran an Instagram giveaway campaign for a $100 gift card, which resulted in 142 entries and 70 new email subscribers—with an impressive 49% conversion rate.
The campaign also increased the brand's Instagram following by 4.1%, which (among other things) helped grow its overall reach and awareness among consumers.
According to one of their founders, "What worked best for us is getting our Instagram followers onto our email list. Everything just gets easier: tracking, nurturing, converting, upselling, etc. We're a small brand, but larger brands could use the same prize and get much better results to grow their email list to drive sales through their email funnel."
Offering exclusive products has great potential to attract your customers' attention and help you build a strong relationship with them. However, be careful about managing and distributing your exclusive things because a tiny mistake can hamper your reputation and give competitors a chance to lure your customers. So, make sure what you see is exclusive and valuable; also align with your customer's expectations; otherwise, this approach will hurt you more than it can help you.
This is why some brands offer a unique incentive through a limited edition product or special discount. For an extra boost, you can also offer early access to unreleased products or sneak peeks of new product lines. This will excite your existing customers and encourage others to try your offer.
12. Use dynamic pricing to offer personalized pricing
Dynamic pricing means setting different product prices based on how customers have previously purchased your products.
And it's no secret that people love a good deal. When running a DTC store, it's important to keep your customers engaged and loyal to you, and dynamic pricing allows you to do it the right way.
With a smart, dynamic pricing strategy, you can always keep your prices more lucrative than your competitors. You can even use it to manage your inventory and sales trends so you can be on top of your customers' demand.
Changing pricing according to the market demand isn't new, but a pricing strategy around customers can help you get their attention and ultimately grow your business.
Here is how you can quickly set up a dynamic pricing strategy for your DTC store:
Identify the pricing factors:
Before implementing dynamic pricing, you should identify the most critical factors affecting your business. These might include the time of day, day of the week, seasonality (e.g., Christmas), product availability, customer behavior, and what competitors are charging for similar products or services.
Choose a pricing strategy:
Once you have determined your pricing factors, choose a strategy that best suits your business. Some popular techniques include surge pricing (increases in price during peak times), time-based (changing prices based on the day or week of travel), demand-based (increasing fare when supply is low and reducing it otherwise), and loyalty programs.
Analyze data:
To price your products right, gather all the possible data about your customers and products. You can analyze historical sales data or collect customer demographics and purchasing behavior to ensure you have everything to make an informed decision.
Use dynamic pricing tools:
If you don't want to put time and resources into setting up your pricing strategy manually then invest in any dynamic pricing tool. Such tools are trained with machine learning and artificial intelligence tech that will set up your pricing strategy that works best for your store.
Test and refine:
You should regularly monitor your dynamic-pricing strategy and make necessary adjustments so you can maximize your revenue and profitability without losing your customer's trust and loyalty. You should also identify all the relevant factors that directly impact your DTC store and then set up a robust system to make everything work in your favor.
Increase your eCommerce store sales with video marketing
Growing your business is a never-ending process, and one of the most effective ways to achieve this is through video marketing. Videos allow you to show how your products look in a real-life setting and convince your customers that they get what they see. They don't have to decide based on photographs only.
You can use shoppable videos to create an interactive shopping experience, turning your product pages into a powerful sales tool and helping boost your conversion rates. Videowise can help you achieve this and more with the on-site shoppable video solution.
Keep up with the latest trends in eCommerce video experiences