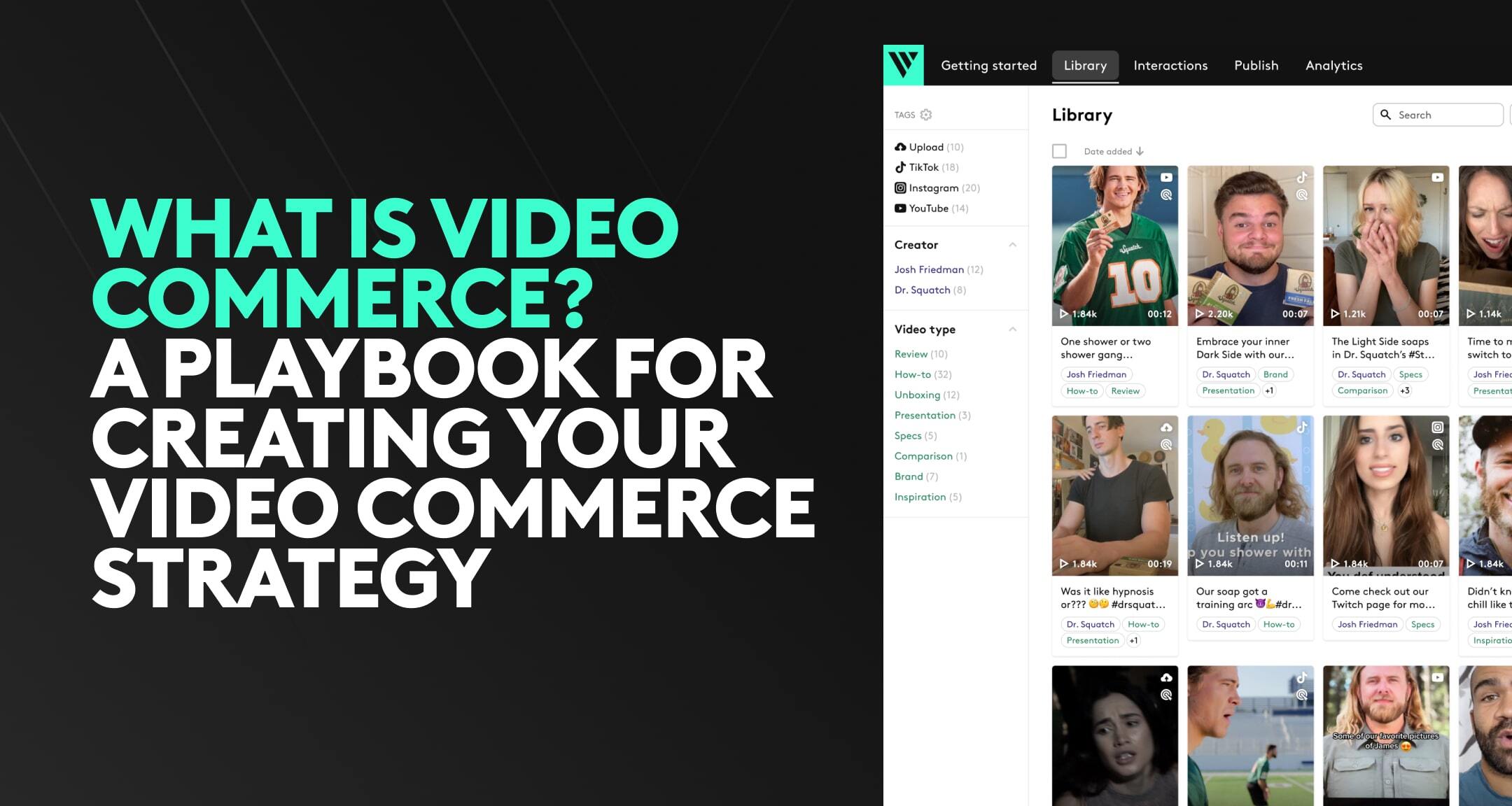 Remember the feeling of walking into a brick-and-mortar store—chatting with the store manager, walking across aisles of different products, and holding every item in your hand to double-check its look and feel?
Online shopping doesn't really feel the same.
You leave a lot to your intuition when you can't see and touch the products. It's like trying to buy a car without test-driving it first.
Enter—video commerce.
Video commerce taps into the power of video to recreate the in-store experience in a virtual setting. It doesn't really let you feel the product in your hands but helps you understand how it looks in a real-world setting.
In this article, we'll explain the concept of video commerce, its unique benefits for retailers, and tips to create a strategy effortlessly.
What is video commerce?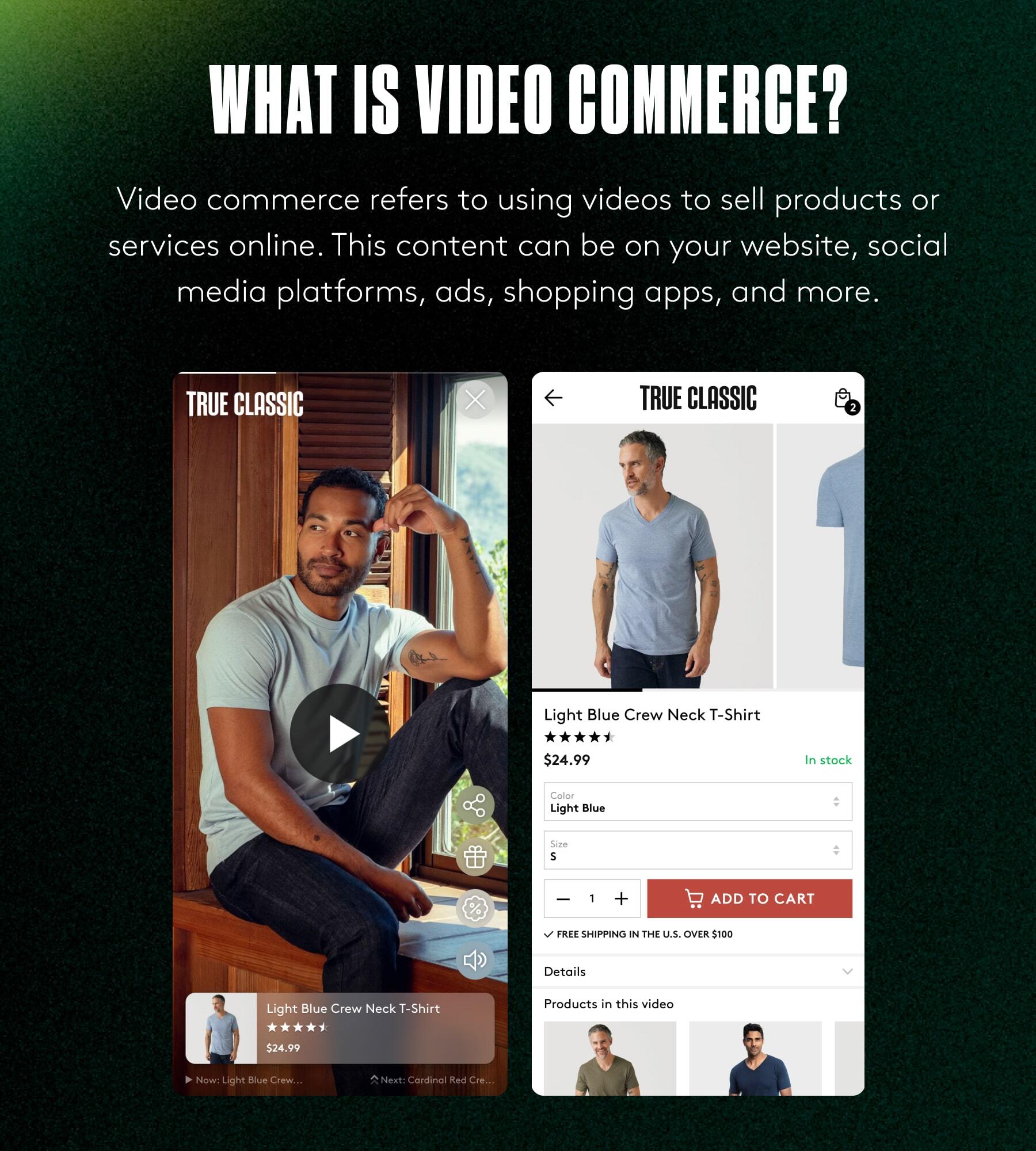 Video commerce refers to using videos to sell products or services online. This content can be on your website, social media platforms, ads, shopping apps, etc.
We're seeing so many brands create interactive videos to highlight product features, use cases, and unique value propositions.
With video commerce, retailers can engage potential customers and simplify the buying process. Instead of jumping through hoops to find the right product and place an order, video commerce makes it a two-step process—watch the video and place an order.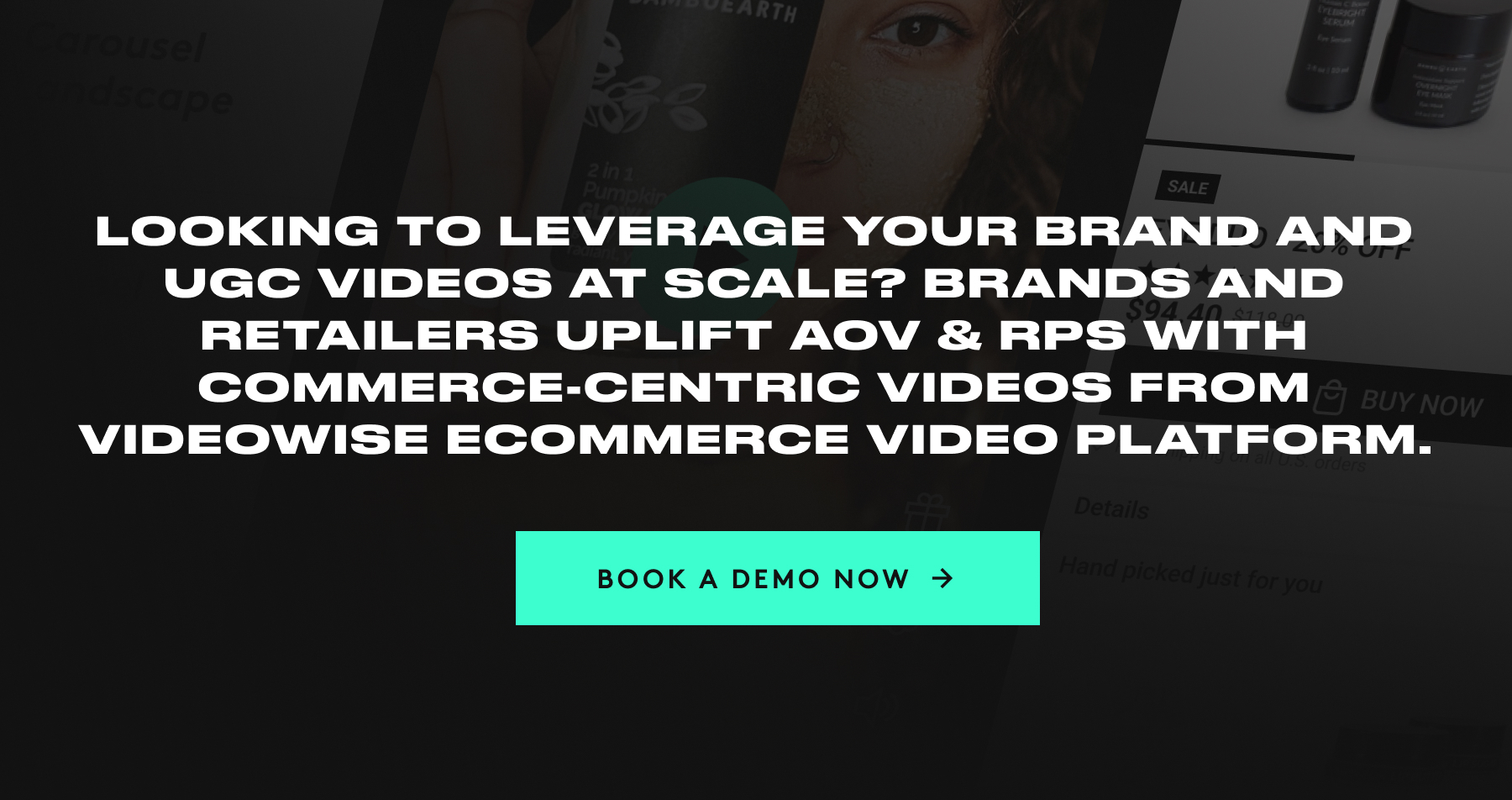 More than just a trend: 4 ways how video commerce is reshaping the world of eCommerce
With over three billion views and thousands of videos, the TikTok Made Me Buy It hashtag shows how video has disrupted the way we shop. These TikTok videos deliver social proof in short, snackable videos, giving shoppers a new way to discover and purchase products online.
On top of boosting brand awareness, video shopping can benefit your eCommerce business in four ways:
For people shopping online, watching a video is more helpful than reading a block of text. A video can add life to your products. It gives potential customers more insight into every product's design, size, utility, and other essential factors for making a purchase decision—converting them into happy customers.
By giving a glimpse of such finer details of your products, video content can grip buyers' attention in a way that written content never can. They engage the audience and give them a reason to browse your website and learn more about your business.
What's more, shoppable videos can directly impact your conversions too. Google's research proves that companies using product videos achieve over 60% more conversions at a lower cost.
How? Visual content shows what a product would look like in real life and replicates the in-store experience. Besides, these videos offer the convenience of buying products in a few clicks, eliminating the hassle of adding products to a cart and placing an order.
2. Makes the shopping experience more immersive
One of the biggest limitations of online shopping is browsing products in a two-dimensional format. Consumers can't clearly visualize an item in real life—like how would a vase look on your bed table?
This is where video shopping changes the game for both buyers and sellers. Online merchants can create a more immersive shopping experience to give customers a panoramic view of the product. At the same time, consumers can better understand a product's design and appeal with real-life videos.
Shoppable videos improve the product selection process, helping buyers realistically assess every purchase throughout the customer journey.
Tropicfeel presents the perfect example of how this works. The travel gear company uses videos across its product pages, YouTube channels, and social platforms to showcase its products from every angle.
3. Builds social trust and simplifies decision-making
Let's face it; online shoppers know your product photos were shot professionally in a studio with a high-definition camera and top-notch lighting. They're hardly real.
So, how are your consumers making their purchase decisions? Through customer reviews and photos.
People rely on other people's experiences with a company/product before placing their bets on it. You can use this tendency by converting user-generated content into shoppable videos. It gives interested buyers enough social proof to learn more about a product and establishes a human connection to drive sales.
Plus, video shopping also gives buyers the confidence to make a purchase decision effortlessly. They don't have to spend hours researching your brand and finding trustworthy customer reviews before hitting the buy now button.
4. Replicates in-store vibes with a touch of personalization
With video commerce, merchants can deliver in-store experiences with digital storefronts. These visual storefronts add a realistic appeal to every product, making them more than just listings on a website.
Interested shoppers can clearly understand how the product would look and function—just like they would in a physical store. The result? A more seamless shopping experience.
More importantly, video commerce creates a scope for personalizing this experience too. You can deliver a personalized shopping experience by letting buyers ask relevant questions on chat with sales executives to be 100% sure of their decisions.
Create an airtight video commerce strategy in 4 steps
Now that you've learned how video commerce can be a game-changer for your eCommerce business, you're all geared up to create video content and reap the benefits. But you'll set yourself up for failure without a solid roadmap to showcase products through videos.
Thankfully, you don't have to look far to learn how to create your own video shopping strategy. Here are four quick and actionable steps to get you started:
Start with the basics. Decide who you want to work with for this project and designate their roles. Putting together a team will create more room for diverse opinions, creativity, and collective brainstorming.
Once you've assembled your dream team, the next step is drawing the big picture. Outline your objectives for this strategy to establish clear expectations of what you want to achieve—greater brand recognition, higher customer engagement, or more sales. Be clear about your goals and choose a north star to advance your team.
Use these goals to determine the next steps and the workflows for streamlining all the moving parts in your video commerce plan.
Consider this a high-level overview of your shoppable video strategy—a blueprint of key deliverables, milestones, timelines, resources, and other aspects to implement your plan.
2. Establish your brand messaging and stick to it
The next step is all about your brand. Invest this time to create a stellar brand messaging framework if you don't already have one.
Messaging is essentially how your business talks to a buyer. It reflects your personality through the brand voice, channels, and values conveyed in your content. It also reinforces your brand's positioning in the market.
For example, an outdoor apparel brand like Huckberry differentiates itself in a crowded market with its unique brand messaging. The company appeals to its customers with storytelling-driven video content that romanticizes the outdoors and positions Huckberry as their ultimate partner for any adventure.
Here's a YouTube video by Huckberry spotlighting its 365 Pant as the best versatile pant you can get. It shows a person wearing these pants in an open park, explaining their unique features. Interested in buying the pants? Just click the link in the description.
The perfect example of how your messaging can become a massive differentiator for your video shopping efforts. So, remember to get it spot-on before you start creating videos.
3. Tap into different video types to match buyer intent
While some buyers prefer watching testimonial videos, others might enjoy influencer content or explainer videos. Every buyer has a different taste.
You have to cater to these varied preferences by identifying what your target audience wants and experimenting with different types of videos. Here are four popular ones:
Product videos: Give consumers a full view of your products with a shoppable video featuring a single product. Choose your best-selling products, newly launched ones, or the more complicated products to spotlight in interactive videos.

Artsabers created spectacular product videos to show potential buyers how their lightsabers worked in real life. These shoppable videos were both entertaining and immersive to increase conversion rates.
Influencer videos: Influencers and creators rule the world of social media. An effective way to maximize conversions on these platforms is converting influencer content into shoppable videos. So, when your target buyers see a familiar face on their feeds, they'll likely pay more attention and hit the CTA button.

Promotional videos: One of the best use cases of shoppable videos is when you're offering discounts. Promotional videos with a discount code can potentially throw your sales off the charts because buyers have an added motivation to purchase.

Here's how Arata used shoppable video ads on social media to spread the word about its sale. The video features an influencer reviewing different products and highlighting what she likes the most about each one.
User-generated videos: What better way to build social proof than to convert UGC videos into shoppable videos? UGC can add credibility to your name and win consumer trust quickly.

That's exactly how Headphone Zone used shoppable videos to earn ₹53.8M in added revenue across digital channels. Here's an example of a shoppable video where a YouTube creator shared how he found the best headphones through this online store.
4. Choose a feature-packed video commerce platform
By now, you've done most of the legwork for building an airtight strategy. Now comes the most important decision: choosing the ideal video commerce app. With so many tools to choose from, the decision can seem overwhelming. But we can make it a piece of cake.
As a one-stop solution for producing, hosting, and analyzing shoppable videos, Videowise is an easy pick from tens of video commerce platforms.
Videowise delivers an impressive store conversion uplift and maximizes your added revenue from direct video orders across various platforms. What's more, our video content can significantly increase the time website visitors spend on your store without impacting your site's speed.
To top it off, our customer support teams are available round-the-clock to answer any questions. Learn more about the results we've produced for our clients as their trusted video platform.
Unlocking the full potential of video commerce: Transforming the future of online shopping
In the surge of eCommerce companies worldwide, shoppable videos can set you apart and build brand affinity. So, bookmark this guide and prepare to kick-start your video commerce campaigns on the right foot.
Remember to consistently test and optimize your videos to iterate them as per your customers' choices and deliver real value.
Book a demo for Videowise to see how we can help you from start to finish!
Keep up with the latest trends in eCommerce video experiences