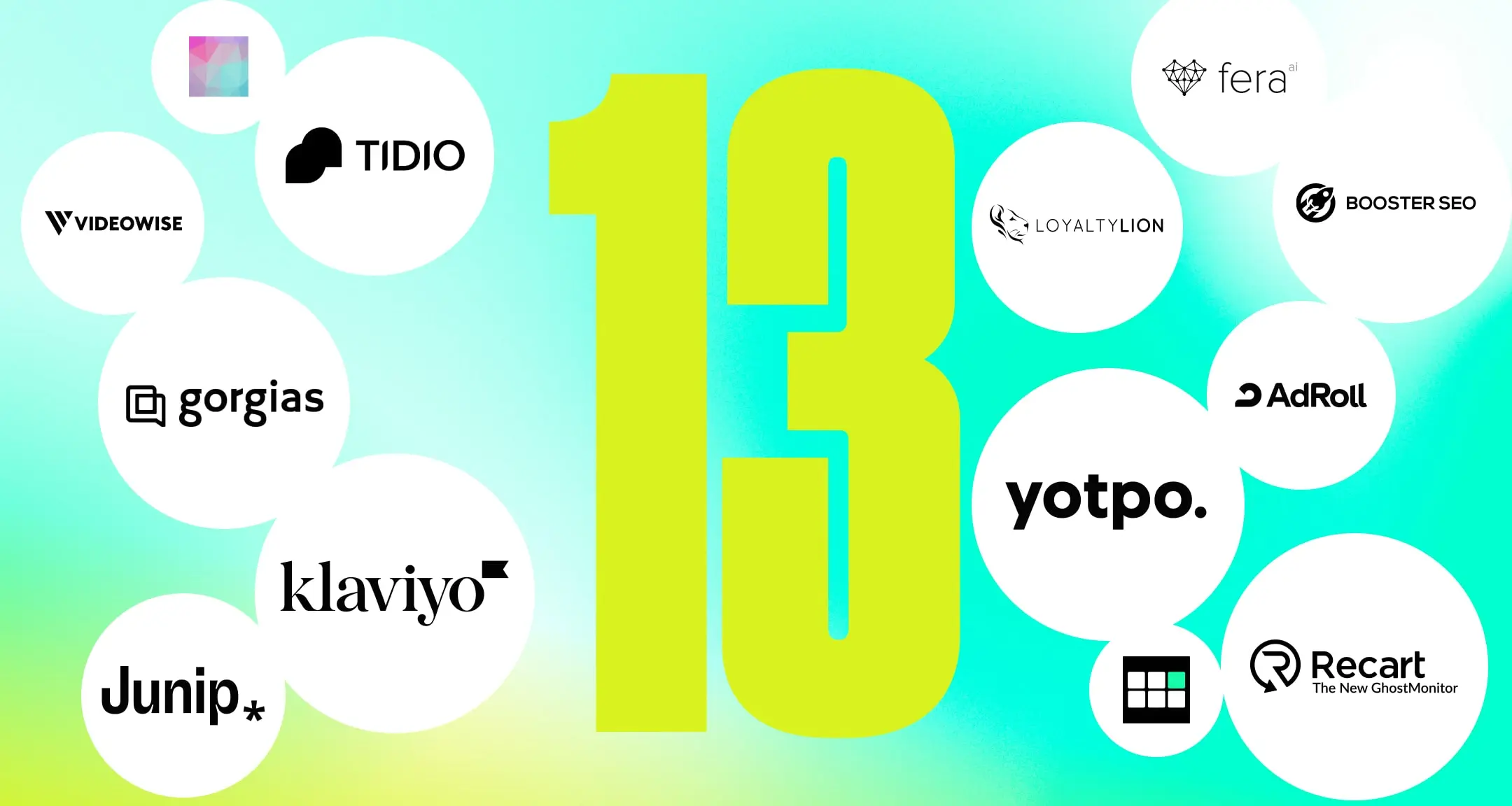 As more and more people shop online, it's really important to have the best marketing tools in your tech stack to give you an edge over your competitors.
But with so many options to choose from, it is easy to feel lost and not doing justice to your requirements.
Let us help!
In this blog post, I've curated a list of the 13 best Shopify marketing tools descriptively to help you make the right pick for your store.
Here are our 13 best Shopify marketing tools:
1. Videowise - best for shoppable videos
Shopify Rating- 4.9/5
Videowise helps eCommerce companies add shoppable videos to their site giving retail brands an edge over their competitors.
Videowise offers comprehensive coverage for online stores, mobile apps, and omnichannel video experiences. With seamless integration into the eCommerce stack, Videowise ensures a smooth and efficient integration process for its clients.
Key features
Create shoppable videos and add them to any page of your site.

Use QR codes on packaging to connect customers with a swipeable video playlist and tag products for increased sales.

Embed shoppable videos on any news publication, PR initiative, or blog articles that mention your brand.

Process subscriptions, set up bundles, or add ratings and reviews directly in the video player.

Provide Premium-designed (carousel, grid, single, pop-up, stories) product videos widget themes.

Videowise delivers detailed engagement and customer journey reports, processes enterprise-level data, analyzes viewer behavior and interactions, provides transparent revenue attribution, and offers granularity at every level.

Turn any YouTube video shoppable and monetize it directly on your site or in your marketing campaigns.

All video results are automatically sorted and matched with your product pages.
| | |
| --- | --- |
| Pros | Cons |
| Shopify 1.0 & 2.0 themes compatible | No mobile app is available for use. |
| Videowise's video widgets automatically adapt to any device or screen resolution, ensuring that your videos look excellent at all times. | |
| Track direct revenue made by your shoppable videos along with other engagement & conversion metrics. | |
| Videowise is compliant with YouTube's Terms of Service & Google's Privacy Policy. | |
Is a free trial available?
Videowise offers a 14-day free trial on Starter and Scale plans. Pro, Advanced, and Enterprise plans.
Pricing
Videowise offers a simple pricing model that scales as your business grows.
Customer Reviews
Source - Videowise
In this post, Laksh Sehgal, an eCommerce growth agency owner, shared his approval of the Videowise platform.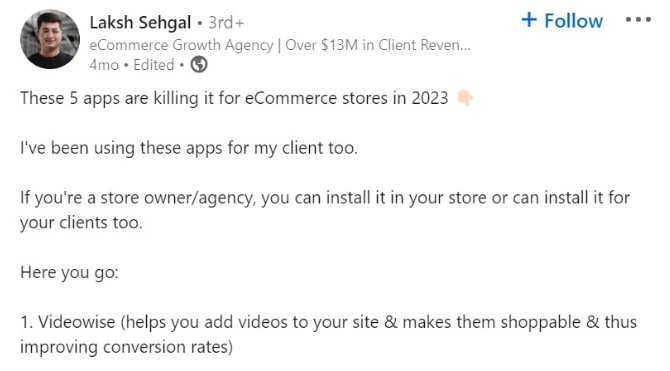 Source- LinkedIn

Source Shopify
Case Study
Brand

Ava Estell- an all-natural skincare brand.

Challenge

To find an efficient way to show them the results of their products can deliver, without having to leave the store.




Other challenges were page speed and the lack of analytics around video content.

Results

Using Videowise, Ava Estell seamlessly integrated their informative product videos into their Shopify store, enhancing customer experience without sacrificing page speed. This resulted in an impressive 12% increase in conversion rates, empowering their business to thrive.
2. Klaviyo - best for email marketing
Shopify Rating- 3.9/5
Klaviyo is a marketing automation platform that enables the creation, measurement, and optimization of email, SMS, and mobile push messages, providing consistent messaging across channels.
Klaviyo features built-in AI and predictive data science tools for cross-channel attribution and reporting, industry-specific flow templates, and automated review requests via email and SMS.
Key Features
Target people with any combo of profile info, behavior, location, list, predicted LTV or order date, and more.

Trigger messages based on channel engagement, event data, predictive analytics, and other platform data.

Proactively message customers by predicting future order dates, churn risk, and lifetime value.

Turn visitors into subscribers with dynamic forms and pop-ups based on time on page, number of visits, device type, or segment.

Pre-built integrations collect historical and real-time customer data from all your software in one place, including one-click integrations for many popular eCommerce platforms.
| | |
| --- | --- |
| Pros | Cons |
| Quick, simple, and granular segmentation options are available for products purchased, website browsing behavior, order value, and more. | The service doesn't include desktop notifications. |
| Create the custom integrations you need with its open API. | Push notifications for mobile apps (ex. Tapcart) only work for iOS, not Android. |
| Automated A/B testing for emails, texts, and signup forms helps you discover the most effective communication methods for your brand enthusiasts. | |
Is a free trial available?
Klaviyo offers a free tier that includes email support for the first 60 days.
Pricing
Klaviyo offers three pricing plans for your different needs.
Customer Reviews
Source- G2
3. Recart - best for SMS marketing
Shopify Rating- 4.8/5
Recart SMS provides businesses with a comprehensive solution for SMS marketing. The fully managed service offered by Recart SMS enables businesses to effortlessly build lists, enhance customer acquisition, and maximize lifetime value.
What distinguishes Recart SMS is the inclusion of a dedicated Customer Success Manager (CSM) who takes charge of developing and implementing effective strategies for clients, without imposing any additional charges.
Key Features
Get fully designed popups based on your brand guidelines.

Use keyword opt-ins and social links to convert subscribers natively.

With Restore Links, when a shopper clicks back, they pick up right where they left off.

Segment your SMS list to provide a highly personalized promotional experience.
| | |
| --- | --- |
| Pros | Cons |
| Recart enables you to preload a message into your visitor's phone. All they have to do is click on your popup's CTA and then click "Send." | Recart lacks a phone number for direct expert assistance and the live chat feature is automated, requiring an email for response. |
| For Pro or Scale Plans, new requests are addressed within 24 hours through whatever channel you'd like. | The abandonment analytics service is only available for premium subscribers. |
| Recart assumes responsibility for handling compliance with all laws and regulations. | |
Is a free trial available?
Recart offers a free trial for 21 days. The free trial includes custom pop-ups, automation, SMS campaigns, and weekly reports.
Pricing
Customer Reviews
Source- Shopify
In his Twitter thread of "Top 10 eCommerce tools in 2023," Daniel, the founder of Budai Media—an eCommerce retention marketing agency—included Recart as one of the recommended tools.
Source- Twitter
4. LoyaltyLion - best for loyalty campaigns
Shopify Rating- 4.5/5
LoyaltyLion offers a distinct loyalty program that seamlessly reflects its brand identity. Through LoyaltyLion, businesses can implement loyalty points and rewards to drive customer engagement, boost spending among members, and encourage repeat purchases throughout the customer lifecycle. The platform also provides opportunities to reduce acquisition costs by leveraging referrals, reviews, and other advocacy-based actions.
Key Features
Customizable widget requiring no developer or agency support.

Create custom rewards to perform actions or provide rewards that don't fit into the standard LoyaltyLion reward types.

Built-in referral solution to track and reward referrals, customers can refer friends by sharing their unique referral links.

In-cart rewards lets your shoppers redeem their points for free products, without the use of any voucher code. These products are added directly to the cart, for free, and can be checked out as normal.
| | |
| --- | --- |
| Pros | Cons |
| Deliver points and rewards through email and on-site notifications. | Require heavy and costly development when attempting to implement an integrated loyalty program. |
| Integrate with ESPs, subscription partners, review platforms, and helpdesks. | The reports for reward claims don't give all the desired information, such as which reward has been claimed so you have to determine this by other metrics such as points required. |
| Automatically track referrals on Shopify, BigCommerce, and Adobe Commerce. | |
Is a Free Trial Available?
LoyaltyLion offers a two-week free trial period.
Pricing
Customer Reviews
Source - Shopify
Source- G2
5. Gorgias - best for customer support
Shopify Rating- 4.4/5
Gorgias brings all your support tickets together in one platform, making it easier for e-commerce businesses to provide excellent customer service. Using Tags in Gorgias, you can quickly see what each ticket is about. When combined with automation features (we'll discuss later), Tags help prioritize requests, assign them to the right team member and send messages to customers efficiently.
Key Features
Pull all the messages, regardless of channel, into a single view so your agents can easily see the context they need to customize their response.

Connect your Google Workspace organization to send and receive emails from the Gorgias helpdesk, plus automatically add Gmail tags for advanced reporting and automation workflows.

Create a ticket when your shoppers comment on one of your posts (organic or paid), mention your Instagram handle in a post or Story or send your brand a private message.

Set up a chat campaign to automatically message first and offer proactive support or encourage sales.
| | |
| --- | --- |
| Pros | Cons |
| View your customer's order history as you close out their ticket to ensure speed and accuracy. | Forwarded messages in emails can be seen by customers when responding to tickets; should be private. |
| Allows you to turn a live chat into an email thread or follow the conversation on social channels. | A signature is not automatically shown when composing emails; users must manually verify by tapping three dots to ensure its presence. |
| It's easy to set up phone lines in Gorgias, and each number can be used for SMS, Voice, or both. | |
Is a Free Trial Available?
Yes.
Pricing
Gorgias pricing plans are designed to scale with your business.
Customer Reviews
Source- G2
In this LinkedIn post, Zachary McClung, founder of TaskHusky, expressed his endorsement and approval of Gorgias.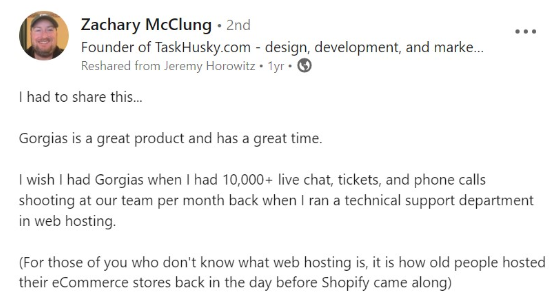 Source - LinkedIn
6. Instafeed - best for a shoppable Instagram feed
Shopify Rating- 4.9/5
Mintt - Instafeed allows users to effortlessly showcase personalized, shoppable Instagram Feeds on their online stores.
In just under a minute, one can add stylish and refined Instagram feeds that perfectly align with their preferences. By displaying engaging Instagram content like photos and Reels, users can establish social credibility, convert store visitors into loyal customers, and attract new followers on Instagram.
Key Feature
Seamless integration of Instagram content into the store, automatically refreshing it with the latest updates.

Easily tag multiple products in your Instagram posts, making them shoppable and interactive.

Utilize automatic product feeds to selectively display specific posts by applying hashtag filters.
| | |
| --- | --- |
| Pros | Cons |
| You can configure the number of columns manually, and with Pro and Plus plans, you can also configure a different number of columns and rows for different devices. | Instagram Reels are only available in our Pro and Plus plans. |
| Adding multiple Instagram feeds is available on Pro and Plus plans (with Pro you can add 3 feeds while Plus allows adding unlimited feeds). | Posts with copyrighted content (such as songs) are not allowed by Instagram to be shared outside their platform. |
Is a Free Trial Available?
Instafeed offers a free plan.
Pricing
Customer Reviews
Source- LinkedIn
Source - Shopify
7. Fera - best for product reviews
Shopify Rating- 4.9/5
Fera is a comprehensive app for handling and expanding customer reviews, including photos and videos, on your store. It offers complete customization and supports multiple languages.
The app imports reviews from platforms like Google, Facebook, and Etsy, seamlessly presenting them while maintaining your brand's visual appeal. Fera helps your business thrive by leveraging the power of customer reviews.
Key Features
Create custom storefront widgets that display customer reviews, photos, and videos.

Make changes to reviews or manage a merchant's private reviews store data.

Sync reviews, photos, videos, and customer data with other systems.

Schedule automatic review requests to gather customer reviews and feedback.
| | |
| --- | --- |
| Pros | Cons |
| It enables you to show a submission form to collect a review/photo/video submission from a customer. | No mobile app is available for use. |
| Active customer support team. | The team does not provide in-person training. |
| Allows you to reward customer reviews with discounts, points, and cash-back incentives. | |
Is a Free Trial Available?
Yes.
Pricing
Customer Reviews
Source- Shopify
8. AdRoll
Shopify Rating- 4.0/5
AdRoll simplifies the management of your email and ad campaigns, enabling you to effectively reach your target audience across various channels including display, native, and social networks. With AdRoll, you can conveniently handle all your campaigns in a single platform. It offers user-friendly features such as shared target audience management, an asset library, and comprehensive performance reporting across all channels.
Key Features
Import your campaigns and historical data from Facebook, Instagram, Pinterest, and TikTok.

Run hyper-personalized ad and email campaigns based on your contact's activity within your Shopify store and their demographic/behavioral data.

Helps you understand how your campaigns drive conversions or assist your customers in making the purchase decision, all in one dashboard.

Get rewarded with free ad credits for your web advertising expenditure simply by utilizing Shopify.
| | |
| --- | --- |
| Pros | Cons |
| Enables you to engage with customers after they leave your store via automated social ads, and emails with AdRoll's retarget website visitors recipe. | Incapable of replicating a campaign is a limitation. |
| AdRoll's convert cart abandoners recipe helps your drive visitors with products in their carts back to your website and over the finish line. | Campaign filtering lacks the user-friendly and intuitive interface found on other platforms. |
| Offer an easy-to-use interface. | |
Is a Free Trial Available?
AdRoll offers a 30-day free trial for the Growth plan.
Pricing
External charges are billed by AdRoll separately from your Shopify invoice. Learn more
Customer Reviews
Source- G2
In this Twitter post, Martins Lasmanis, CEO of Supliful, straight-up vouched for Adroll being an absolute must-have in their eCommerce lineup.
Source- Twitter
9. SMS Bump - best for SMS & email marketing
Shopify Rating- 4.9/5
With SMSBump, the right message is sent at the right time—without fail. It empowers users to create tailor-made SMS and email flows that are optimized to drive maximum engagement and yield desired outcomes.
SMSBump ensures that shoppers experience smooth and convenient opt-in processes, ultimately increasing their likelihood of conversion. By leveraging various subscription methods, users can maximize their results and achieve optimal performance.
Key Features
Use the in-app SMS chat to interact with shoppers in real time. Integrate with your help desk to streamline support and boost customer engagement.

Send campaigns that convert with advanced personalization features, A/B testing, and a built-in event calendar with top-performing templates.

Use triggered texts and emails at every step of the customer journey. Choose from a library of 40+ flows and tailor them to fit your brand voice.

Build narrow consumer segments with 40+ data points to target shoppers based on demographics, product preferences, and buying behavior.
| | |
| --- | --- |
| Pros | Cons |
| Its subscriber collection tools are built according to the TCPA, CTIA, and GDPR guidelines to guarantee your list is compliant with the latest privacy regulation. | Lack of customer data collection methods. |
| Enables you to create on-brand pop-ups, footers, and floating buttons in just a few clicks. | |
| Allows you to monitor important metrics from every engagement - such as revenue, ROI, orders, costs, and subscriber growth. | |
Is a Free Trial Available?
SMSBump offers a free plan.
Pricing
Customer Reviews
Source- Shopify
Source - Twitter
10. BoosterSEO - best for SEO
Shopify rating- 4.9/5
Booster SEO, a specialized Shopify app, stands out for its effective strategies and avoidance of ineffective tactics. By using this app, users can optimize their On-Page SEO setup, increasing their chances of ranking high on Google search results.
Key Features
Powerful algorithm actively monitors your SEO and provides auto-suggestions for updates.

Fixes broken links and optimizes your website on autopilot.

Gives you a preview of how your website will appear on search engines.
| | |
| --- | --- |
| Pros | Cons |
| Easily perform bulk edits for a vast number of image ALT text, meta titles, meta descriptions, and more. | There are limited options for editing tags, setting link redirects, etc. |
| Provides many options such as Structured Data (JSON-LD), AMP and Sitemap features with a click away. | |
| Enhance your website's loading speed and improve SEO scores by utilizing our bulk image compression engine. | |
Is a Free Trial Available?
Booster SEO offers a free plan.
Pricing
Customer Reviews
Source- G2
11. Tidio - best for customer support
Shopify Rating- 4.7/5
Tidio is a highly-rated platform that helps small and medium businesses boost sales by delivering exceptional customer service.
With Tidio, you can automate up to 47% of repetitive answers regarding shipping, order status, and product availability, allowing your agents to focus on more complex inquiries through live chat, AI chatbots, and multichannel communication.
Key Features
Seamlessly effortlessly integrates with other e-commerce tools and platforms in under 5 minutes.

Employ ready-made chatbot strategies to solve problems and boost sales.

Provide cart previews, check order history, and offer product recommendations directly within the chat.

Efficiently handle and resolve customer requests using a straightforward ticketing system.
| | |
| --- | --- |
| Pros | Cons |
| Enables you to use the self-learning AI Response Bots to handle up to 40% of your customer queries without creating a single ticket. | Downloading chat data along with lead information requires extra manual work. |
| Allows you to assess the AI's performance and give it new answers so it can solve more inquiries, freeing your agents to focus on complex topics. | There is no phone support. |
| Smart Views analyzes your conversations and organizes them based on customer intent so your support team can easily spot and prioritize important requests. | |
Is a Free Trial Available?
New user gets a free 7-day trial of the paid plan.
Pricing
Customer Reviews
Source- G2
Source - Capterra
12. Vwala - best for influencer marketing
Shopify rating- 4.7/5
Vwala provides a fully automated influencer/affiliate marketing solution for online stores. With minimal setup and maintenance, the platform seamlessly integrates and handles all the complexities of running a successful influencer marketing program. Users can focus on increasing sales by building fruitful partnerships with influencers from various platforms like social media, YouTube, blogs, and more.
Key Features
Automate the entire influencer process: sign-up, link/code issuance, order tracking, commission calculation, and payment.

Influencers receive personalized on-brand links and discount codes to promote the brand and products online.

View, edit, and analyze your influencer marketing program's data and performance with your dashboard.

The dashboard's in-app reporting tracks the performance of the influencer marketing program.
| | |
| --- | --- |
| Pros | Cons |
| Support multiple languages. | No email automation or integration with other software is available. |
| Vwala checks all orders to ensure they are created by real customers and not your influencers. | |
| Allows you to pay multiple influencers at once using PayPal or gift cards, or manually through bank account/money transfer. | |
Is a Free Trial Available?
Yes, for 14 days.
Pricing
Customer Reviews
Source - Shopify
13. Junip - best for product reviews
Shopify rating- 5.0/5
Junip is a review platform designed to help businesses collect, organize, and showcase customer reviews. It provides fast review widgets that seamlessly align with your brand's appearance and style. By utilizing mobile-first review forms, Junip encourages users to contribute more photos and videos and offers the flexibility to include custom questions and attributes.
Key Features
Automatically collect photos & videos with reviews on all plans.

Make reviews your own with custom questions & traits.

Build bespoke displays without fighting a sales team. Our API is open to all stores - even free.

Get the most out of your UGC with media galleries.

Engage customers with review replies, and feature the best for all to see.
| | |
| --- | --- |
| Pros | Cons |
| Effortlessly synchronize between multiple storefronts with a simple click, allowing you to quickly resume your work. | The app does not support translation into different languages. |
| Allows you to prompt from places your customers visit most - account page, packaging, tracking pages & more. | |
Is a Free Trial Available?
Junip offers a 14-day free trial on every plan.
Pricing
Customer Reviews
Source - Shopify
Ready to level up your eCommerce business with Shopify marketing tools
Before you pick your Shopify marketing tools, take some time to analyze where your business can grow, who your target audience is, and what approach you want to take for your brand strategy in the future.
We've tried our best to give you a list of top-rated Shopify marketing tools, but remember to give them a try and test them out before making a decision. The good news is that most of these tools offer a free trial period, so it should be easy for you to give them a shot.
Keep in mind that with over 8000 Shopify apps available, there are plenty of options out there. If you're not satisfied with any of the tools we've listed, there's still a wide range of variables to consider.
We hope that our comprehensive review will assist you in building your Shopify marketplace kits.

Avika Dixit
Avika Dixit is a freelance content writer for B2B SaaS companies in marketing, sales, and eCommerce. When she's not working, you will find her binge-watching content.
Keep up with the latest trends in eCommerce video experiences