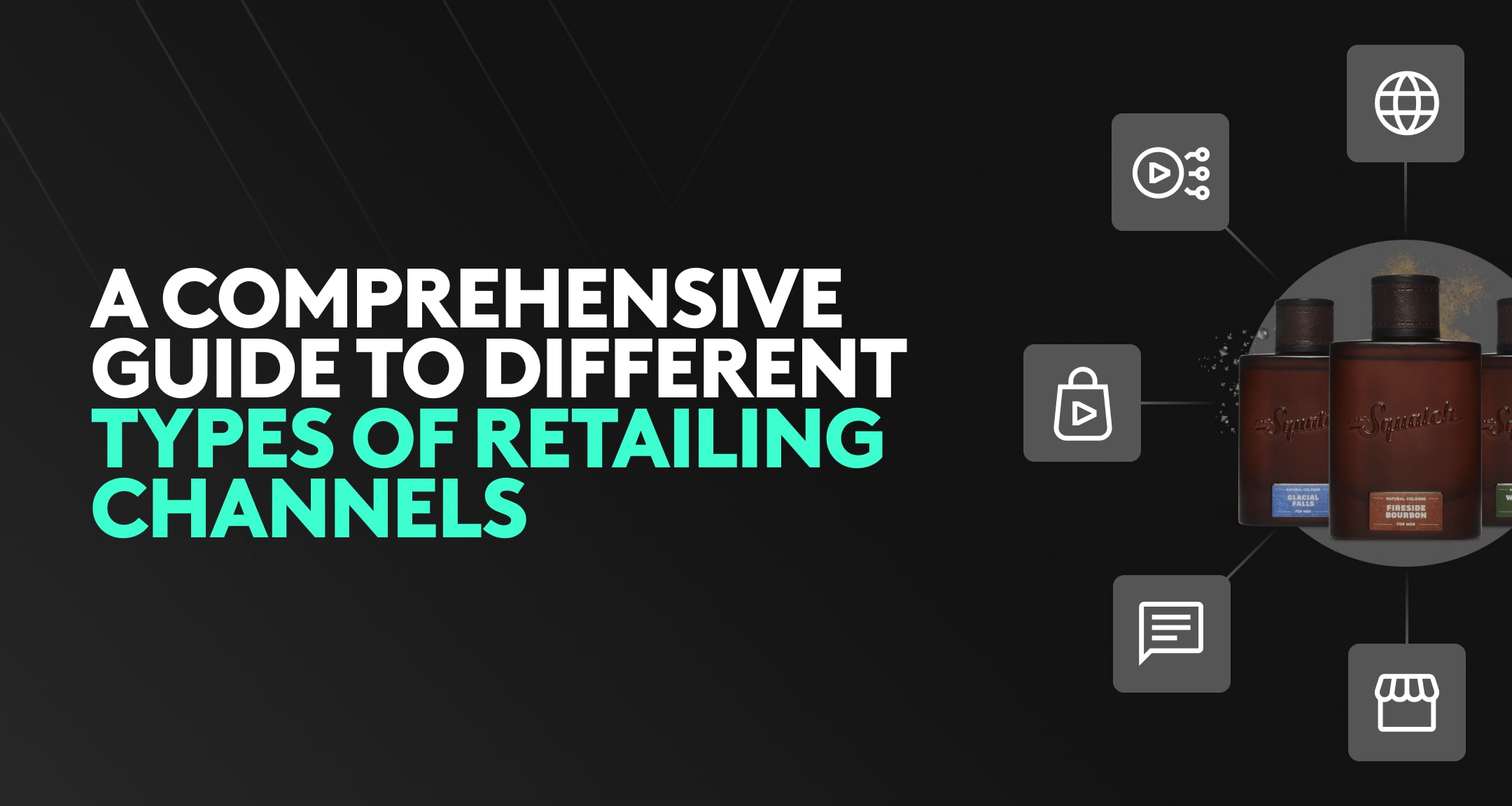 Ever purchased from a brand's Shopify store and a few days later bought from that same brand on Amazon?
Or maybe their offline store?
Customers shop across different channels all the time, which is why eCommerce stores need to realize the importance of multi-channel retailing.
To help you out, we've put together a list of different retailing channels. By the end of this article, you'll have a clear understanding of which channels will work best for your brand and how to expand your reach to new customers.
Let's dive in.
The different types of retailing channels you should know about
Following are the eight retailing channels you should know about:
1. Online marketplaces
Let's start with the most common retail channel - online marketplace websites.
An online marketplace is a virtual space that allows businesses to sell products or services online and customers to browse and purchase those products or services. Some popular examples include Amazon, eBay, Etsy, Craigslist, etc.
Compared to physical stores, online marketplaces offer the following:
a wider range of products and services

a larger customer base

lower costs
Online marketplaces can be an excellent way for retailers to expand their reach and tap into a more extensive customer base.
eCommerce websites also make it a breeze for businesses to fulfill orders, with many offering integrated shipping and handling services, saving time and resources for sellers.
For example, Amazon's FBA program handles storage, packing, and shipping for sellers, freeing them up to focus on growing their business.
However, online marketplaces can come with additional costs, such as listing products, storage, and fulfillment fees. These costs can eat into businesses' profits, so it's important to consider them carefully before committing.
You might also face challenges such as limited brand control, algorithm dependence, and intense competition.
According to a report by Statista, the number of digital buyers worldwide has increased from 1.66 billion in 2017 to a staggering 2.14 billion in 2021.
This means that you will have to compete aggressively for customers, adding an element of risk.
If I had to boil it down to one thing, the biggest factor that could make or break your success is how you differentiate yourself and offer unique, high-quality products and services that appeal to your target audience.
Let's have a look at some best practices to leverage online marketplaces as a retailing channel:
1. Know your target audience: Understand the customers you want to attract and choose marketplaces that align with your target audience.
2. Optimize your product listings: Ensure your product listings are accurate, detailed, and eye-catching.
3. Manage your inventory: Have a robust inventory management strategy so you are always up-to-date with your product inventory.
4. Monitor your pricing: Keep an eye on your competitors' prices, and adjust your prices as needed to stay competitive.
5. Provide excellent customer service: Respond promptly to customer inquiries and concerns, and handle returns and issues effectively.
6. Utilize marketplace analytics: Track your sales, conversion rate, and other key metrics to measure your success in the marketplace and make data-driven decisions.
Having online marketplaces as a retailing channel can help you reach more customers and increase sales. But it's important to have a solid understanding of how the entire ecosystem works before jumping in.
2. Social media channels
445 million people use Pinterest monthly to find ideas and inspire their next purchase.
Isn't it surprising?
Social media channels have become the primary source for many people to find their favorite brands and products online.
You can reach out to your customers, engage with them personally, and build a strong relationship that will help you sell more products.
Here's a look at how consumers interact with brands on social media: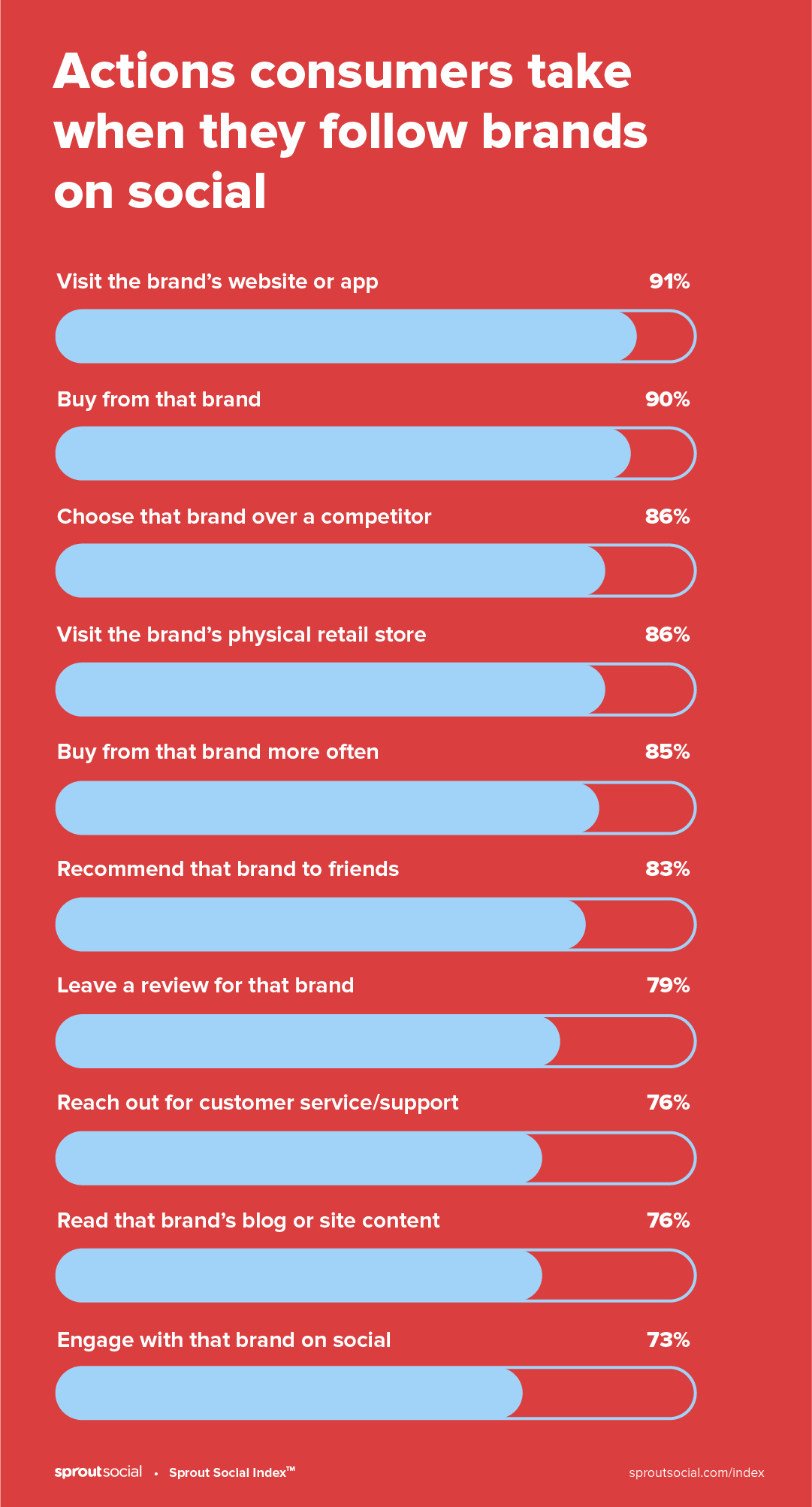 Source: SproutSocial
91% of consumers check out the brand's website or app after following them on social channels, and 86% will choose that brand over others.
It clearly shows that having a strong social media presence can result in a massive increase in conversions. The better your social media strategy is, the more likely you are to drive traffic and sales.
Let me give you an example.
GoPro uses social media channels like Instagram, Facebook, and YouTube to showcase user-generated content, expand its reach, and create buzz around new product launches using influencers and brand ambassadors.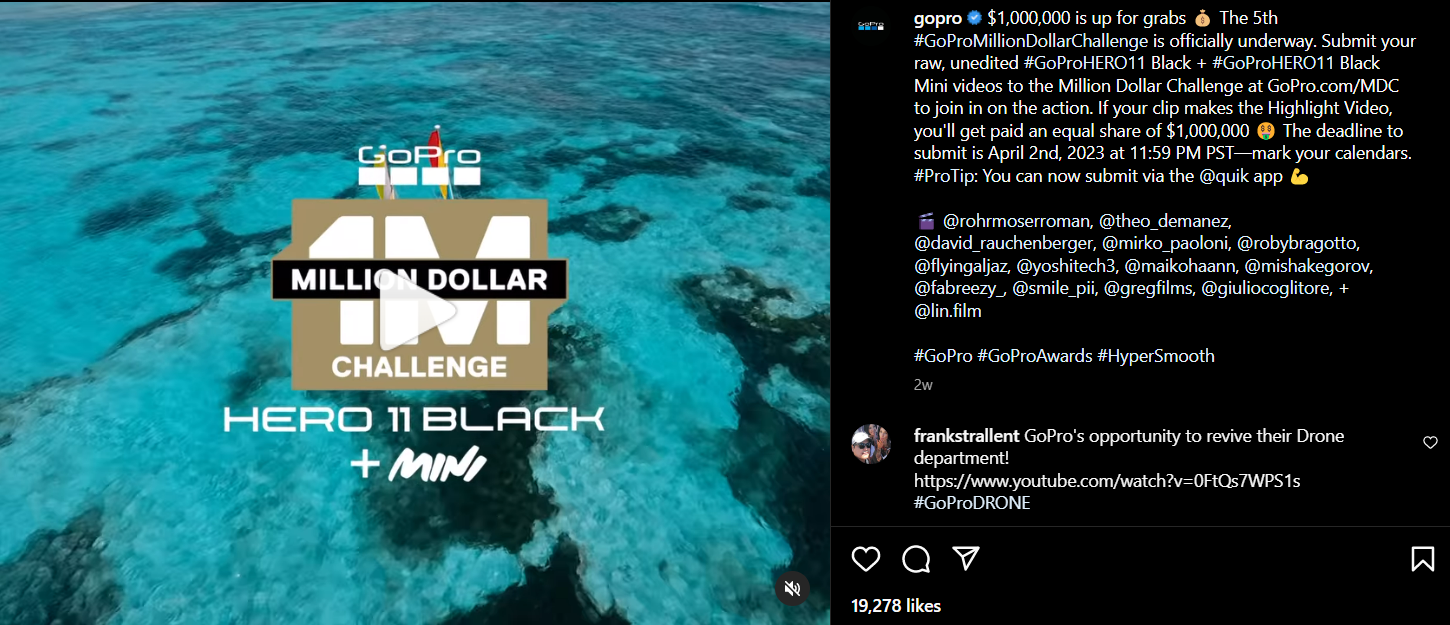 Source: GoPro
It's not surprising that GoPro's social media efforts significantly contributed to its growth. By 2019, GoPro's revenue had increased to $1.19 billion, and its social media reach had grown to over 30 million followers.
Overall, GoPro's use of social media has helped them establish itself as a leading brand in the action camera market.
This is just one example.
Many other brands are leveraging social media as a marketing tool to increase their revenue and visibility.
Hence, businesses must develop an effective strategy for leveraging social media to stay competitive.
3. Online stores
With your online shop, you can sell directly to customers without a go-between. Your customers can navigate directly to your online store and purchase from there without interacting with other sales channels.
For example, Tesla sells direct to consumers through its online store.
A digital storefront is critical for brands as consumers are more comfortable buying products online.
According to a report by Tidio, global eCommerce sales worldwide have increased from $2.38 billion in 2017 to a staggering $5.5 billion in 2022. It is likely to grow to $7.3 billion by 2025.
Despite this growing demand, online stores still need to provide the shopping experience customers expect. If you are also struggling with this, here is a solution — and it's called shoppable videos.
Shoppable videos allow users to click through and purchase items directly from the video itself. By embedding shoppable videos in your eCommerce site, you can provide a more enjoyable shopping experience for your customers.
Here are some key benefits of adding shoppable videos to your website:
1. Increased engagement: When users are able to interact with the products, they're more likely to consider them while buying.

2. Convenience: Shoppable videos make it easy for consumers to purchase products as they don't need to navigate to another website or search for the product elsewhere.

3. Better product presentation: Shoppable videos provide a more engaging and visual way to showcase products compared to traditional product listings that only offer static images.

4. Increased sales: By making the purchasing process easier and more engaging, shoppable videos will help increase sales and drive revenue for your business.

5. Better data insights: Shoppable videos allow businesses to gather data on consumer behavior and preferences, which can be used to optimize marketing strategies and improve the shopping experience for consumers.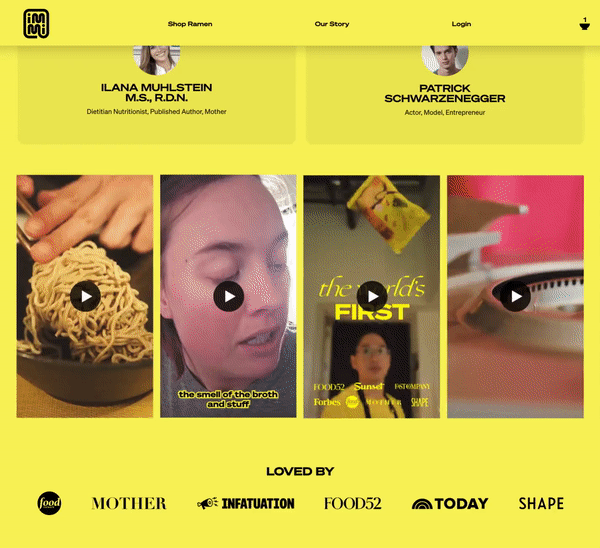 With Videowise, you can easily add shoppable videos to any page of your website and leverage features such as multiple video components on any page, automated product-video matching, and a mobile-first swipe-up experience.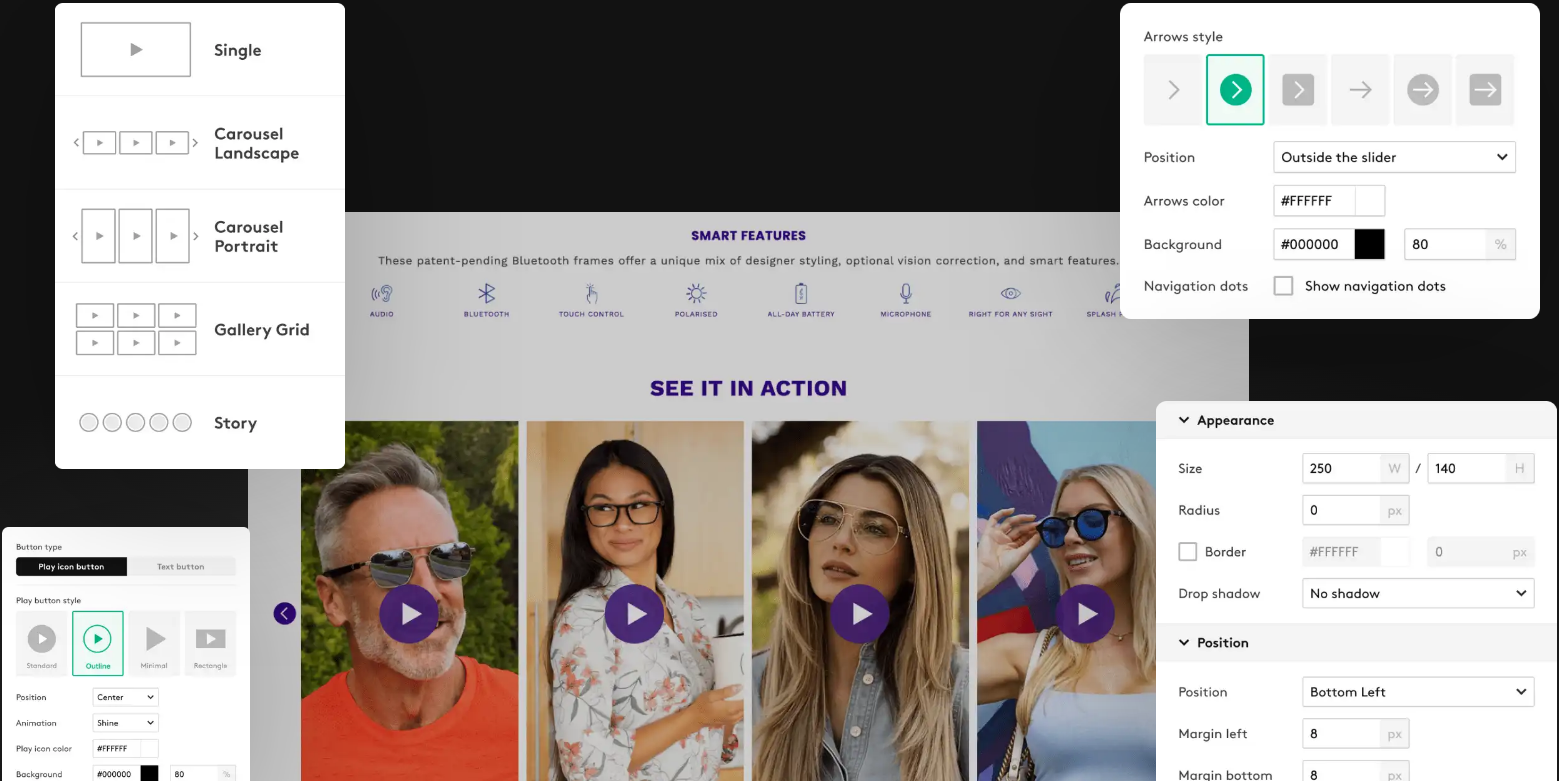 Book a demo with Videowise to skyrocket your user engagement!
Apart from shoppable videos, here are some other best practices that you can follow to grow your online store:
1. Conduct market research: Even if you have owned an online store for a long time, you should continue your market research to be on top of what products are in demand and what your target audience is looking for. It can help guide your product selection and marketing efforts.
2. Implement upsell and cross-sell strategies: Encourage customers to buy additional items by offering related products during checkout or through targeted email campaigns.
3. Invest in email automation: Automated email campaigns can help build customer relationships and drive repeat business. You can set up welcome emails, abandoned cart reminders, and post-purchase follow-ups — the options are endless.
4. Leverage user-generated content: Encourage customers to share their experiences with your products through social media, product reviews, and videos. You can then easily embed those videos on your website through Videowise. Even if the users don't directly share their videos with you, Videowise can help you surface positive video reviews and make them shoppable on your site.
5. Offer a rewards program: Consider implementing a rewards program to incentivize repeat purchases and increase customer loyalty.
6. Provide fast and reliable shipping: Deliver your products as quickly and reliably as possible. You can also offer free shipping to customers who make purchases of a certain size or order frequently from you.
7. Continuously analyze and improve your online store: Regularly analyze the performance of your online store, including page load time and conversion rates, and make improvements as necessary.
By providing the best customer experience possible, you can increase sales and build a loyal customer base - all without spending a fortune.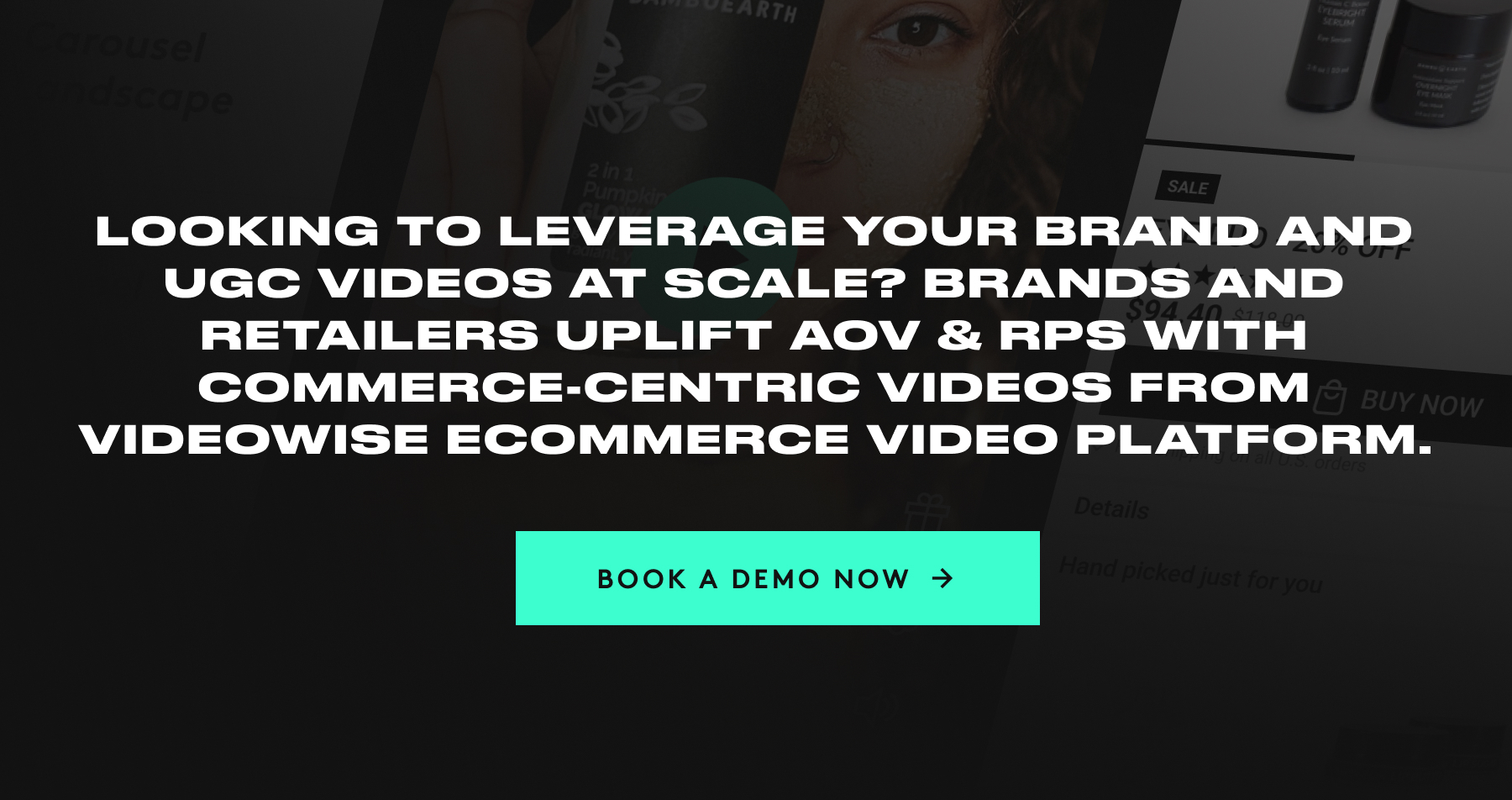 4. Marketplace advertising
Marketplace advertising refers to the form of advertising that takes place on the seller's platform, such as Amazon or eBay.
You may have experienced it before with Amazon and its "Sponsored Products" and "Product Ads."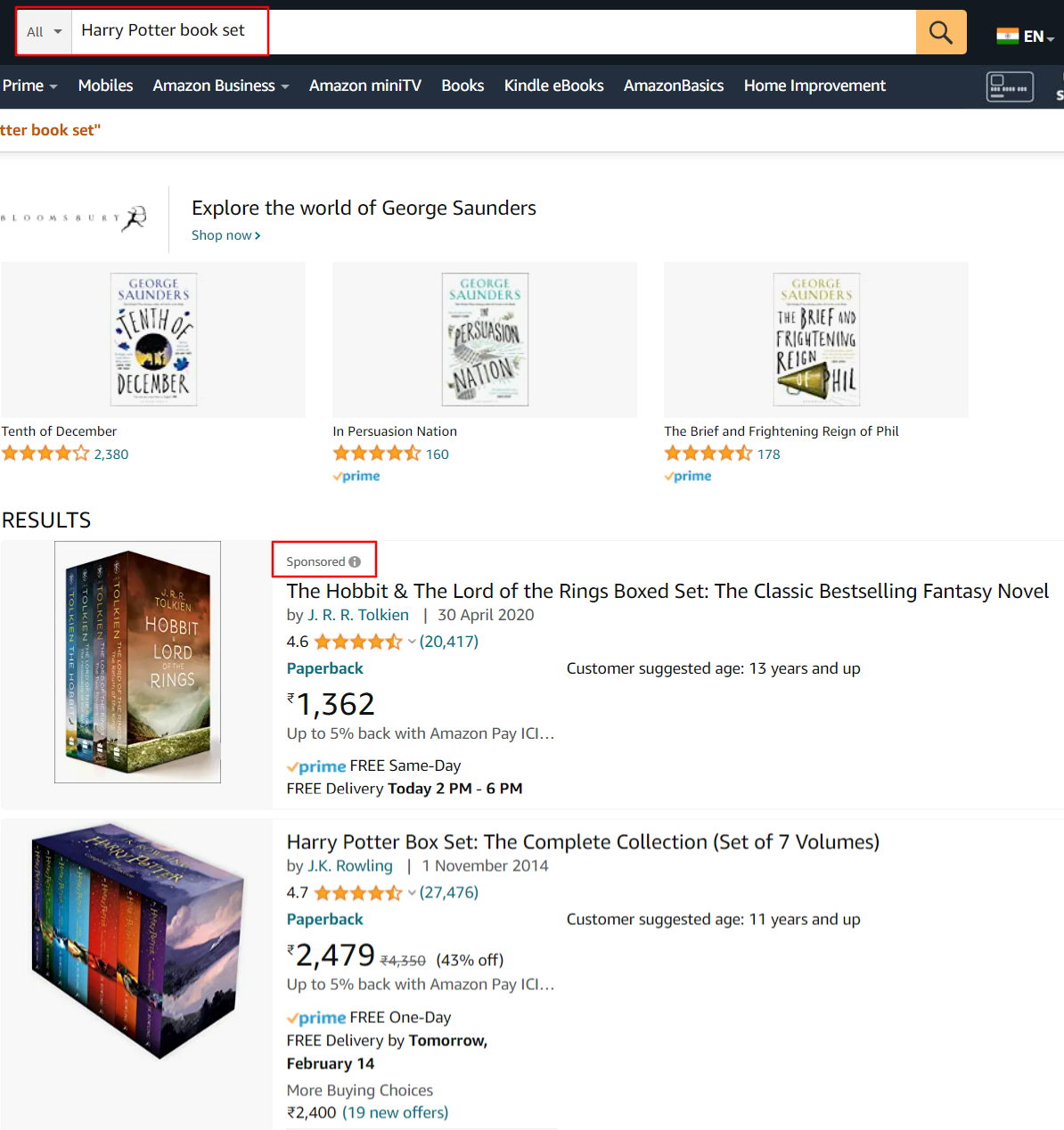 You might be surprised that 35% of Amazon shoppers said they clicked on the first product featured on a search page, and 70% said they never clicked past the first page of search results.
If your business relies heavily on online marketplaces, then take a step further and invest in marketplace advertising. You'll be able to target your customers in a highly-specific manner and increase your sales without much effort.
A simple yet effective way to enter marketplace advertising is through the Facebook marketplace.
Facebook marketplace is a great way to reach your audience and get product feedback. You can use this platform to expand your audience and generate leads.
It even has an ad manager that allows you to target users based on their location, interests, age, and more.
According to a Facebook IQ study, advertisers who used placement optimization campaigns experienced 4.1% more reach and a 5.2% lower cost per impression than those who did not use such strategies—meaning their ads reached more people at a lower cost.
This means that these optimized ads were more effective at driving users to take action—whether it was for an online sale or just to get more information about the product or service being offered.
Now let's look at some advantages of marketplace advertising for retailers.
Increased exposure to a large and engaged audience

Access to advanced targeting and analytics tools

Lower advertising costs

Increased credibility and trust

Higher conversion rates
Overall, marketplace advertising can be a powerful tool for eCommerce store owners looking to increase their reach, drive more sales, and maximize their advertising ROI.
5. Comparison shopping engines
Google Shopping, Shopzilla, and PriceGrabber are some of the most popular comparison shopping engines out there.
These sites provide consumers with access to information about products, enabling them to make better and faster buying decisions -- while helping you reach more consumers by increasing the chances that your products will be viewed.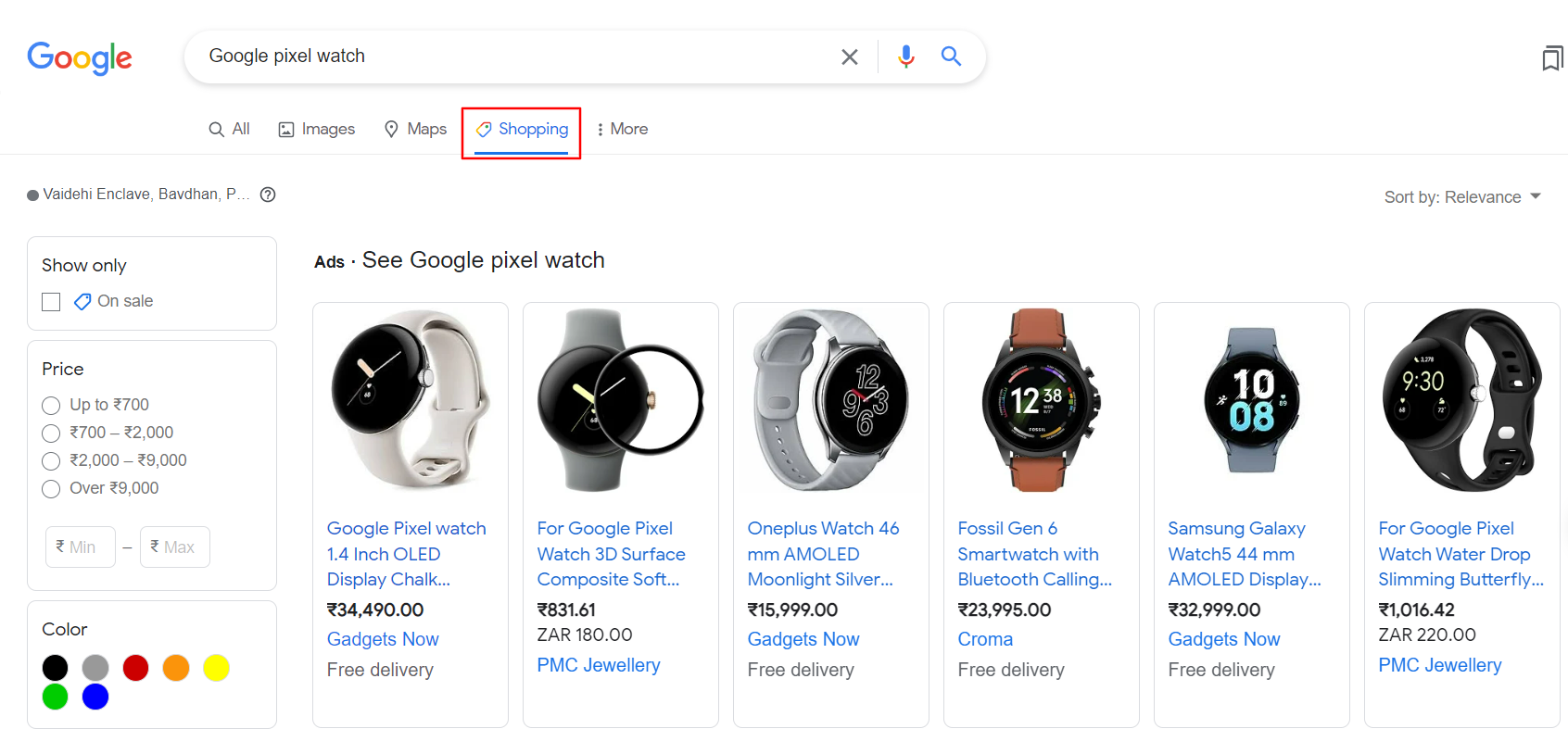 However, CSEs can be proven a double-edged sword for you because they can also increase competition.
So, to win there, make your product listings more compelling than your competitors.
Here are some tips that Google suggests to improve your CSE performance:
Prioritize your most valuable products and provide complete, high-quality data for those products.

Use product titles to highlight essential details such as brand name, age group, gender, size, color, size type, or personalization options, and put key details at the front of the title.

Use high-quality images that provide relevant information about your product and avoid placeholder or promotional photos.

Provide up-to-date information about your products, including price, availability, tax, and shipping, and use detailed product type values and GTIN attributes whenever possible.

Match your product data to your landing pages, including product titles, descriptions, variants, and color names, to meet customer expectations.
Whether you are focusing on Google Shopping or any other CSE, keeping your product data consistent across all channels will help you distinguish yourself from competitors and increase the likelihood of showing up in the right place, at the right time, with the right information for customers.
Now that you know how to optimize your product data, let's quickly look at the benefits you can reap.
1. Reach: Listing your products on multiple platforms can attract more potential customers to your store, leading to more traffic and sales.
2. Conversion: By providing customers with information on prices and features of similar products, you can help them make more informed purchasing decisions. This will increase your chances of converting a prospect into a paying customer.
3. Customer acquisition: By tapping into a large audience of potential customers, you can reach people who may have yet to be aware of your brand. Additionally, many comparison shopping engines offer customer reviews and ratings, which can help build trust and credibility with potential customers.
Overall, comparison shopping engines can play an important role in your eCommerce strategy. By helping to increase sales and acquire new customers, these platforms can provide a solid return on investment for your business, just like they did for Puma.
Puma saw an +500% YoY growth in online sales across Europe with its smart Google shopping campaigns strategy.
Puma worked with Google Shopping experts to create a new strategy that made their ads simpler and smarter and automatically adjust them to market changes. As a result, they saw a spike in revenue by 526%, and their ROAS improved by 134%.
Even if you are already using a comparison shopping engine, optimizing your campaign structure and bid strategy can significantly impact your online sales performance.
6. Review sites
How many times do you visit a restaurant without reading its reviews?
Not many, right?
A majority of us check out reviews before making a purchase.
Why?
Because we want to know what other people experienced about a product or service before deciding whether or not to buy it ourselves.
According to PowerReviews, "In 2021, a whopping 99.9% of customers said they read reviews when shopping online."
It's not surprising!
We all want to know whether or not the product or service is worth our time and money. And reviews are the best way to find that.
There are plenty of places customers can go to get information about your business, one of which is review sites.
Review sites allow users to publish reviews and ratings of products, services, and businesses.
They are also known as 'user-generated content' sites.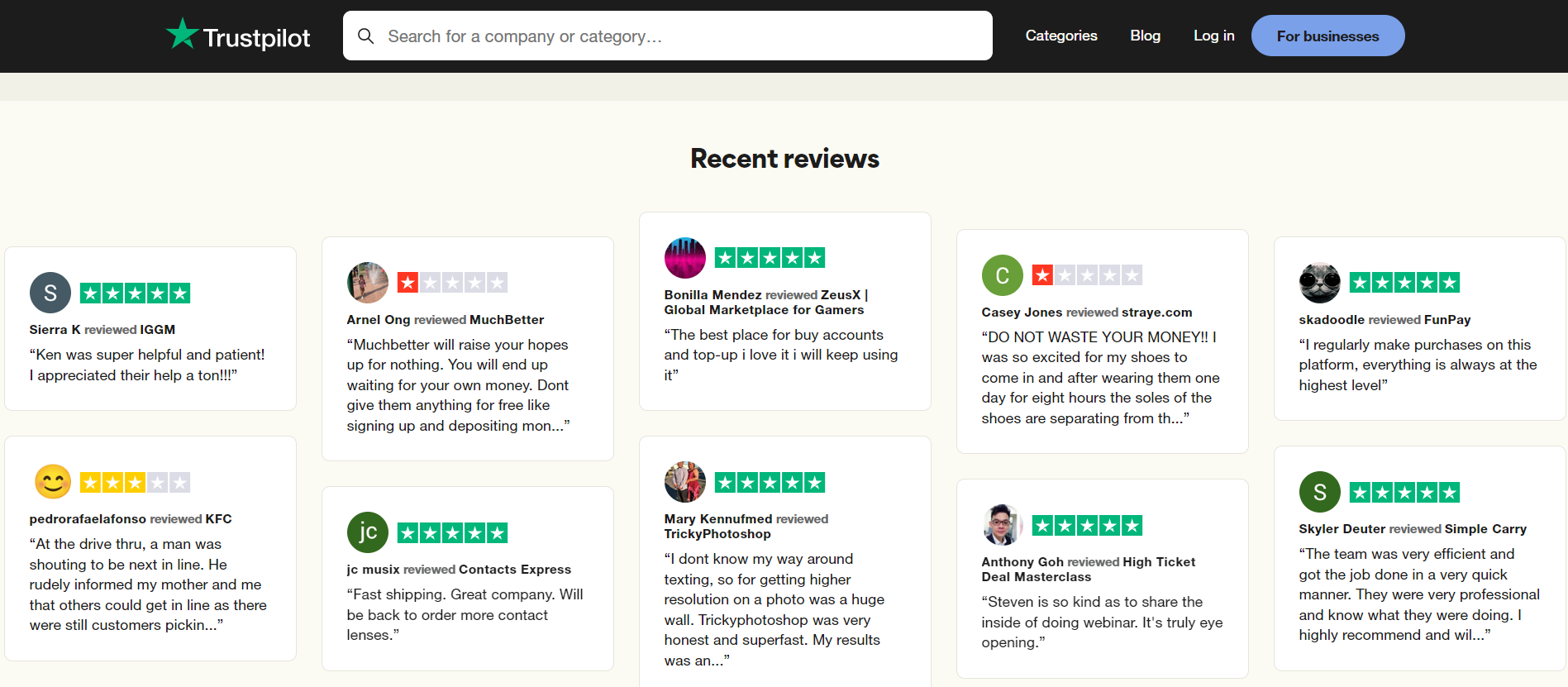 Review sites are powerful because they give your business access to a huge audience of potential customers at no cost (unless you decide to pay for advertising).
If chosen carefully, review sites can:
Increase your conversion rates by showcasing positive reviews prominently on your website and addressing any negative feedback quickly and professionally.

Enhance customer engagement by monitoring and responding to feedback on review sites and providing personalized recommendations.

Give valuable customer insights that can inform your product development, marketing strategies, and customer service.

Establish your competitive advantage by differentiating your store from competitors, establishing brand loyalty, and attracting new customers.
Here are some popular review sites that can help you get started:
So, by engaging with review sites and actively encouraging customers to leave reviews, you can improve your online reputation and increase your chances of getting more customers through your doors.
7. Wholesale eCommerce
Wholesale eCommerce is becoming an increasingly popular retailing channel. This is where brands sell their products in bulk to other businesses or individuals, usually at discounted prices.
It involves B2B transactions through an eCommerce platform, where customers can easily browse products, place orders, and make payments.
According to Statista, global B2B eCommerce sales are projected to reach $8.14 billion by 2026.
This growth is the combination of the increasing number of businesses embracing online purchasing and the rise of eCommerce platforms that make it easier for them to connect and transact with each other.
One example of a wholesale eCommerce platform is Alibaba.com, which connects buyers and sellers worldwide. Alibaba.com offers a range of services, such as product listings, transaction management, and logistics support, to facilitate the wholesale eCommerce process.
Wholesale eCommerce can be a highly effective strategy for eCommerce store owners looking to expand their customer base and increase sales.
By offering products in bulk at discounted prices, you can attract new B2B customers and create a new revenue stream for your business.
Here are a few examples of eCommerce businesses that have successfully implemented wholesale eCommerce:
A coffee equipment supplier Prima Coffee offers bulk discounts on its coffee equipment for other businesses.

A heritage brand, Filson, has been manufacturing outdoor gear since 1897. The company uses its website to sell directly to consumers and wholesale to other retailers and brands.
Wholesale eCommerce offers a variety of benefits that can help you increase your sales.
Diversified revenue stream

Increased sales volume

Improved cash flow

Expansion of customer base

Enhanced brand visibility
Wholesale eCommerce can be a lucrative channel for brands looking to expand their customer base and increase sales.
You can build an effective wholesale business by researching your target market, developing a pricing strategy, and choosing the right eCommerce platform.
8. Brick-and-mortar stores
Saved it for the last!
The oldest, traditional way of doing single channel marketing: brick-and-mortar store.
If you already own a physical retail store, you have a valuable asset to grow your eCommerce business.
However, if you are running your retail store in silos—without connecting it to your online store or other channels—you are missing out on opportunities.
84% of consumers feel retailers should do more to integrate online & offline channels.
Let's have a look at the benefits you can offer to customers with your physical and online store combined:
Convenience

More options

Personalization

Enhanced customer service
Even with online sales growing rapidly, offline retail stores still play a crucial role for many businesses. By integrating online and offline channels, you can tap into the strengths of both channels and provide a more comprehensive and convenient experience for customers.
Let's look at how businesses implement multichannel retailing to deliver excellent service.
1. Starbucks: Starbucks has integrated its online and offline channels in several ways. For example, customers can place orders through the Starbucks mobile app and then pick up their drinks at a local store or use the app to order delivery to their homes or office. Starbucks also offers a rewards program that works across both online and offline channels, providing a unified experience for customers.

2. Amazon Go: Amazon Go is a chain of convenience stores that uses advanced technology to create a seamless shopping experience. Customers can enter the store using the Amazon Go app, which tracks their purchases as they browse. When they've finished shopping, customers can simply walk out of the store, and their purchases are automatically charged to their Amazon account.

3. Decathlon: Decathlon is a sporting goods retailer with a smooth multichannel strategy. For example, customers can purchase products online and pick them up from physical stores or return online purchases in-store. Decathlon also offers a loyalty program that works across offline and online channels, providing a unified experience for customers. In addition, Decathlon has created a mobile app that provides customers with personalized recommendations, in-store navigation, and product information.
To offer customers a seamless, personalized experience, focus on creating a robust multi-channel retailing strategy.
You can also leverage technology to streamline operations and analyze data to gain insights into customer behavior and preferences. Doing so will make it easier for you to differentiate yourself from competitors, increase sales, and build long-term customer loyalty.
Get your multichannel strategy to the next level
Now that you know all the sales channels you can use to reach more people and grow your business, all it is left is to build a cohesive multichannel retail strategy for your brand.
Here are some tips to help you create one:
Decide retail channels that you find the best fit for your brand and completely align with your target audiences, such as eCommerce marketplaces, social channels, and your online store.

Maintain a consistent brand image and experience for your customers, no matter which channels they use.

Create and maintain your product information across all channels. From pricing to product description, optimize every little detail of your product specific to each sales channel.

Use cross-channel marketing to provide a smooth shopping experience to your customers.

Take your customer buyer journey into consideration and track high-value metrics to identify which sales channels are attracting customers the most and driving revenue for you.
A cohesive, multichannel strategy will surely help you reach more customers, boost sales, and grow your business.
Finally, the best way to ensure your multichannel strategy is successful is to make it easy and quick for your customers to find and buy the products they want. And this is where shoppable videos can help.
Book a demo with Videowise today to learn everything about shoppable videos!
Happy retailing!

Soniya Jain
With over 6 years of experience, Soniya is a passionate B2B SaaS Writer and Strategist specializing in creating PLG-led How-to content. When she is not writing, you can find her exploring new destinations.
Keep up with the latest trends in eCommerce video experiences