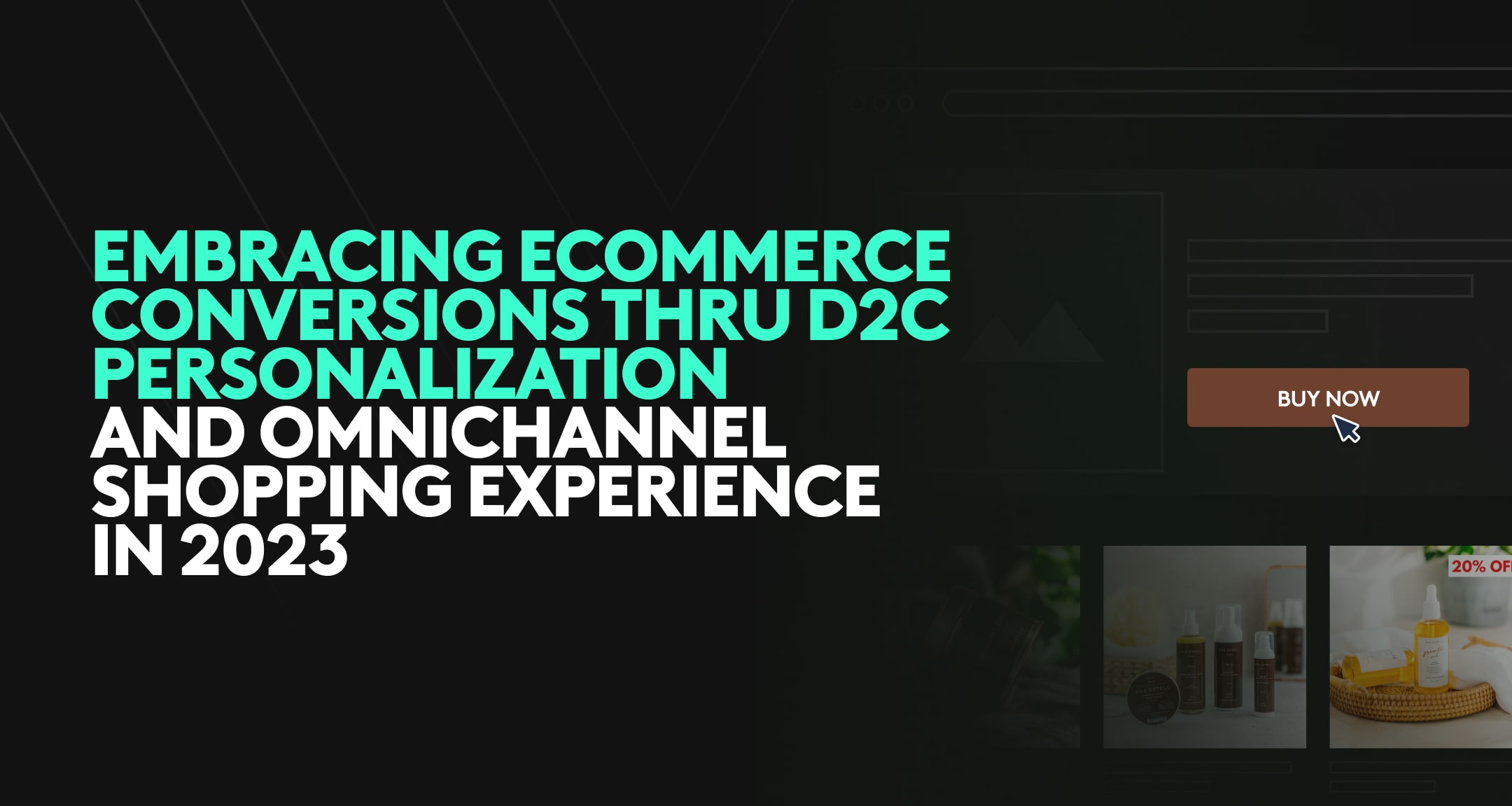 Videowise is the leading eCommerce Video Platform. Our team of experts has helped eCommerce businesses increase their conversions by up to 21% and 10% uplift in RPS (Revenue per session) using shoppable and interactive video experiences. Creating an immersive shopping experience keeps shoppers engaged for longer and influences them to buy more.
Our mission is to help brands and retailers complete their omnichannel video shopping potential with top-notch video features and analytics. Our vision is to be the go-to choice for eCommerce stores looking to increase their RPS and AOV.
---
The D2C (direct-to-consumer) eCommerce model has revolutionized retail.
The D2C (direct-to-consumer) eCommerce model has revolutionized retail, with brands and customers reaping the rewards of unprecedented access, convenience and control. D2C models offer greater control over the customer experience than traditional retail channels, from product delivery to pricing and marketing activities. With D2C, brands can create more meaningful relationships with their customers through direct engagement, allowing them to respond better to changing market trends and consumer preferences.
However, D2C has its challenges; as well as keeping up with technological advancements to stay competitive within the industry, numerous macroeconomic headwinds come into play. Brands must be agile enough to adapt their D2C strategies to changing customer behaviors, trends and macroeconomic conditions. Nevertheless, D2C is a powerful brand strategy to build customer relationships that traditional retail channels cannot provide.
Ultimately, D2C empowers brands to take control of their destiny and create unique and personalized experiences like shoppable videos that meet the needs of their customers in creative ways. Now more than ever is the perfect time for brands to launch or solidify D2C strategies and positively move towards the omnichannel shopping reality.
This is where Avex, Shopify and Videowise partnered to create The Future Is Now eBook – a comprehensive guide that will help brands gain valuable insights into what lies ahead in 2023 regarding eCommerce trends. In this eBook, you'll find insightful quotes from industry experts on topics ranging from personalization techniques to actionable checklists that will set you up for success in 2023 and beyond!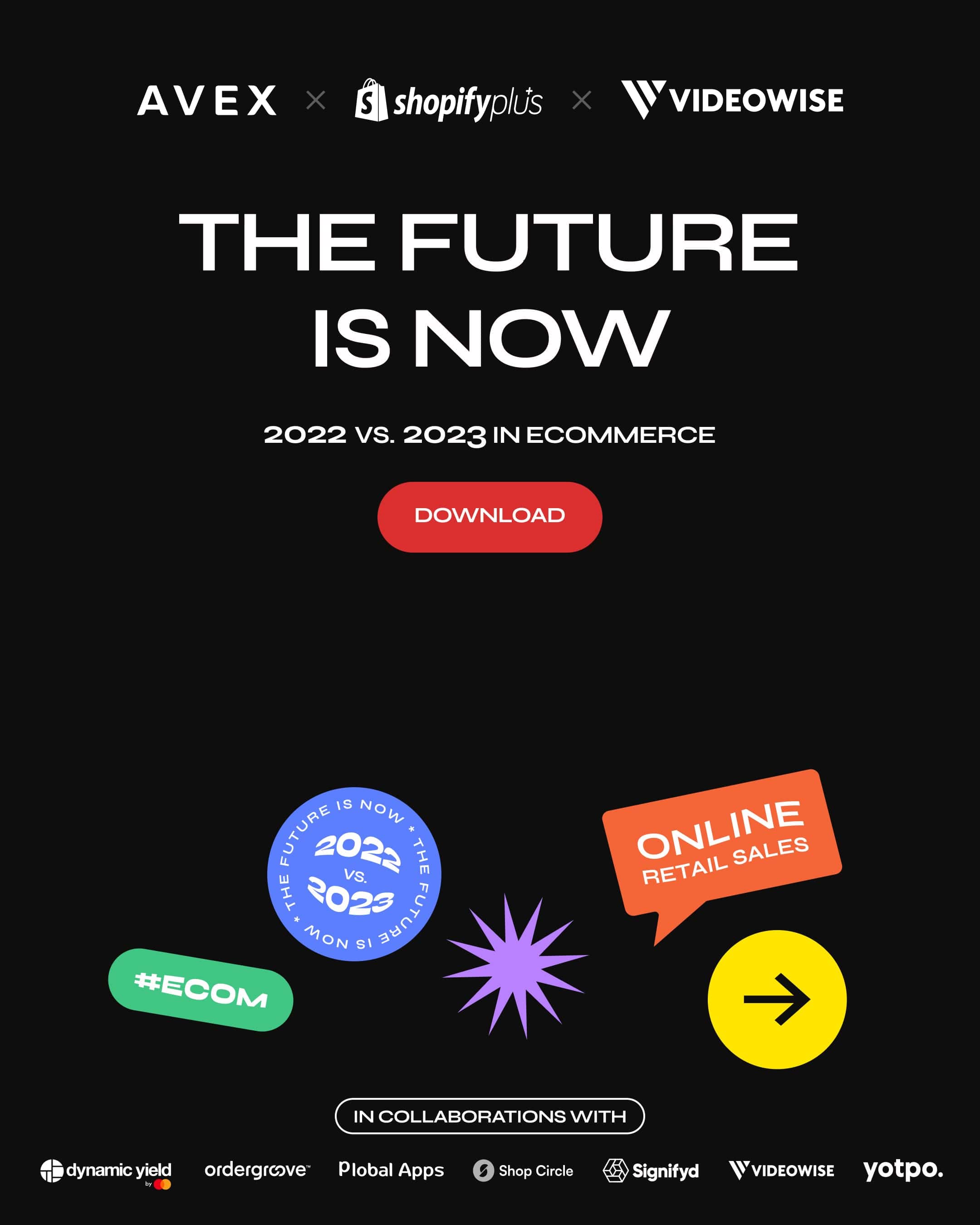 The Future is Now eBook highlights:
Statistics-backed eCommerce trends making their way to 2023!
Highlights of partners' new offerings that pave innovative ways for merchants to excel in the rapidly changing landscape. The rise of Shoppable Videos.
Insightful quotes from eCommerce Industry Leaders
An actionable guide to personalization
A concluding checklist to maintain success in 2023 and beyond
---
The Future is Now eBook can be helpful if you are experiencing the following:
Difficulty improving the eCommerce store's conversion rates: Many online stores struggle to convert visitors into paying customers, leading to missed opportunities and lost sales.


Limited time and resources: It can be difficult for businesses to devote the necessary time and resources to make meaningful changes that significantly improve their conversion rate.


Poor user experience design and store speed: Without a well-designed website, customers may be unable to find the products they need or may experience a clunky checkout process that causes them to abandon their purchase.


Lack of understanding of customer behavior: Businesses often have difficulty understanding why customers are not buying more products or services from their online store, leading them to miss out on potential sources of revenue.


Poor product discovery: Customers may have difficulty finding the products they need due to a lack of navigation structure or poor categorization of items on the website.
Would you like to learn more about how we can help you increase your eCommerce store's conversion rates? If so, this is a well-rounded piece you don't want to miss.

Download your free copy now!
Vitaliy Verbitskiy
Helping eCommerce brands increase revenue with Interactive and Shoppable videos. Omnichannel shopping experiences for Brands and Retailers. Videowise | PLG/MLG/SLG motion adept | SaaS/DTC CE | Certified marketer with 7+ years of experience | #Reforge
Keep up with the latest trends in eCommerce video experiences