Creating product videos that make your customers swipe their credit cards is no easy feat. It takes a lot of work. And it's even harder if you have hundreds of products available in your store - in that case, creating custom product videos for every single product can turn out to be tedious and time-consuming.
Luckily, we live in the 21st century - in which we have a wide range of AI tools to help you create jaw-breaking product videos. From creating video outlines to writing product video scripts to speeding up the video production process, AI can significantly streamline and enhance different aspects of the product video production process.
In this blog post, we will explore how using product videos can help rebuild trust with consumers and boost online sales.
But first, let's understand why product videos are essential.
Why are product videos essential?
According to research, 64% of consumers are more likely to purchase a product online after watching a video about it. A product video can be a powerful tool to increase your conversion rate, as it can help demonstrate the features, benefits, and advantages of a product in a more engaging way than text and images alone. A product video can also help build trust and credibility, as customers get to see the product in action and hear directly from the company.
Add the element of interactivity to the mix by making your product videos shoppable, and you have a killer combination.
RIFRUF, an eCommerce store that sells cute designer dog accessories, added $50k revenue by implementing shoppable videos on their website.
Take a look at their shoppable videos in action:
For inspiration, we have curated a list of 27 killer product video examples that you can explore for valuable insights.
That being said, let's dive into how you can use AI to create effective product videos.
How to create killer product videos using AI
Follow these steps to learn how to use AI to create effective product videos:
Step 1 - Identify your target audience
Let's say you're trying to create a product video for a DIY terrarium kit.
In case you don't know, a terrarium kit is a set of materials used to create an enclosed ecosystem in a container, such as a glass jar or bowl.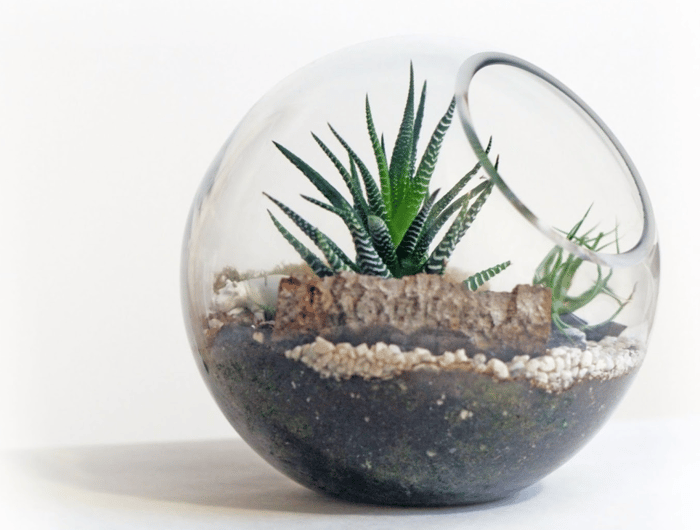 A practical way to quickly gain insights about your target audience is to read reviews of a similar product on Amazon.
Here are some reviews I found on one of the Terrarium kits, which can help us work out what is important to the customers.
There are many other ways to research your target audience, such as following relevant trends on social media, staying informed on your competitors' strategies, or interviewing past customers. The key is to gather real customer feedback, so you don't just rely on AI when producing the product description and video.
So, for our terrarium kit, our target audience are adults who love DIY and nature. We can see from their comments that a DIY terrarium kit can be a great idea for a gift, so we can market it as such.
Step 2 - Generate video outline with the help of AI
After identifying your target audience, the next step is to create an outline for your video script.
Here's an interesting article I read on Wordtune's blog that clearly explains how to smartly create an outline for your video script with the help of AI. The article comprises four crucial steps:
1. Start with defining your objectives.

2. Move on to writing your main and supporting ideas.

3. Research and organize relevant resources.

4. And finally, write and revise the outline using AI.
Having a clear structure in place will keep your video focused and ensure that you effectively communicate your message, without being veered in the wrong direction by the AI suggestion.
An outline will also help you plan the visuals you'll need and how you can transition between different scenes. By creating an organized and well-planned outline for your script, you can create a product video that captures the attention of your audience and effectively showcases the benefits of your product.
Step 3 - Write the product video script with AI
Once you have prepared your outline, it's time to start writing your script. While writing a product video script, make sure to incorporate sensory words and descriptive language to help create a vivid image that evokes emotion.
So for our terrarium example, we could write something like: "Immerse yourself in a world of lush, green foliage and vibrant colors, enclosed within a stunning glass globe. The earthy scent of fresh soil, the touch of cool glass, and the mesmerizing sight of sun rays filtering through the intricate layers of greenery are sure to captivate you".
This can help your viewers feel more connected to what you are describing. AI writing tools such as Wordtune can help flesh out simple sentences and add descriptive language, to help with this.
Step 4 - Edit and review the script with AI
After finalizing your script, take some time to review it and make the necessary changes. You can also use Wordtune to verify your grammar and spelling and also to revise, condense, or extend any sentences that require further refinement.

Step 5 - Filming with AI
After finalizing your script, it's time to shoot your video.
Depending on your script, choose what kind of video you want to create.
This can be an animation, live action, stop-motion, or video slideshow.
Be sure to keep the video short and engaging, while also smartly highlighting the key features of your product and showing it in action.
Once you have created your video, the next step is to gather all of your assets and edit them together to create a cohesive product video that you can share with your audience.
To edit your video, you can use AI video editors like VEED and Descript to help make the filming and editing process smoother and more efficient.
While you can upload product videos to your product listings, the thing is - consumers are growing tired of the same old traditional eCommerce shopping experience. Simply uploading product videos to your eCommerce store is not a great way to increase conversions. You need to add the layer of interactivity to it - to deliver an immersive experience.
That's where shoppable videos come in.
Make your videos shoppable!
By making your product videos shoppable, you can increase your conversion rate, on-site engagement rate, time spent on website and more. Don't take our word for us.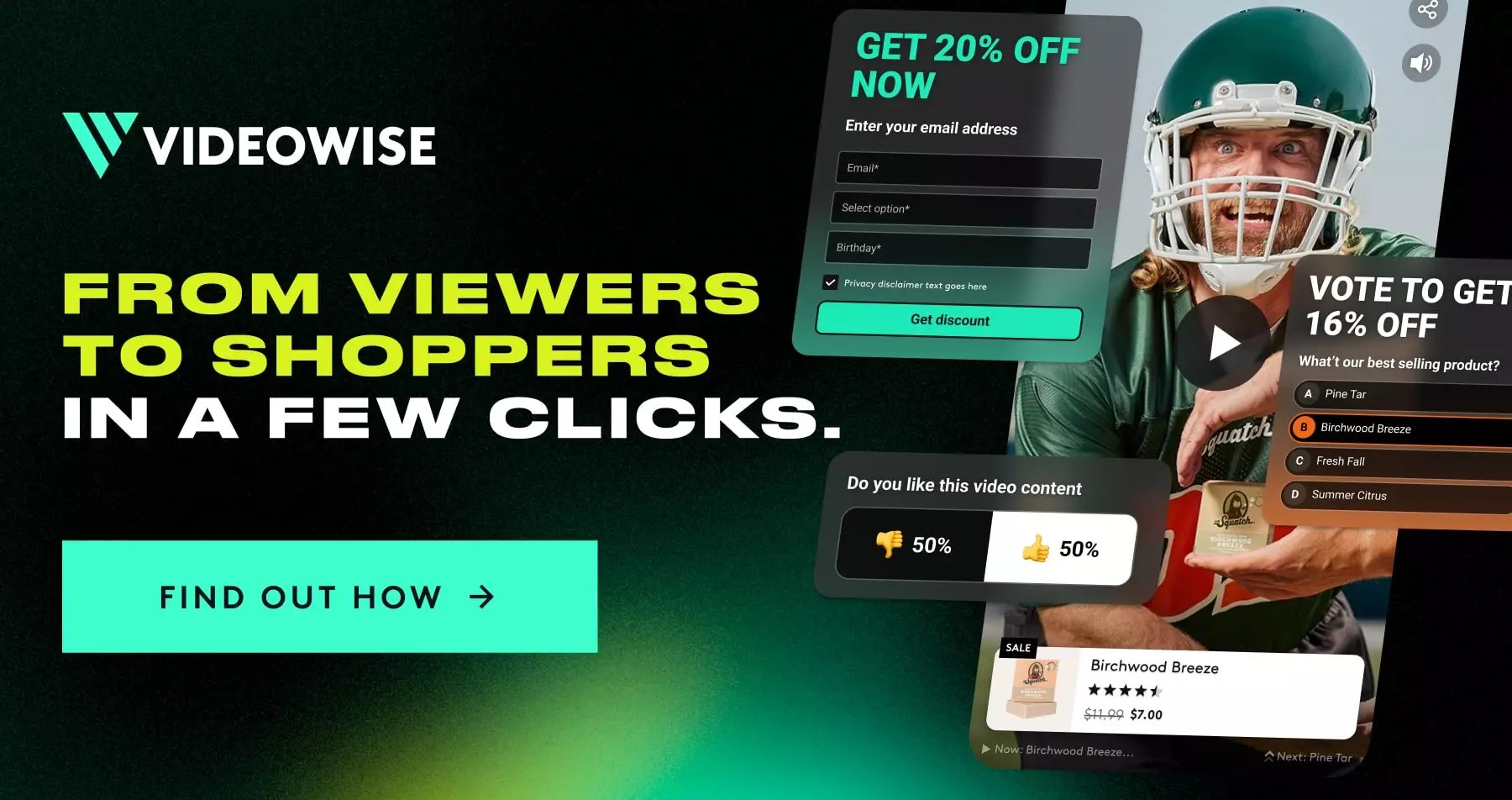 Busy Baby Mat, an eCommerce company that sells baby accessories, managed to increase their conversion rate by a staggering 11.49% with shoppable video content. Similarly, Artsabers generated more than one million dollars in revenue at a 25%+ conversion rate by implementing shoppable videos on their website.
Whether you want to implement them on your eCommerce store or embed them on your emails, Videowise is an eCommerce video platform that empowers eCommerce stores to deliver an immersive and interactive shopping experience with shoppable videos.
Keep up with the latest trends in eCommerce video experiences