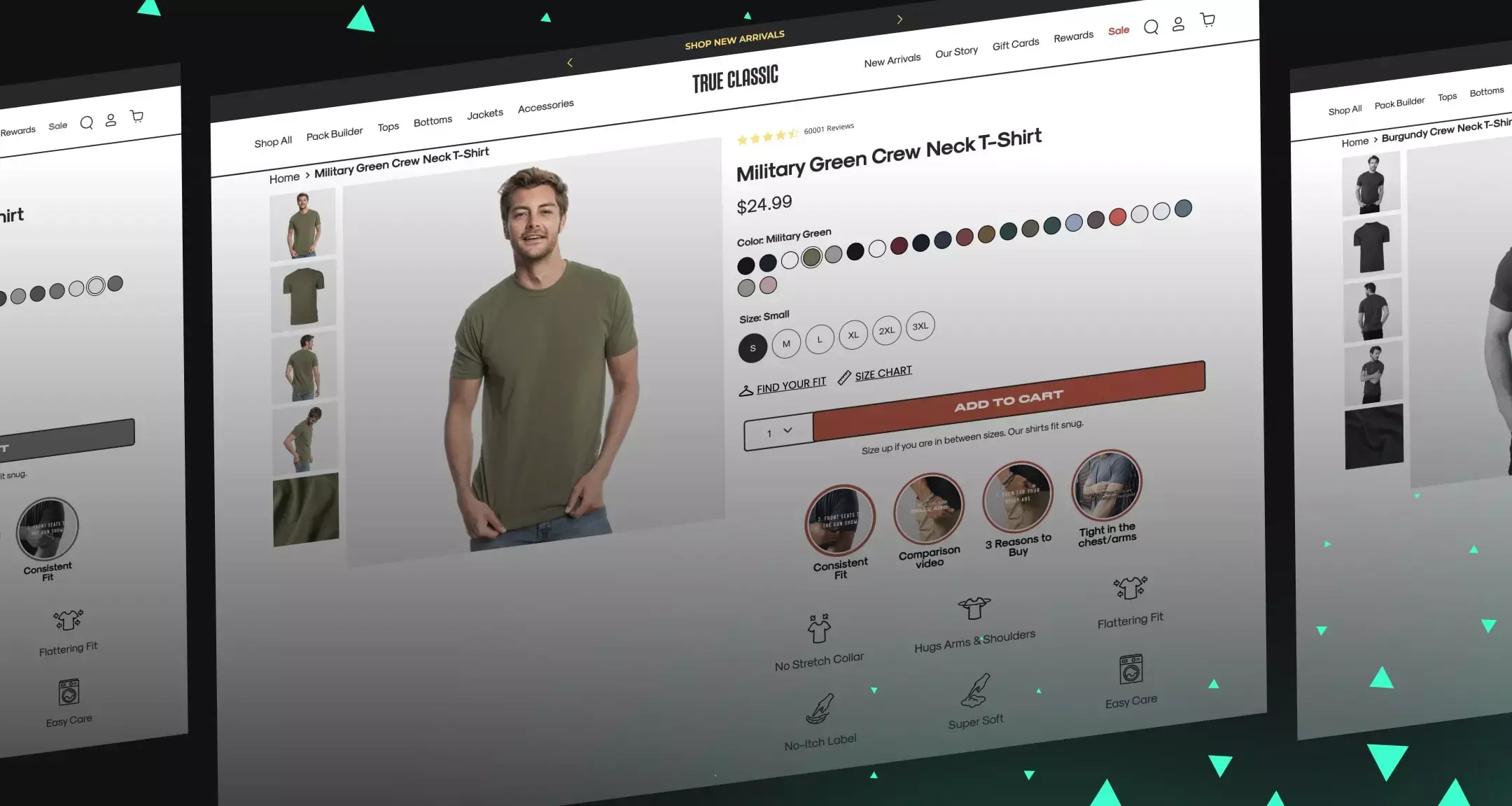 Hey there, entrepreneurs and CPG enthusiasts!
Are you seeking inspiration to take your eCommerce sales to the next level?
Hold on tight because we've got something special in store for you.
After scouring the internet for hours, we bring you a handpicked list of the 15 best eCommerce CPG websites that will inspire and motivate you.
We cover various categories, including beauty and personal care, food, and beverages, showcasing the diverse possibilities in the CPG eCommerce space.
From creative designs to killer on-site video marketing, these websites are sure to pique your interest and inspire you to create a fantastic store for your business.
It's time to explore the cream of the crop of CPG companies online.
Beardbrand is a US-based men's grooming company headquartered in Austin, Texas. They offer a range of products to help groom, style, and maintain beards, hair, skin, and mustaches.
The brand started as an educational blog in 2012, and since then, it has witnessed a meteoric rise in the men's grooming industry, known for its strong sense of community and its focus on quality products.
Bearbrand's Shopify store is an extension of that same ethos, allowing customers to browse various products and get inspired by the content they create. They make great use of video walkthroughs on most of their product listings pages, adding a human touch to the brand and making it feel more like a boutique than an eCommerce site.
Ava Estell is a skincare brand specializing in all-natural products designed with melanin. The brand offers a range of skincare solutions that work effectively on hyperpigmentation, dark spots, dark areas, stretch marks, and more. Their commitment to addressing the unique skincare needs of individuals with melanin-rich skin sets them apart from their competitors.
The website has a clean and minimalist design that is easy to navigate. The best part is their use of customer video testimonials featured throughout the site showcasing individuals talking about their experience with the products. This is an excellent way for shoppers to see how the products work and what results they can expect.
Allbirds is a footwear brand that has made waves in the industry with its simple yet innovative designs. The brand strongly emphasizes comfort, using natural materials to create its shoes. Founded by Tim Brown and Joey Zwillinger, Allbirds has pioneered the industry, creating an entirely new category of shoes inspired by natural materials. The brand's ongoing mantra to create better things in a better way has been instrumental in its success.
Allbirds' website design is impressive, with big hero images that immediately encapsulate the brand's essence. The website also effectively highlights collections on the homepage with high-quality photos, making the user experience even more engaging. The footer is clean and informative, providing users with important information such as shipping and returns, contact information, and social media links.
Stumptown Coffee Roasters is a boutique coffee roaster founded in 1999 and has since grown into one of the leading consumer goods companies in the coffee retail space. The brand's dedication to producing high-quality coffee has earned them a loyal following. In 2015, Stumptown Coffee Roasters was acquired by the parent company of Peet's Coffee, a move that signaled mainstream interest in craft coffee.
Stumptown Coffee Roasters' website design features an interactive quiz called "Find Your Coffee Match" that helps users discover the best coffee products for their tastes. The website also includes a dedicated section for educational guides on popular brewing methods, providing users with valuable information to help them brew the perfect cup of coffee. Finally, the subscription offering is well presented for shoppers to get their choice of coffee delivered to their door regularly.
Soko Glam is an online marketplace that offers a vast selection of Korean beauty products. Founded in 2012 by Charlotte Cho and David K. Cho, the company has become one of the U.S.'s biggest providers of K-Beauty products. Soko Glam's focus on Korean beauty products has made them a go-to destination for skincare enthusiasts looking to explore the latest beauty trends from Korea.
Soko Glam's store boasts a clean design with a color palette that exudes freshness, aligning with the brand's focus on Korean beauty and skincare products. The website also features a dedicated Skin Concierge service, providing users with personalized guidance throughout their beauty product purchase journey. This unique feature helps Soko Glam stand out in a crowded market and provides customers with an exceptional user experience.
Immi, founded by Kevin Lee and Kevin Chanthasiriphan, is a plant-based instant ramen brand that offers a nutritious and delicious alternative to traditional ramen options. The brand is the world's first low-carb, high-protein instant ramen and is on a mission to enrich lives with the vibrant world of Asian American food while disrupting the $42 billion instant noodle industry.
Immi Eats' eCommerce store boasts information-rich product listings, providing customers with a comprehensive understanding of the brand's ramen options. The website also includes shoppable video reviews added to product listing pages, which provide customers with an engaging and informative user experience. Their vibrant yellow color scheme is eye-catching and aligns with the brand's focus on bold and unique tastes. Additionally, the website features a clear comparison table with competitor products, providing customers with valuable information to make an informed purchase decision.
Mike Cessario founded Liquid Death, a company selling canned water online, in January 2019. The brand's unique approach to marketing canned water, with a heavy metal aesthetic and irreverent branding, sets them apart from traditional bottled water brands. This drink comes in a 16.9-ounce (500 ml) "tallboy" can and is sourced from the Austrian Alps. Liquid Death is one of the leading beverage brands committed to sustainability and waste reduction following the growing consumer demand for eco-friendly alternatives in the beverage industry.
Liquid Death's store boasts a black theme that perfectly complements the brand's edgy and unique branding. The website's homepage is video-centric, featuring various on-brand videos that speak directly to the company's target audience.
Cocofloss was founded by the Cu sisters, Chrystle and Cat, to make flossing more fun, motivating, and rewarding for everyone. Chrystle, a dentist, and Cat, an artist, combined their unique perspectives and skills to create a luxury dental floss in four fragrances: mint, coconut, orange, and strawberry. Since its launch in 2015, Cocofloss has positioned its product as a fashionable item within the ever-growing wellness space, appealing to health-conscious consumers who prioritize both function and aesthetics.
Cocofloss's website design perfectly embodies the brand's playful yet educational approach to oral care. The website features cute and engaging cartoonish explainers on tooth health that add a touch of whimsy. The website also hosts an interactive "Smile Quiz," to help shoppers discover all the scents and sets they may need to meet their smile goals.
SACHEU Beauty was founded by Sarah Cheung (@sacheu) with a mission to provide customers with hygienic beauty tools and skin-barrier-conscious formulas for bouncy, glowy, resilient skin. SACHEU's products are formulated, tested, and manufactured in Los Angeles, ensuring quality and control at every step. Rather than blindly following the CPG industry trends in the beauty vertical, SACHEU focuses on identifying effective products and ingredients that other brands may overlook.
Their website design is a testament to the brand's commitment to innovation and customer satisfaction. They use interactive shoppable videos throughout the website to boost net sales and provide customers with an engaging shopping experience. SACHEU's strong brand story is reflected throughout the site, creating a cohesive and memorable customer experience.
Death Wish Coffee is a U.S. coffee brand founded by Mike Brown in 2012 and is headquartered in New York. What sets Death Wish Coffee apart from other coffee brands is its claim that it has double the caffeine of an average cup of coffee while boasting a smooth and non-bitter taste. This unique combination has made Death Wish Coffee a favorite among coffee lovers who want a powerful caffeine boost without sacrificing taste.
The clean, white background and dark product images and fonts create a nice contrast that is pleasing to the eyes. Most importantly, the site's entire design reinforces the central message that they sell some of the strongest coffee in the world.
Founded in 2013, Bombas is an online store that sells socks, underwear, and t-shirts. The company's mission is to create a more comfortable world, and they achieve this by rigorously testing each item for comfort and durability and constantly innovating to improve their products. Bombas's commitment to giving back is what differentiates it from other clothing brands. For every clothing item purchased, a clothing item of the same kind is donated to those experiencing homelessness. This philanthropic aspect of the brand has resonated with customers, as they not only get to enjoy high-quality, comfortable clothing but also contribute to a meaningful cause.
Bombas' store design is sleek and user-friendly, featuring quick links to collections on the homepage. The site also showcases full-width, high-resolution images that draw the eye and create an immersive shopping experience. One of the standout features of the store is the prominent highlighting of the brand's charitable cause throughout the site. This allows customers to see the impact they can make with each purchase and creates a sense of community and social responsibility.
Quest Nutrition is a company that was founded with a mission to produce complete protein products while minimizing carbs and sugar. The founders, Ron and Shannan Penna, began their journey by creating the first Quest Protein Bar in their kitchen. They hand-rolled these bars and instantly became a hit among their friends and family. The company uses complete dairy-based protein for a full amino acid profile and a robust supply chain for FDA-approved fiber sources to ensure their products are both healthy and delicious.
Quest Nutrition's website is visually appealing and information-rich. The mega menu simplifies browsing through the different categories with the help of images. Moreover, the website also features an interactive quiz that assists users in finding the best-suited products.
ColourPop, based in Los Angeles, California, is a popular American cosmetics brand known for its affordable pricing. The company was founded in 2014 by siblings Laura and John Nelson and now primarily sell through their website and at Ulta Beauty. Their product line focuses on the eyes, lips, and face. In addition to its affordable pricing, ColourPop is also known for its commitment to being cruelty-free, making them a favorite among animal lovers.
The ColourPop's website is vibrant and lively, mirroring the brand's personality and image. The homepage is visually engaging, featuring multiple collections and products that users can quickly scroll through. The product pages are informative and detailed, with extensive information on the ingredients and application tips to enhance user experience.
Magic Spoon is a DTC cereal company founded by Gabi Lewis and Greg Sewitz in 2019. The brand offers low-carb, high-protein breakfast cereals and cereal bars that are perfect for health-conscious consumers who want to avoid the high sugar content of traditional cereals. Magic Spoon has reimagined the classic fruity flavors of childhood favorites like blueberry muffins, all while ensuring that its nutritional profile fits into keto diets and gluten-free lifestyles. They use a mix of allulose, monk fruit, and Stevia for sweetening. Their product range also includes variety packs and cereal bars.
Magic Spoon's website features a memorable color palette that is playful and visually appealing. The website also prominently showcases media mentions to establish credibility and trust. Testimonials from influencers provide solid social proof. The interactive "Build Your Own Pack" feature uniquely personalizes the customer's experience and ensures customer satisfaction.
ChocZero is a family-owned chocolate factory located in Southern California. The brand aims to create high-quality, sugar-free chocolate that tastes great. They introduced their zero-sugar chocolate products in late 2016, using only premium ingredients such as natural Madagascar vanilla, fair-trade cocoa beans from South America, and low-glycemic monk fruit. ChocZero carefully curates these ingredients to provide a higher standard of sweetness while avoiding using sugar alcohol. They aim to make eating less sugar feel like a reward rather than a punishment.
ChocZero's website is user-friendly, with clear nutrition information on each product page, helping customers make informed decisions. Their dedicated Recipes section educates customers on using their products uniquely and creatively. The website also prominently displays badges such as "Gluten-free" and "Soy-free" throughout site to emphasize the purity of its products.
Time to turn inspiration into action
After exploring these top CPG websites, we hope you feel inspired and motivated to take your CPG brand to the next level.
Each website has something unique and special to offer, from beautiful designs to engaging video content and informative product listings.
Take note of what stood out to you and consider how to apply these ideas to your store.
So, what are you waiting for?
Take the inspiration you've gained from these incredible websites and turn it into action.
You can start by adding interactive shoppable video elements to your website today with Videowise's leading eCommerce video platform.
Request a personalized demo to learn more.
Keep up with the latest trends in eCommerce video experiences