Looking to deliver an interactive and immersive shopping experience to your customers - something they may not have seen before?
Implementing shoppable videos on your eCommerce store is the answer.
But how? What's the best way to use them - should you add them to your homepage or maybe product pages?
Lots of questions, so little time.
In this article, I will take you through how you can use shoppable videos on your website (with examples, of course!) the smart way.
Stick with me till the end because you are in for a treat (and hopefully a hefty increase in revenue).
But first, let's talk about the power of shoppable videos.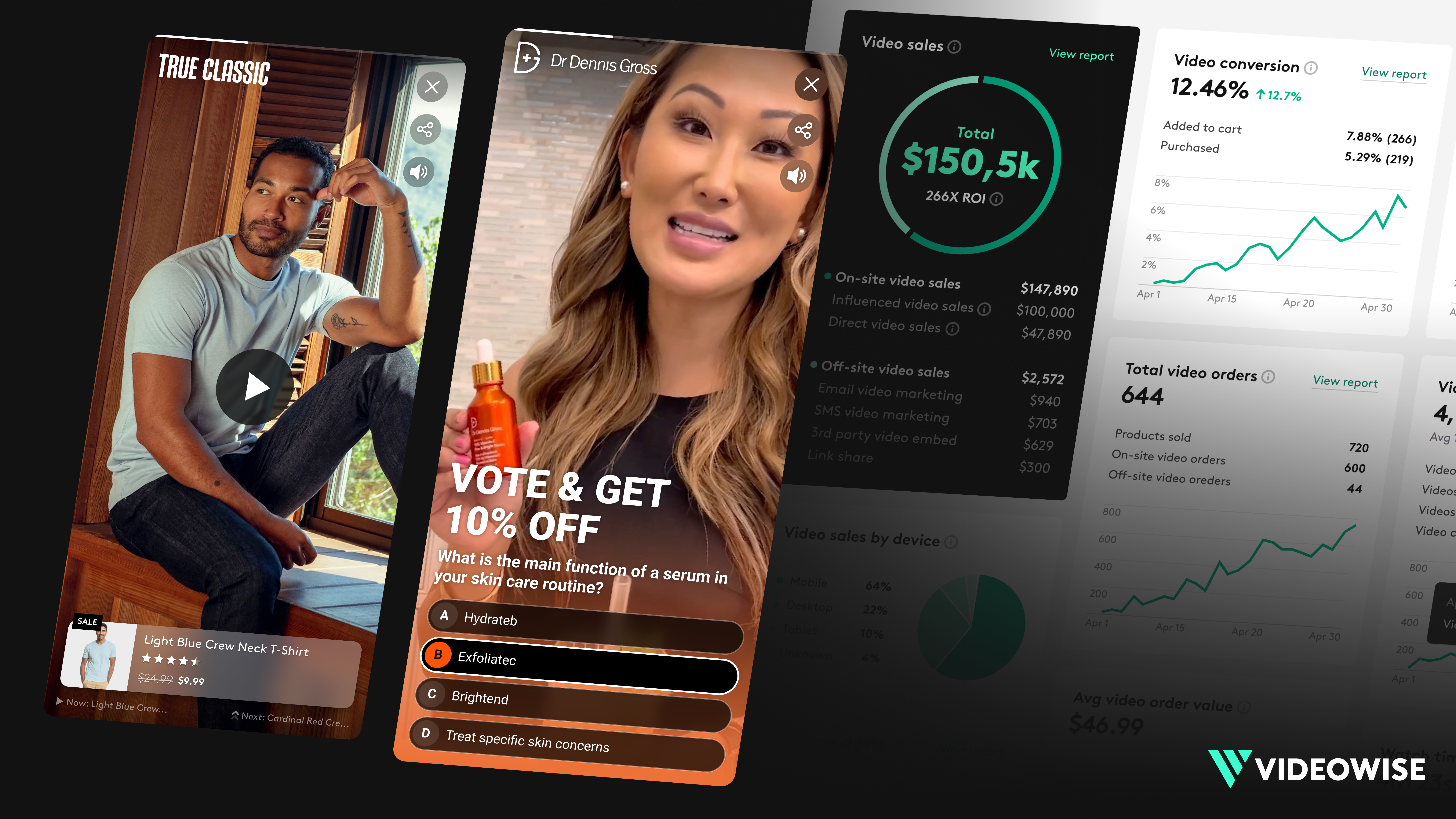 The power of shoppable videos
Shoppable video eCommerce is an all-inclusive experience centered around the audience. It is poised to replace traditional online stores to become the 'new normal' of buying and selling online.
But why will shoppable videos be the best bet for your eCommerce store?
Here are four simple (yet meaningful) reasons why:
3. Simplification of the customer's journey
4. Helps to garner insights from the data
Let's dive right in. No need for scuba suits, only your undivided attention!
1. Better engagement
65% of consumers who have made 10 or more purchases online in the last three months report that they seek out video content to make an informed decision about their purchase.
As an eCommerce business, you can create an engaging experience for your customers by incorporating video marketing in your website through different types of video formats like customer testimonials, product highlights, etc.
And you can take it one step further with an added functionality of shoppability to the videos for maximum engagement and conversions.
Editor-in-chief of video ad news, Vincent Flood, said
"Competition fuels innovation, and one of the areas where we can expect to see growth is in shoppable video, reducing the friction on the Internet users' journey between the point of engagement and the point of transaction."
With shoppable videos, you can encourage your visitors to buy the product without even leaving the video or switching tabs. The purchase instinct of a consumer is easily triggered through increased engagement brought by low friction in the shoppable video.
2. Customized experience
As an eCommerce merchant, you would want every marketing strategy that you implement, from email to video, to deliver a positive return on investment.
But often, video marketing strategies like product videos, testimonials, or user-generated content can be your brand's most expensive marketing expenditure.
This becomes even more true if video content has primarily been used for watching and consumption over conversion — which means that you leave money on the table.
With no encouragement of shopping behavior in the video, apart from a call-to-action that may or may not convert, video marketing may not bring in positive ROI.
But imagine giving your shoppers the ability to watch videos in a TikTok-like scrolling experience and give them the added benefit of selecting product specifications, reading descriptions, adding products to a cart, purchasing directly, and more.
You can address all challenges of a customer, enhance product understanding and generate more sales, with the power of a shoppable video (with no need to redirect tabs!)
The best part about shoppable video eCommerce with Videowise? Absolutely no reduction in page speed or website performance!
3. Simplification of the customer's journey
The attention span of consumers has reduced to less than 8 seconds, so how do you convert buying interest to purchasing intent in the shortest span of time?

Simple – a future-facing video shopping experience with no space for distraction.

Let's imagine two scenarios:
Scenario 1:
A customer sees your ad, goes to your website, gets lost in the wide range of products, gets distracted by an Instagram notification, and boom, you lose yourself a sale.
Scenario 2:
A customer sees a shoppable product video ad with all features in action, and they can immediately add it to their cart, and check out on the same window.
I would be dragging my customer to scenario 2, wouldn't you?
Shoppable videos with clear product descriptions and 1-click checkout features simplify the target audience's buying experience without switching tabs or disrupting consumer delight.
With an independent video player optimized for the mobile screen and access to a large variety of content embedded on various platforms, fully integrated with the store — the customer's journey is direct and simple.
Hear it from Arthur Martinson from Artsabers (one of our customers) – "Videowise does it all - it engages, converts, and offers a great shopping experience to all website visitors."
Artsabers is an excellent example to showcase the power of shoppable videos and Videowise to create a long-lasting impression. They were able to increase their conversion rate by 26% and added revenue of +$1.1M — now that's a return on investment.
4. Helps to garner insights from data
Are you sure that you truly understand your consumer behavior patterns?
As an eCommerce business owner, you need to track the right data to gain insights into how the audience interacts with your products and brand.
Nearly nine out of 10 businesses believe that anticipating customer needs and providing assistive experiences along their purchase journey can be critical to growth.
By investing in shoppable videos, you are investing in a customized, immersive experience for your shoppers and getting the insight to improve purchase behavior.
With in-depth dashboards of Videowise, as sellers, you can easily track the attribution of purchases and access advanced analytics of highest-performing videos, most watched content, top video widgets, highest performing influencer, etc., on your website.
Key performing analytics like click-to-view, conversion data, click-to-buy, and click-to-share can prove to be a solid starting point toward maximizing customer engagement and repeat business.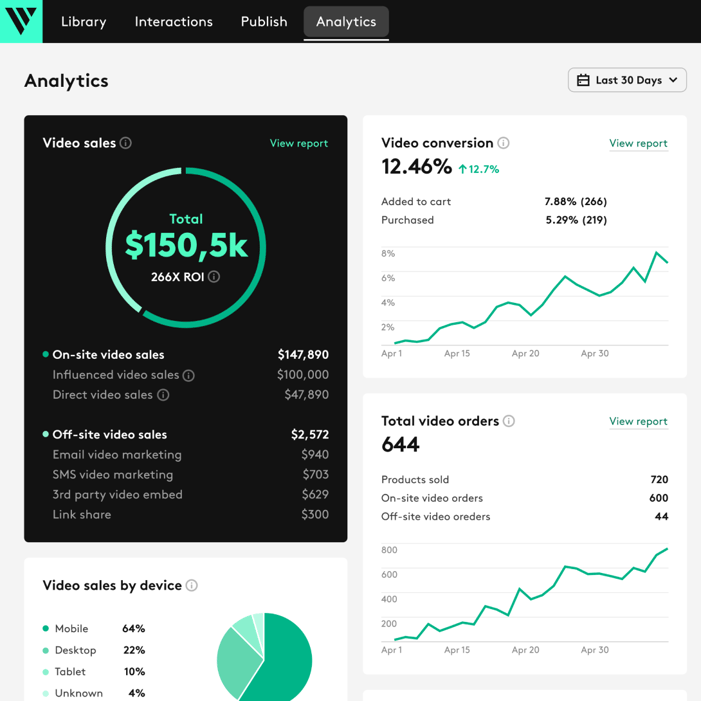 This data from your website can help you identify potential gaps, hindrances, and even what works for the consumers. It can enable you to stock on inventory, create similar products or double down on what works — basically, decide based on data, not intuition.
How to use shoppable videos on your website
If you are an eCommerce founder or marketer, by now, you'd ideally have started to believe in the power of digital "window-shopping" services, but what next?
The average eCommerce conversion rate in January 2023 was 1.74%, but what if the right techniques can help you increase customer purchase behavior?
To no surprise, shoppable videos can help!
Here are three easy places on your website where you can post shoppable video content to improve the buying experience, engagement, and conversion rate:
Let's touch down on each of them one by one.
1. Homepage
The homepage of an eCommerce business is basically the soul of any brand. It is a digital storefront where you can establish credibility and crucial call-to-actions for your potential customers.
In simple terms? Here's where you can create amazing first impressions on your customers.
But people make snap decisions. It takes about 0.05 seconds for your shoppers to form an opinion on your website and decide to stay or leave.
If that's the case, you have less than a second to establish credibility, push your customer to stay, and purchase while trying to differentiate yourself from your competition.
Sounds too much at one go? But what if you could do that and more?
Enter homepage videos or, to be more specific, shoppable homepage videos.
Entertainment, information, and allure – all wrapped into a tiny, neat package of homepage videos to entice your consumer to stay on the page longer and push them to make a purchase right there.
Shoppable videos can overcome the passive homepage video-watching experience to create and mimic in-store shopping without changing tabs.
Browse, select, and check out products — all in a streamlined, customized buying experience and revenue coming right from your home page videos!
Could this be any better?
2. Product page
If a 2000-word product description could be condensed into visually appealing video content, then 87% of marketers would prefer the latter. An easy-to-digest visual piece replaces the overwhelming nitty-gritty written content, giving any social media marketing strategy the highest ROI.
As an eCommerce business owner, video content can be your best bet for your product. However, another interesting statistic might help you plan your video strategy better.
41% of Gen Z and millennials make an impulse purchase online every 2-3 weeks, rising to 48% among daily TikTok users. To inspire your website viewers to act on instinct, especially as the recession continues to bite, it's essential that retailers understand what drives this behavior.
Consumers want to get motivated and inspired by your products but don't want to waste time figuring stuff out. Hence, product pages are the best place to create video content that entertains and informs.
Visually appealing video content + Instinctual purchase options = shoppable videos.
Busy Baby Mat, an eCommerce business, selling baby products, is an interesting example. By implementing shoppable video content on its product page, the store was able to deliver immersive and interactive shopping services to the parents.
Shoppers could learn about the product through video, see it in action, and be pleasantly surprised by the easy choice of product specifications and check-out facilities.
This helped the company build trust with its customers and drive conversion up by 27% in less than 6 months (a pretty big deal!).
Shoppable videos became an absolute no-brainer for the brand's product page, and it's time that you display videos on your website too!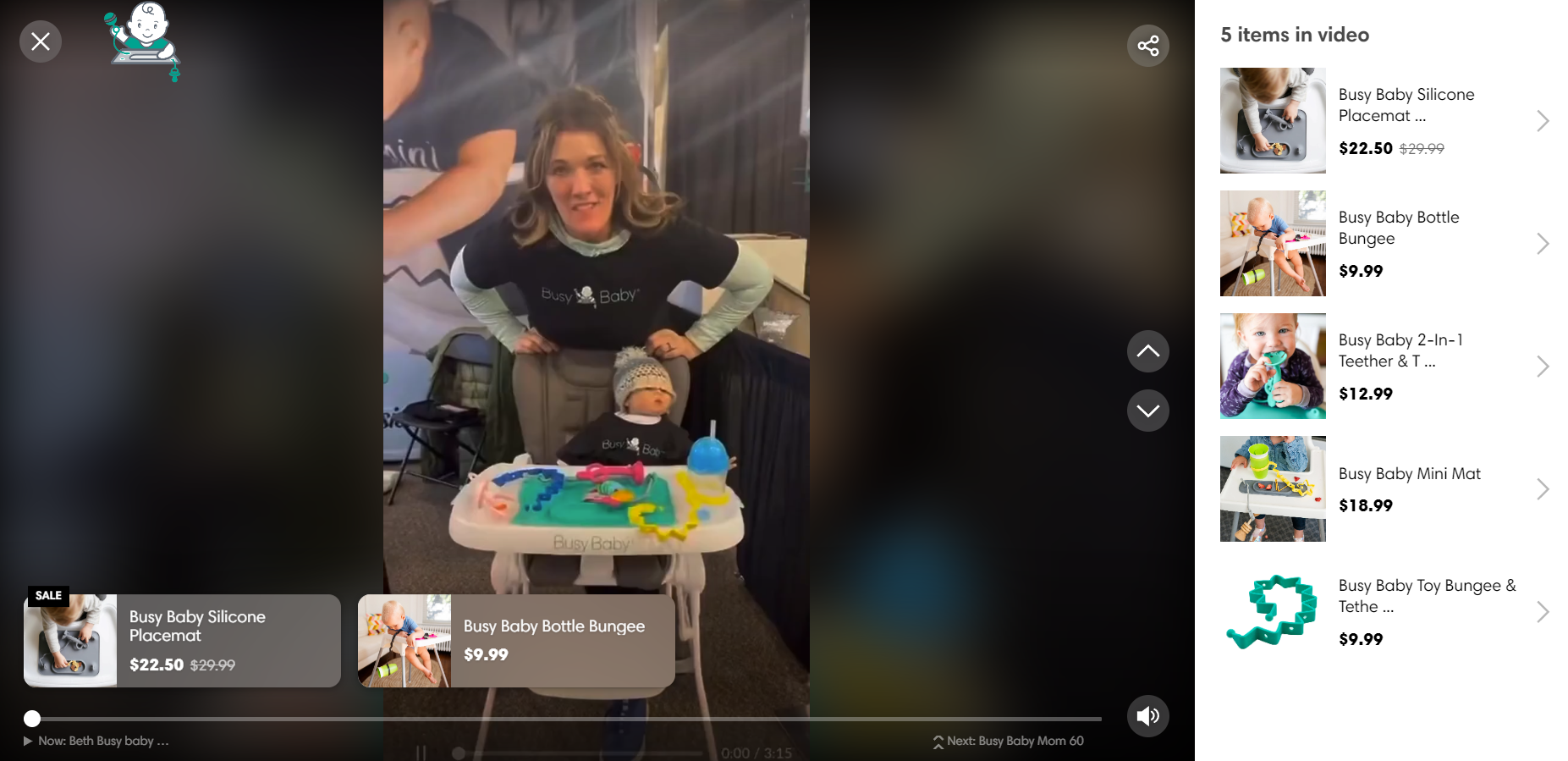 3. Testimonials/Review Page
31% of consumers depend on positive customer reviews when purchasing a product. Visual testimonials are more persuasive because they showcase real people and their views. Emotional connection is a powerful feature that works wonders for the world of eCommerce.
The reason is simple — customers are able to find reassurance from other buyers when they need it most, just before the sale.
Especially in industries like fashion and beauty, shoppers may be in two minds about purchasing the product – wondering if it is too good to be true (especially when you provide high value at a budget), which is where user-generated content can help.

Display videos of testimonials/reviews on a separate page for easier access by shoppers. However, instead of showcasing the video directly, add in the feature of shoppability, which will further incentivize them to make a purchase.
The best part? Adding video content to your page does not need to be a complicated task. Videowise's Find Video UGC feature can save hundreds of manpower hours. The most relevant videos on websites can be found in just seconds through a simple drag & drop video management interface.
Let's take Ava Estell as an example.
The brand created a "Real Reviews from Real Customers" section on their website with video testimonials of their customers using the Videowise video player; and linked it to their product pages. Through the video content, the brand was able to build an emotional connection with its prospective customers and nudge them to purchase.
Yaw Okyere, Founder/CEO Ava Estell, said, 'Videowise is giving our customers a closer shoppable experience with our products, and shoppable video helps them in the buying/purchasing decision.'
Their best-performing video helped them generate a whopping £124K+. With a shoppable eCommerce experience, Videowise helped them increase the video content watch time by 4,498 hours or, to put in perspective, an additional 187 days (WOAH!).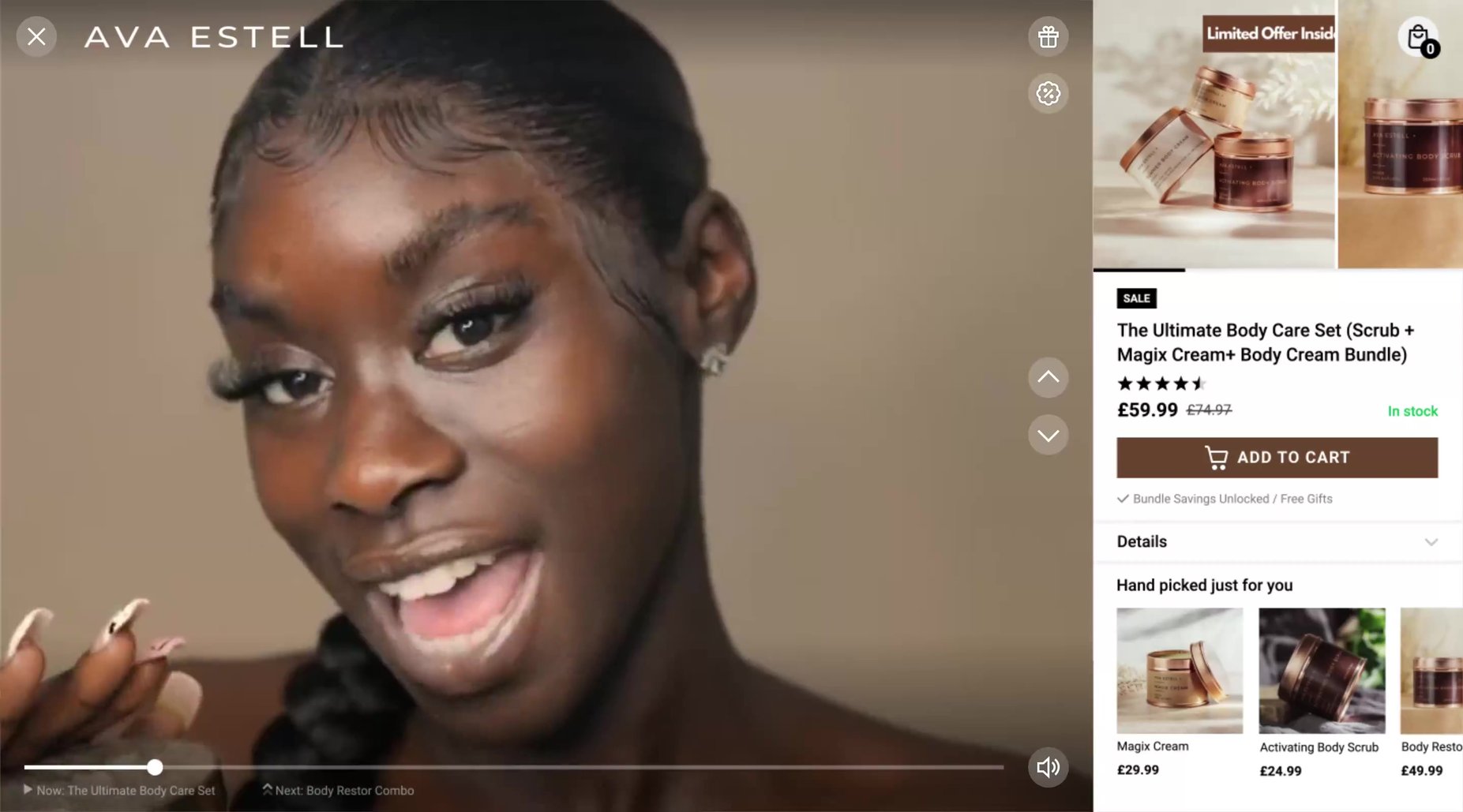 Premium shoppable video component formats
Embedding shoppable videos at scale without spending significant hours and dollars can be the best news for any eCommerce business owner.
Video components allow you to do just that.
Upload a video to your site or display content from a YouTube channel, Instagram, or Tiktok.
With Videowise, eCommerce business owners can customize almost anything on the video component, compatible with Shopify 1.0 & 2.0 themes.
They automatically adapt to any device or screen resolution, ensuring high-quality video content for your users. The vertical video player gives the same immersive feel as social media and engages higher than embeds of horizontal YouTube videos.
A few ways that you can use Videowise's drag-and-drop editing tools, to create premium-designed video widget themes include:
1. Stories
Modeled after Instagram, stories can be a familiar UI design for most internet users in your eCommerce store. It has similar features and gestures, with the bonus of shoppability. They can be great for announcing new collections, unboxing videos, Ask-me-anything/FAQs, how-to videos, product stories, and much more.
2. Carousel
Add video carousels to your website, embedded right from the source. Instead of searching for the play button, the shopper can easily select or hover on the video, for it to auto-play easily. Each video in the carousel is expandable, with product descriptions and checkout buttons lined at the bottom. Viewers get the chance to swipe right and find products they love, among the many videos available. Post product videos, testimonials, influencer marketing, or even an exclusive unboxing video on your website for increased engagement!
3. Grid
Inspired by Instagram's feed, consumers can scroll down through multiple videos uploaded on your website. The content can be further expanded to fit the mobile screen if the viewers choose. The video files are linked to the product pages, but consumers can buy directly without switching tabs. They would look great for product, how-to, and explainer videos.
4. Single
A hero or single video can be used by eCommerce businesses to ensure the viewers' attention is not diverted or divided. Clicking on the video will result in the full-screen view and the additional features of review and purchase. They can be great for influencer marketing, founder story, demos, etc.
5. Pop-ups
Bright and attention-grabbing pop-up videos on the first page can help consumers stay longer on the website and encourage conversion. These pop-ups don't have to be annoying but can remain on the side of your site, which can be expanded if your audience wishes to do so. They can be used for UGC, social proof, seasonal sale videos, etc.
What does the future hold?
With the evolving consumer purchasing behavior, incorporating video marketing strategies and technological capabilities like shoppable videos offer an interesting glimpse into the next-gen business world.
Video makes shopping from the comfort of home more tactile and exciting for all your website visitors, just like a physical business; for an average shopper.
Meanwhile, in a cookie-less ad tech world, it makes sense for eCommerce store owners to depend on first-party data right from the websites, to customize a specific, hyper-relevant shopping experience.
Both are possible with the incredible experience built by shoppable video eCommerce.
Shoppable video will set you apart from your competition in an incredibly saturated online market.
Bookmark this article to start using shoppable video content for your website. Alternatively, if you have reached here, we know you are invested in growing your business through shoppable video eCommerce.
Talk to our team to learn more about Videowise and how we generate 5-6 figures of added revenue for Shopify brands using shoppable videos on their websites.
Keep up with the latest trends in eCommerce video experiences