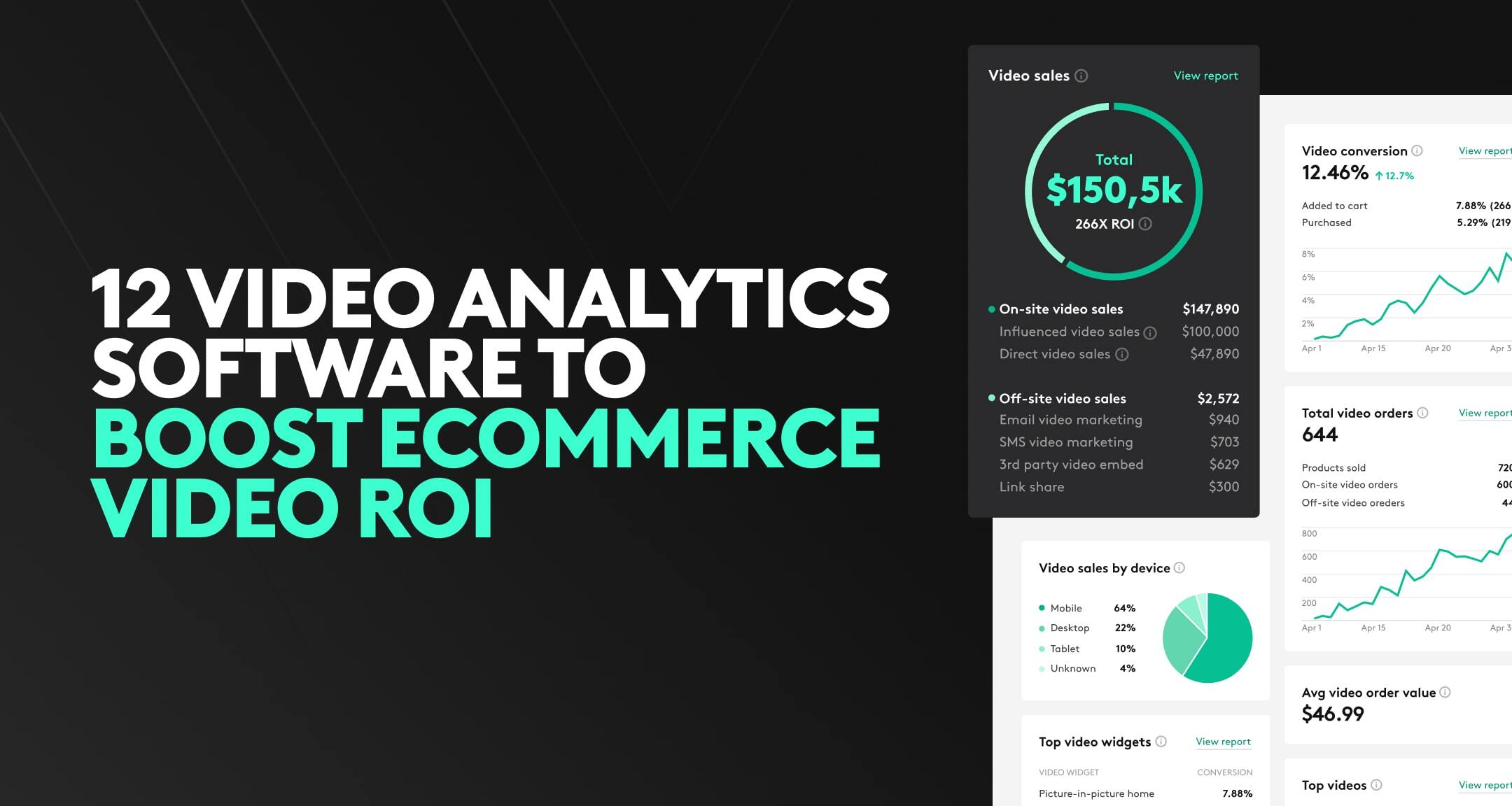 Looking for the best video analytics software for your eCommerce store?
Meet Erik!
He runs a Shopify store with the mission to make it the go-to destination for fans of celebrity-inspired sneakers. He was early to embrace video marketing and always experimented with new ideas to showcase his products to potential customers. He created flashy product demos, and behind-the-scenes looks, and even collaborated with YouTube influencers to engage his target audience with video content.
But as he amped with his video content engine, Erik realized he was missing the big picture. He was creating all these amazing videos but had no way of measuring their success. He felt like he was shooting in the dark, investing time and resources into video marketing with no real idea of whether it was paying off.
This became a frustrating loop in Erik's growth story. He loved creating videos and was convinced they were crucial to his success, but he didn't know how to track their impact and make data-driven decisions.
It seems like you too are experiencing the black box of video marketing.
But don't worry; there's a solution.
By leveraging the right video analytics software, Erik could unlock his creative videos' full potential and achieve the results he was striving for.
This blog post will explore the best video analytics software to decode and tune your video marketing performance, as Erik did.
So without further ado, let's dive straight into them: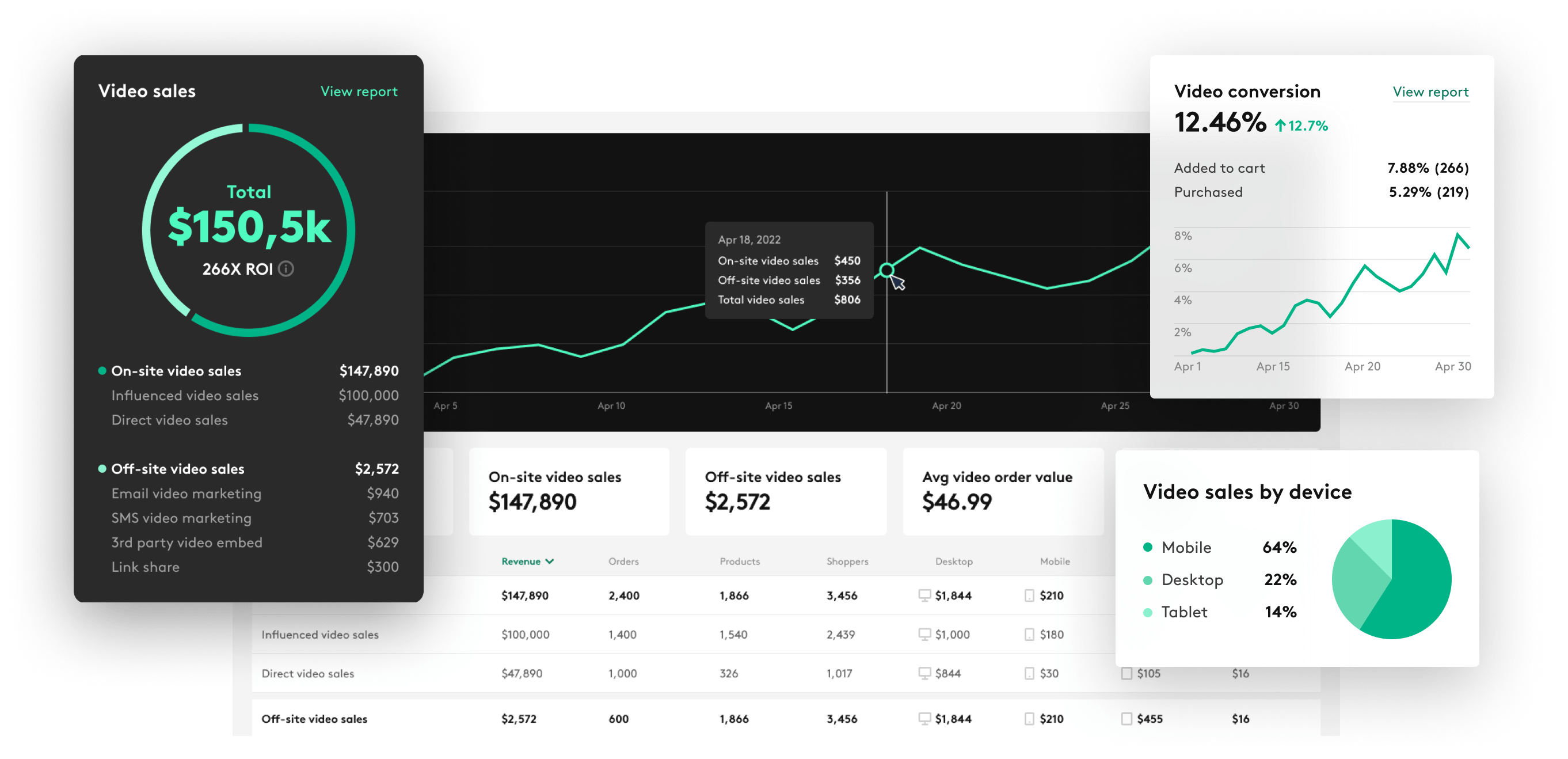 Videowise is the leading eCommerce video platform that helps eCommerce businesses set up shoppable videos, helping them deliver interactive and immersive shopping experiences. With a deeply integrated video analytics engine, you can track every video's influence on your bottom line.
Key video analytics capabilities of Videowise:
Track both direct and influenced video sales.

Get multiple user engagement metrics.

Sort by top-performing videos and pages.

Understand video performance using audience attributes like device or demographics.

Record changes to connect cause and effect.

Never miss a critical insight or opportunity with automated reports.

Take control of your video monetization with transparent revenue attribution.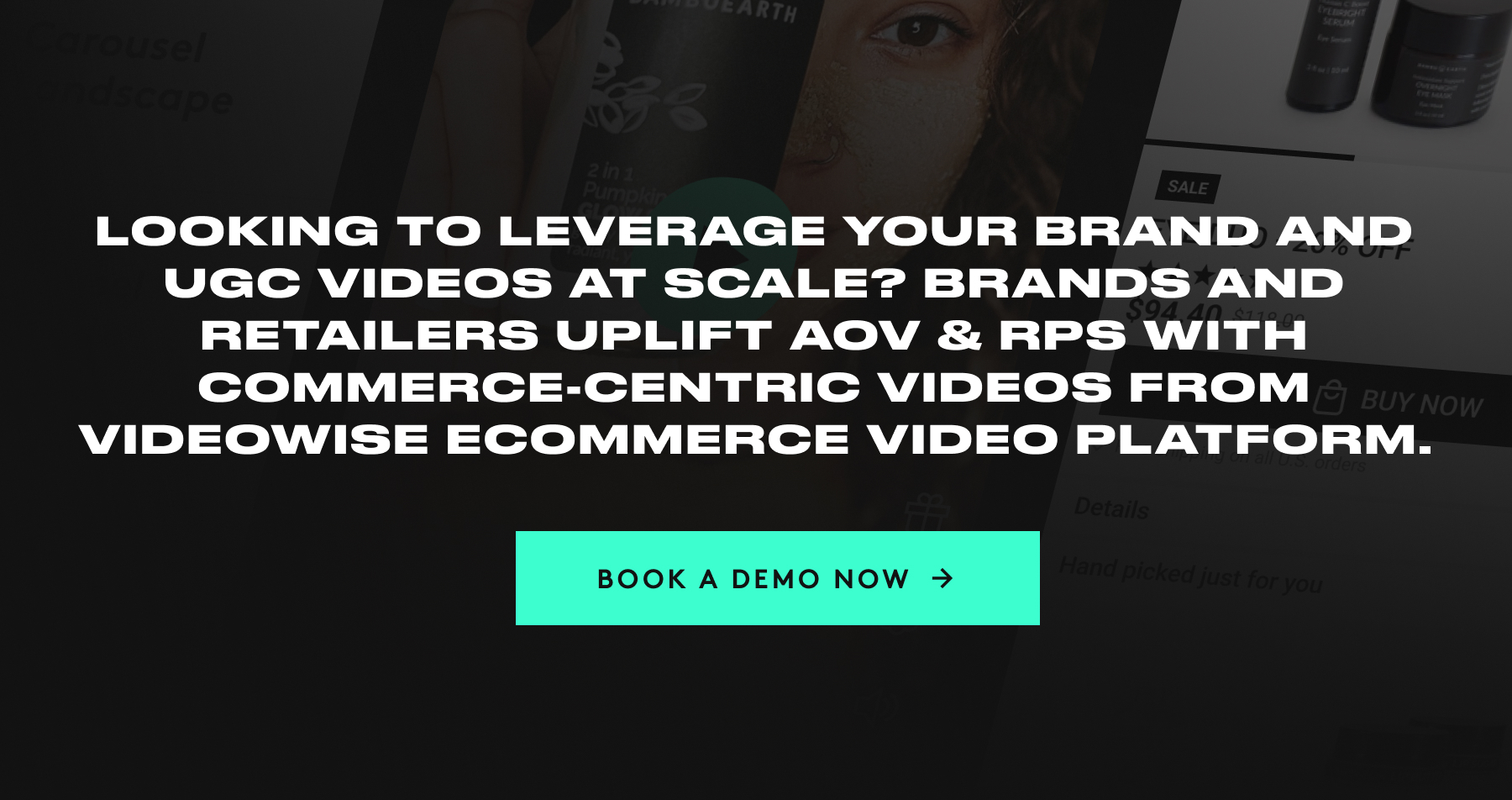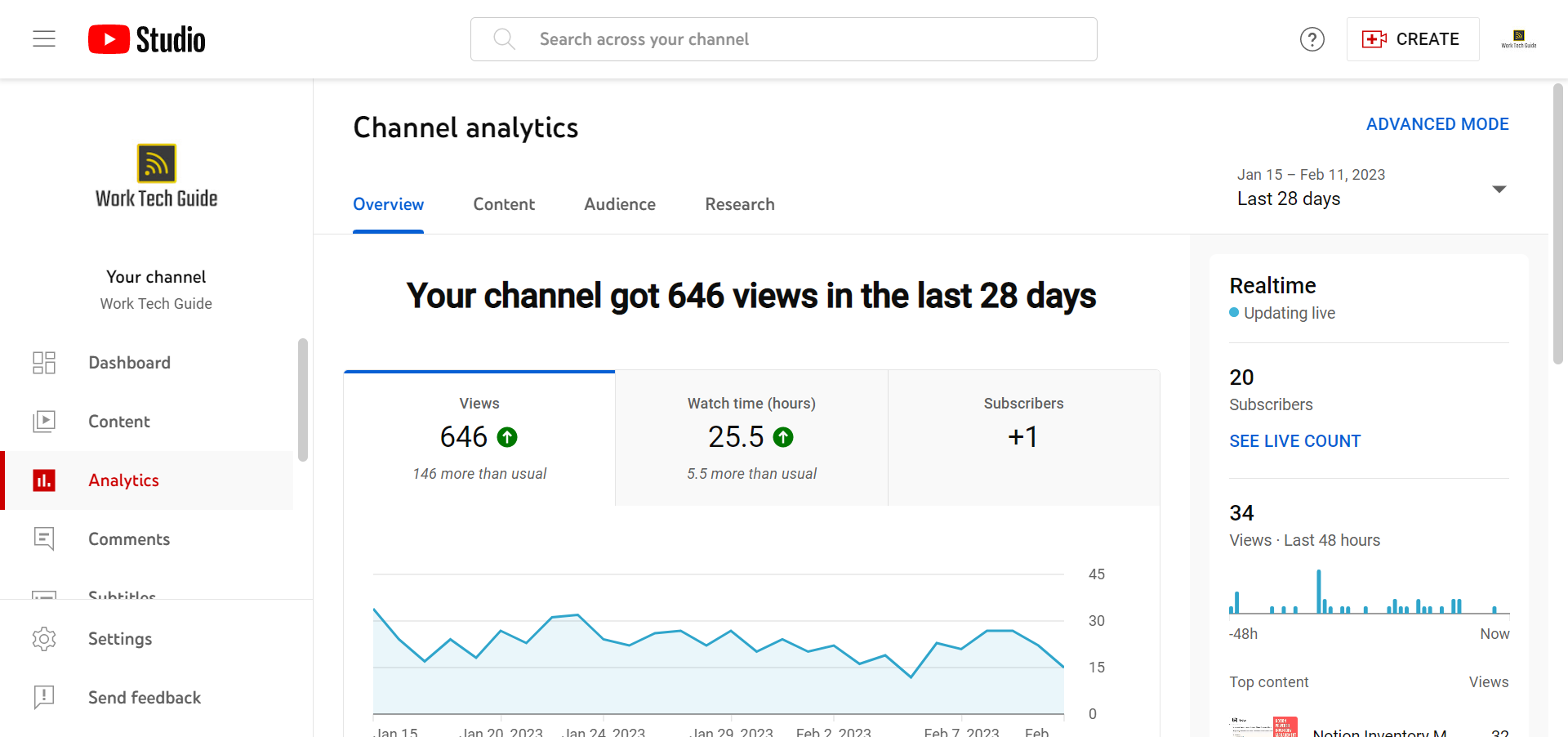 If you're using YouTube Studio for channel management, the analytics module should be your starting point to understand the performance of your videos. The best part? It's completely free!
Key video analytics capabilities of YouTube Analytics:
Get a detailed breakdown of video traffic sources.

Learn how much of each video is viewed with the average percentage of viewed metric.

Track audience retention across every video's timeline.

Identify specific parts of the video that viewers re-watch.

Track playlist-level video performance.

Monitor interactions with video elements like cards and end screens.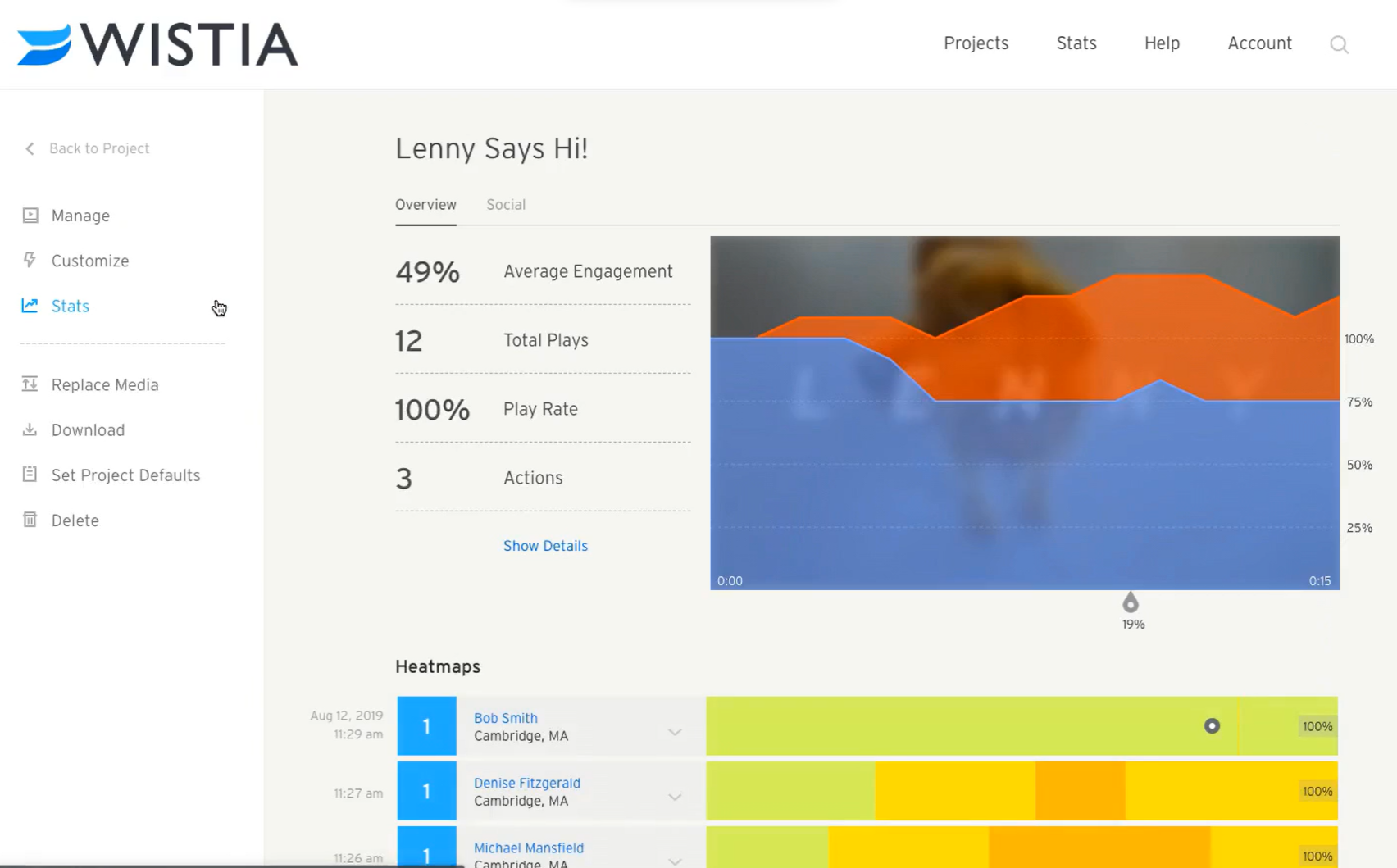 Wistia has become a trusted solution for B2B companies looking to leverage the power of video. With its suite of analytics features, Wistia provides a platform that helps companies track, measure, and boost the impact of their video content.
Key video analytics capabilities of Wistia:
Run A/B tests between videos.

Know exactly which parts of your video have been watched, skipped, and re-watched with the video heatmaps feature.

Send viewer engagement events to other applications like your CRM and marketing automation platform.

Stay on top of your social media video performance with a consolidated view of shares, likes, and comments.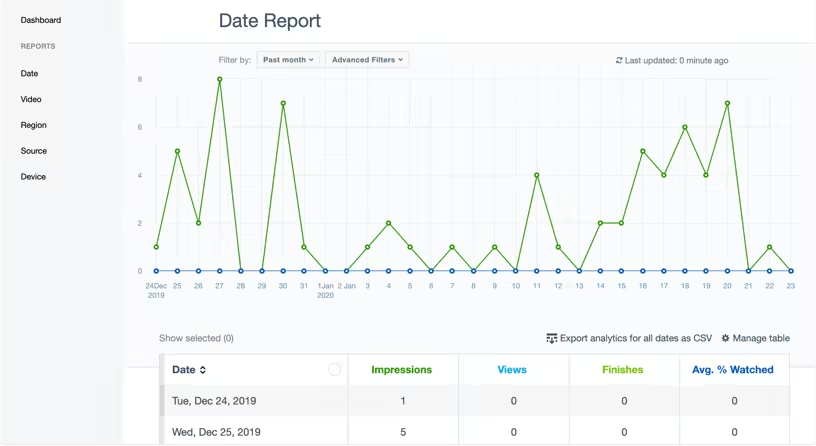 Vimeo is a preferred platform for creative video professionals. The software was created by a group of filmmakers, which is why it has been well-positioned for videographers, visual artists, art directors, editors, and other professional video creators.
Key video analytics capabilities of Vimeo:
Granular analytics to see how people are finding and watching videos.

Integration with Google Analytics for a better picture of performance.

Ability to compare performance across different platforms.

No URL, stats, likes, or comments are impacted when replacing videos with a new version.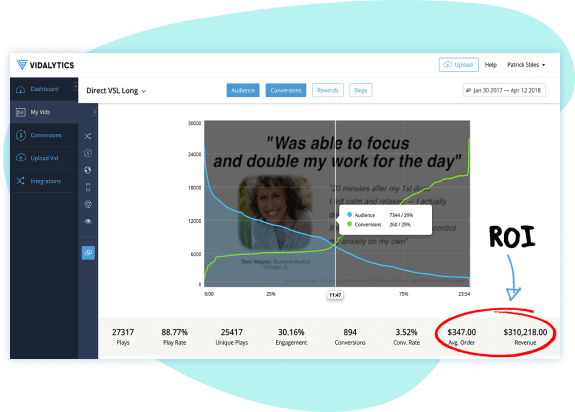 Vidalytics is a powerful video marketing tool focused on helping marketers and entrepreneurs get the most out of their video marketing efforts.
Key highlights of Vidalytics for video analytics:
Get a visual representation of where viewers are watching, rewinding, or skipping in your video with heatmaps.

Test different aspects of your videos, such as thumbnails, titles, and descriptions, to see what resonates best with your audience and drives more engagement.

Understand the age, gender, location, and other demographic attributes of your audience.

Attribute conversions to video sections.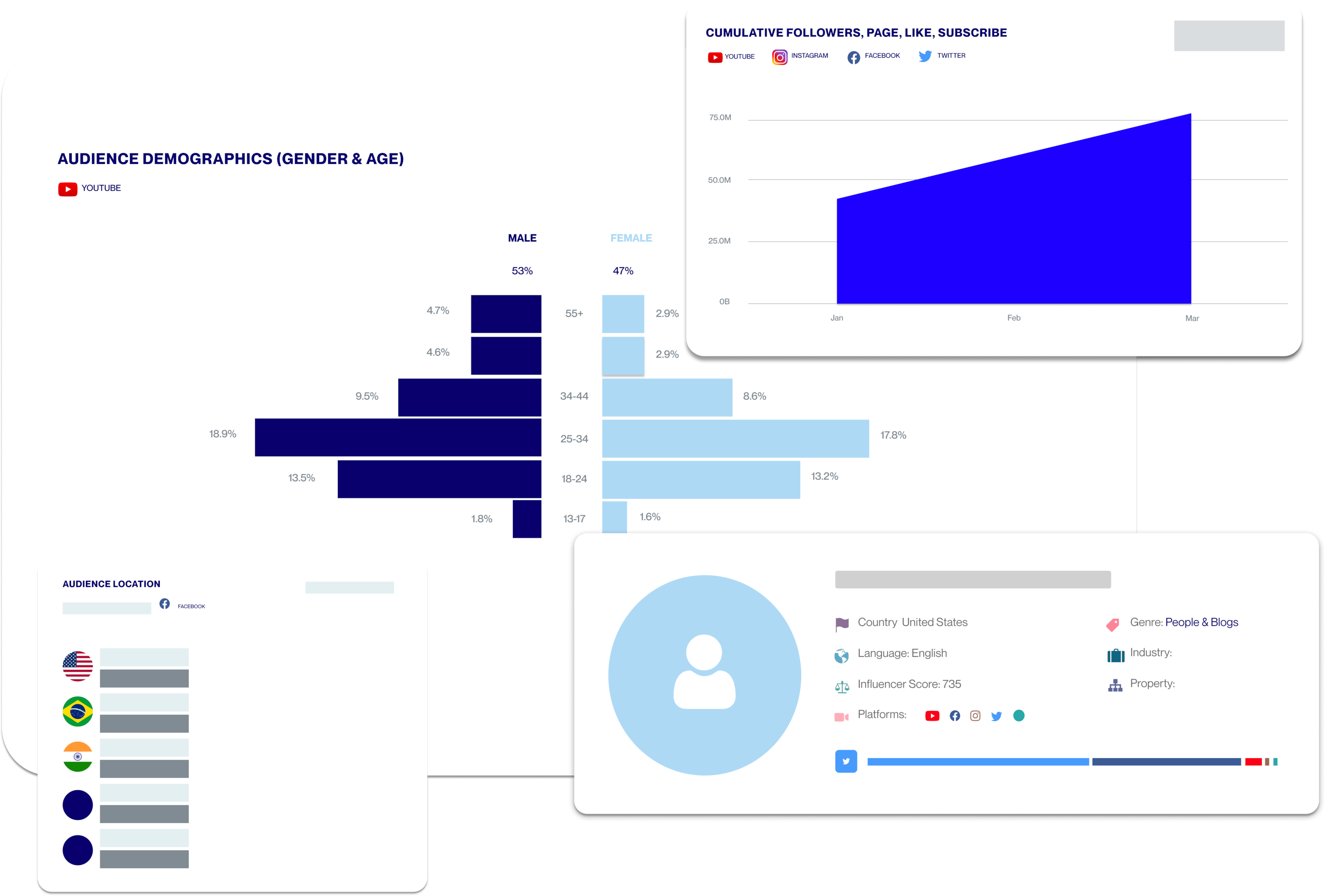 Tubular is a robust platform for social video intelligence. With insights at the speed of social, it helps businesses take the guesswork out of their social video strategy. It claims a database of over 11 billion videos across social platforms and 28 million creators, including media, brands, and influencers.
Key video analytics capabilities of Tubular:
Search, filter, and explore a vast array of social videos, and create custom lists, reports, and dashboards to stay on top of performance trends.

Categorize and label videos into relevant categories and topics to get a digestible view of the social video universe.

Learn what other video content your audience is interested in watching.

Standardized video metrics across different social channels.

Connect video data with a BI tool to get custom insights.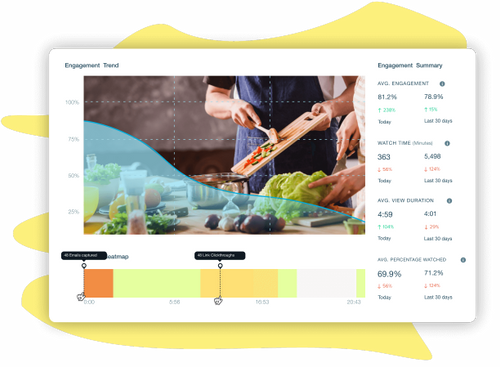 Adilo is a powerful video hosting platform that allows you to upload, manage, and share your videos online. With Adilo, you can customize your video player to match your brand, embed your videos on your website or social media, and protect your content with various security features such as domain restrictions and password protection.
Key video analytics capabilities of Adilo:
Get a quick snapshot of what's happening right now across your content, including views, engagement, and other vital metrics.

Understand which parts of your videos capture your audience's attention and which ones need improvement with detailed video heatmaps.

Get personalized insights on your subscribers and understand exactly which videos they're watching, where they skipped, and how much they've watched.

Tag subscribers based on their behaviors.

SproutVideo is a powerful video hosting platform designed for businesses, offering a range of features for both live and on-demand video hosting. The software includes easy-to-use tools for secure video sharing, video marketing, player customization, and analyzing viewer engagement.
Key video analytics capabilities of SproutVideo:
Measure completion rates for training or educational material.

Know about every video's drop-off points.

Get real-time viewer engagement tracking for live-streaming events.

Track video popularity and plays across different domains and locations.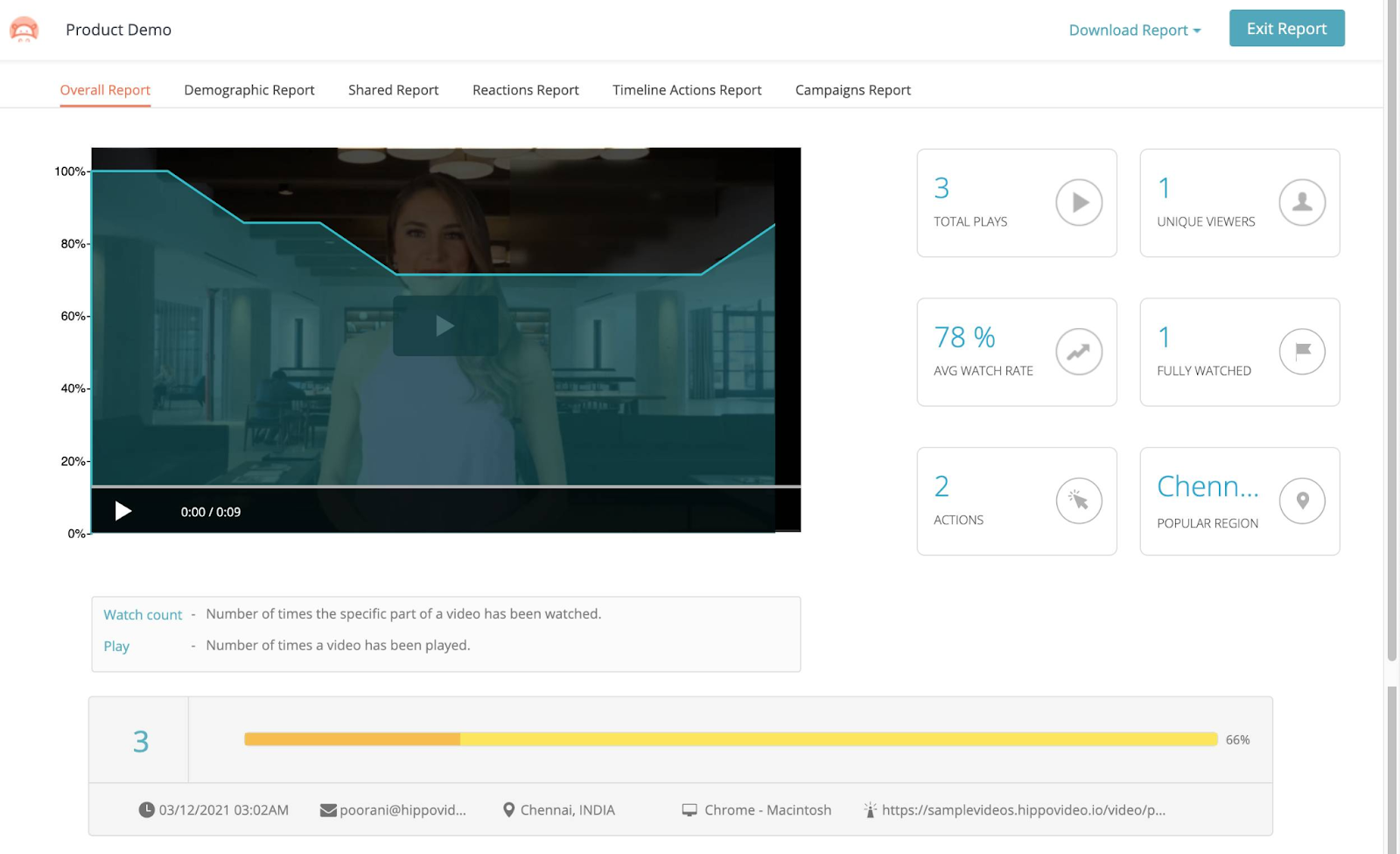 Hippo Video is a video hosting software that uses AI-powered interactive videos to help businesses scale their personalized outreach. It offers custom and pre-built workflows that automate video creation for different use cases and contexts, reducing the need for manual video recording.
It allows businesses to create and send video content in different formats and contexts, including demos, proposals, follow-ups, contract walkthroughs, holiday greetings, and monthly reports.
Key video analytics capabilities of Hippo Video:
Get location-based data and device reports.

Understand where your video is shared the most.

Get the total count of videos sent from email marketing software and other platforms.

Get graphical representations of how much of your video was watched and how many unique users have re-watched your video.

Filter the report based on weekly and monthly performance data.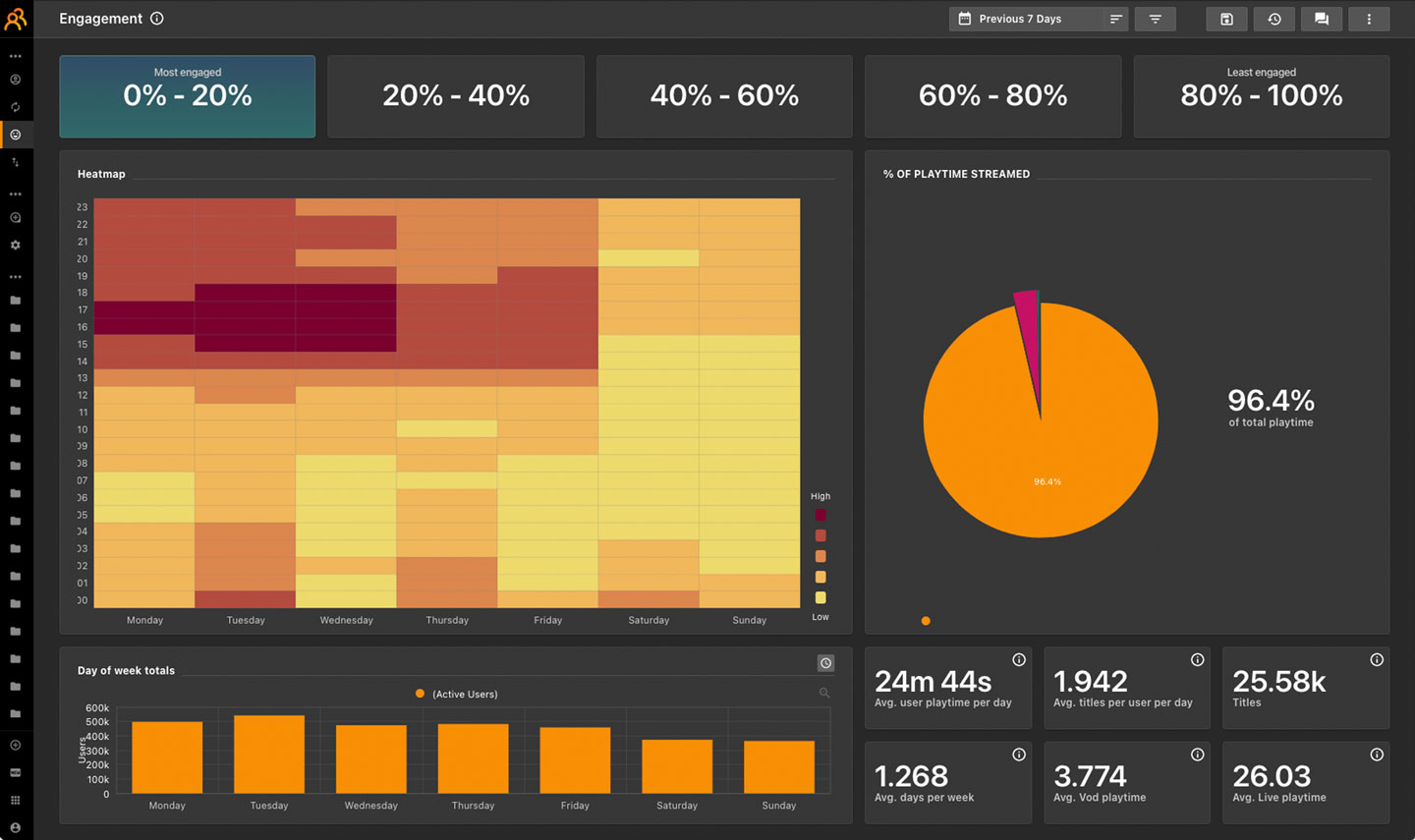 NPAW is a comprehensive video analytics platform offering end-to-end streaming services solutions. With real-time measurement, it provides insights into audience, content, and app performance to increase engagement and reduce churn. The platform has multi-CDN content distribution capabilities, which enables the automatic selection of suitable CDN to meet business and audience requirements.
Key video analytics capabilities of NPAW:
Generate a churn risk score to enable data-driven churn prevention by monitoring video engagement metrics.

Gain insights into video engagement metrics and user segmentation to analyze specific customer groups.

Understand user behavior, measure how engaged users are with your video products, and adapt your service to increase consumption rate.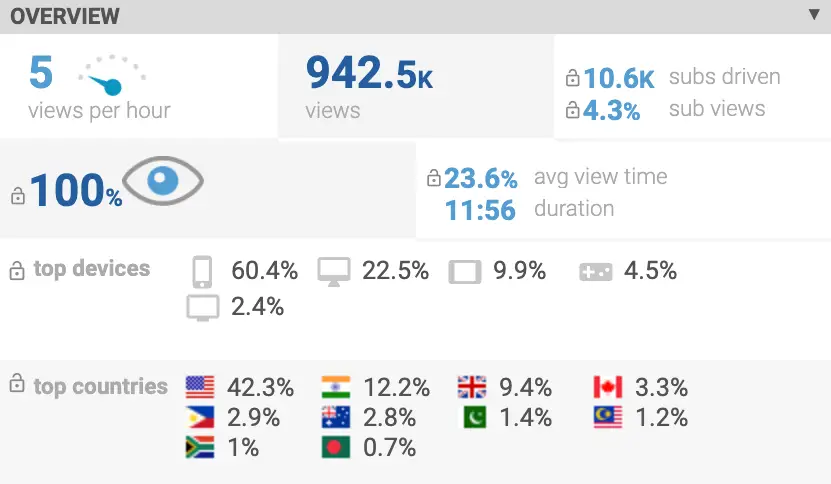 vidIQ is a video marketing tool designed for YouTube creators and brands. It offers a suite of features that help users optimize their YouTube videos for maximum views and engagement. It augments YouTube Analytics with additional metrics and easier access to data.
Key video analytics capabilities of vidIQ:
Skim through the crucial insights with a color-coded metrics view.

Compare video performance to similar videos from competitors.

Get a complete breakdown and explanation of how your SEO score is calculated.

Know how many tags a video is using and how high they rank on YouTube.

View the timeline of a video's performance since it was uploaded, from views to engagement.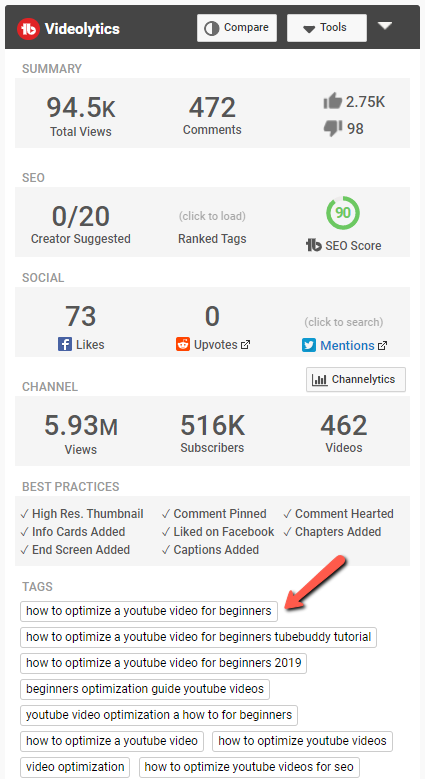 Just like vidIQ, TubeBuddy is another popular YouTube channel performance optimization software. It works as a handy browser add-on that provides a set of tools directly integrated into the YouTube desktop website.
Key video analytics capabilities of TubeBuddy:
A/B test your videos.

Perform competitor analysis.

Track your video keyword rankings.

View social shares of your YouTube videos.
Drive higher ROI with data-driven marketing
Video marketing has become increasingly important in recent years, and using data to drive your video strategy can provide a competitive advantage in a crowded market.
Now that you know about these top video analytics software, it's time to choose the ones that best suit your needs and start unlocking the full potential of your video content.
For example, with Videowise, you can precisely know which of your on-site shoppable videos drive product sales with a reliable attribution mechanism.
This insight is valuable as you can now double down on the types of videos that resonate with website visitors.
There is a lot more you can do with your video performance data.
It's time to leverage it with the right video analytics tech stack.

Chirag Jain
Chirag is a SaaS content marketer who values clear, concise, and engaging explanations about any topic. Using Feynman-inspired teaching methods, he simplifies complex ideas to help his readers understand and apply them in practice.
Keep up with the latest trends in eCommerce video experiences