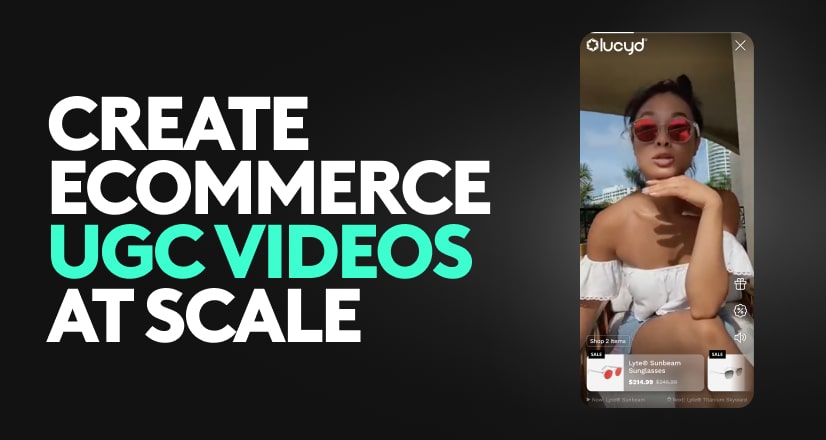 In today's eCommerce landscape, User-Generated Content (UGC) has become a must-have. In fact, more than 86% of companies today use UGC in their marketing strategies. It's definitely one of the trends that eCommerce brands must hop on.
Businesses are now putting in more effort to strategize where to source UGC and how to use them in their marketing campaigns. This guide will go over the benefits of UGC for eCommerce brands, where brands can find UGC, and how to create eCommerce UGC videos at scale.
But First, What is eCommerce User-Generated Content (UGC)?
Put simply, UGC is any content created by users on behalf of a brand. Online users create UGC when they post photos, videos, and even blog reviews.

Then eCommerce brands can harvest these content and repurpose them for their own marketing efforts.
Currently, these are the types of UGC that work best for eCommerce stores:
Product reviews
Testimonials from customers
Social media posts
YouTube vlogs
Instagram stories and Facebook reels
TikToks


Just for additional context here are some examples of how brands use UGC in their overall marketing strategy.
DTC brand Parachute uses UGC in their retargeting ads instead of product shots. The result? 35% higher click-through rates and 60% lower cost per click.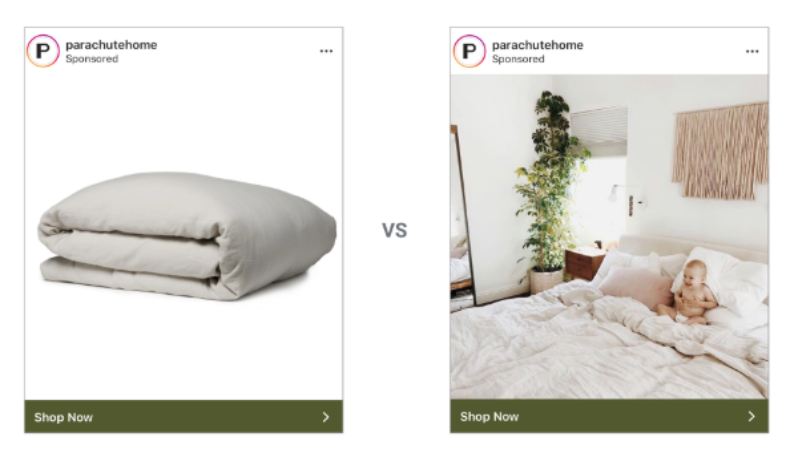 Meanwhile, Lush Cosmetics has the privilege of being tagged by online users quite often. So they're able to share a variety of UGC photos and videos on their social media accounts consistently.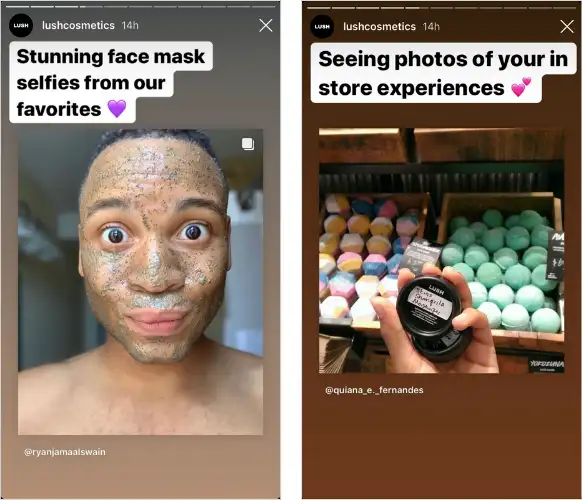 Source
Benefits of eCommerce User-Generated Content (UGC) for Brands
While in-house marketing teams are tasked with coming up with original ideas for marketing campaigns, the tides are turning. Most marketing teams now intentionally include UGC in their plans.

Why? Simply because it works.
eCommerce UGC adds social proof and credibility to brands
Nielsen Global shares that 92% of consumers find UGC more trustworthy than any other type of advertising content they come across. Additionally, 70% of online users trust online reviews and recommendations from other users compared to branded content. After all, people trust people—potential customers trust existing customers.
UGC reinforces the brand story and shows authenticity
When an eCommerce brand is able to show actual UGC, it gives off a sense of authenticity. Potential customers are able to see how your customers relate to your brand's personality.
Plus, 31% of consumers shared that UGC ads were also more memorable than traditional ads.
Content can be repurposed for various channels and purposes
One UGC can already be recycled into different assets for different channels. An unboxing video, for example, can be marketed both on YouTube and TikTok. If you have a lot of customer testimonials, you can stitch them together or promote them individually.
UGC has been proven to perform better than branded assets
According to Shopify, ads featuring UGC already receive 4x higher click-through rates and a 50% drop in cost-per-click. Additionally, when it comes to videos, UGC videos on YouTube have 10x more views than videos uploaded by a brand.
And while UGC is indeed for the taking, it still requires effort to ensure a stable and continuous supply of content to repurpose.
Where eCommerce businesses can find UGC Videos
Compared to photos, videos are on a whole different level when it comes to their impact on eCommerce brands.

Cisco Systems shares that 80% of internet traffic in the whole world can be attributed to video streaming. Plus, according to Wyzowl's State of Video Marketing Report, 86% of video marketers say video has proven to be effective for generating actual leads.
But here's the thing. Video production takes up so much time and resources. That's why UGC videos are the way to go.
So how can eCommerce brands find UGC videos to use for their marketing activities? Thanks to the digital transformation, eCommerce UGC is not hard to come by.
Here's where you can source UGC videos:
Social media engagement and community
Keep an eye out for product or brand mentions as well as hashtags related to your brand. You never know who might be posting about your brand. You'll also be surprised at the creative ideas online users have.
Reviews and testimonials
Aside from the reviews that customers post on their socials, you can also check out the testimonials they leave on your website and your social media channels. And if you have a post-purchase workflow, make sure there's one email there that asks for a review.
Creator marketplaces
Recently, creator marketplaces and apps have been the go-to for marketers and agencies. TikTok, for example, has its own Creator Marketplace. Brands and marketers can choose creators they want to work with, provide the creative briefs, and get insights—all without leaving the marketplace.
There are also Shopify apps like Gatsby that leverage AI so you can get notified whenever a customer mentions your brand on their socials. Plus, Gatsby can also help you segment your customers who have strong followings so you can incentivize them to be micro influencers for your brand.
6 tips for creating eCommerce UGC videos at scale
Partner with the right content creators
Whether you manually search for content creators you'd love to work with or use a creator marketplace, you must be extremely thorough in your process. Make sure that they are the content creators you would love to be associated with your brand.

Of course, once you've selected your creators, make it a habit to provide clear-cut briefs and technical requirements. This will help them craft high-quality UGC that you can repurpose multiple times.
Run contests and hold giveaways
Contests and giveaways always work to increase your reach, and engagement—and now to increase your UGC supply.
Vessi, a Canadian sneaker brand, posted a duet and encouraged TikTokers to create their own duets for a chance to win a free pair of sneakers.
Optimize your post-purchase workflows to encourage UGC
Email marketing is great because it spans the entire customer journey. One of the most heavy-lifting workflows for eCommerce brands is the post-purchase flow because it can be a venue for upselling.

However, it can also be an opportunity to gather UGC. Don't forget to include review requests in your post-purchase flow. This can be as simple as a written review, or you can even request a video review. Just don't forget to add in an incentive or a discount on their next order.
Leverage AI for automatic sorting of relevant videos online
Technology just keeps on winning! Instead of manually finding and sorting UGC videos, you can use AI through VideoWise to automatically find videos that mention your brand or products.

As an added bonus, you can actually add these shoppable videos directly to your Shopify store's product pages in just a few clicks. Fast, quick, and convenient—you'll definitely be able to leverage TikTok videos, Instagram reels, and YouTube videos as additional revenue drivers.
Start a selfless hashtag strategy on social media platforms like TikTok
TikTok is successful because it oozes authenticity—people are just being themselves. The most random videos go viral. For marketers conducting ads on TikTok, they follow the number one rule: Don't Make Ads. Make TikToks.

The thing about TikTok is people want to be part of a trend or take part in an ongoing conversation they can relate with. So start a trend or a campaign using a hashtag that is not brand-centric.

A few examples are Dove's #NoDigitalDistortion campaign which encouraged body positivity and P&G's #LeadWithLove which encouraged TikTokers to share inspiring stories.
Source
Source
Unlock the true potential of eCommerce UGC videos for your brand
If video marketing isn't in your marketing strategy yet, there's no time to waste.

Video marketing will only become hotter this 2022—and UGC videos will help you get started faster. Don't forget to check out Shopify's Video Shopping solution that will help you locate and gather together high-traffic UGC about your brand, which can instantly be implemented on your store pages and enhance conversion rates.

Not only will video marketing help you acquire more leads and get more conversions, but it also contributes greatly to the entire customer experience. And this is what businesses all aim for because a better customer experience means greater customer lifetime value.
Keep up with the latest trends in eCommerce video experiences