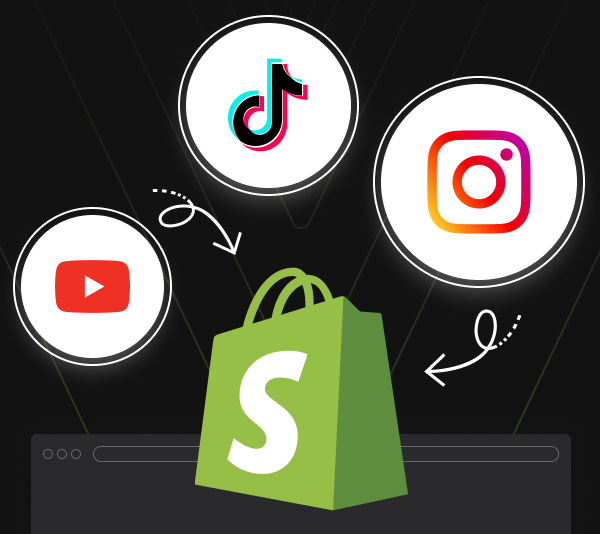 Let's run a little experiment. Look around the room (or office, or subway) and spot three items worth more than $20 USD. Then do a search for the product name + "video reviews."
Whether you search for a watch, an office chair, or a set of cooking knives, you're almost sure to find product video reviews from competing brands for each item. In fact, you'll probably find a few for the specific brands picked out. However, the video reviews of other brands will compete for your attention.
Customer video testimonials are everywhere these days—especially on YouTube, Instagram, TikTok, and Facebook. And with each platform approaching or exceeding 1 billion unique monthly visitors (with Facebook coming in at 2.85 billion), the big social media platforms are very much part of the e-commerce equation.
When someone finds a product on your Shopify (or Shopify Plus) store, there's an excellent chance they'll search for video reviews and get exposed to your competitors' products, along with an infinite variety of product options.
The good news? You can use VideoWise to automatically find good reviews for the brands you sell and add them to your Shopify store as shoppable videos (more on that below).
Why are product video reviews so important these days?
Google has done the research, and they've found that shoppers are 4 times more likely to search for product video reviews than they are to read written reviews on your Shopify store. There are a number of very important reasons for that, including the power of social proof and the trust people place in authentic user-generated content—something that's increasingly valuable given the recent rise of fake reviews.
The bottom line? Customer video testimonial reviews convert, and a shoppable video review will increase your likelihood of conversion by 85% according to Oberlo. The trick is to find the best reviews on social media and post them to your Shopify store. Not only do product video reviews increase conversions, but they also increase the average time visitors spend on your website, which is great for SEO and user engagement. In fact, for one of our customers at VideoWise, adding video reviews increased time on site by 22%!
Adding shoppable customer video testimonials to your Shopify store
It might be surprising, but the e-commerce industry isn't doing much to leverage existing videos from YouTube, Instagram, TikTok, and Facebook, and this is because…
It takes too long to hunt down videos manually (especially if you're an enterprise store with thousands of products)
It's challenging to embed these videos individually, on each product page, in the ideal location
That's why we created VideoWise. VideoWise is the only solution that helps Shopify (and Shopify Plus) store owners automatically find, moderate, and add user-generated video testimonials on their product pages (or anywhere else on their site, including the home page, categories pages, or any other page).
All you have to do is connect your Shopify store to VideoWise and it will automatically:
Searches for videos on each related product using AI to find and rank the best ones.

Gives you a chance to review (i.e., moderate) each video from your video gallery, and easily add the best ones to ideal locations on your site—those spots where customers make buying decisions.
VideoWise also gives you access to real-time reports that let you evaluate video performance. There you can also A/B test product pages with and without videos as well as different review videos, to maximize conversions.
Why not embed those product video reviews manually?
Without VideoWise, manually adding videos to your product pages is time-consuming if you've got a small product line, and it's virtually impossible if you've got a larger one. Imagine adding videos for 100s (or 1,000s) of unique SKUs. It can't be done.
There's no product on the market today that will help you find relevant videos, add them to your product pages, and gather real-time reports and analytics about how shoppers interact with those videos (including clicks, views, and how each video influences conversions).
Try VideoWise today, and start adding videos to your store for free!
Rich Matukaitis
Rich joined Videowise after having spent 4 years working directly within the Shopify ecosystem. Through various industries prior, Rich has culminated a high standard and passion for creating memorable experiences for people while tailoring solutions that promote business growth and scalability. Rich lives in Toronto, ON and spends most of his free time cycling (weather permitting).
Keep up with the latest trends in eCommerce video experiences