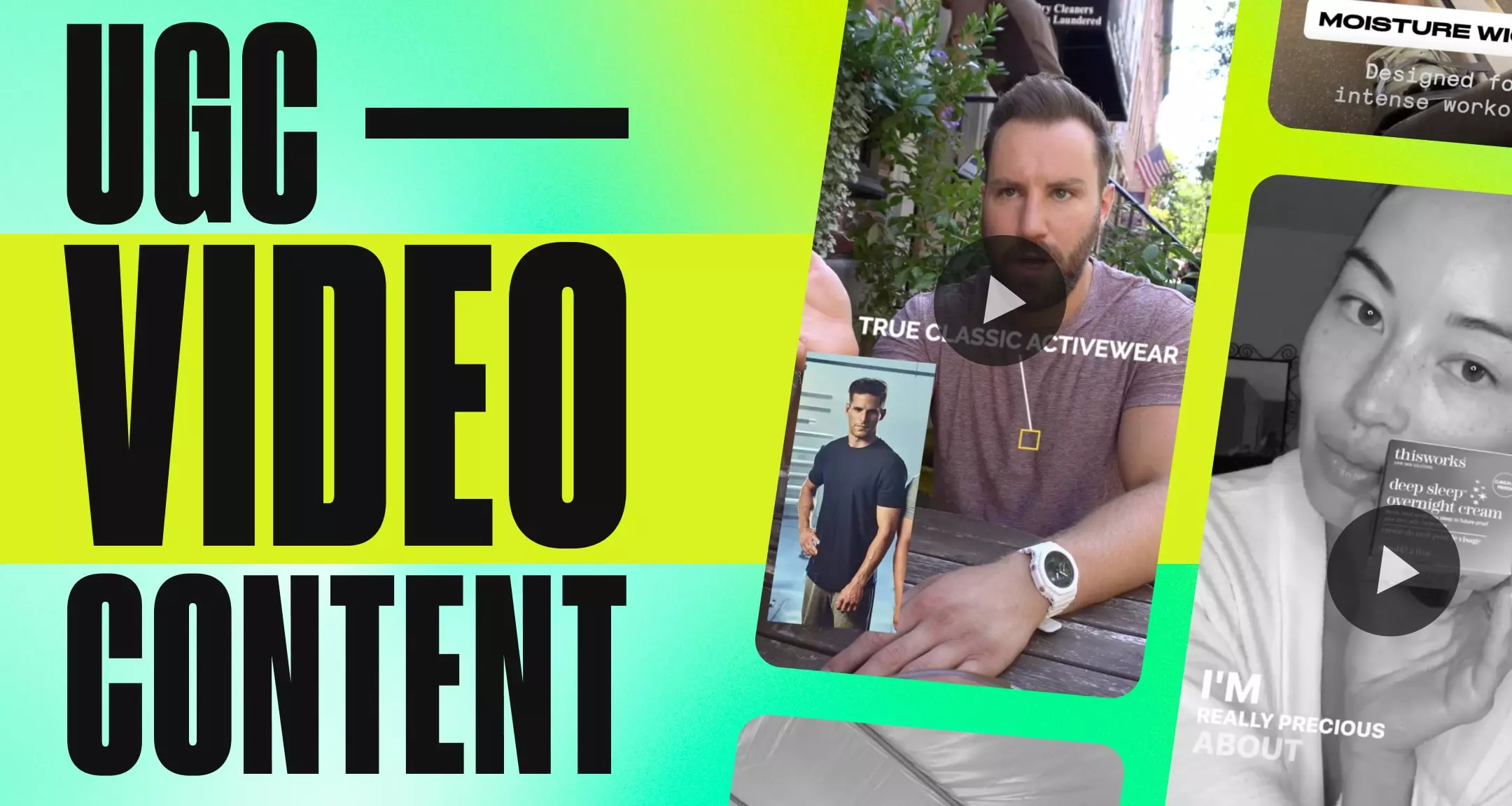 74% of customers prefer to see user-generated content (UGC) over traditional brand-generated content, which is the reasons behind UGC creators' growing popularity. When implemented right, UGC can help brands build social proof, trust and increase conversion rates.
In this blog post, we'll break down:
What a UGC creator is

Why is UGC so valuable

How can you find and reach out to UGC creators

Ways to maximize the impact of UGC
What is a UGC creator?
A UGC creator is someone who creates authentic content that showcases a brand's product or service. UGC creators often use their own perspective to film and narrate the content, giving it an original and authentic feel.
People often confuse a UGC creator with an influencer. But the fact is - they're a lot different from each other.
UGC creators create content and don't necessarily have to post it on their own socials. Depending on the nature of their collaboration, they can publish content on their socials for an added charge. In contrast, an influencer gets paid for both the content and the brand's exposure to their audience.
So, deciding who to work with depends on your goals and what you wish to achieve from a collaboration.
For example, Korean skincare brand Peach Slices regularly works with UGC creators for its TikTok content.
Brands can use UGC in so many ways, and we'll take a look at how to maximize its reach later. One way is to make UGC videos shoppable. Let's take the example of the skincare brand Ava Estelle. By embedding UGC through the Videowise video player, Ava Estell gives visitors the opportunity to shop directly through the video — without leaving the page.
Why is UGC content so valuable?
UGC is getting all the hype, and brands are increasingly looking for creators for content that emulates traditional UGC. Let's have a look at why UGC is so valuable.
Authenticity: Customers are 2.4 times more likely to consider UGC genuine than content created by the brand because of its organic feel.

Influences purchase decisions: In a 2021 Nosto report, 79% of respondents said user-generated content highly impacts their purchasing decisions.

Cheaper: Brands only pay for the UGC itself. But if they work with influencers, they have to pay for the content and an influencer's reach and engagement.

Easier and faster: 64% of companies don't make video content due to lack of time. Sourcing UGC creators lets you scale content much faster without building an in-house team. Just send the briefs to your creators and get multiple new deliverables.
Mindy Thomas, a UGC creator, talks about how brands should proactively source UGC creators to drive traffic and increase engagement.
5 ways to find creators for UGC video content
Now that we've covered how valuable UGC is for brands let's look at how and where you can find UGC creators.
1. Use an influencer search tool
Many UGC creators are also influencers in their niche, and using an influencer search tool will help you find and connect with those creators.
Influencer search tools have multiple filters to help you find creators based on your requirements and pre-qualify them, so you don't have to look through thousands of potential profiles. Some platforms also provide a creator's profile analysis and monitor your UGC campaigns.
Modash is one such tool. It helps you find creators, get their contact emails, and track campaigns. With a database of 250M+ creators, Modash lets you find any creator (with 1K+ followers) on Instagram, YouTube, and TikTok.
Modash provides filters to narrow down the huge database to find the perfect creators. You can specify a creator's location, gender follower count, growth, engagement rate, and more. You can also apply audience filters like location, gender, age, etc.
You can get a detailed overview of a creator's profile in Modash to analyze and see if they are a right fit for your brand. You'll get everything from fake follower checks, engagement rates, audience demographics, top content, and more.
2. Find directly on social media
You can search for relevant hashtags on social media platforms to find creators already making UGC videos related to your brand or industry.
Many creators add 'UGC creator' in their bio, making it easy for brands to discover them by searching 'UGC creator + your industry.' For example, if you want to find Instagram creators in the skincare niche, you could try searching 'UGC creator skincare' directly on Instagram and scroll through the results to shortlist creators.
You can also see your or your competitor's tagged photos. This is a great way to see accounts creating relevant content and tagging brands to get some spotlight.
I just found Maddie, a digital creator, through the tagged photos of Portland Gear.
Social media platforms have dedicated creator marketplaces to help you find UGC creators. You can find and connect with vetted creators with YouTube's BrandConnect, Instagram's Marketplace, and TikTok's Creator Marketplace.
3. Launch user-generated content campaigns
Historically, user-generated content is created by customers. And you can get hundreds of UGC creators through a hashtag challenge or an online contest.
Start with clear goals by determining what you want to achieve with your UGC campaign. Do you want to increase brand awareness, build community, or drive sales?
Set clear guidelines, specify the kind of content you want your audience to submit, and be transparent on how they should post it. With only 16% of brands giving clear guidelines on the type of content they want, your detailed guidelines will give you a leg up.
Chipotle launched the #LipFlipChallenge in 2018 to promote its free delivery deal for online orders for Cinco de Mayo. Participants needed a phone and a Chipotle burrito bowl to create their videos.
The Lid Flip Challenge campaign generated 111,000 video submissions in just six days, with record-breaking digital sales and app downloads. The hashtag #ChipotleLidFlip currently has 345.9 million views on TikTok.
Any customer or brand enthusiast who already participated in a UGC campaign like the one above is very likely to engage with you on another collaboration. So you can find the best submissions for #LipFlipChallenge (for example), reach out to them, and hire them to create the specific types of UGC you're looking for, for your next campaign
4. Create a brand ambassador program
A brand ambassador program is a marketing strategy that involves enlisting people to promote a brand's products or services. These individuals, known as brand ambassadors, are typically regular consumers or fans of the brand who are passionate about sharing their positive experiences with others. It is the perfect way to have influencers and creators consistently create UGC for you.
Think of your brand ambassadors as cheerleaders for your business — hyping up your business any chance they get. Brand ambassadors can be your customers, employees, influencers, or other UGC creators.
Create a dedicated landing page for your ambassador program so creators can look for it by typing "brand ambassador program + your brand." Make sure to mention all the guidelines to apply for the program and any eligibility criteria (if any).
Gymshark's ambassador program is highly regarded and is open to anyone who loves its products, regardless of their social media following. This investment in people has paid off tremendously, with the company experiencing a remarkable 68% growth in sales, from $330 million in 2020 to $555 million in 2021.
And the Gymshark Athletes have delivered. You can see consistent content from these brand ambassadors — sharing the brand's fitness clothing at every chance they can get.
Pro tip: You can also create an employee advocacy program to encourage your employees to create UGC. Aura, a hair care brand, has 20.5K followers on Instagram in two years, and a lot of its credit goes to the UGC created by its employees.
5. Ask your customers after a purchase
Asking your customers for UGC is a great way to get authentic and genuine content for your brand.
You can send a thank you email after purchase or include a note in the packaging to ask them to submit a video or a product review. To make it more specific, you can also share some ideas on what kind of content you're looking for.
If a customer sends content you like, you can reach out to them and collaborate with them for future content.
Aura has a dedicated 'Highlights' section on its Instagram account to add UGC from TikTok and Instagram.

How to reach out to UGC creators
Now that you've found and shortlisted UGC creators that fit your brand, what's next?
Outreach.
And the first thing to remember when you begin outreach is personalization.
It's important to make each creator feel valued and appreciated. Start by addressing them by name and mentioning something specific from their content that caught your attention. This shows that you've done your research and are genuinely interested in working with them.
Nikola Sokolov, CEO of Influencers Club (who sends 1M+ emails per month to creators), talked about creating the perfect outreach message and suggested:
"Make sure that the outreach email has a clear value proposition for the creator. Personalize the email by adding what made you reach out to them, like how your product connects with the creator's audience, or compliment their content or recent video."
Let's have a look at some best practices to level up your creator outreach:
Keep your email subject line simple and to the point. Don't add spam words like 'free' or 'gift' in the subject line.

End the email with a call-to-action that incites a yes/no response. Some examples include 'Can I send more info?' or 'Sounds like something you'd be interested in?'

Have some interaction with them before sending an outreach email. You can DM them, comment on one of their posts, or share their content on your account. It will make your brand familiar to the creator and your emails more personalized.

Following up is the key to getting creators to respond to you. Follow up at least three to five times on your first outreach email.
Here's a quick hypothetical example of an outreach email to UGC creator Jane Smith.
Subject line: We loved your peace lily vid 😍. Let's collab?
Body:
Hi Jane,
Your peace lily care guide came up on my FYP today. Great idea to use liquid fertilizer in spring -- totally going to try this myself 🙂.
I'm Jane from Jane's Plants; we sell all kinds of houseplants (including peace lilies).
I love your content; the style & vibe totally aligns with our brand. We're looking to hire creators like yourself to make authentic video content to add to our marketing mix.
Would you be open to discussing the opportunity? 🙂
Pro-tip: Always aim for a 'soft' CTA that enables a yes/no response. By getting a quick 'yes,' you convince the creator to continue the conversation.
4 tips to maximize the impact of your UGC content
After hiring a UGC creator and getting the desired content, how do you maximize the impact of the UGC?
Let's have a look.
1. Make UGC videos shoppable
The intersection of UGC and eCommerce is powerful. Before buying, people go to social media to research, find customer reviews, and look at UGC. In fact, 53% of consumers follow brands on social media to learn about new products and services.
And this is where shoppable videos come in.
Shoppable videos are a form of interactive video content allowing viewers to purchase featured products from within the video itself.
You can add your UGC videos as shoppable videos on your website and product pages. Videos already convert better, and showing user-generated videos will increase your engagement and conversion rates.
With Videowise, you can easily add shoppable videos to any page of your site, add multiple responsive and adaptive video widgets, customize the video player, and add a logo through the platform's drag-and-drop editor. Videowise also protects your site's page speed with compressed thumbnails and lazy loading while ensuring the videos automatically adapt to any device or screen resolution.
Apolla, one of our customers, achieved up to $193.9K in added revenue after implementing video shopping in their store. The brand achieved up to 21.47% in video engagement and an average 9.94% video conversion rate.
2. Use UGC in paid ads
According to Jukin Media, ads with UGC get 73% more positive comments on social media than traditional ads.
TikTok has introduced the perfect way to run ads on UGC through Spark Ads. You can run ads on organic content and maintain the native feel and functionality of organic posts. Spark Ads also lets you add a CTA and change the caption and hashtags.
L'Oreal ran Spark Ads in collaboration with a popular TikTok creator Adriana Spink. Compared to previous L'Oreal TikTok campaigns, the brand saw a 280% increase in completion rate, a 30% increase in engagement rate, and a 43% increase in average watch time per video view.
You can also whitelist ads — run ads from a creator's account. This is a great way to utilize UGC and reach out to an audience from a profile different from your brand account.
By running ads through a creator's account, you can reach your audience organically, as the ads are shown under the creator's handle.
Kiala Nutrition ran Spark Ads on a UGC video, resulting in 75+ million impressions and 10,000+ conversions.
3. Repost on social media channels
You don't have to limit UGC to one platform. Repurpose it, post it on your other social media accounts, and show it to a different audience to increase its reach. You can repurpose UGC as:
TikToks as Instagram Reels

Instagram images on Pinterest

Tweet as an Instagram Story

Facebook posts on Instagram
Remember to optimize the content based on the platform. Content created for Instagram Story might not work as a Tweet, so it's important to reformat the content before you hit publish. Also, rewrite captions and edit your @ tags and hashtags wherever applicable.
Look at this UGC posted by Curology, a skincare brand. The brand mentioned the UGC creator in the caption and added a short CTA.
4. Repurpose UGC
To ensure you're using your UGC to its maximum impact, repurpose it wherever you can — blogs, emails, landing pages, or websites.
Mihaela Tudorache, our Product Manager at Videowise, says the key to maximizing the impact of UGC lies in amplifying the reach of UGC by leveraging it across various channels. She continues,
"Share UGC on your website, social media platforms, newsletters, and even offline marketing materials. This multi-channel approach increases exposure and allows different segments of your audience to engage with the content."
By including UGC in your emails, you can increase email click-through rates by about 73%, increase engagement and build trust with your audience. Here are a few ideas:
Newsletter: You can include product reviews, images, and videos in your newsletter to show how your customers like your products.

Social proof: UGC is the perfect way to show social proof in emails to build credibility with your subscribers.

Promote new products: You can use UGC to market new products by sharing videos or images of the product and sharing reviews.
Makeup brand Vieve regularly incorporates UGC images and videos in its email and encourages its users to get featured as well.
Customers are six times more likely to purchase a product if the page includes pictures from social media.
So, what better way to convince customers to make a purchase than by showing how your product looks?
Converse, a footwear brand, does a great job of adding UGC with every product on the product page. 'Looks from the Converse Community' shows how each footwear looks and how customers are stylizing it.
Start working with UGC creators today!
Finding UGC creators can be a bit daunting at first. You don't know where to look for, what criteria to filter profiles through, and how to successfully reach out to them.
The tips and strategies outlined in this blog post will help you find UGC creators, collaborate with them, and ensure you use the content to its maximum impact.
So, don't hesitate to get creative and experiment with different UGC strategies. With the right approach, you can find UGC creators and create a powerful UGC campaign that resonates with your audience and drives growth for your business.
To get the most out of your UGC videos, we highly recommend making them shoppable. Learn more about shoppable videos.

Momina Asif
I'm a freelance writer specializing in creating long-form content for B2B SaaS companies. With 5+ years of experience in marketing, I'm your go-to writer for clear, concise, and impactful content. When I am not working, I am either immersed in a book or binge-watching Netflix with some really good snacks!
Keep up with the latest trends in eCommerce video experiences