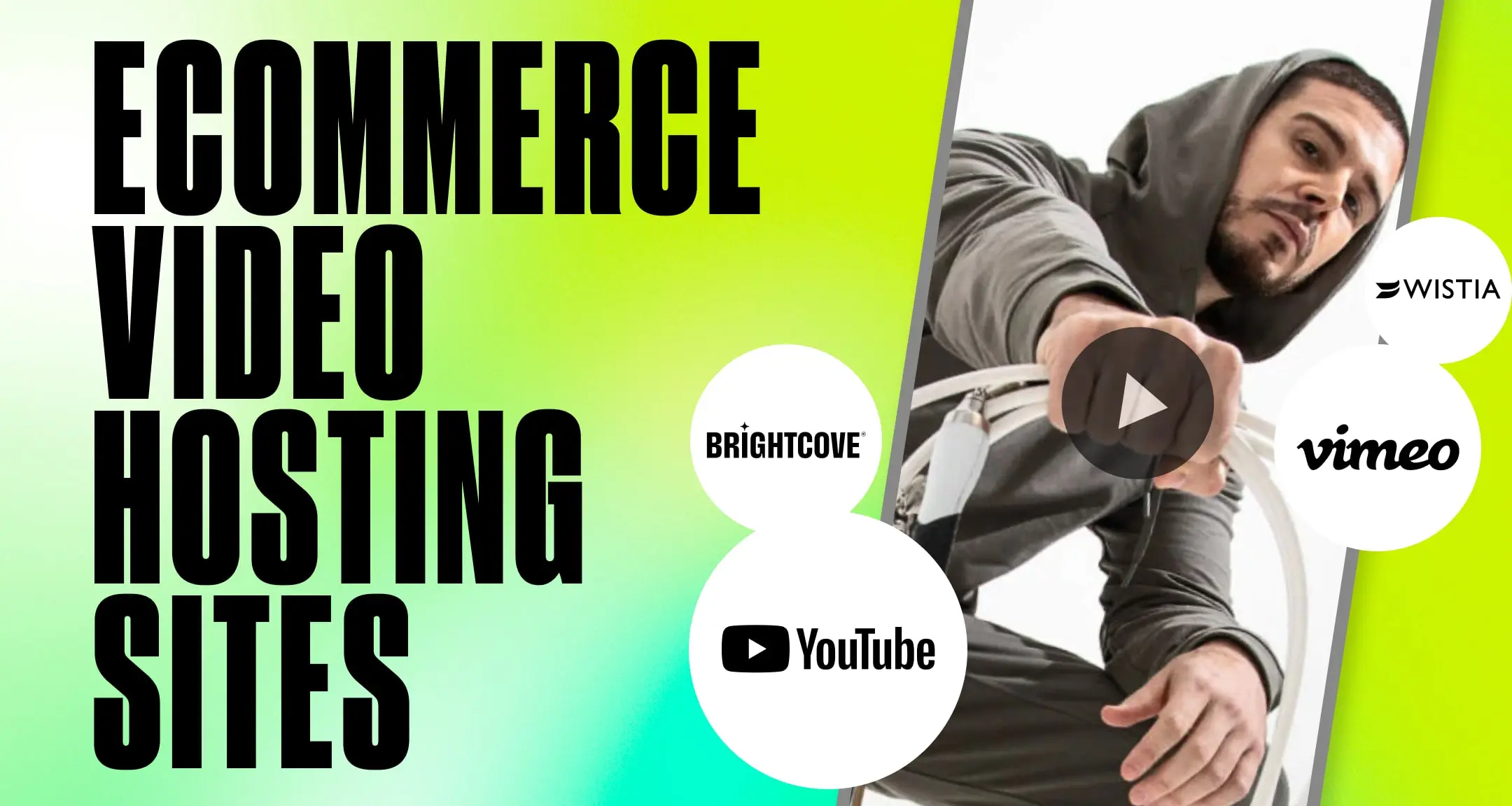 Creating captivating videos isn't just about advertising products anymore — it's also how you engage with customers, connect teams to potential leads, and improve conversions. But you also need the perfect stage to showcase your video masterpieces. Imagine a third-party site, where you can effortlessly upload and integrate your dazzling video content into your website.
Luckily, the options for video hosting in the eCommerce niche are endless.
With a host of features, pricing plans, and user-friendliness, you're bound to find a platform that meets your needs. But here's the kicker: both free and paid hosting sites have their fair share of advantages and disadvantages. That's why we did the legwork for you and compiled a list of the top ten eCommerce video hosting options that will make your video dreams a reality.
1. YouTube
Source: Old Spice YouTube
When you upload your videos on YouTube, you're not just reaching a niche audience — but a massive, engaged community hungry for content. This means your videos have a higher chance of being discovered in searches, catapulting your brand into the spotlight. And with no pesky bandwidth cap holding you back, the sky's the limit for your creative content ideas.
Monetization options allow you to profit from advertising, while the ability to drive traffic straight from youtube videos to your online store ensures you'll have a direct pipeline to potential customers. Then there's YouTube's live streaming feature, which connects you with your audience in real-time, generating even more buzz around your brand.
As enticing as YouTube may be, it might not be the perfect fit for everyone. One drawback of using YouTube for eCommerce is those sneaky little ads or related videos that might pop up alongside your content. It also lacks some of the more specialized eCommerce features and integrations found on other dedicated platforms.
Key features
Unlimited free video hosting

Easily embeddable videos

Analytics for tracking video performance and audience insights

Integration with Google services and SEO benefits

Monetization through ad revenue
Pricing
2. Videowise
If you're looking to uncover your brand's true potential with an end-to-end video commerce infrastructure that will escalate your ROI from video marketing, Videowise is just for you.
Picture this: shoppable videos seamlessly integrated into your website's product pages, making every customer's shopping journey interactive and immersive. Thanks to Videowise, you can now embed captivating videos from YouTube, Instagram, and TikTok, right where your products shine the brightest.
Here's what our user Stephen Pinto has to say about Videowise:
With Videowise's omnichannel distribution capabilities, your personalized shopping adventures can spring to life on your website, through emails, via SMS, across social platforms, and even through QR Codes. And with interactive videos featuring quizzes and irresistible call-to-action buttons, you'll have shoppers begging for more.
Oh, and did we mention Videowise's incredible video player? The adaptive design caters to the mobile generation, creating irresistibly engaging swipe-up experiences that flow without friction.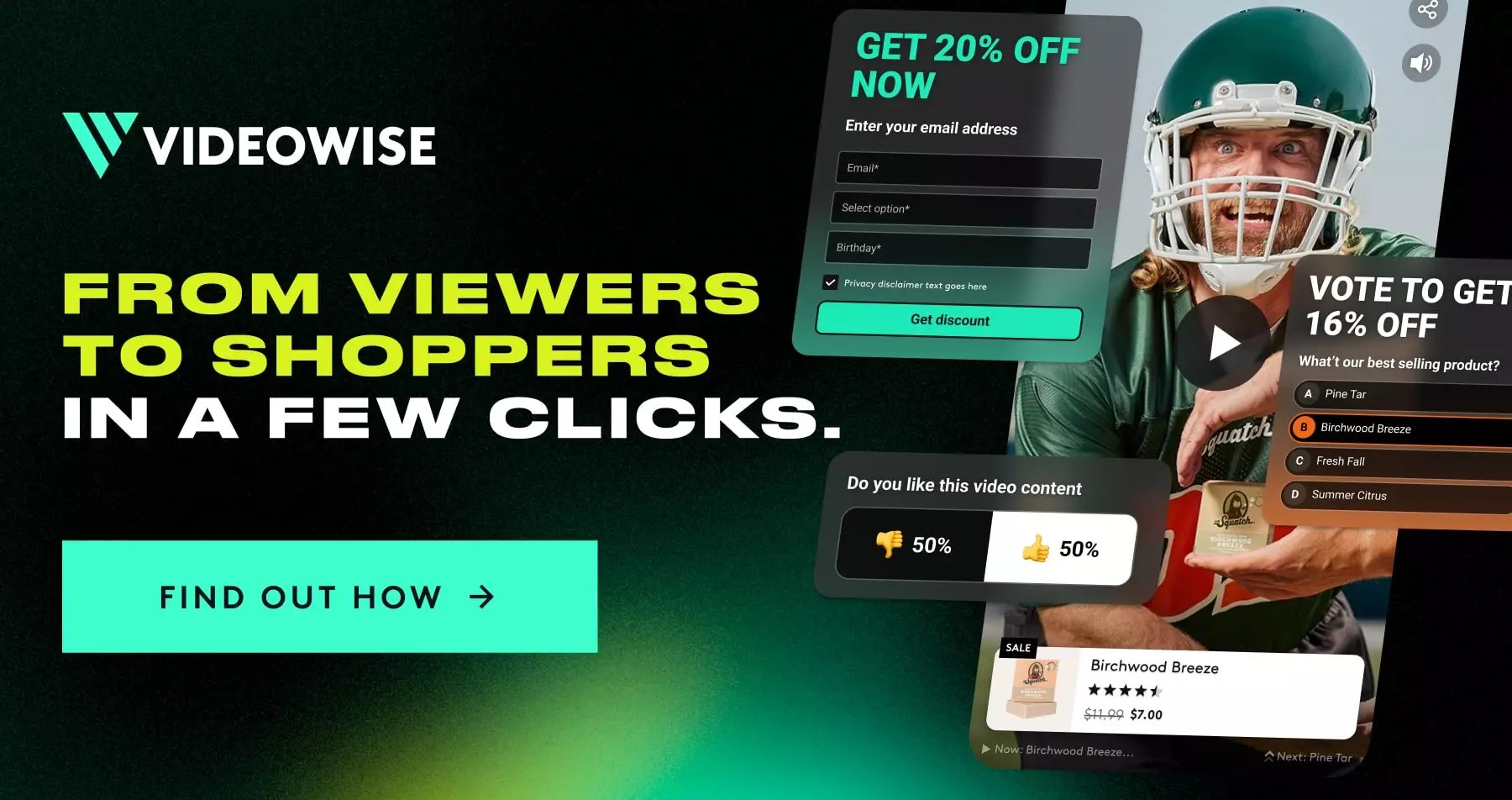 There's also a state-of-the-art video analytics engine that provides you with a deep understanding of how every video impacts your bottom line. With real-time insights and comprehensive tracking (think: conversion funnels, revenue attribution, audience and device segmentation, and granular reporting) at your fingertips, success will no longer be a question mark, but an undeniable reality.
Features
Advanced video customizations options

Automation capabilities to scale campaigns

Direct and influenced video sales tracking

Video monetization with transparent revenue attribution

Intuitive video library
Pricing
For emerging brands
Starter: $99/month

Scale: $249/month
For established brands
Pro: $449/month

Advanced: $899/month

Enterprise: Custom pricing
3. Vimeo
With Vimeo, showcasing your products and services becomes a breeze, effortlessly blending your videos into the fabric of your online presence. And the best part? No intrusive ads or distracting recommendations that can derail your viewer's attention. Your videos take center stage, looking stunning and loading with lightning-fast speed.
Source: Vimeo
This eCommerce video hosting site offers an array of features that elevate your content creation game. Customize video players, set advanced privacy settings, and access comprehensive analytics. Tailored video templates make it easy to create compelling content for your products. You can also embed videos that seamlessly match your website's look, creating a cohesive brand experience.
Similar to YouTube, Vimeo has powerful livestream capabilities. Host product launches and interact with your audience in real-time. Monitor chat activity and make your viewers feel like part of something special. It's worth mentioning that Vimeo's premium features do come at a cost. The free storage is limited, and pricing may be higher compared to other platforms.
Features
Detailed analytics and viewer engagement metrics

Video hosting, up to 8k quality

Advanced privacy settings

Customizable video players with branding options

Access to video editing templates
Pricing
Free trial: Yes

Starter: $12 per seat/month

Standard: $20 per seat/month

Advanced: $65 per seat/month

Enterprise: Custom pricing
4. Wistia
Source: Wistia
Wistia goes beyond mere analysis by providing lead-generation tools that seamlessly integrate with your videos. Imagine placing interactive forms and compelling CTAs within your videos, capturing leads, and fueling your sales funnel.
To take it even further, this eCommerce video hosting site effortlessly integrates with your CRM software, ensuring a streamlined flow of data that powers your marketing automation.
The video player itself is ad-free and fully customizable to align perfectly with your brand identity, ensuring an immersive viewing experience for your audience. While Wistia may have limited reach compared to platforms like YouTube, it offers a specialized and tailored solution for businesses that crave a comprehensive video hosting service and marketing platform.
Features
Customizable video player

Video hosting up to 4K quality

Integrations with eCommerce platforms for product showcase and marketing

Embeddable videos

Lead generation tools
Pricing
Free

Plus: $19

Pro: $79

Advanced: $319

Premium: Custom pricing
5. Brightcove
While Brightcove may not be the most well-known among eCommerce merchants, it has earned its stripes as a comprehensive video hosting and management platform favored by major brands like Johnson & Johnson, AMC, and Ford.
Source: Brightcove
One of its standout features lies in its seamless integration capabilities with eCommerce platforms. Embedding videos into product pages or marketing campaigns becomes a breeze, enhancing your ability to showcase your products and services. Also, expect high-quality and high-performance video streams that are reliable and fully customizable to create product videos that match your brand's aesthetics.
However, as Brightcove's setup process requires coding knowledge, it's more suitable for large-scale businesses with technical expertise at their disposal. This complexity can pose challenges for smaller teams seeking a simpler video hosting solution.
Features
Comprehensive video analytics

Cloud video storage

Scalability and enterprise-level features

Advanced security measures for video content protection

Live streaming
Pricing
6. Amazon Web Services
Within Amazon Web Services (AWS), you'll find two powerful tools specifically designed for eCommerce businesses: Amazon Elastic Transcoder and Amazon S3 (Simple Storage Service).
Amazon Elastic Transcoder optimizes video files for seamless playback on smartphones, tablets, and PCs, maximizing the reach and engagement potential for video data across different devices. Whereas Amazon S3 offers secure and reliable storage and delivery of video files, ensuring the safety and accessibility of your content. You can easily upload videos to your S3 account and embed them into your eCommerce website with a trusted video player like video.js.
AWS excels in handling variable video hosting demands without compromising performance. Its scalable service ensures your hosting needs are met regardless of traffic fluctuations. With a reliable infrastructure, AWS delivers impressive uptime for uninterrupted video hosting. Seamless integration with other AWS services streamlines operations and expands possibilities.
While AWS offers significant cost savings through its pay-as-you-go pricing model, you need a certain level of technical expertise for implementation.
Features
Flexible storage options

Integration with other AWS services and video management platforms

Encryption mechanisms to protect video files

Global content delivery

Highly scalable
Pricing
7. Sproutvideo
Sproutvideo empowers businesses to embed ad-free videos on their websites while ensuring secure delivery and customizable options that align with their branding. Expect seamless eCommerce integrations that enable you to protect videos with password access and set up paywalls for monetization.
Additionally, it lets you capture leads through embedded forms to build a strong customer base. Create engaging playlists and easily toggle social sharing buttons to enhance the visibility and reach of your videos.
Source: Sproutvideo
Security is a top priority for SproutVideo. Benefit from features like log-in protection and single sign-on, ensuring your video deliveries remain safe and secure. Automatic bandwidth detection and seamless integration with other content management platforms like Squarespace and WordPress, further expand your possibilities.
It's important to note, however, that the extensive features offered by SproutVideo may impact the overall ease of use.
Features
Supports video in HD and Ultra-HD, up to 4K and 8K

Customizable player to suit your branding

Advanced security controls for maximum video content protection

Global content delivery network

Video engagement metrics to track and analyze each viewer
Pricing
Free trial: Yes

Seed: $10/month

Sprout: $35/month

Tree: $75/month

Forest: $295/month
8. Vidyard
Source: Vidyard
With Vidyard, the possibilities are endless. Whether you're showcasing products, creating personalized video campaigns, or driving sales, this eCommerce video hosting platform has got your back. Enjoy interactive video elements, leverage ready-to-record video templates, and seamlessly integrate with CRM software like Salesforce and Zapier.
And that's not all – Vidyard's fully customizable video player lets you amplify your brand with personalized colors, in-video CTAs, and opt-in forms.
As with any platform, Vidyard comes with a few considerations. While it excels in sales-focused video content, it may require additional integrations for seamless eCommerce functionality. It's important to note that Vidyard's pricing might be higher compared to other platforms, particularly when opting for advanced features.
Features
Brandable video player

Video quality hosting up to 4k quality

Completely free ad-experience

Marketing integrations and SEO features

Interactive video elements like CTAs, annotations, and forms
Pricing
Free

Pro: $19

Business: Custom pricing
9. Spotlightr
Source: Spotlightr
With Spotlightr, you have the power to customize your videos like never before. Think: adding timed buttons, overlaying your logo, and safeguarding against piracy with dynamic watermarks.
But this eCommerce video hosting platform is not just about aesthetics. It's a comprehensive platform that equips you with marketing tools and integrations to supercharge your eCommerce business. And when it comes to updating your eCommerce video content, Spotlightr ensures a streamlined and hassle-free experience to save you time and effort.
Your videos are also shielded with optimum security measures, and encrypted to thwart unauthorized downloads. While the learning curve might be steep, Spotlightr is designed to be user-friendly, ensuring that even with advanced features, simplicity reigns. And should you ever need assistance, its customer service stands ready to provide excellent support.
Features
Integrates directly with eCommerce sites

Video analytics and heatmaps

Brandable video player

Advanced overlay features

Supports HD video quality of up to 4K
Pricing
Free trial: Yes

Spark: $7 per month

Aurora: $15 per month

Polaris: $40 per month

Supernova: $125 per month
10. Jetpack
Source: Jetpack
Jetpack is the go-to solution for embedding videos on your WordPress eCommerce website. As a WordPress plugin, Jetpack VideoPres offers direct video hosting capabilities, eliminating the need for external video platforms. Enjoy responsive video embeds, optimized performance, and basic analytics that provide valuable insights, all conveniently accessible from your WordPress dashboard.
Hosting your videos with Jetpack also comes with the added benefit of its high-speed content delivery network (CDN). So, no bandwidth issues and external ads, as Jetpack ensures smooth video delivery directly from your own server.
While Jetpack offers many useful features for managing WordPress eCommerce sites, note that only a few are specific to video hosting. Monetization and interactive video elements are not supported, and live support may not be available. Nevertheless, Jetpack remains a reliable and convenient solution for embedding and hosting videos on your WordPress eCommerce website.
Features
Ad-free viewing experience

CSS customization options

Free global CDN

Supports HD and 4K videos
Pricing
Starter: $3.95/month

Security: $9.95/month

Complete: $24.95/month
Signing off…
As an eCommerce seller, finding the best video hosting platform or site is crucial, and it all comes down to your specific needs. You should consider factors like your budget, the type of video content you'll be hosting, the technical expertise required, and the platform's suitability for your target audience.
To make an informed decision, we recommend carefully evaluating the options discussed in this article. Take advantage of free trials and demos to get hands-on experience and determine which one aligns best with your eCommerce goals and enhances your video content strategy.
And if you're still unsure which platform to choose, give Videowise a try. With Videowise, you can effortlessly create engaging and highly converting interactive videos in just minutes. It's a valuable tool that can take your video content to the next level and drive results for your eCommerce business. Book a demo today.

Rana Bano
Rana Bano is a one-part B2B content writer and one-part content strategist. She uses these parts to help SaaS brands tell their story, aiming to encourage user engagement and drive traffic.
Keep up with the latest trends in eCommerce video experiences