If you're an eCommerce store owner, you know how important video content is nowadays.
It's not a secret anymore that video is a powerful tool that helps your brand communicate better with its audience through its store, website, social media platforms, and more.
At Videowise, we believe video commerce is the future of acquisition and added revenue for brands and retailers, and that is why we're on the road to creating automated features to help you customize video commerce experiences and get the best results out of video content.
In this blog post, I'll walk you through the details we discussed in our first newsletter launched this April, such as the latest updates in Videowise, customer spotlight, events we're attending, and much more.
Let's dive in.
What's new in the Videowise app?
Here are some of the main features our team has worked on in the past month.
Call to Action Feature
The call-to-action (CTA) feature is an excellent tool for driving conversions.
With Videowise, you can customize your CTA to match your brand for a more personalized experience. You can also tailor CTAs to mobile and desktop for a consistent visual experience. Moreover, you can track the performance of your CTAs to gain insights into how effective videos are at driving specific actions.
Global Styles Feature
Setting the style for quizzes and interactions can be time-consuming. That's why we created the Global Styles feature.
With this feature, you can set the style for quizzes and interactions once, and every interaction will follow the same style. Like CTAs, you can customize the style for mobile and desktop for a consistent visual experience. The feature also helps you maintain the store's consistency to reinforce your brand identity.
Background Video
Background videos can create an immersive and engaging experience for the viewer.
It provides visual interest and an overall ambiance to draw the shoppers into the shopping experience. In addition, with Videowise, you can automate compression to set a resolution as low, medium, or high.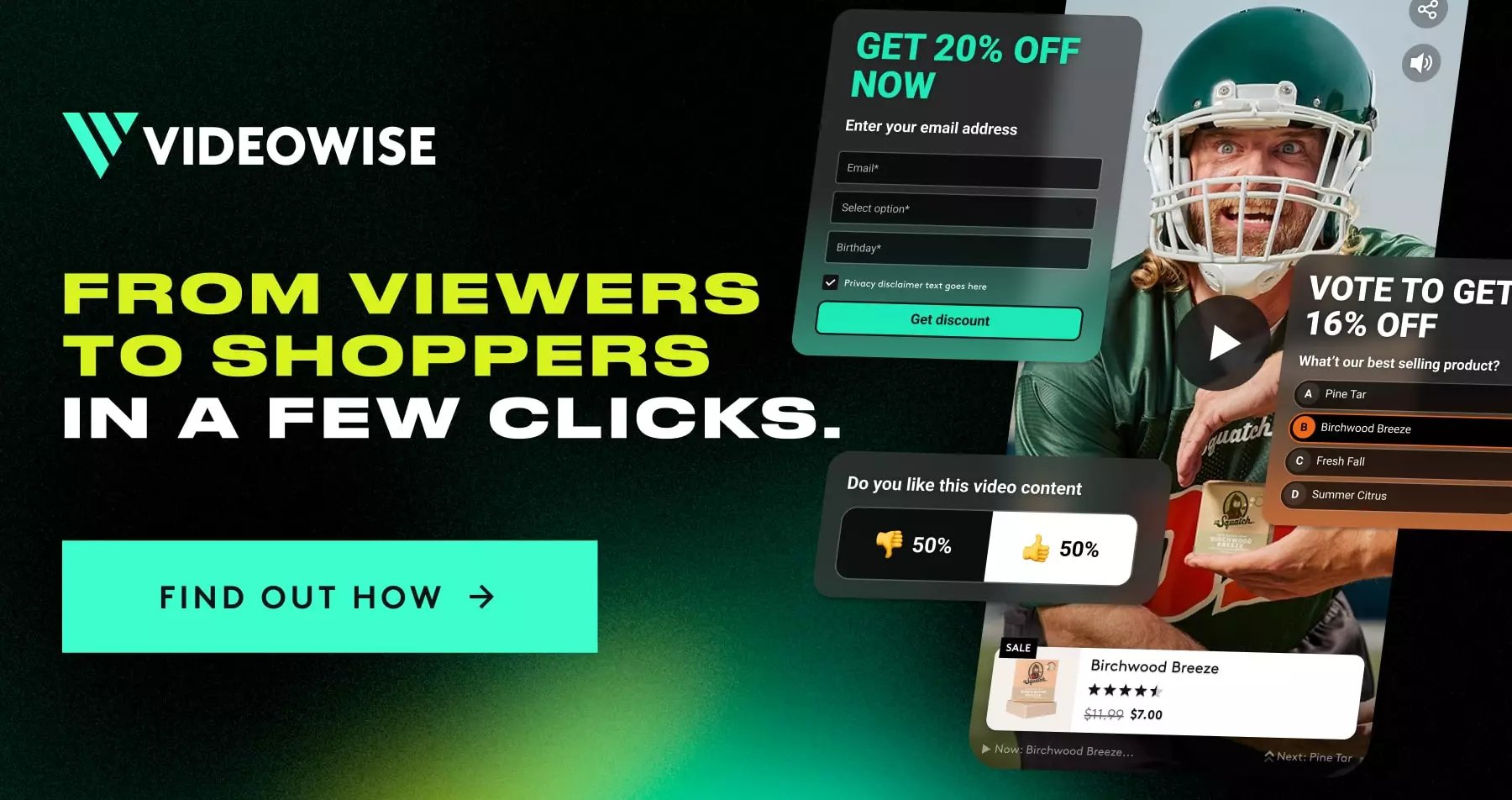 Events we've attended
In April, the Videowise team attended the eComm Live - Powered by IRP, Ireland's leading eCommerce event, held on 26-27th April 2023, at Assembly Buildings Conference Centre, Belfast.
We hope you managed to join and enrich your knowledge with great insights from the industry's leading experts.
If you missed it, you'd the chance to meet our team at the biggest eCommerce event with international brands, retailers, agencies, and software providers at Shoptalk Europe at Fira Gran Via, Barcelona, between 9-11 May 2023.
This event was an excellent opportunity to learn more about eCommerce trends for 2023 and network with like-minded professionals.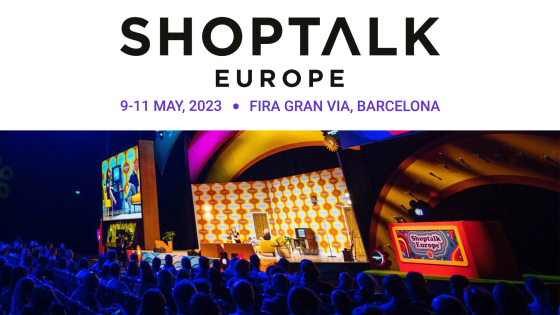 Customer spotlight
Dr. Squatch is an excellent example of how video content can enhance a brand's marketing efforts.
The company creates all-natural soap for men. As the company grew, it sought a video solution to help them deliver an immersive and interactive shopping experience.
That's when Dr. Squatch found Videowise.
With Videowise, Dr. Squatch created engaging videos that made its business stand out and increased its conversion rates.
Today, the company continues to use Videowise to create compelling videos for its shoppers. For example, Dr. Squatch uses a captivating video carousel for the homepage that viewers can watch without clicking through an external platform. Additionally, the company uses picture-in-picture videos for the key store pages to create a seamless user experience.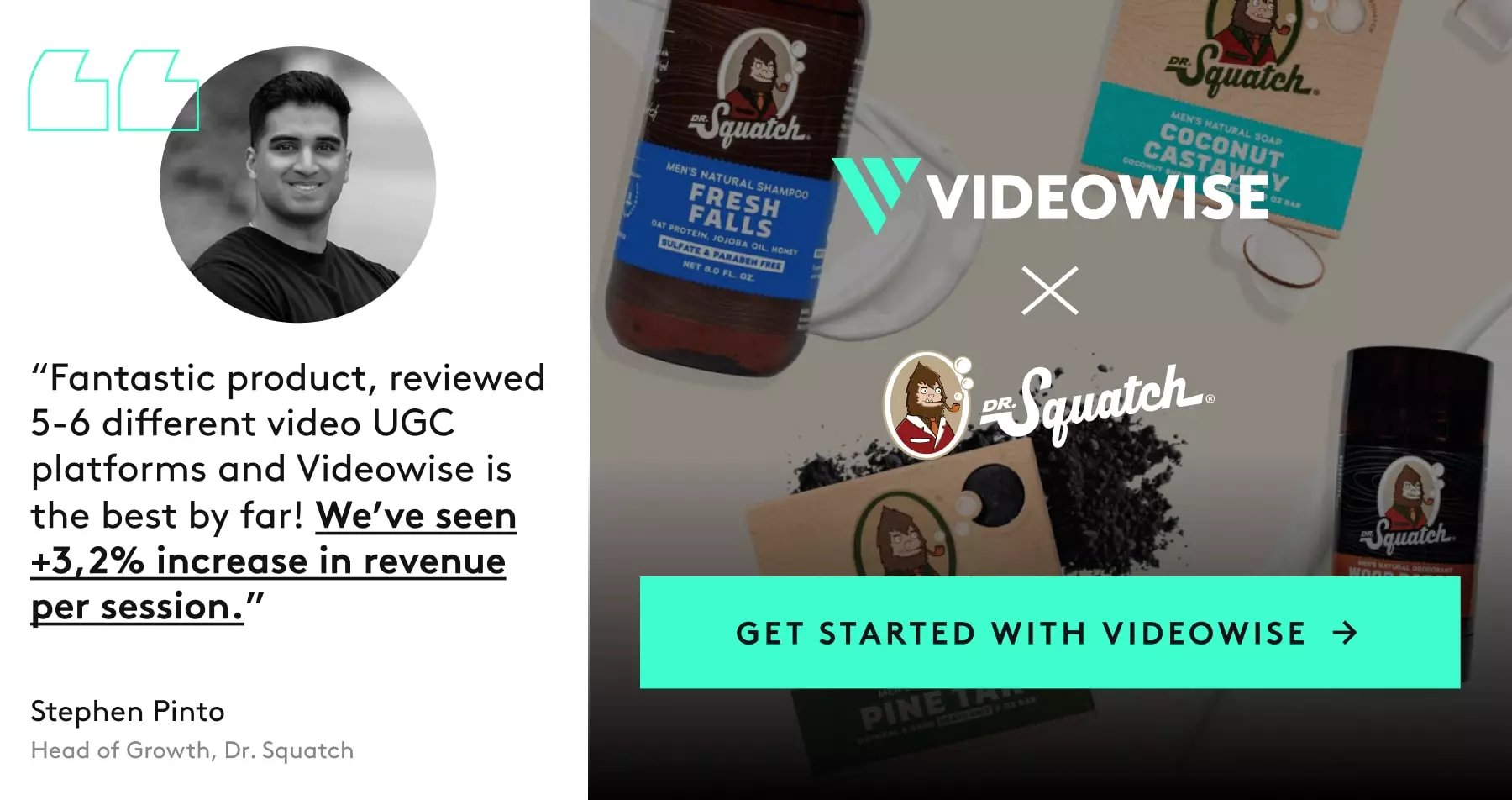 Partner of the month
Our partner Billo is the ultimate video marketplace, already trusted by 20K brands, including HelloFresh, Nestle, and Philips, that brings your brand to life with original UGC videos for as little as $59/video.
Billo connects you to 3K top-rated video creators in the USA and helps you produce authentic video content that increases your sales and builds a loyal following.
If you want to try Billo, you can enjoy one free UGC video ($100 discount for anything) using code VIDEW-TCVO-BILLO* at the checkout!
The code will be valid for two weeks for new Billo customers only.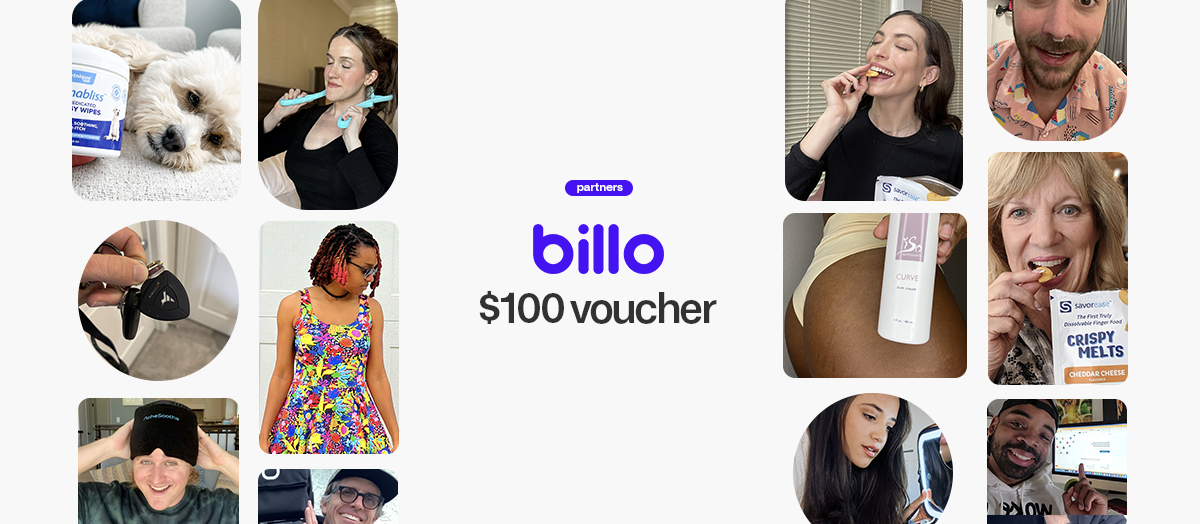 What to read
We've been writing a lot about shoppable videos, CPG eCommerce, and product and retail videos, and we thought about sharing some bits about two of last month's articles.
Master storytelling in your retail videos
To differentiate yourself in this saturated eCommerce industry and gain the loyalty and trust of your customers, you have to try new strategies, such as adding storytelling in your videos.
In our latest blog post, you can discover practical ways to incorporate storytelling in your retail videos to captivate your audience's attention, drive engagement, and boost sales.
Shopify marketing checklist
This month, we've also discussed practical tips for reaching your target audience, capturing their attention, and converting them into loyal customers in our blog post "The Ultimate Shopify Checklist Revealed." Read our blog post to find out how you can stand apart from your competitors and set an unbeatable marketing strategy for your Shopify store.
Final thoughts
If you enjoyed learning more about our monthly newsletter, hit the subscribe button and be among the first to find the latest news about eCommerce videos, trends, Videowise updates, exclusive offers, and so much more.
Join our newsletter and be video-wise!
Keep up with the latest trends in eCommerce video experiences