What does VideoWise, the most advanced video platform on the Shopify market, have to do with Enalito (Experts in e-mail and eCommerce data)?

One word, analytics.

At VideoWise, we pride ourselves on offering advanced video marketing analytics to help you win with shoppable videos. Enalito follows a very similar path, but instead chooses to market through email, and promotion automation!

For small and mid-sized eCommerce merchants, Enalito has developed an AI software product (app), which solves the 'Choice Overload' problem. Helping shoppers find what they're looking for.
VideoWise and Enalito: The Power of Analytics
Let's say you're an eCommerce store owner looking to improve your sales performance. Instead of spending all your time and money worrying about which promotions to run, and how to best advertise to your customers, what should you do?

Invest in the tools that CHANGE your business.

By combining the power of Enalito's advanced 'shopper behavior' analytics/automation, with VideoWise's conversion-boosting shoppable videos and advanced video analytics, you can cure the stress that comes with optimization and leveraging all of the customer data you have in your Shopify store.
VideoWise helps Shopify & Shopify Plus brands sell more with videos on their online store. Brands can leverage videos from TikTok, Instagram, YouTube, Vimeo or upload their own and turn them into high-converting shoppable videos. Boost SEO by increasing session time and influence shoppers to buy more while they watch your video content.
Specifically, VideoWise helps merchants:

Shopify Video Shopping - Make videos sell by turning any video into a shoppable video. VideoWise videos convert at a rate of up to 18%, all video widgets are fully customizable, super-fast loading, and offer a swipe-up TikTok-Esque experience for immersive shopping.

Bulk Product Video Embedding - Embed videos on thousands of product pages with automated product-video matching. Upload, import, and manage your video content in one place using VideoWise. No code to save hundreds of working hours!

Automatically Find UGC - VideoWise is YouTube's largest partner on Shopify and uses A.I. search to find relevant video UGC about a brand's products on YouTube.

Advanced Shopify Video Analytics - VideoWise offers the most insightful Shopify video analytics, with advanced engagement & conversion reports that track the full shopper journey from visitor to customer. Perform A/B testing and make data-driven decisions when it comes to using video on your Shopify store.
What Is Enalito
Enalito's mission is to solve the Choice Overload Problem for Online Shoppers by Understanding the Shoppers, Curating Laser Sharp Segments of Shoppers and Products, and Sending personalized product recommendations and prices that lead to a dramatic increase in Conversion Rate for E-commerce Businesses.
Video from eCommerce Tech review by Derric Haynie
Enalito can help an eCommerce merchant:
Understand customer behavior
Curate laser-sharp segments of customers as well as products
Send personalized product recommendations and offers that lead to a dramatic increase in conversion rates for eCommerce businesses
How VideoWise And Enalito Work Together
Enalito helps you directly target your customers with promotions on the products they are most likely to purchase, this links back to your Shopify product page. This is where you've used VideoWise to display shoppable videos, including UGC and IGC that are built to convert. Customers who watch video have an average of 4-6x conversion rate, and with fully customizable video widgets, you can ensure lots of video impressions.

Two incredibly powerful automation solutions, to see traffic, sales, and ROI in just 14-days.
For The Shopify Store Owner
Peace of mind, knowing that your customers are constantly being remarketed to with personalized promotions, offers, and messages. Boosted site traffic, sales, conversion rate, session time, a better shopping experience for your customers, and automated customer marketing segmentation for social and ad campaigns are all some of the quick wins you can achieve from this combination.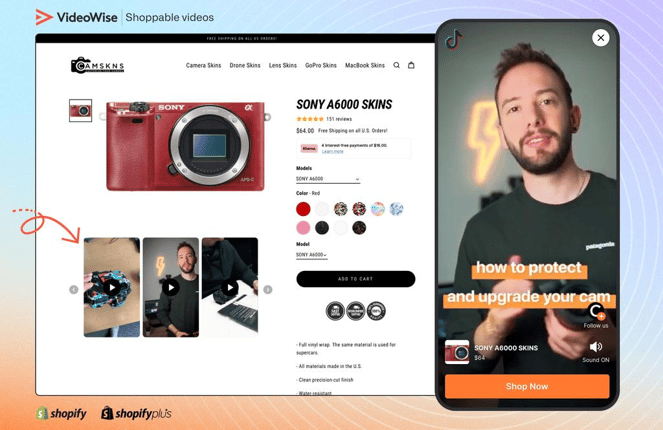 For The Consumer
As a consumer, this means you'll receive unique promotions tailored to your interests and likes. This means those shoes you were looking at just hit 20% off. Instead of having to read a catalog of discounts searching for the things you like, or seeing a blanket 10% discount site-wide everywhere (It's obvious nothing is really on sale, it's just a tacky trick now) everything will be personalized to you.

When shopping online, you'll be able to instantly view product videos from other consumers, influencers in the space, and other videos from YouTube, Instagram, TikTok, etc. to help you fully understand and experience the product from every perspective before you make the purchasing decision.
Conclusion
VideoWise is excited to partner with a fellow Shopify brand, Enalito, in the forefront of analytics, and conversion-boosting for eCommerce brands.
Any Shopify merchant who wants to boost traffic with automated segmented marketing email campaigns should leverage the power of Enalito and schedule a demo with the Enalito team to see it in action.
And if you haven't already talked to our VideoWise team about shoppable videos for your store, you can schedule a demo of VideoWise here.
Haydn Fleming
Head of Marketing, Videowise
Keep up with the latest trends in eCommerce video experiences