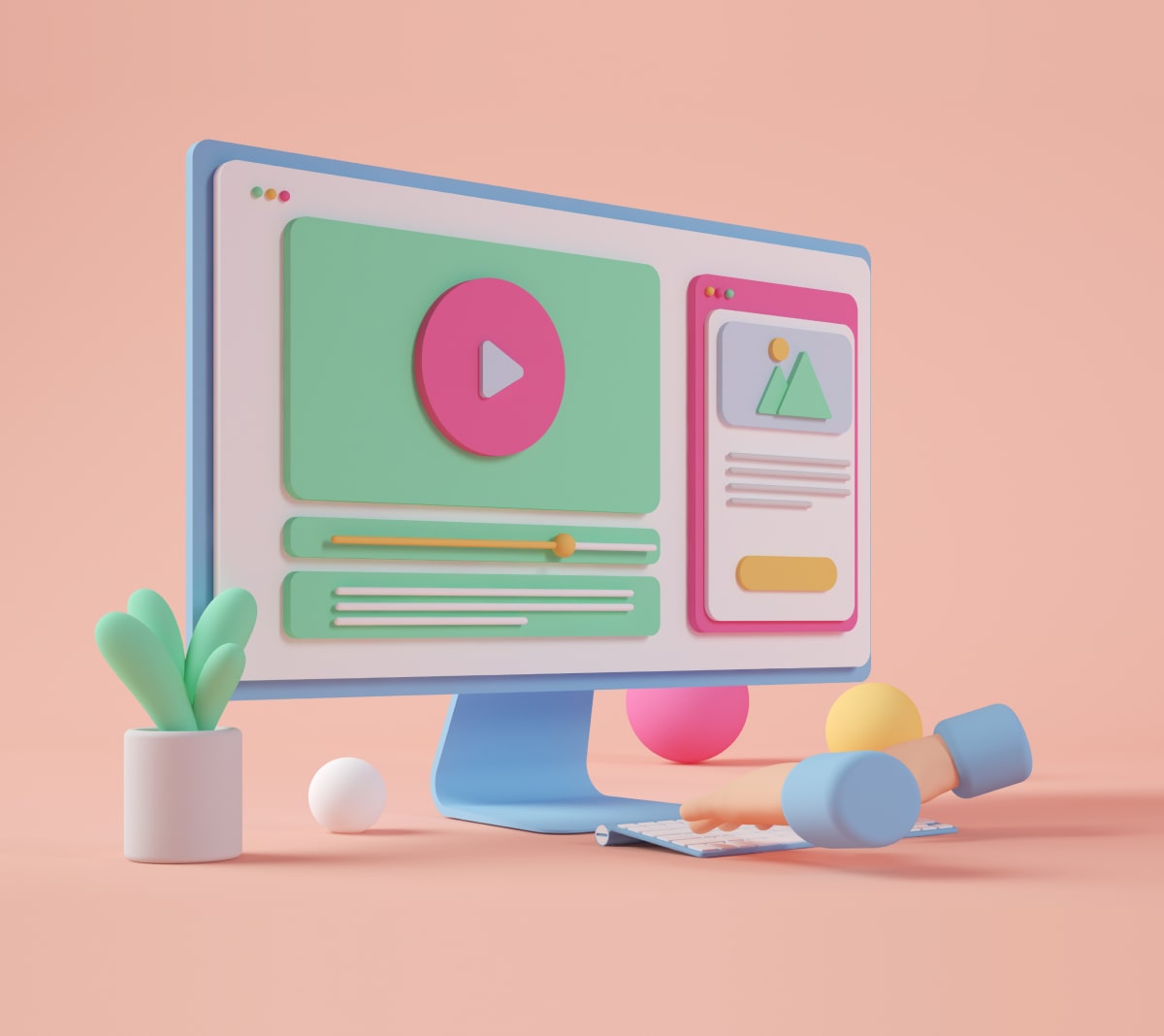 The COVID-19 pandemic ushered in e-commerce's most successful year in history. As reported by Digital Commerce 360, Online consumer spending with U.S. merchants in 2020 exceeded $861.12 billion, which is three times as much as the 15.1% jump in 2019.
In addition, building an e-commerce website has become easier over time, so it appears that competition is getting fiercer in this lucrative industry.
WP forms estimates there are 12 million to 24 million e-commerce sites worldwide, but fewer than 1 million of them sell more than $1,000 a year.
Therefore, growth opportunities still exist. All you need to do is figure out what you can do to cut through the noise and grab the attention of your target audience.
One of the best ways to do this is through the use of e-commerce video marketing.
Here are some ways e-commerce videos can help you boost your business, according to experts.
Create video testimonials
Using video testimonials is a smart way to leverage user-generated content while also social proofing your business.
User-generated content has a 6.9x higher engagement rate than branded content, while social proof can increase conversion up to 15%. Therefore, both contribute to the success of your marketing efforts.
According to Nicasio, videos serve as social proof to prospective clients regarding the quality of the service they provide. Simply telling people what you do and how good you are at it is all well and good, but videos demonstrating client appreciation tend to be more powerful.
Showcase products with product videos on Instagram
Instagram has plenty of video marketing tools to boot. One business that thrives on creating marketing videos on Instagram is Fly by Jing. According to CEO Jing Guiao, ssome of the tactics they used to elevate their video marketing strategies are:
1. Creating a video series
Fly by Jing created a video series showcasing their journey with Sichuanese food, from coming up with the concept and testing ingredients to gaining notoriety and fighting negative stereotypes. This video marketing strategy not only brought them new customers, but it also allowed them to garner praises from their critics and peers.
2. Showing off the product
When you look at their Fly By Jing's Instagram, you'll see how they love showcasing their sauce through how-to videos as well. They capture the beautiful color of the sauce and the chili crisp through their videos with the help of high-quality cameras. Videos of this caliber transport viewers to an experience, and they become literally and figuratively hungry for more.
3. Encourage user-generated content
Fly by Jing's motto is 'yes, you can put our sauce on anything'. And they effectively used it to create buzz around their brand. According to Jing, "We use video to further that by capturing people putting our sauce on yes, literally anything." In terms of how to get consumers excited about a product, this is certainly a creative approach.
Display products accurately
Videos show your e-commerce product in a way that informs, inspires, and entices the viewer to make a purchase.
According to video solution Vimeo, your product videos should look and feel like a show-and-tell at school. It's one of the secrets to creating great product videos for marketing.
This proved effective for Moriarty's Gem Art. Marketing Manager Jeff Moriarty shares, "Over the years, our business received so many questions regarding seeing different angles of our jewelry. In the past, we would send them multiple pictures via email. Realizing that there's an issue, we began creating videos for each piece of jewelry we put on our website."
And it's a good thing they did that. Customers stopped asking questions about the items they had videos for, and surprisingly, these products sold more. "Seeing these results, we took the initiative to get videos on all items, and now before we list any item on the website, we make sure to have a video on the product page as well," Moriarty shared.
This isn't the only way you can accurately showcase your products or service. Clare Jones of Custom Neon says, "We have a video on our homepage that demonstrates every step of the LED neon sign journey: from our team in the office taking inquiries, working on designs, manufacturing the signs, preparing for dispatch, and finally our signs hung in a multitude of environments."
Adding these videos work to their advantage because Custom Neons was able to achieve the following:
Build trust in their products and their brand. The Click-through rate for their product and 'create neon' pages has increased 39%, enhancing their overall conversion rates.
Tell a story and showcase their products in a number of different settings, such as a custom wedding décor, a business slogan stand, or even in a desirable baby nursery.
Provide their customers with a more emotional connection to their product.
Develop engaging content for Twitter and YouTube channels
The majority of consumers (83%) reported considering sharing branded video content they enjoyed with friends. However, it's not always guaranteed that every piece of video you put out will go viral.
Uprising Food Founder & CEO William Schumacher says, "Using video is a more attractive way to market, and it gives you free rein to give your company any sort of image you want. One thing I've learned about it— it is a more 'shareable'(or 'retweetable') way to advertise your brand."
Schumacher pointed out that consumers are more likely to pause scrolling when presented with an engaging or visually appealing video. The use of video in the food industry is, in his opinion, a clever, innovative way of product promotion.
However, it's worth noting that having an interesting angle is, of course, an essential element of any shareable content. The viewer's initial reaction towards your branded video should make them want to involve and inform other people.
For Uprising Food, they decided to show off some of their best assets on video. "We also have a YouTube channel where we share testimonials, podcast videos, and show off our recipes and products," Schumacher explained.
On top of that, they created a viral challenge to engage their audience. The company created a challenge on their website to encourage their users to participate by posting on YouTube. They have also had consumers participate in the challenge on their podcast.
Informational content also drives up engagement. For example, Jones of Custom Neons said that they create videos on YouTube to teach their audience about their products.
She says:
"As a retailer and manufacturer of custom-designed neon signs, our products are generally created to grab attention, convey a message, or provide awesome decor, and as they are incredibly photogenic, why wouldn't we want to capitalize on that?"
The reason for sharing these videos on our social media is that they found that their videos performed better on social platforms and generated higher click-through rates. Therefore, they plan to increase the number of videos they produce and are exploring various options.
Build relationships on Instagram and Facebook
Engaging your audience helps you build a loyal following and increase sales. 90% of marketers say their social media marketing efforts have increased exposure for their businesses, and 75% report increased traffic.
Hosea Chang, Hayden Girls COO, says they are shifting from uploading seasonal collections on YouTube to posting videos on social platforms, such as Facebook and Instagram.
"What's nice about these two socials is we can alternate between video and photo. They're also a bit more relational so that we can build those relationships through posts, comments, and stories."
Although their audience still appreciates video clips of their seasonal collections, Hayden Girls see a lot more interaction and views on Instagram.
Another way to build relationships on Facebook and Instagram is to use the live video feature. This allows brands to engage with their audience in a more authentic and intimate manner. This might be one of the reasons people watch live videos three times longer than recorded ones.
Your ability to take part in brand storytelling by removing the corporate veil will make the experience more engaging for your viewers.
Improve your ranking on search engines
Video content will increase your chances of generating more quality traffic to your pages in the long run, which will lead to better search engine optimization (SEO). E-commerce video marketing is an obvious choice given that your online presence is largely based on SEO.
"Its automation saves us tons of time, the videos it discovers keep shoppers on site longer, and we're turning more."

Anthony Tranchida
Co-founder Grill Rescue
As a result of adding a video to Custom Neon's home page, the company has seen its SERP visibility for SEO improve and user engagement grow. Jones claims that "time spent on our site has increased by 40% and bounce rates have decreased."
Use influencer marketing to increase sales.
Influencers help brands create video content that promotes their products or services, and they are really effective in doing so. As a matter of fact, 89% of marketers say influencer marketing's ROI is comparable or better than that of other channels.
"Its automation saves us tons of time, the videos it discovers keep shoppers on site longer, and we're turning more."

Anthony Tranchida
Co-founder Grill Rescue
The strategy seems to work for Nolah Mattress because, according to Light, "20 to 30% of our sales come from traffic sources redirected from these videos—that's roughly a one-third increase in sales!"
Wouldn't it be great if you could put all your videos on your website? Try VideoWise today.
Liana Turbureanu

Keep up with the latest trends in eCommerce video experiences