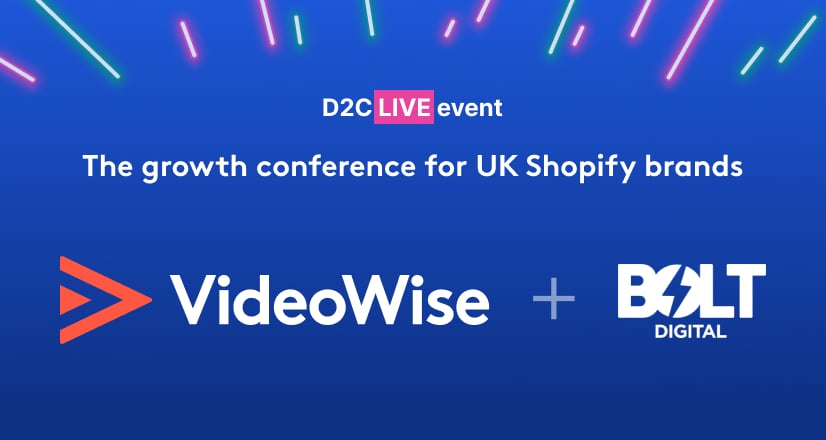 April ended with a bang as we landed in London to meet some top-notch professionals from the UK eCommerce landscape.

For the first time in a long time, we waved goodbye to online eCommerce events and finally joined real people and real talk - all things eCommerce in London.
The One Where We Go To London
Do you remember Chandler and Joey's tourist trip to London, when they put on their Union Jack hats and visited iconic landmarks together? We felt a lot like that!
On the first day, our team had a great time engaging with our partners from Quickfire Digital, Underwater Pistol, Blink SEO, and Blend Commerce over lunch and dinner, as well as visiting some of the most memorable sights. After all, it's all London, baby!
It was the ideal opportunity to meet for the first time in person and explore exciting ideas that may strengthen our partnerships.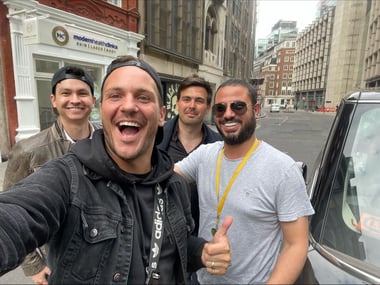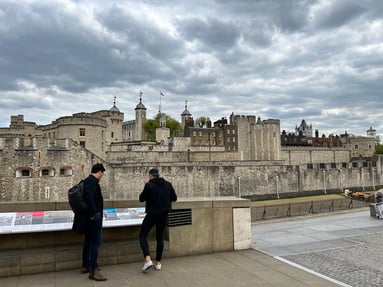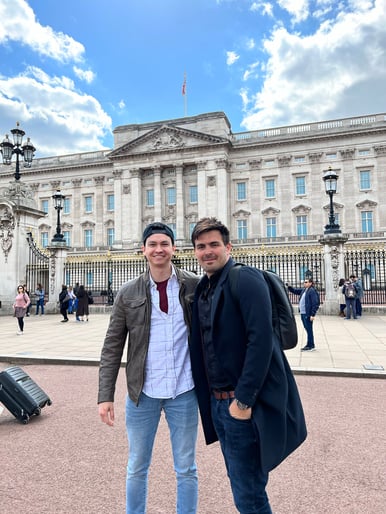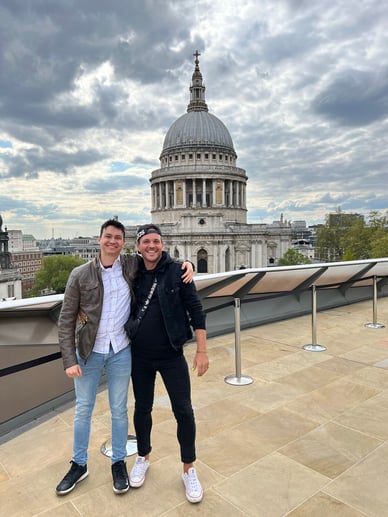 eCom Collab Club Under 1 Cozy, Caffeinated Roof
On April 27th, our team was set for a morning of eCommerce, chat, and pancakes at eCom Collab Club.

This event, hosted by 'The Hairy Bikers of eCommerce,' Adam Pierce and Peter Gardner, was all about bringing together eCommerce agencies and tech partners, tackling some of the biggest questions we all have about the industry and partnerships.

This year's hot topic for eCom Collab Club was the hype around video. Is it really what it's cracked up to be?

Without a doubt, video will be the next big thing in digital commerce. We're all accustomed to Youtube's channels full of product reviews and how-to videos. Still, there's always been a debate regarding how to use the existing video content to boost website conversions and sales.

At the fireside chat, Peter Gardener sat side by side with Claudiu Cioba, the founder of VideoWise, and Travis Cross, the Head of Partnerships, who provided all the necessary answers in front of 70+ agencies & tech partners.

They broke down the data on video and explained why they think agencies and tech partners need to tune into video.

When discussing VideoWise's incredible growth in just eight months, Claudiu and Travis emphasized how they harnessed the power of partnerships to generate remarkable results.

Safe to say that they smashed it.
The day only got better after that when we met up for some more chinwagging and Linkedin connections.

Big thanks to Adam Pearce, Peter Gardner, and Kelly Cruickshank for another brilliant eCom Collab Club event.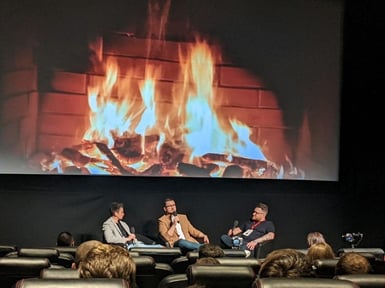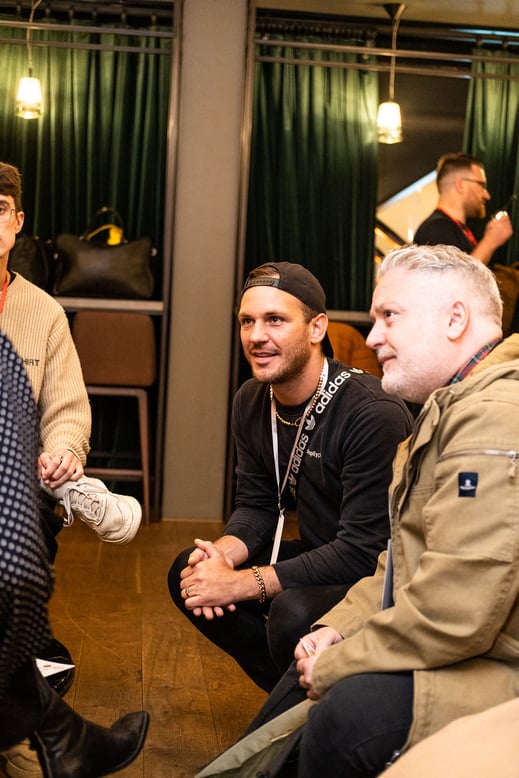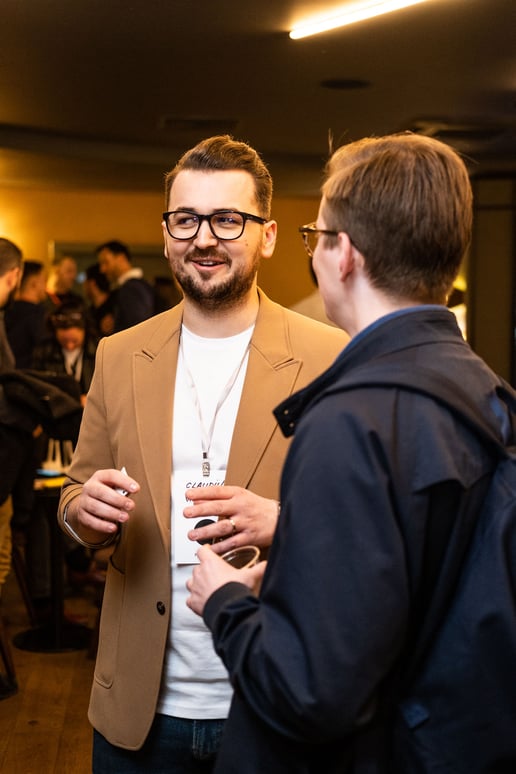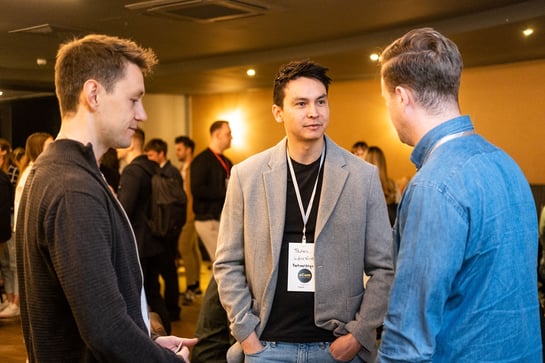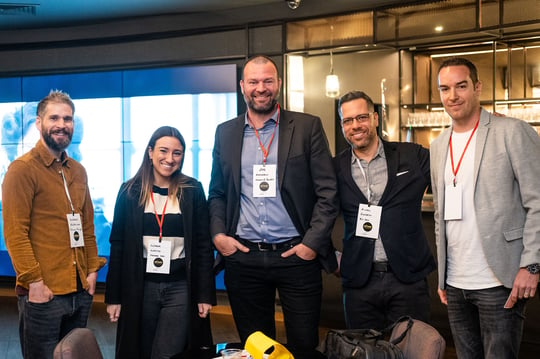 Bolt Digital's #D2C Live Event
We couldn't miss this year's D2C conference, so after three days of great networking, it was time to head to the D2C Live conference powered by Bolt Digital.
D2C LIVE brings together some of the UK's leading e-commerce and retail brands, world-class technology platforms, and service providers, with the sole purpose of supporting brand owners to accelerate the growth of their businesses.
Attending the live conference at their headquarters in White City was the best way for our team to absorb the atmosphere and education on offer – as well as pitch VideoWise to a panel of investors and connect with some of the biggest and best brands in the D2C ecosystem.
Thank you so much for the warm welcome Steve Bolton, Natasha Courtenay-Smith, Hana Noguchi, David Bell, and Dan Mason.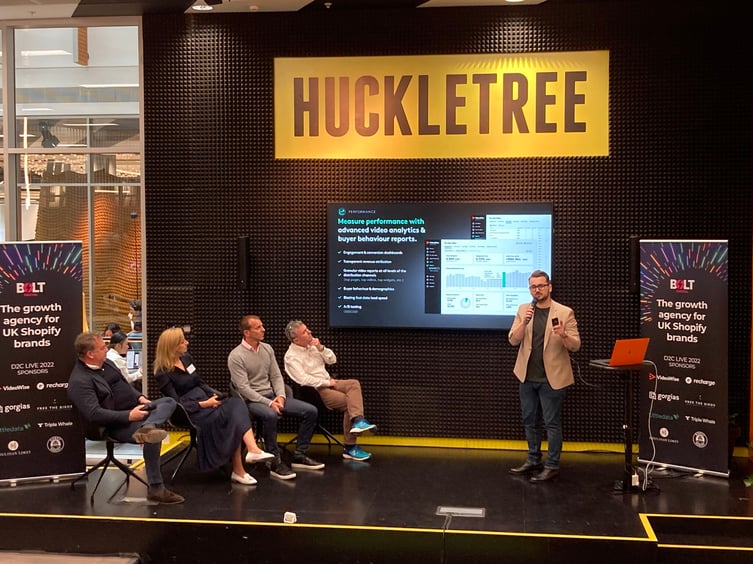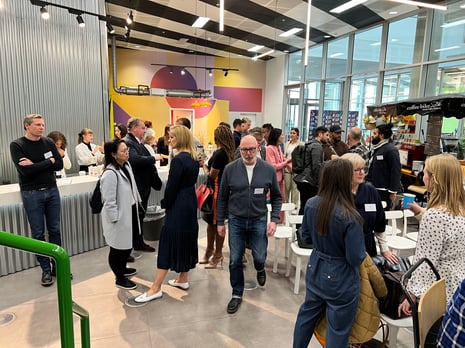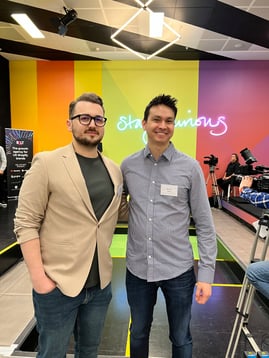 That's A Wrap
We left with a lasting impression of "The Big Smoke." At D2C Live Event and eComm Collab Club in London, it was such an exciting opportunity to finally meet all of the like-minded people in the industry and form long-lasting connections.

A big thank you to the amazing organizers who gathered the leading players in the D2C space – those who are doing it right now, day in and day out.
Special thanks to everyone involved at Blend Commerce, Bolt Digital Media, Quickfire Digital, Underwater Pistol, BlinkSEO, Hey Carson, Just Ask Parker, Juice Ventures, and For You Advertising agencies.
A shout-out to our team, who made the most out of every opportunity, whether it was at the eCom Collab Club's fireside chat, networking cocktails, or slaying dragons at Bolt Digital's #D2CLIVE.
We're looking forward to the next one.
Mihaela Elena Tudorache

Keep up with the latest trends in eCommerce video experiences